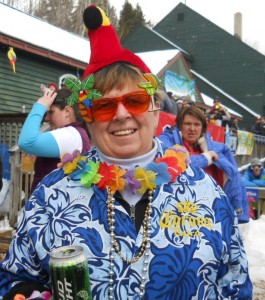 Often celebrated in spring temps with shorts and tank tops, the annual Jimmy Buffetfest Sunday River River Parrot Head Weekend was more reminiscent of a January than an April Day. Following the April 1st snowstorm, Sunday River's Parrot Head Weekend opened with powder conditions and snowfall early in the morning. While many New Englanders cursed Mother Nature for her cruel joke, Parrot Heads and skiers offered high fives all around, knowing the storm extended the season a few more weeks.
Hosted by the Parrot Head Club of the Northern Tropics , the Sunday River Parrot Head Weekend is the biggest party of the year, and has been named by Skiing Magazine among the top 5 Mountain Fests in the country. Contests, bands, dancing, and of course Margaritas are always in store.  Yet there's one serious note to the event – to raise money, and that they did.  Six thousand dollars was donated to the Make-A-Wish Foundation from the 2011 Parrot Head Weekend.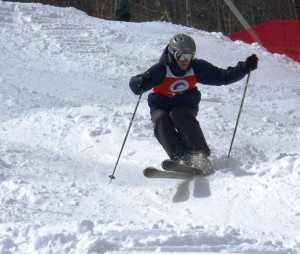 Despite the wind and temps in the 30's, skiers arrived to Sunday River adorned in costumes, parrot hats, plenty of Hawaiian gear and shorts. Wind meant that some of the upper lifts were closed Saturday morning, yet intrepid skiers still made their way through the woods or on foot as they walked up to the Bust 'n' Burn bumps course on White Heat. Billed as the largest mogul competition of the year, 142 competitors from throughout New England took to the bumps for Bust 'n' Burn. Saturday's competition narrowed the field to 32 competitors who moved into the semi-finals and went head-to-head through the bumps on Sunday. Two-time winner and former Gould Academy student Troy Murphy clinched the winning spot for the third year in a row.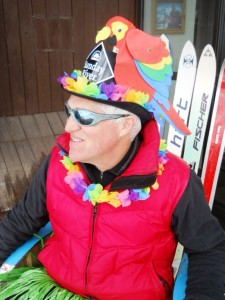 Snowy skies gave way to blue skies by Saturday afternoon, just about the time the music started. A Dress-Like-Your-Favorite- Jimmy Buffet-Song contest resulted in some great outfits.  As we watched tropically-clad skiers dance to the tunes of "Cheeseburger in Paradise" and "Son of a Son of a Sailor", it occurred to me that one couldn't help but be happy hearing Jimmy Buffet music on this bluebird sky day. Maybe it's not that ironic that one would find their "happy place" here at Sunday River, given their tag line! As temps warmed, snow softened and we spent our afternoon was rotating between runs down Shock Wave and swinging to the rhythm of Buffet and other calypso tunes.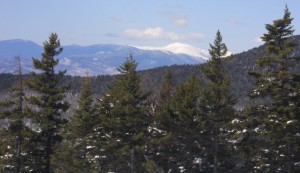 Sunday dawned the most perfect bluebird day, with ideal temps in the high 30's too. We realized our goal to make 10 by 10 (10 runs by 10am) by being first on the Barker Mountain Quad and getting plenty of great runs on T-2 to Monday Morning (a favorite of mine), Right Stuff and Sunday Punch. Next, we headed over to Obsession which was just about as perfect as it can get – groomed corduroy, fast runs, and no lift lines. We were able to catch 2 or 3 runs there before the snow softened and our daily coffee break came.
We ended our day early to watch the Pond Skimming contest. Well over 100 competitors dressed in wild costumes like clowns, bananas, gorillas and Barbie dolls attempted to make it over the pond. Hundreds of people looked on as a wildly funny announcer named Jarod made sarcastic, witty comments on each competitor: Brokeback Mountain jokes about  the three self-proclaimed "gay cowboys" during in-between interviews with competitors. For the first time ever, not one but two engagements happened during the pond skimming, with one nervous beau losing the ring in the pond, and the other getting down on one knee and proposing to "Retro Barbie". At one point early in the pond skimming competition, there were more successful engagements than attempts to cross the pond. That changed quickly, though, as more competitors dialed in their efforts. Still, there were plenty of pratfalls to amuse us–in particular, we watched as our friend, 6th grader David Steinharter from Yarmouth, ME, made his first attempt across the pond only to be tripped up by the water.  Try as I might, I couldn't convince my two daughters to partake in the pond skimming (perhaps watching their friend's watery faceplant was a factor?), although both vowed to try it next year. Stay tuned.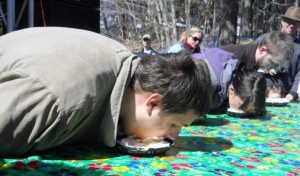 The weekend ended with the annual Key Lime Pie eating contest, as ten competitors buried their faces in whipped cream-topped Key Lime Pie. No hands allowed meant whipped cream mug shots, and the winner was no exception!
Parrot Head weekend often marks the end of the ski season. Yet, Sunday River announced this weekend that closing date won't come until April 24th. Next weekend they celebrate a new event – the Totally Tubular Hot Tub Party, complete with hot tubs at South Ridge, 80's music, slopeside bars and BBQs and swimsuit competitions. There's plenty of spring skiing and happy places left at Sunday River in the 2010-2011 season!
Don't miss great images and video clips on the Parrot Head Weekend Video. Click here to watch!
Check out more great images from the weekend: