Ever wish you could visit Europe without all the expense, airline hassles and travel time? Why not consider the Eastern Townships (Cantons-de-l'Est) region in Quebec? It's got the European flair, magnificent scenery, the best cuisine you can sink your teeth into, AND almost any type of active outdoor recreation opportunity your heart desires.
We always plan our Eastern Township vacations through Tourism Eastern Townships. The venues and activities they suggest keep us yearning to return. This is a French-speaking Province, but don't worry an instant about not speaking French yourself. Virtually everyone up here speaks at least some English and most written materials are in both English and French. It really makes you feel like you are a world away from home to hear the musical French language being spoken around you, but everyone happily switches to English when the need arises.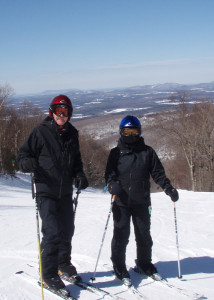 My husband Tim (Eastern Slopes Founder and Executive Editor) and I have spent many happy days touring The Eastern Townships on our tandem bike. We even chose this option for our October honeymoon. A memory to treasure for a lifetime! But we're not satisfied with treasuring old memories. We return as often as possible to make new ones.
We've discovered there's always a reason to come to the Eastern Townships: cycling on la Route Verte (the Green Route) a system of marked roadside rides and dedicated bike paths which crisscross the region, zip lines and aerial adventures, Nordic skiing, Alpine skiing, canoeing, kayaking, inn-to-inn biking (they move your luggage!), trail biking…. and always a wonderful place to stay (often with a spa!) and a wonderful place to eat at the end of each day.
On our latest trip, we focused on Alpine skiing, visiting three of the four major ski resorts in the Townships.
Night 1:  Traveler's Rest
Here's my first tip for a great vacation: If at all possible, leave right after work, even if you can't drive all the way that first evening. This adds to your anticipation and excitement on your final workday, makes your vacation seem to last a bit longer and gets you to your destination sooner the next morning. After a 12-hour work day, I couldn't face a 3.5-hour drive from our home near Concord, New Hampshire to reach the Eastern Townships on the first night. So we drove to St. Johnsbury, Vermont  and checked into The Comfort Inn & Suites, which offers great ski-and-stay packages to four nearby mountains Cannon, Burke,  Bretton Woods, and Jay Peak so it was buzzing with excitement on this Friday evening. The room was comfortable, they provide a free breakfast (complete with do-it-yourself waffles. Kids seemed to be enjoying them!) and in the morning we were just 90 minutes from our first destination in The Eastern Townships: Mont Orford.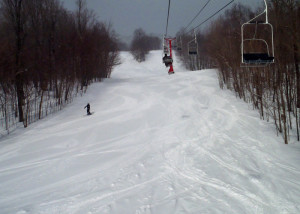 At Mont-Orford, we were delighted to meet Lloyd Langlois, winner of two Olympic medals., who was busy greeting people as he organizied the day's events. As a member of Canada's National Freestyle Ski Team, from 1984 until his retirement in 1997, Langlois won 47 World Cup Gold or Silver medals.
Langlois introduced us to mountain guide, Camille (a male name in French), who decided to ski with us for the morning so we wouldn't miss any of the mountain. Yes, people are THAT friendly in the Eastern Townships.
Mont Orford is actually three different mountains: Orford, Giroux and Alfred-Desrochers. Although the area is geared very much toward the black diamond skier, I was glad to discover  there's something for everyone here.
We all like different things (that's what makes life so much fun!), and for me, that morning, it was Mont Alfred-Desrochers. Sporting only natural snow, this mountain was a buttery-soft, skier's dream-come-true. Since Mother Nature has been so generous with us this year, Mont Alfred was awash with the white stuff, and reminded me of some of the gentler parts of Mad River Glen, another mountain that goes au naturel. Having never seen any man-made snow, and very little skier traffic, Mont Alfred doesn't even know the meaning of "hard pack" or "frozen granular," let alone "ice"!
Since this was "just" an intermediate mountain, Tim and Camille soon abandoned me for more challenging terrain. They had a great time on the expert trails. Tim and I eventually met up back at the lodge and had a late lunch. Who would guess a ski area would serve pan-seared trout, spring greens, sautéed vegetables and broccoli soup for lunch? As a nutrition counselor by profession, I was ecstatic! Everything tasted wonderful and I still felt great about my food choices – on vacation no less! But more about that later…
Manoir des Sables Hotel & Golf
Less than 10 minutes away from Mont Orford, we checked into our resort, Manoir des Sables. This company has two resorts in The Eastern Townships. The other is nearby Hotel Cheribourg.
The Manoir des Sables has luxurious rooms and suites with views of Mont Orford, a 27-hole golf course (now covered with snow, of course) and a private lake. We heard through the grapevine that Nicole Kidman and Angelina Jolie recently stayed here. Of course they were in the luxury suite section of the hotel. Hard to believe it could get better than our gorgeous room.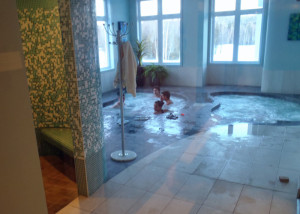 We treated ourselves to a spa experience (highly recommended and not soon forgotten after a long day of skiing). We began with a multi-jet shower followed by a Eucalyptus steam bath, then progressed to a saltwater indoor Jacuzzi, cold water Nordic bath (outdoors in 20-degree weather!), hot outdoor Nordic bath and Finnish sauna. This makes your skin feel as smooth as a baby's and all the stress (from that four letter word called WORK) gets eased away. What a relaxing feeling… right in time for dinner in their lovely dining room, Les Jardins.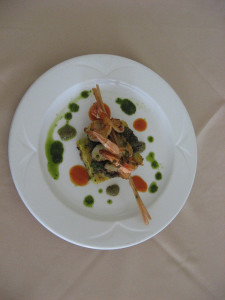 Dining out is always an interesting, but fun, challenge for me. Since I'm a nutrition counselor, I'm a strong believer in practicing what I preach. So my goal is to choose food that tastes great, but is also good for my health and weight management. That was not even a challenge at Les Jardins (or at Mont Orford). When they make "cream of broccoli soup" up here, it's a tasty blend of broccoli, rich broth, spices and a bit of potato whipped in, to thicken the soup. There is no "cream." It was no hardship having this dish at both lunch and dinner today.
The dining room was lovely and peaceful, allowing quiet, private conversation. I had walleye with lobster sauce. It looked like a piece of artwork on the plate, with a balsamic vinegar reduction swirled around the edges. The meal was rich with fresh vegetables, some of which were new to me, but all of which I enjoyed immensely. The lobster sauce was just enough to add flavor, but not so much that it drowned the fish or packed in the calories. The basmati rice was the size of a golf ball, a healthy portion, sized to let you know it's there, but not enough to overwhelm.
Tim had a lean beefsteak with mango chutney and the same sides. For dessert we both ordered the fresh fruit cup, which tasted like each fruit had just been picked. We both left the table feeling very satisfied but not stuffed. Outstanding!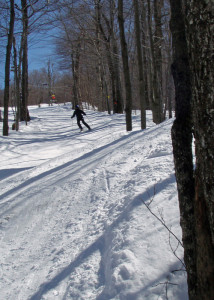 The next day was skiing at Mont Sutton, one of Quebec's major ski areas, boasting 53 trails, 40 percent of which are glades, a tally unrivaled at any other Canadian ski resort. Anyone who's skied with me is now thinking, "GLADES? Marilyn skied glades?!?"  Yes, I did, and enjoyed every minute. If you want to make the same claim, come to Sutton and you will do it too, regardless of your skiing prowess.
I needed education on a new definition of "glades" (otherwise, I would have chickened out!) At Sutton, skiing glades does not refer to "skiing in the woods" (Yikes, I'm not ready for that!). Rather, these are trails of various widths, curving through pristine woods. They have glades here for all levels, including beginners.
The intermediate level glades were about 15 to 30 feet wide, meandering through the woods. Clumps of trees are spaced 5 to 10 feet apart and you experience a tremendous sense of achievement as you ski around them like an expert. If you've ever skied and loved the trail "Sleeper" at Sugarbush in Vermont, imagine having your choice of dozens of similar trails, all at one mountain!
There's even a trail specifically intended for teaching very small children to ski glades. The trees have pictures of butterflies and robins and there's  a life-size teepee that you can ski right through (adults need to duck a little, which makes it even more fun for us), all to distract the kids from the fact they're trying something new.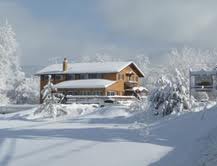 Our oasis for the night, dinner and breakfast was the Auberge des Appalaches, just minutes from Sutton ski area. This is a quaint old inn with reasonable rates, a friendly atmosphere, owned by a young couple, Patricia Gerard and John Kostiuk.
Dinner began with mushroom and fennel soup, with an earthy flavor that will make you wish for another generous bowl. But the main dish was on its way… We also enjoyed a local red wine "Baco," from winemaker Léon Courville of Domaine Les Brome (www.domainelesbrome.com). You may have heard that Quebec's white wines are excellent, but that you can't find a good red. Wrong!
The peppered pork tenderloin with sautéed shredded savoy cabbage and a small potato pancake, all accompanied by a Calvados apple sauce was excellent. Tim went for comfort food: Flank steak in barbeque sauce with baked beans and spinach. We both passed on dessert and headed off for bed, comfortably satisfied.
John seeks out the finest of ingredients for all his meals. The bacon he prepared the next morning was phenomenal. This was the highest quality, leanest, least salty bacon ever! Most bacon is at least 60% fat. This was like eating a lean piece of meat, but tasted like wonderful bacon. Who says you need all that fat and salt?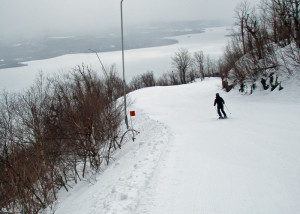 Owl's Head has stunning Lake Memphremagog at its base. As you ski down the trails, the views of the lake are exquisite! At times, you'll feel like you are going to ski right out onto the ice. The experience is reminiscent of Le Massif, another wonderful ski area about an hour beyond Quebec City. There the trails appear to drop directly into the St. Lawrence River.
I quickly found my favorite Owl's Head trail: Lake View. Although most of the trails here have the lake view, this trail is a long, winding "navy blue cruiser". I use "navy blue" to describe trails that are a couple of steps more challenging than a blue square but not quite steep enough to be a genuine black. But if you want true black diamond trails, you'll find them here too, and Tim tells me they were great fun.
Owl's Head is considered a family mountain, but you'd never know it the days we skied there. On Monday and Tuesday, things are pretty quiet. Families must feel really comfortable here since there's one base area. You won't lose track of your kids here and there's plenty of terrain for them to enjoy. We ate some hearty and wonderful homemade bean soup and chili for lunch–both days (yes, it was that good!)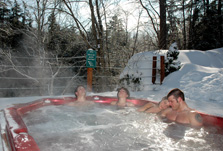 We enjoyed the first spa experience of our trip so much, it was an easy decision to splurge for another. Spa des Chutes de Bolton is located at the foot of the falls of the Missisquoi River in Bolton-Est and makes for a perfect blend of nature, body and spirit. The falls are a mesmerizing sight. Don't miss the photos on their website. Better yet, come and experience this for yourself!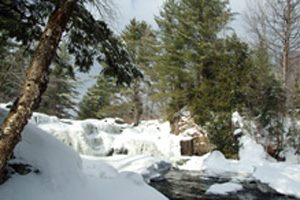 The starting point of your spa treatment is an outdoor hot tub, followed by the steam room or sauna until you are heated to the point of no return. Then, get this: you run outside and jump into the river (the outside temperature is 20 degrees today; the river of course, isn't frozen–quite!). From the icy river, you scamper back into a heated outdoor pool to just relax. Then, you do it all over again and end with basking in a yurt, complete with wood stove and magazines. Having followed all of these steps twice, you are limp and totally relaxed. For us, this means time to check into our B&B and have dinner.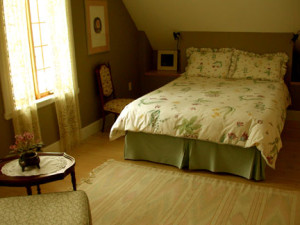 This B&B was a sight to behold. L'Iris Bleu B&B could have been straight out of a decorating magazine, charming, warm and inviting. And I did I say beautiful? Well, I'll say it again anyway. It was gorgeous! Each guest room, in addition to all the common areas, was decorated with impeccable taste, comfortable and a place you could just chill. Tim's question to the owner, Madame Ginette Breton: "Can we live here?"
Lest you think the décor couldn't be surpassed, you haven't yet heard about the food! Any time you walk into a kitchen and see a stack of Gourmet magazines, you can't help but think it's going to be quite a culinary experience. That was the ultimate in understatement here. (Go to the site and click on cuisine for an excellent description of this gastronomic experience.)
Our dinner began with soup, something they do so well here in the Eastern Townships. Mine was a velvety smooth tomato herb. Madame Breton freezes plump ripe summer tomatoes whole and uses them all year. It's constantly amazing how the soups in Quebec can be so flavorful, with the freshest ingredients, yet so good for you. Tim had the scallop soup, made from a rich seafood broth, fresh herbs (plucked straight from her solarium), a variety of vegetables and just a hint of cream.
The salad continued the theme of ultimate freshness and originality. Not your usual salad. Each section of the plate contained a different tantalizing item: fresh tomatoes brought in from a Montreal hothouse that you would bet were just picked outside the kitchen door, lima beans marinated in cumin, paprika, oil and just a hint of hot pepper sauce, baby arugula and oil-cured olives.
We both chose the lean pot roast au jus, just bursting with the flavor of fresh herbs, accompanied by a small mound of mashed baby potatoes on a bed of sautéed kale, with the freshest of tiny brussel sprouts cooked to perfection on the side.
Dessert was a choice of fresh grapes soaked in Grand Marnier or flourless chocolate cake made with ground almonds. The cake had just a kiss of sweetness, allowing the rich, sumptuous taste of the chocolate to dominate.
Au Revoir Eastern Townships
If you come to The Eastern Townships, you too will be filled with wonder and appreciation for such a magical place. And now, with an incredible amount of reluctance, we leave the friendly fantasyland we've come to treasure as almost a second home. Au revoir Cantons-de-l'Est. We'll grab our tandem bike and be back as soon as the snow melts!
Postscript: Notes From A Nutrition Counselor
Let me say a few words about the dining experience in The Eastern Townships. We Americans can learn a lot by dining out here. The portions are smaller and the food much more flavorful, less salty. Of course you can always find ways to overeat anywhere, but the goal here is to enjoy the beautiful appearance of the food on the plate, to savor the exquisite flavors, to nourish your body, and to be content and satisfied. It's not necessary to overeat because the food is so flavorful and so fulfilling.
You are served smaller portions but you quickly adjust to the way your body wants to be fed. We Americans eat much too much food. We all need to keep in mind what they know in the Eastern Townships: the next meal will be along soon enough and will undoubtedly be another masterpiece, well worth waiting for.
We always get a lot of exercise while we are in the Eastern Townships, and exercise needs fuel. Another trick we use to avoid overeating at meals is drinking a protein shake mid-morning and, sometimes, mid-afternoon as well. This delivers a protein shot to prevent excessive hunger (which often leads to poor food choices and overeating) and also provides a chocolate (or vanilla) fix that might allow you to forego dessert more often. Try it.