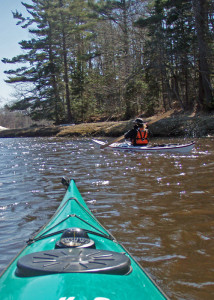 Sometimes you need an excuse to get yourself out the door. If you can't get away for a whole day, that doesn't mean you can't have fun, especially early in the season when your muscles might not be as accustomed to the activity as they were at the end of last season. Sometimes, a short getaway is just what you need.
A few days ago (one of those rare, beautiful, sunny, warm, days that actually give spring in New England a good name), I had to be in southern Maine on business (yes, I do work . . ) and left home early so I could grab a couple of free hours to play before the work started. The ponds near my home were still ice-covered and I had a bad case of paddle fever. I get it every spring. In early April had I visited the New England Paddlesports Show put on by Kittery Trading Post in the UNH Fieldhouse in Durham, NH. This show is pure "kid in a candy store" for paddle fanatics, almost a guaranteed case of paddle fever.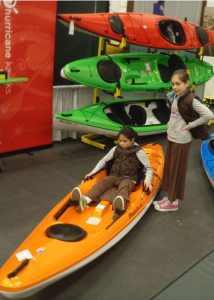 Safety is always a consideration on any outdoor adventure and, with the wind blowing and the water cold, I didn't want to paddle alone. So I called Theresa Willette of Coastal Maine Kayak in Kennebunk. Theresa was opening her shop for the season and seemed eager to get out in the sunshine in a kayak. I guess she had paddle fever, too.
Theresa is a bona fide kayak fanatic, a registered Maine Guide who teaches paddling skills, rolling and rescue clinics, and leads guided paddles. And, every Sunday morning from June on, she gathers a group of friends new and old for a free and informal group paddle.
We launched from the docks directly behind Theresa's shop for a paddle up the Kennebunk River. I rarely launch my kayak from a dock  (it's usually beaches or rocks for me) and Theresa took a moment to show me a good technique for getting into a tight cockpit safely. Then, we were off and paddling. Just being on the water felt good, a first taste of one of my favorite parts of summer.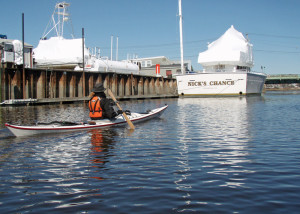 The tide was coming in. We paddled up the river with the building current pushing us along and a warm southerly breeze at our backs. Below the Route 9 bridge, we paddled past whalewatch and cruise boats, and a few large pleasure boats moored in the harbor awaiting warmer weather.
Passing under the bridge at the edge of town, paddling upriver through Gristmill Pond took us into another world where handsome houses fronted the quiet river, and the Cape Arundel golf course sprawled empty but waiting. The woods still had patches of snow, especially once we were up in the river.
Birds were everywhere, mostly ducks: mallards, teal, mergansers in singles, pairs and one large mixed flock rafted in the quiet river. We also saw a variety of seagulls, some geese, several blue herons and the occasional cormorant, plus a kingfisher who chattered from his (her?) fishing perch over the water and flew along ahead of us, annoyed that we were interrupting the serious business of fishing. (I know many human anglers who feel the same). With a kayak, you can get closer to the birds than you can on foot or in a power boat. I wished I'd remembered binoculars . . .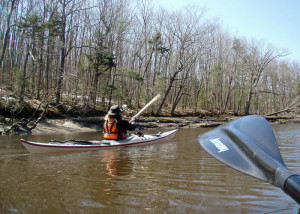 The tide was still flooding in when we turned around, which meant we had to fight both current and wind paddling back. No problem. The rigid composite kayaks we were paddling cut easily through the water, and you sit low enough in a kayak that the wind can't really catch you. Besides, this is Theresa's home water and she knew exactly how to use every eddy and side current to make paddling easier. I won't say it was effortless, but even the swift current flow under the bridge wasn't hard to navigate, and at the end, while we knew we'd been paddling, we weren't worn out.
A few minutes after getting off the water, I was sitting in a business lunch, able to give it my full attention. No, I didn't have a whole day to play, but I did have time to get out for a couple of hours for a little fresh air and exercise. Sometimes, that's just what you need. A kayak paddle on a warm spring day was my excuse. What's yours?
Gear Notes
Every "first" of the year is always a shakedown for essential equipment, especially for the most essential piece of equipment of all—your own body.
On our Kennebunk River excursion, Theresa and I both wore dry suits and PFDs from Kokatat for safety. To me, a dry suit is more comfortable than a wetsuit. If you are going to do a lot of cold water paddling, it's a good investment. I've had mine for years.
Coastal Maine Kayaks sells and rents beautiful Valley kayaks, made in England. Theresa was paddling an elegant 16-foot composite Valley "Avocet" that floated like a serene white cloud on the brown water. She propelled it with a slender, hand made, Greenland-style wooden paddle and carried a big-bladed Werner carbon paddle for fighting the current.
I could have rented a boat from Theresa, but I'd arranged to borrow a 17-foot fiberglass/Kevlar composite  "Eggemoggin" from Lincoln Kayaks that a friend was trying to sell. Nice boat, much lighter and noticeably more responsive than the rotomolded boats I usually paddle!