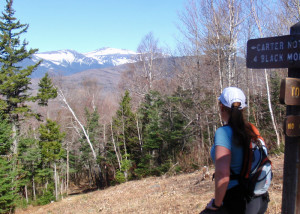 Here in the northeast, some people call it "Spring." Those are the optimists. Pessimists call it "Mud Season," or something unprintable. Folks in the tourism and outdoor recreation industries call it the "Off Season," and see it either as a welcome respite after a busy winter, before the craziness of the summer tourist season begins, or a sad time when business is way down.
Newsflash: This so-called "Off Season," in late April, May (except for Memorial Day) and most of June is a wonderful opportunity for active outdoors enthusiasts to plan a long weekend getaway. Lodging prices are as low as they get, and from Cape Cod to the mountains, there's plenty to do and fewer people to have to share it with.
Mount Washington Valley In Spring: Many Lodging Options
Recently, most of the EasternSlopes.com editorial team and their families gathered for an off season getaway/editorial meeting  in New Hampshire's Mount Washington Valley. This wasn't some fancy corporate shindig, more like a big, happy, active outdoors family gathering. Exactly the kind of thing you could do with your family and friends.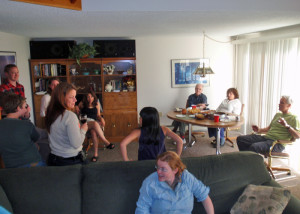 Normally, to save money, some of us would have camped out in one of the many private campgrounds in the valley, or at one of the rustic campgrounds on the White Mountain National Forest. But lodging availability on an "off season" weekend wasn't a problem and we found deals that were simply too good to pass up on beautiful condos at The Wentworth Inn in Jackson, and The Seasons Condos in Bartlett. Real beds for everyone! And real luxury at that, with plenty of space to sprawl out and relax after a day outside.
The Seasons Condominium Resort condos offered tons of space with a full kitchen, two bedrooms and two baths, a deck overlooking tennis courts and the hiking trails beyond, and, of course, a large screen TV for the kids to unwind in front of. One of the units even had comfortable leather couches. These condos are located near Attitash  (and Story Land if you have little ones) and made a perfect launch point for a bicycle exploration of West Side Road.
The Wentworth in Jackson is an award-winning inn (Yankee Magazine Editor's pick for the Most Romantic Getaway of New Hampshire Awards this year!), and the condos there are just as nice. Each is individually furnished, some with three floors, a spacious kitchen, two big dining room tables and a fabulous deck with a table and a view across the golf course to the sunset beyond; others are two floors and two bedrooms for a more intimate getaway. To keep costs down, we planned a huge potluck dinner for Saturday night and this was the perfect place for gathering the entire crew—very different from the last EasternSlopes.com potluck, which was held in an 8-man tipi pitched in the snow during the Hulbert Center's Winterfest in January!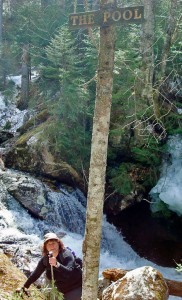 A big part of our socializing was  sharing stories  of what we'd done that day and what we planned to do the next. What's there to do in the mountains in the "Off Season?" So much that it's hard to keep track of what everyone did. This is a crew of Active Outdoors enthusiasts, and they were ready to play.
When we planned the gathering, we had hoped that at least one of the ski areas in the neighborhood would be open. Attitash, Cranmore, Black Mountain and Bretton Woods had already closed; they'll reopen for things like mountain biking, mountain coasters, ziplines and various "amusement rides", and horseback riding sometime around Memorial Day.
But until just a couple of days before we arrived, it looked like Wildcat Mountain in Pinkham Notch would ski into May. A bunch of us were looking forward to skiing and riding there on cheap Spring lift tickets. Sadly, Wildcat closed for the season before we got there.
From the number of cars parked along Route 16, it also looked like several thousand skiers and boarders had made the pilgrimage to Tuckerman Ravine to earn their last turns of the season.  That's a ritual of New England skiing that everyone should try at least once.
Skiing and riding were about the only things we didn't do. It's gonna take awhile to tell you about all the things we DID do. Basically, we could have all stayed a week and done something different every day without repeating anything—at a time of year when most people are either mourning the passing of winter or waiting for summer to arrive, and thinking there isn't much to do. Here's an overview: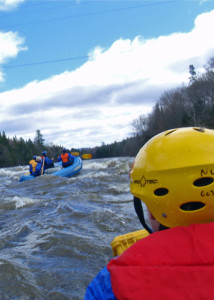 Mount Washington Valley In Spring: Whitewater Rafting
While we were in the Mount Washington Valley, we saw many, many whitewater kayakers on the Saco, Swift and Androscoggin rivers. None of us currently have the skills needed for safe whitewater paddling in spring flood conditions, and the water was also too high for most flatwater river kayaking and canoeing,  and too cold for paddling on the lakes in the area. But soon people will be floating lazily down the Saco with canoes, kayaks and tubes from Saco Bound, Northern Extremes, Saco Canoe Rental, Saco Canoe & Kayak or some of the other canoe liveries in the Valley. Despite the cold water, we could have paddled some of the lakes in the area, but nobody in our crew brought a canoe or kayak.

Still, we had fun with whitewater. Warner and Edie Shedd, along with their son David, his fiancee Susan Marean, her youngest son Daniel and his friend Nick, all headed to the Androscoggin. Here's what David told us afterward: "Not far north of Wildcat, in the town of Milan (that's MILE-ann),  we found a wonderful whitewater adventure that anyone could do on the Androscoggin River with North Woods Rafting. For many people, the term whitewater  conjures up images of  Deliverance, Niagara Falls, or being on the inside of a blender. The good news for the faint-of-heart (read: sane) is that rafting on the Androscoggin is much more mellow than on some of the Northeast's larger rivers (the Penobscot and Kennebec in Maine, for instance). The folks at North Woods are dedicated to making this a fun, safe, and comfortable experience for even the most fearful rafter. On Saturday, April 30, historic high water levels made for higher, wilder rapids than usual, but even my 70-something mother, who had previously had a terrible experience rafting on the Penobscot, was able to relax and feel totally confident in the abilities of our guide Lincoln Robertson (one of the owners of North Woods Rafting). She actually had fun. The same happened to 14 year old Daniel. By the second run down the rapids, he had forgotten his initial trepidations and was paddling like a pro. If you're lucky, Lincoln will have made his aptly named Wicked Good Cookies for the lunch they provide after your trip!  For those who still don't want to try the whitewater rafting, they also rent canoes and kayaks for flat water trips as well."  North Woods Rafting, by the way, is one of New Hampshire Grand's "Certified Grand Adventures" (meaning, basically, that they've gotten great reviews and endorsements from multiple sources); so, we're not the only ones who have enjoyed their trips!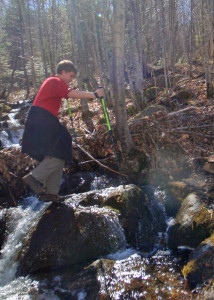 Mount Washington Valley In Spring: Hiking
Not surprisingly, all of the EasternSlopes.com extended family are hikers and we found plenty of opportunity in the Mount Washington Valley on a lovely, warm spring weekend before the blackflies emerged. On Saturday morning, Pat Lyon-Surrey  and her partner-in-crime Roger started their weekend getaway with a hike to the top of Willard Mountain in Crawford Notch. Says Pat: "I had heard that the view from Willard was beyond what you would expect from the relatively easy climb.  It certainly lived up to that description!"
On Sunday morning, the Shedd/Marean crew hiked a couple of miles up Black Mountain for a view of snow-covered Mount Washington glowing in the bright morning sunshine under blue skies. The trail isn't steep, but it is relentlessly uphill. The views are worth it. This trail is heavily used by skiers and snowshoers accessing Black Mountain Cabin in the winters, but in spring you won't see many people at all.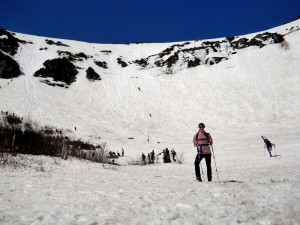 And our two twentysomethings, Caroline McDonald and Sam Kontny, decided to hike up to Tuckerman Ravine on Sunday morning: "We were ready on Sunday for a nice little hike up to Tuckerman Ravine. Having never seen the Ravine, we decided to only  hike, and  maybe bring skis or a snowboard next year. The hike through the woods, past waterfalls, and across bridges over roaring spring rivers is a physical challenge. After one last rocky climb, the enormous bowl opens up before you. The people in the bowl looked like little black ants (some wearing crazy jester hats). We found a good alternative to the famed 'Lunch Rocks' (where falling ice was a very real hazard on this spring day), and soaked up the spring sun, cheered for the riders and skiers, and just admired the incredible view as we savored our well-deserved lunch."
Marti Mayne, her husband Lincoln Fuller, and their two daughters Calli (12) and Kim Han (10) enjoyed a Sunday hike around Pudding Pond in the Green Hills Preserve with Lucie and Peter Villeneuve of Outdoor Escapes New Hampshire and their children Jacques (2) and Melanie (8 months) . "Both Lucie and Peter offered a wealth of knowledge about the flora and fauna we observed, including an enormous beaver hut and a series of beaver dams and a painted turtle. We learned about how to make wintergreen tea, how to tell the difference between spruce and fir, how black flies and mosquitos hatch and the ten important lessons for survival. We came home from that hike filled with more information about nature's treasures in three hours then we've learned in a lifetime! Outdoor Escapes NH also offers customized overnight kayak, mountain bike or hiking tours, photography tours and even moose tours!"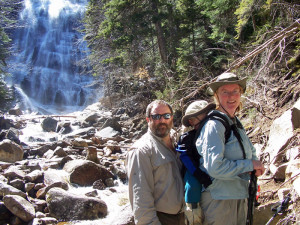 For the rest of us, spring hiking and waterfalls just seemed to be the ideal combinations. Kate and Doug Goodin along with 2-year-old Max hiked 1.2 miles to Arethusa Falls: "It was a gorgeous day," Kate tells us, "and there was only a little snow still on the trail to contend with. The black flies hadn't arrived yet, either. We saw a number of people on the trail, but many seemed to have come unprepared and as a consequence some of those felt the need to turn back before reaching the falls, which is a shame. Arethusa is a big payoff for the amount of hiking effort.  This short trail is the kind you CAN do on the spur of the moment if you have a few hiking essentials with you and a couple of hours to spare. "
Pat and Roger also strolled to Gibbs Falls in Crawford Notch, Tim and Marilyn visited Diana's Baths in North Conway after their bike ride and everyone, it seems, took photographs of a variety of spectacular roadside falls running high with rain and snowmelt.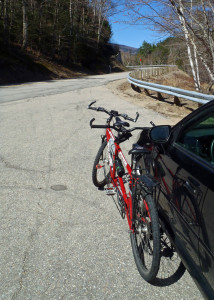 Mount Washington Valley In Spring: Biking
The trails were also too muddy for mountainbikes, but we still found plenty of biking in the Mount Washington Valley. There's plenty of fat tire riding in the area at Attitash, Bretton Woods, Great Glen and Wildcat starting when the trails dry out, usually around Memorial Day.
On Sunday Pat and Roger pedaled 26 miles on their road bikes along a relatively flat section of West Side Road, which meanders along the Saco River. Pat tells us, "This quiet, paved road passed Echo Mountain State Park and had great views of Cathedral Ledge, where we could see climbers enjoying the vertical rock face (more on this below). The hills and mountains in the distance were snow covered but down in the valley it was sunny and topping 60 degrees. We stopped for lunch on the lawn of Eastern Slope farm, which seemed apropos."
Tim and Marilyn  jumped on their tandem bike for a tour of the relatively flat eastern end of the Kancamagus Highway. "It was our first bike ride of the year. We pedaled the first 8 miles uphill every inch of the way and were rewarded with gorgeous views of the Swift River and the surrounding mountains, plus the chance to coast 8 miles back down to the car. Perfect first ride of the year. For those seeking more challenge. a ride over the "Kanc" from Conway to Lincoln and back involves about 4,000 feet of climbing (and descending, of course) and is rated one of the great hill rides in the northeast."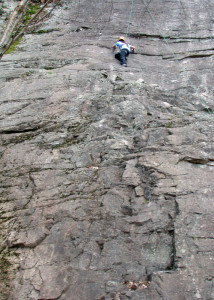 Mount Washington Valley In Spring: Rock Climbing
Two of our EasternSlopes.com teams spent most of Saturday "hanging out" (literally) in rock climbing lessons on Cathedral Ledge and Whitehorse Ledge in North Conway. The Fuller-Mayne family took their lesson from the EMS Climbing School, while Caroline and Sam had one from the IME Climbing School.
Marti Mayne tells us, "From the moment we arrived at the EMS Climbing School to the time we returned the equipment, the experience was thrilling, inspiring and exciting. For each of our family members, learning to climb Cathedral Ledge held important challenges. For me, extremely fearful of heights, I learned that with careful focus and tenacity, I was able to make the climb. Both my girls learned they could trust their minds and bodies to reach new heights, and my husband Lincoln, a former rock climber, was reminded how much fun it was. We all completed this day with a sense of satisfaction we've never achieved with another sport or adventure. Hats off to Sara Reeder, our skilled guide and the North Conway EMS Climbing School for offering this fabulous challenge."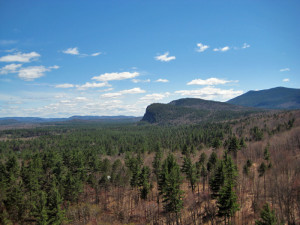 Caroline McDonald told us "My stay in the Mount Washington Valley pushed me to new heights I never thought I could achieve. Literally! On Saturday, Sam and I learned to rock climb on White Horse Ledge in North Conway, with Zeb, an instructor from the International Mountain Climbing School, who showed us how ingenious rock climbers are. Not only do climbers use their muscles (I found some I didn't even know I had!), but also their brains. I honestly didn't think I was strong enough to rock climb, but I found out otherwise. We didn't climb all the way up Hubert's on White Horse, but it sure felt like the top of the world. I even saved some dirt under my fingernails for a couple days since mountains don't sell souvenirs. I can't wait to put more there this summer."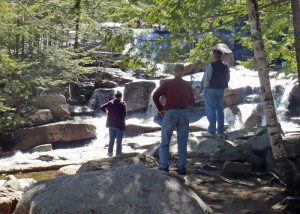 Mount Washington Valley In Spring: What if It Had Rained?
We were lucky and had absolutely perfect weather for the whole weekend. Yes, it can happen. . . . but so can rain. We weren't really worried about it. News flash, folks. Human beings don't melt. With good rain gear, hiking and biking are always options. Paddling in the rain can be fun. The whitewater raft trips go rain or shine—you're going get wet on that one, anyway.
If it's had been too wet to climb outside there are indoor climbing walls at EMS and at the Cranmore Fitness Center
And of course, the Mount Washington Valley is famous for it's restaurants and shopping to be enjoyed when it's too nasty to play outside or when you are too worn out to do any more.
It pays to have a Plan B, especially in the off season, but if you are prepared with the right gear and the right mental attitude, a little rain won't make your getaway a washout.
Mount Washington Valley In Spring: Plan Your Own Getaway
While other people were home raking lawns and waiting for summer, we found a perfect weekend getaway in the mountains. The beauty of living and playing in the northeast is that's there's so much, so close. Chances are any place you visit in the summer or the winter has plenty to do in the "Off Season" if you just go looking. Contact the Mount Washington Valley Chamber of Commerce for help in planning your vacation.