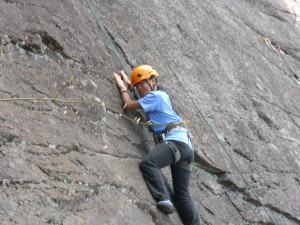 "Life is like a mountain; it has its ups and downs." – Calli Fuller.
Calli, my oldest daughter, loves to create metaphors, and that was her observation after our recent family rock climbing lesson with EMS Climbing School. It seems appropriate. In fact, it occurred to me after my first rock climbing experience that the sport touches on many of life's most important messages.
When we first started thinking about this adventure, my husband Lincoln, an experienced rock climber, warned me "you'll have a tough time with the shoes, and also your 'height thing'" (I've always been an acrophobe and only recently started challenging myself to get beyond that fear). Even after a successful Zipline Adventure at Sunday River, thinking about heights still sends my heart racing. To continually challenge my increasingly sedate mind and body, I decided to go for it, but not without some trepidation.
So, off the whole family went to a family rock climbing lesson with EMS Climbing School in North Conway, NH. The store and school are impressive, and come complete with an indoor climbing wall. Sara Reeder, a 13-year veteran of the Climbing School, met us with a cheery smile and plenty of reassurance. We started by fitting shoes, which are meant to be snug and traditionally one or two sizes smaller than regular shoes. I tried a few before I could find any that fit well, but was surprised at how comfortable they were, even on my painfully flat feet. Next we moved on to harnesses (that was easy enough) and helmets. Soon, we were geared up, and my precocious ten-year-old daughter, Kim Han, was dancing around showing off her new outfit.
As we left the parking lot and headed to Cathedral Ledge, that sense of anticipation bordering on panic hit my stomach. I envisioned the cliff we'd soon be facing. I managed to stave panic off as I listened to Kim Han and Calli talk about the fun ahead. At the base of Cathedral, we hiked about a half mile up a steep rocky path, which distracted me until I could no longer ignore the ledge looming ahead. Cathedral Ledge is a popular spot. Climbers enjoy the easy access and the variety of climbs of varying difficulty. This being the first nice weekend day in a month,  we saw many climbers already on the ledge with spectators below.
Sara explained what we'd do and how to do it, always focusing on safety. She taught us the double figure eight knot to secure the rope, our lifeline, to the harness we wore. The rope we would be using holds up to 6,000 pounds, so surely it would hold us!
She told us that our feet would do all the work; unfortunately, that just added to my worry, since I rarely put much faith in my painful feet. Sara explained how  "belay"works, using the rope through a special friction device to eliminate slack in the climbing system. No slack = less room to slip and fall; I liked that idea! Next, Sara climbed up the rock face to set top-rope anchors in a part of the ledge called "Thin Air"–a popular learning spot with a variety of  hand and foot holds.
She "free climbed"  (ascending the ledge using her hands and feet and the ropes for protection only) about 60 feet up, and set one anchor. She made it look so easy and fun, my anticipation waned…a tiny bit. Once she had two anchors set she ran two "top ropes" and we were ready to start.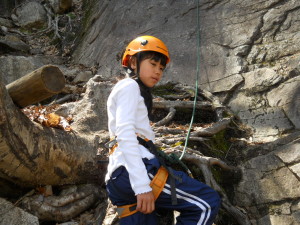 Always the leader, Kim Han started with the green rope, which offered more outcrops and holds at the bottom. She scrambled up the ledge without a lot of apparent anxiety until she got to the sheer part of the rock face, with few visible holds for feet or hands. That was enough for her. While she had no trouble going up, coming down was difficult for her. She couldn't let herself trust the top rope, so she "down climbed" the whole way down instead of being lowered. Her comment when she returned was "It was hard!" But, she said that with a smile, so I knew she enjoyed the challenge.
If I didn't go next, my rapid heartbeat from the anticipation would exhaust me, or fear would win out, so I decided to just go for it. Roped in, I took my first few steps upward and realized it wasn't as hard as I thought! My feet actually did hold on those little outcroppings! I could do it! I quickly learned that the secret was to look only for the next hand or foot hold, not thinking beyond the next step, and to never, ever look down!
Hand and foot holds were abundant and I actually climbed about 45 feet up before the easy holds disappeared. I felt that was enough.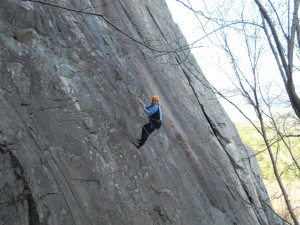 Next came learning how to be lowered back down. This requires pushing your body away from the rock, a move  entirely counter-intuitive to the person terrified of hanging 45 feet up on a rock cliff.  Slowly, slowly I leaned my body back, learning to trust the rope, shaking the whole time. I knew I had to trust the rope and Sara, who was belaying me from below. As I realized I wasn't going to die, I actually found it fun to walk backwards down the cliff, taking baby steps but not having to worry about finding the footholds.
I can't ever remember a more vivid sense of relaxation than when my feet were on the ground again. Suddenly every tense and cramping muscle relaxed and an enormous sense of accomplishment replaced fear and taut muscles. "This wonderful high is the prize for my first climb!," I concluded.
Next it was Calli's turn. With her long, lean " climber's body" and keen sense of adventure, Calli made it to the top anchor, and actually seemed to enjoy both the climb and the descent. Finally, it was Lincoln's turn. He climbed up and made it look easy, commenting afterward that he could "really get back into this," after a 10-year hiatus from the sport.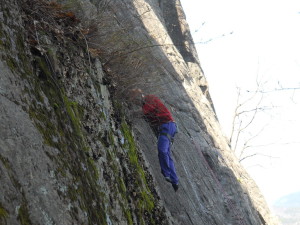 We spent the afternoon taking turns on climbs. Having watched her older sister make it to the top, Kim Han was determined, and tried numerous times to get to the top. My second time around was on the more difficult route. The lack of hand and foot holds frustrated me. As my feet tingled, throbbed and fell asleep (all at the same time!), I was stuck on the rock without being able to go up or down. Slowly and in baby steps, I found my way to tiny holes or ledges on the rock which served as hand and foot holds. After loudly declaring three times "I quit!", yet not giving up, I made it to within ten feet of the anchor and top of the rope, but simply couldn't get there. Yet, after being lowered down again (the fun part), I was completely satisfied that I was able to get as far as I did, and live to tell about it!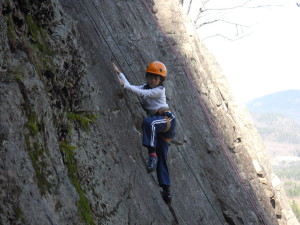 We concluded the family rock climbing lesson by watching Sara go up and remove the anchors and ropes she'd set. We gathered all the gear, had high-fives all around and then hiked down the steep trail to the parking area.
Everyone agreed that the incredible sense of accomplishment from climbing a rock face was the true reward for this activity.  For many it provides water-cooler bragging rights. For us, that translates to class-share and bus stop bragging rights come Monday morning. As I later explained to my sister who understands my trepidation about risk taking (I call it the Mom factor), this family rock climbing lesson was a reminder of important life lessons:
1) Stay focused on your next step, and the rest will fall into place.
2) If at first you don't succeed try, try again.
3) Don't try to do it on your own; take advice and help from people who have been there before you.
4) Push yourself to achieve greatness, and you'll realize you can.
The fourth tenet was the most important, and the basis of the EasternSlopes.com spirit. As the editors always tell us, "Life is not a spectator sport." Pushing my body and psyche beyond its comfort zone was what this day was all about.  I learned that even a 50-something Mom can achieve new heights. My children learned that nothing is beyond them with a little hard work and focus, and Lincoln was reminded of the sense of achievement and pure exhilaration that climbing offers.  For Sara, I'd like to believe there was a sense of satisfaction in introducing another family to a sport that she knows will offer challenges and rewards of a lifetime.
Be sure to watch the video of this climbing adventure. Click here to view it on YouTube.
When you go
Eastern Mountain Sports provides guided adventures, clinic and lessons in rock climbing, kayaking, hiking and camping throughout the Eastern U.S.
In North Conway, NH, rock climbing experiences range from first ascents to basic top rope set up, intermediate and advanced climbing, in everything from half day clinics (starting at $95 per person) to full and multi-day courses and private instruction ($140-$275 per person for full day, depending on how many in the group).
For more information, visit the EMS Climbing School on Route 16/302 across from Settlers' Green Outlet Village, visit www.EMSExploration.com or call 1-800-310-4504.  To reach the North Conway EMS Climbing School, call 603-356-5433.
Lodging: Consider The Seasons Condominium Resort, a fabulous condo resort offering spacious and beautifully appointed units accommodating from one to ten people, and offering tennis and volleyball courts, hiking trails, an indoor pool and much more.
Dining: We enjoyed an abundant breakfast at Glen Junction, at the intersection of Routes 16 and 302.  The omelets offered enough for two people! On the way home, we stopped at Frye's Store in Center Conway for homemade pizza and locally made ice cream.