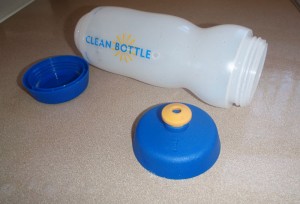 I am not a fan of wearing anything on my back; thus, my preference is for using a water bottle rather than a water bladder.  However, the problem with water bottles tends to be a certain "funk" inside when used with anything other than plain old water; the shape that makes them stay in your bicycle's bottle cage discourages them from cleaning up well in the dishwasher.  Options to solve the problem have been limited; however, since fall, I have been giving the Clean Bottle
a multi-use test by taking it to the gym, putting it in my daypack, and using it in my cross country ski mini-pack.
Clean Bottle
is made with 100% non-toxic, BPA-free plastics, making it safe to use…but many other bottles on the market now meet that goal.  What sets it apart from them is that it has a removable bottom to make cleaning easy and quick.  No more bottle brushes or using that dishcloth with a spoon to get the gunk from the bottom. Simple, unique and dishwasher safe, it's obviously a more sanitary option than standard bottles.  And, the fact that the company donates 10% of the profit to eco-friendly charities satisfies my need for accountability.  But, if it doesn't work, none of that matters; anyone who has owned a number of different bottles knows that more of them have irritating defects than work well.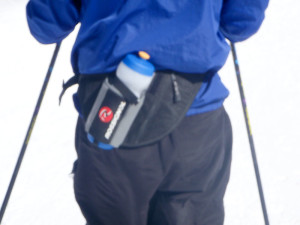 Even before using it, I liked the feel of it in my hand and the feel of the water spout on my lips. I've had many water bottles and, believe me, there are some that just don't work for me because of these aesthetics.  The Clean Bottle folks clearly did their homework.  The top sealed easily, the valve didn't leak, and the bottom, which some of us were concerned would leak or fall off, stayed put until I wanted to take it off.  No fuss, no mess, just everything working the way it should.  I also figured that chances were good that given the design, the bottle wouldn't be able to stand up on a counter; if it wasn't warped when it arrived, it would likely happen after a few runs through the dishwasher.  I was wrong– they got this right too. Quality engineering, quality manufacturing; no flaws that I could find.
The only thing that anyone really could complain about would be the price.  At $9.95, the Clean Bottle is definitely more than the typical basic water bottle.  But, given the quality, it's likely that you'll have it longer than your "oh, yuck, this thing is too gross to use!" bottles; that, plus less time and frustration wasted on cleaning, and the BPA-free construction says to me that if you need new water bottles, Clean Bottle is a great choice.  Now, with spring finally arriving in Vermont, I'll finally get to  use it on my bike!