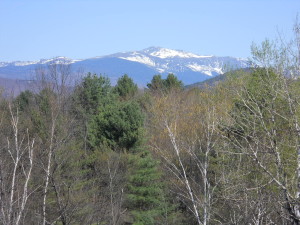 I've been enjoying staying and playing in Mt. Washington Valley, NH for more than 20 years. The variety of recreation the White Mountain National Forest offers is a big draw for this region, which is an easy one-tank ride from almost anywhere in New England. From biking to hiking to waterfalls, ponds, lakes and rock ledges, I love that a new summer adventure can be discovered each day in the 28 towns and villages  in the Valley. On a recent trip, our family had the opportiunity to stay at The Seasons Condominium Resort in Bartlett and take a hike I've always wanted to try with Outdoor Escapes New Hampshire guide Lucie Villeneuve and her family. Both offered pleasant surprises and an ideal way to spend a weekend.
Play In the Mount Washington Valley: Outdoor Escapes New Hampshire
When Lucie  and her husband Peter drove up in a dirt-covered Jeep, I knew they were adventure-seekers. After meeting her 2-year-old son Jacques (named after the French explorer, Jacques Cousteau) and 8-month-old Melanie, we set off together into the Green Hills Preserve, a lovely natural area maintained by The Nature Conservancy. It's located off Artist Falls Road in North Conway.  I suggested we take the Pudding Pond Trail; I've often noticed the pond from the North-South Road, especially in the fall when it is ringed with colorful maples, and always wanted to hike there.
Throughout the hike, we learned many interesting tidbits about nature and hiking. Tip #1 came from Peter, who advised us to always leave a set of keys under the bumper of the car (or someplace where all of the hikers in the group can find them). If anyone is hurt during the adventure, there'll always be a get-away car accessible to seek help. Great advice, I thought.
As we hiked, Lucie explained that Outdoor Escapes New Hampshire offers a wide range of guiding services from inn to inn tours, which are popular in the Great North Woods, to kayaking, mountain biking, photography, and moose tours.  They also teach outdoor survival skills and will customize general birding, loon, and eagle adventures. Launched in 2003, Outdoor Escapes New Hampshire keeps two guides and their families very busy with customized guided adventures.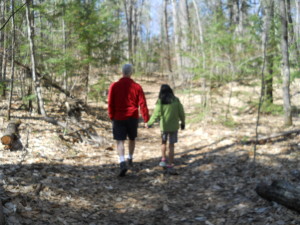 We learned many features of the flora and fauna we found along the trail, including the fact that spruce needles are a good source of Vitamin C (when boiled into a tea) and the difference between dog and coyote tracks. My 10- and 12-year-old daughters enjoyed picking wintergreen and teaberry leaves and smelling them along the way. We learned the perfect way to distinguish between spruce and fir trees – spikey spruce, friendly fir!
As we approached the pond, we came upon an enormous beaver hut and a number of dams created by the generations of beaver living in the pond. This gave Lucie and Peter the perfect opportunity to explain how beavers live. Kim Han, my youngest daughter, listened intently and then suggested, "they've been busy beavers this winter!" We even spotted a few painted turtles sunning themselves nearby, much to the delight of my daughters.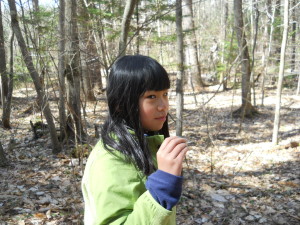 Lucie explained that the White Mountain National Forest, created by the Weeks Act, is celebrating its 100th anniversary this year. As we continued on, we came upon a boggy section where the water level was higher than normal and boards were laid over wet areas, but a less-direct but dryer route was also laid out. Only Lincoln, my husband, was willing to try the obstacle course of connecting boards while the rest of us chose the other path. Soon we heard, "Oh shoot! Don't go this way!" Poor Lincoln slogged through the rest of the hike with puddles in his boots (did someone say "fools rush in"?).
The tips and facts we learned from Lucie and Peter are simply too numerous to share, including what to do when you hear thunder (stay in the middle of an area with even-sized trees) and that black flies breed in moving water 3-inches deep while mosquitos breed in still water. We examined thousands of mosquito larvae floating in a small puddle; NOT a cheering sight!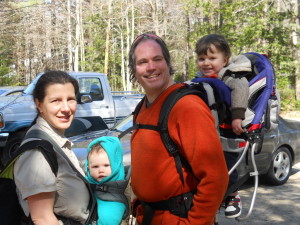 Lucie left us with the 10 essentials of survival one should always remember when planning any adventure:
1.  Attitude – have an adventurous one
2.  Map – don't forget it!
3.  Bring a compass, and know how to use it
4. Always have a source of fire (or more than one)
5. Know how to create shelter
6. Pack a signal device – mirror, horn or whistle (Peter suggested a CD can double as a mirror)
7.  Bring water, or know how to purify it
8. Food – bring enough for everyone
9. Don't forget tools – knife, cord, etc
10.  Bring along a light source – flashlight (with spare batteries), matches.
Our family has done quite a bit of hiking over the years, but even with our experience, we learned a lot from hiking with Lucie and her family.
Stay In the Mount Washington Valley: The Seasons Condominium Resort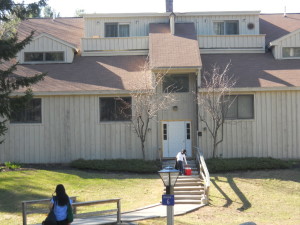 We stayed at The Seasons Condominium Resort near Attitash in Bartlett. I've heard The Seasons offers an ideal, affordable family lodging option in Mt Washington Valley, but I'd never seen the condos. Friendly staff directed us to our-two bedroom condo. The girls were delighted when they spied the large-screen TV in the living room and another in their bedroom with two twin beds. This Mom's equivalent delight came when she discovered the master bedroom with a king bed and private bath. I like a bathroom with a large vanity and plenty of room for all my stuff. This one had it, plus a second bath for the kids and a washer/dryer too! My youngest went right to work checking out all the outdoor and board games in the condo. We all agreed that the cozy living room with leather couches and the wood stove would be ideal in the winter after a day of skiing at nearby Attitash or Bear Notch Ski Touring Center and was perfect for our summer adventure, too.
I had the chance to tour the condo next to us, which offered not only a master bath with a private deck and second bath, but a huge loft overlooking the living room with a large sitting area, two twins and one full-sized bed. Both condos offered a full kitchen stocked with all the pots, pans, dishes, and utensils a family could need for cooking meals, the ideal setup for families who love to play and stay together.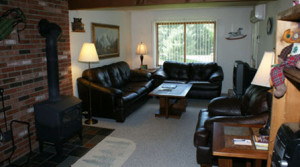 In the summer, The Seasons offers tennis and volleyball courts, a playground and picnic area, hiking trails and a year-round clubhouse with an indoor pool and a very large jacuzzi.  Both my husband and I agreed that perhaps the most appealing aspect of The Seasons was its affordable price. Our two-bedroom condo ranges in cost from $89-$169 per night depending upon the season. The weekly rates were even more affordable, making a vacation here within easy reach for most travelers.
When You Go:
Outdoor Escapes New Hampshire: Offers year-round customized wilderness Adventures.  Visit http://outdoorescapesnewhampshire.com/ for complete information and descriptions of escapes and packages.  Inquire by email: naturenut@outdoorescapesnewhampshire.com or by phone at 603-528-0136.
The Seasons Condominium Resort, Route 302, Bartlett, NH: Offering condo lodging accommodating two-to-ten people in the heart of Mt Washington Valley's adventure.  Visit http://www.seasonsnh.com/ for complete information, photos of the condos and to book online or call 800-332-6636 for more information.
To learn more about staying and playing in Mt Washington Valley, contact the Mt Washington Valley Chamber of Commerce; visit them online for complete vacation planning resources at www.mtwashingtonvalley.org or call 1-800-DO-SEE-NH (800-367-3364).