I took my first-ever rock climbing lessons at the great EasternSlopes.com Mount Washington Valley Weekend Gathering earlier this spring. I climbed with International Mountain Climbing School (IMCS), which operates from North Conway, New Hampshire. Despite my initial apprehensions about the sport (you can read that story here), it was love at first climb, and two weeks later I was back for more.
At my first lesson I heard that IMCS needed "clients" for a guide recertification program, and we arranged to be the lucky guinea pigs. My first experience rock climbing was so positive and so much fun that I wanted to share it. So I came with five friends from college in tow: Jessie and Breanne, who are my roommates and best friends; Dan and my boyfriend Sam, who love mountain sports as much as I; and Casey, an "artsy" sort of guy who had never rock climbed before but was brave enough to come along anyway. I figured the only thing better than rock climbing with a friend and fantastic instructor would be rock climbing with five friends and more fantastic instructors. I was right!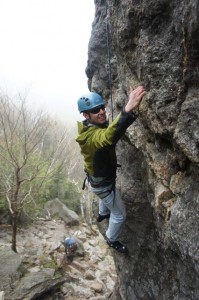 We caravanned up from Boston on Saturday evening and stayed at the Royalty Inn in Gorham, New Hampshire, a wonderful home base for a bunch of budget-minded college kids (or a family seeking an inexpensive getaway spot). I learned that they do amazing ski and stay packages with Wildcat Mountain in the winter and I can't wait to go back when there's snow on the ground. It was clean and comfortable, the staff was friendly, and the lobby even provided coffee for us in the morning,  exactly what we needed before a day in the mountains. Great value!
Since this my second lesson and I knew what to expect, I didn't have any nervous butterflies in my stomach when I pulled into the International Mountain Equipment (IME) parking lot. My first lesson had put me at ease, and I knew I loved climbing. My friend Casey, who had never climbed before, told me afterwards that he was nervous. But being with a group of friends bolstered his confidence. Here's a tip: If you are trying a new sport go with friends. It'll give everyone courage and help you relax and enjoy the new experience.
Upstairs in the IME/IMCS shop, our group became even bigger when we met others who would be joining us as guinea pigs for the day. We experienced what it would be like to participate in one of IME's larger group trips with lots of climbers and several guides all working/playing together.
While we were all being fitted in helmets, harnesses, and shoes, I got to know some of the other people including Leif and his wife, Autumn (perfect names for a couple who love the outdoors!). Leif, an experienced climber, offered to help me out with this article. He had this to say about being geared up:
"The IME staff was high class! I appreciated their attention to detail. 'Do you have pants, a jacket?' they asked. 'Are those the shoes you'll be wearing for the hike in?…Try these on!' Whatever the clients lacked in gear, IME stepped it up to ensure everyone's comfort and safety."
IME offers rentals for any sort of gear you may not have remembered or known to bring. They warned us it would be cold in the mountains and rain threatened despite mild conditions at the shop's location. They offered us all backpacks and rain jackets (stylish ones at that!). Sam borrowed a pair of pants, and Casey took a sweater. We were all grateful for IME's extra thought. As Leif said, "It was not exactly the sunny and cloud-free day which had been promised by the Weather Channel. But, then again, we were in the Presidential Range where my guess—or yours—is as good as the weatherman's. Anyone wearing only shorts definitely paid the climate penalty as we spent all morning and afternoon socked in by fog and body-chilling winds."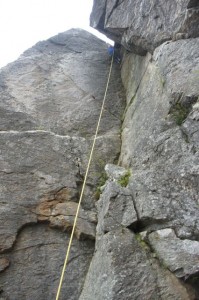 Cold it may have been, but with plenty of physical activity to keep us warm, we didn't have time to get uncomfortable. Some of the guides had gone ahead of our group and set up five pitches along Square Ledge: Standard Route, The Prize, The Chimney, The Brain, and Practice Session. You might be familiar with this location since it is directly across Route 16 from Mount Washington and only a short, easy hike from the AMC Pinkham Notch Visitors Center. Had it been a clearer day, we would have had a terrific view of New Hampshire's beloved highest mountain from here. I hear the view is definitely worth the short walk.
One way to ensure a great day of climbing is to stay safe, and our guides were serious about protecting our precious bodies in every possible way. Before we were anywhere near the climbing area, the guides stopped and asked us to put on our helmets in case something fell from the cliff above.
Before we started climbing, we were given an obligatory  30-minute basic skills lecture. Sounds awful doesn't it?  It was actually fun! As Leif describes: "This lecture included not only tips on safety, but 'knotology,'" climbing and belay techniques, and a few useful pieces of rock jargon. Our guides' s instructional flare made sure this 'classroom lecture' was anything but a bore."
In fact, we put all these tips into action during the day with the help of one-on-one instruction. I spent the most time with Jed, an instructor who's probably my grandfather's age but who seems more like he's my age. He not only taught me practical things like how to tie a Figure 8 knot; he also showed me that I don't need anti-aging cream. I just need to keep rocking climbing to stay young forever! Because of Jed, I realized that "Climb on!" is not just standard communication to alert someone that he or she is "on belay," it is a metaphor for life!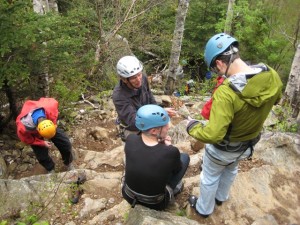 And "Climb on" we did. The five pitches ranged in difficulty from 5.4 to 5.8 (Yosemite decimal system). "The Brain," named for its lumpy, brain-like protrusions, stumped all but Jed at first. On the uppermost climb, Practice Session, a few of us were taught how to use a hand wedge in a long, vertical crack. We cheered and coached (and sometimes poked fun at) each other until we'd successfully touched the top anchor on each of the pitches. The "Standard Route" and "The Prize" shared a rock face and made for good competition. Dan and I even raced each other. Do you need to ask who won? (Me, of course!)
Like Dan and me, most of our friends had limited climbing experience. Dan had done some bouldering (practicing technical rock climbing skills close to the ground usually on big, stand-alone rocks), but had never climbed with ropes on a mountain's rock face. He said that the technical thinking and skills needed to climb boulders prepared him for cliff climbing. He felt more in communion with nature climbing in the mountains than any other time he's climbed. The beautiful forest around us was enjoyable to climb in, and also a relaxing place to chill out between climbs. While resting and munching on a snack, I had time to watch the others. I paid particular attention to my friend Casey-the-newbie.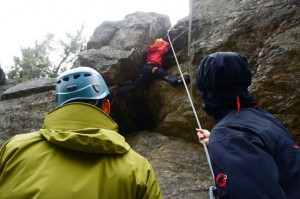 Casey defnitely had as much fun on his first climbing experience as I did on mine. Although he loves the outdoors, he's usually too busy in an art studio or working on a graphic design project to get away to the mountains. It didn't take much coaxing for him to come with us this time, and I'm thrilled he did. Being able to share my new favorite mountain sport with a friend who also loved it might have been the most rewarding part of my day. I was reminded that being outside isn't just about the fun I have as much as it is about the fun I share.
Talking with and learning from new friends improved our experience even more. As the most experienced of the "clients"Leif was able to share many stories and tips. He was happily surprised that, "Everyone climbed brilliantly! From the total novice, to the seasoned veteran. Everyone in the group attained great heights; if not literally, then surely by their concentrated effort and 'go for it spirit.'"
Even more than reaching the top anchor, the "go for it spirit" was what the day was all about. We supported each other, whether it was by belaying or watching from a comfortable nearby rock. Our time at Square Ledge was as much about each other, catching up with old friends or making new ones, as it was about pushing ourselves physically.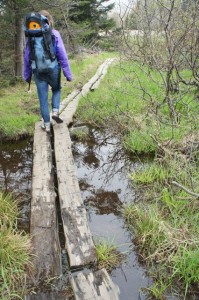 After the day was over and we'd returned our gear, Leif summed up the experience: "I have to say that this trip certainly changed my perspective toward IME. Before, it was just that cool store where I would browse before or after a camping trip. But now, I am convinced that it is a place where everyone should hire a guide and quite possibly have a life-altering experience. Being an 'advanced amateur' climber who had taken a hiatus from the sport, I was reminded of the joys of getting vertical. I hope that this walk down (or should I say 'climb up?') memory lane will get me to pull the dusty gear out of my closet and once again become a weekend crag warrior. Cheers to IME!"
Leif captured my sentiments exactly. I was impressed at the ease with which IME taught climbers of differing experience levels, recertified instructors, and made sure we all had a lot of fun. I'll remember this day as one of the best I've ever spent outside.
Rock Climbing Lessons With a Group: When you go
The International Mountain Climbing School, which is a part of International Mountain Equipment, offers rock climbing, ice climbing, and mountaineering lessons throughout the Mount Washington Valley.
Seven days a week, their top-notch instructors offer full-day lessons for groups of one or more. Prices start at $95 per person for a larger group and change according to group size. Advanced climbers looking to improve would be smart to sign up for a 2-day private lesson for $500.
If a full day is too much for you and yours, as it might be for newcomers, a half-day lesson is an alternative offering. A half-day lesson was exactly what I needed the first time I climbed. (Prices start at $85 per person.) Click here for a complete pricing list.
For more complete information, check out the IME/IMCS website here or give them a call at (603)-356-7064.
The IME/IMCS shop is located on a main stretch of the White Mountain Highway in North Conway, New Hampshire. The other local shops satisfy the hearts of outdoor enthusiasts and neo-hippies alike, and are definitely worth checking out before or after your climbing excursion. Also be sure to get a caffeine boost just down the road from The Frontside Grind, a coffee shop that roasts their own beans.
Lodging: We stayed at the Royalty Inn in Gorham the night before climbing. The entire group was glad we stayed close to IME's shop (only a quick, half-hour drive) instead of driving up from Boston early in the morning. Rousing a bunch of college kids (or anyone, for that matter) at 5:00 a.m. on a Sunday is the opposite of fun, and being well rested makes for a better day. Staying at the Royalty Inn or somewhere close the night before is definitely recommend.
Planning: The Mount Washington Valley Chamber of Commerce provides one-stop shopping for lodging, dining and attractions (yes, there are things to do other than rock climbing in the area!)