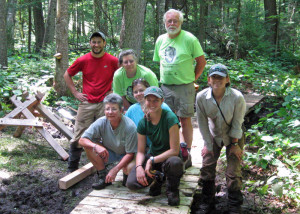 If your budget is limited this summer (whose isn't?) but you still like the idea of getting outdoors, getting some real exercise (for a change), and spending quality time with new friends, consider volunteering for one of the great organizations that helps maintain hiking and biking trails, parks, campsites, canoe launches, and natural areas throughout the northeast. It's something you can do with your family or friends, and I can guarantee you'll get more from the experience than you give.
All those wonderful trails we walk and pedal on all summer don't appear by accident. Beaches, campsites and boat launches aren't self-cleaning. It takes lots of planning, coordination, and, yes, occasional hard labor to keep them in top shape. Not to put any guilt on you or anything, but, if you're going to enjoy using them, shouldn't you help maintain them?
While volunteers for outdoor organizations do a variety of necessary jobs like answering phones and updating websites, the folks who have the real fun are the ones who go out and cut brush, remove deadfall, roll rocks, dig water-diversion cuts, build bridges, maintain shelters, paint blazes, stack rock cairns, pick up trash and do whatever else needs to be done outdoors.
It's hard to imagine that walking with friends and picking up trash as you go could be deeply soul-satisfying. But it is. Even using a simple pair of loppers to trim back encroaching brush can be immensely gratifying—especially when you look back and see a swath of clear trail behind you.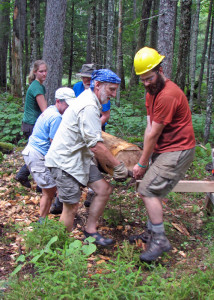 There's a certain satisfaction to pure, hard, physical labor that leaves you tired and a little sore at the end of the day. Don't believe me? Volunteer and swing a Pulaski (a combination of an axe head and grub hoe on a long handle) to flatten a trail traversing a steep slope. I guarantee you'll appreciate every level section of trail more when you next walk or ride them.
Ditto with using shovel, pickaxe and crowbar to move a rock that, when you first looked at it, seemed immovable. This is especially true when you roll that rock into place to make a perfect step that won't move or erode in a thousand years of weather and hiking boots.
The pleasure of all this is even greater if you weren't sure you could do it. You can learn a lot about yourself and your hidden abilities working hard to repair a trail or build a riverside campsite.
You can also learn even more about other people and how to work with them. When no one person can move a big rock, it takes real teamwork to get the job done. No corporate or school "team building" exercise ever taught as much about cooperation and goal achievement as simply working together to roll a big rock from Point A to Point B. Too bad more corporations and schools don't encourage their employees and students to volunteer with outdoor groups.
Volunteering is a terrific way to get yourself out and enjoying something new. After all, you're suddenly involved in something much larger than your own day-to-day existence, you're helping yourself and other people get more enjoyment from the world, and you're getting some fresh air and great exercise while you are doing it. What more could you ask for?
Outdoor Volunteering Opportunities Abound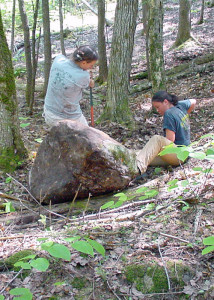 Every organization that has anything to do with the outdoors needs volunteer labor. Here are just a few opportunities that I've encountered recently; if you don't find what you are looking for in this list, look around and you'll find something, or contact me for ideas. If you know of an organization that needs volunteers for outdoor recreation projects, let me know and I'll add it to the list.
Adirondack Mountain Club uses volunteers to maintain trails and campsites throughout the region.
Appalachian Mountain Club holds many volunteer work days, weekends and weeks over the course of a year in Maine, New Hampshire, Massachusetts and Connecticut. Some are through the head organization, many more are with local chapters. Many of their opportunities, especially the ones for kids and families with kids fill up early (which tells you how much fun they are . . .) , though some still have a wait list and there's always the possibility of last-minute cancellations.
Appalachian Trail Conservancy needs volunteers to help monitor, mark, maintain the 2,000+ miles of the AT from Maine to Georgia. This site has links to local chapters with volunteer opportunities.
Connecticut Forest & Park Association uses a network of volunteers to maintain a network of hiking trails and campsites throughout the state.
Eastern Fat Tire Association has a long-standing "Pay Dirt" program where competitive mountain bikers get points for trail work with any of the following organizations. The rest of us, of course, can do it for the fun and exercise.
• International Mountain Bike Association
• New England Mountain Bike Association
• Vermont Mountain Bike Advocates
• Bicycle Coalition of Maine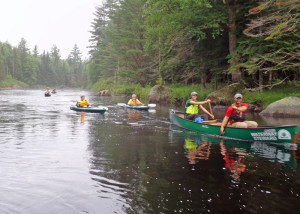 Green Mountain Club offers "volunteer vacations" doing trail and shelter maintenance throughout Vermont. These programs last well into September.
Maine Island Trail Association holds island cleanup sessions in September and October—this is a great chance to get out on the water at a beautiful and uncrowded time of year.
NH Rail Trails Coalition is an umbrella organization that can link you to dozens of local projects which all need volunteers.
• Northern Rail Trail in Grafton County takes care of 23 miles of trail.
• Northern Rail Trail in Merrimack County has 23 miles of trail with  a major extension planned in September 2011 with more  for subsequent years.
Northern Forest Canoe Trail maintains portage trails, launch sites, takeouts and campsites along 760 miles of waterways from New York to the northern tip of Maine.
The Trustees Of Reservations protects some of the most beautiful places in Massachusetts and always needs volunteer help for a day or longer.
Upper Valley Trails Alliance maintains trails and other outdoor resources along the Vermont/ New Hampshire border.
White Mountain National Forest and Green Mountain National Forest use volunteers constantly for forest recreation projects.
This very special organization runs trail one-day trail maintenance projects throughout the region from mid-April through November. Rather than focusing on trails in one area, they serve as a central repository of knowledge, resources and skills which can be tapped by any organization that needs them. Working with The Trailwrights, volunteers get the skills they need to carry the work ahead on their own. Check their website for a constantly-updated list of volunteer opportunities. Great organization!