Which Tough Mudder story do you want to hear? The one about the race that's a death march that you hope to just finish in one piece? The one about the event where people who don't know each other work together to overcome obstacles? Or the one about laughing hysterically while you coat yourself from head to toe in mud and worse?
There's no simple answer to the Tough Mudder conundrum. Billing themselves as the single hardest endurance event that exists, they're not really a race, yet we hurt more afterwards than from any race we've ever done. Some people try to finish ahead of everyone else, but there are so many people out on the course that you really don't know where you are relative to other racers, and at some of the obstacles waits of 15 minutes or more aren't unusual. You'd think with that much time to recover, it wouldn't be that difficult, and you'd be wrong. Quirky? Yes. Brutally difficult? Yes. Fun? YES!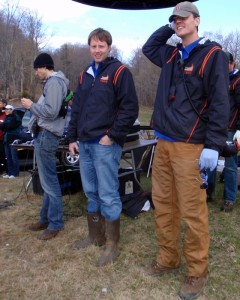 Tough Mudder is the brainchild of Will Dean, a remarkably pleasant-looking young man with a background in the British Special Forces. Looking at the world of endurance races, he saw that Ironman was the king, but was so exclusive that only the elite could compete. Also, the nature of the event means a limited number of venues, so a lot of travel for participants, and a very high cost. With true egalitarian spirit, he envisioned a way to bring pain and suffering to the masses…and, as the movie said, "if you build it, they will come."  And come they do; at the Mount Snow weekend, 7,000 people participated each day. That's a ridiculous number; the sheer mass of people there led to both some of the highs and some of the lows of the event.
And, of course, where there's pain and suffering offered to the masses, we'll be there. My fiancee Susan and I couldn't resist the challenge; anyone who has followed the "Crazy Style Racing" series knows that doing these silly races is our idea of fun. The fact is, since we're not going to win, it's simply a matter of doing our best. And, instead of doing our best by running on the road or something similarly…well, boring… challenging ourselves at something that combines multiple obstacles, physical AND mental, adds spice to the effort. There's a different level of satisfaction, as well, because of having to use everything we have. It's not just our legs, it's not just our arms, it's also our brains (such as they are); the strategy required to do the obstacles quickly and safely, or simply to do them at all, can be pretty complicated.
So, off to the Tough Mudder at Mount Snow we went (remember that "snow" word; it's important to the story). Because the event was so large, there wasn't any lodging nearby, and doing the 4 hour drive from our house and then trying to do it again AFTER the event wasn't an option. Luckily, we knew about The Landgrove Inn, a quirky, rambling country inn about an hour away in the town of…yes, you guessed it, Landgrove, VT.  Never heard of it?  You're not the only one; it doesn't even show up on a lot of maps. One of our other writers had stayed there while doing the Tubbs "Romp to Stomp" event and had a lovely time; since the Tough Mudder is in the off-season for the area, we were hoping that it would be open, and it was. Innkeeper Tom Cecchia was extremely accommodating to our schedule; when we arrived at an odd hour, he simply left a key for us so we could head to our room and get organized without waiting. We picked up some truly dreadful pizza in Londonderry on our way in (trust us, ask  Tom which restaurant to go to in town!), and had a picnic in our room as we prepared for the following day's insanity.
Up bright and early, we had a surprisingly good "mini breakfast" at the inn; Tom leaves various cereals and fruit out, and showed us where the milk was (who knew that Special K with "red fruit" would taste that good?). With a bunch of hours until start time, we figured we'd take the edge off our hunger, get to the venue, fill up on food there, then start our planning for the race. Good choice, that; Mount Snow's cafeteria had some surprisingly good breakfast sandwiches. We loaded up and started digesting, and headed for registration.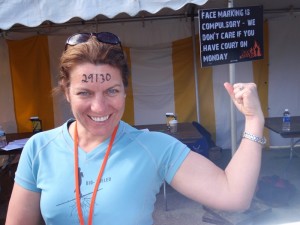 Which, by the way, like the race, isn't for the fainthearted. When you find out that you're about to get your race number written on  your face in permanent marker, it makes you wonder if you're TRULY insane. Or, if all of your family and friends are going to assume that you lied about going to a race, and instead spent the weekend in jail. Or, if it'll ever come off (for the record, we did enough sweating during the event that by the time we finished, the numbers were already gone…one more fear proven to be sheer paranoia!). The Tough Mudder people never miss an opportunity to mess with your mind; there's a certain puckish glee to the signs that regularly point out all the ways you can fail, get hurt, embarrass yourself, etc., that has you swallowing hard at times.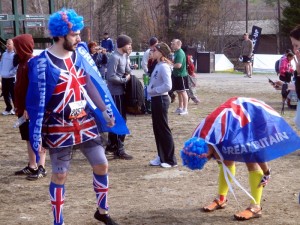 Once we got past that little "gulp" moment, though, the next hour or so was just plain fun. Tough Mudder is, to put it politely, a total freak show. Every lunatic extrovert on the planet seems to show up…if you can imagine an outfit or a team theme, it was there. It was fun for us to, just one time, feel like we were the NORMAL people in the crowd, although the crowd appeared to be particularly fit; 7000 people, 7 total pounds of excess fat (until we showed up, at least). Luckily, as we looked more closely, there turned out to be a lot more "fit-but-still-normal" participants that it first appeared. We had a nice chat with Eric & Mindy Randall, a 50-something couple who, like us, enjoy the challenge of helping each other complete the obstacles. They looked remarkably normal, and seemed normal as well…but, let's face it, they had to be a LITTLE twisted in some way to want to do this! But, also like us, they were also enjoying the utter lunacy of people in capes, multi-colored wigs, multi-colored spandex, you name it, all preparing to spend hours testing themselves in ways that wouldn't be helped by the goofy outfits in the slightest.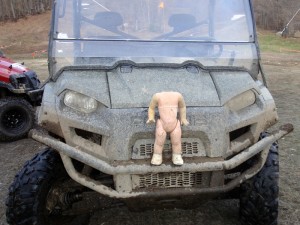 But, all good things must come to an end, and our start time was coming up. So much for our mild voyeurism; it was time to put up or shut up. Ever seen a movie where they showed cattle at a slaughterhouse, packed in, mooing and bawling, and not really understanding what was about to happen to them? Okay, now make that a bunch of quasi-humans, and you've got the start of the Tough Mudder at Mount Snow. Any trepidation we had about the race was "removed" by the guy who stood up, pointed out that we'd have lots of opportunities to hurt ourselves, and by the way, if we had any sort of heart condition or pacemaker, we might not want to electrocute ourselves in the last obstacle. Great. If it hadn't been for the fact that we were packed into the chute like sardines with a few hundred other racers ready to run OVER us, we just might have quit there and then…or, maybe not.
Off went the gun, and the true insanity began. Like both Sunday River and Shawnee Peak's races, the first obstacle was simply a brutal uphill; that separated the pack, allowed us to get farther back in the group where we really belonged, and start to feel the pain in our legs. Keeping in mind the advice I was given years ago ("you can't win this race in the first lap, but you can sure as hell lose it"), we tried to avoid pushing ourselves too hard at the start.
Smart decision. There's really no good way to describe the next few hours. If you go onto Tough Mudder's site, or go to YouTube and look for videos about them, you'll see clips of insanity…people carry logs around, dive through pools of what looks like nuclear waste, swim through soupy mud, run through flames, try to electrocute themselves, and more.  What you can't see is that this goes on…and on…and on. The real tests of the Tough Mudder are three: First is simply to do the obstacles. Second is to have the stamina to keep going when you're tired, muddy, freezing, overheating, and possibly scared. Third…well, that one may be the hardest. Here's the real secret of the Tough Mudder, and possibly of all of the obstacle courses that special forces around the world go through; they're trying to break you mentally.
And with years of experience behind him, Will has the formula for testing you mentally down pat. Hate the feeling of cold water slowly creeping up your body, knowing just how miserable it's going to be when it hits certain parts? "Ball Shrinker" (yes, that's the actual name) is waiting for you. Hate heights? Try the Berlin Wall or Walk The Plank (bonus: with Walk The Plank,  you also have the fear of jumping from height into ice-cold water). How about going under barriers in muddy water, where you can't see what you're doing? They've even found a way to hit your fear of the dark in the middle of the day with "Boa Constrictors." After the event was over, we were talking to a 30-ish, stupidly fit man, the kind that we expected would be winning the event; but he admitted to us that it took him several minutes to get up the courage to crawl into those dark, narrow tunnels and aim down into the water. For me, walking the plank was a "gulp"; I hate heights and I'm a lousy swimmer. Add to that frigid water and having to swim in my shoes, and it's a good thing I had Susan there with me; she jumped ahead of me, so I HAD to do it. Bizarrely enough, it was her greatest fear as well; but, she refused to skip it, knowing that I was behind her watching. Ah, teamwork…
Then there's the mud. Don't think the name "Tough Mudder" is just a pun; they take it seriously. Clearly, the organizers took a somewhat satanic delight in finding ways to divert water into areas that would create everything from muddy water to thick, nasty goop that causes you to slip, slide, fall, and lose shoes. About that…it was less than 15 minutes into the race that we had our first sight of a competitor digging around in knee-deep mud, trying to find a sneaker that was sucked off by the goo. It was far from the last time we'd see that; it was almost common to find someone by the side of the trail, trying to undo laces gummed up by the mud. Hint:  choose your footwear carefully.  We'd decided to use our GoLite trail runners for two reasons; first, we've found that they have excellent traction in (virtually) all conditions, and second, they have a very well defined heel cup that locks your heel in solidly. Of all the fears we DID have, losing a shoe to the mud wasn't one of them. Plus, the traction was a huge help in slippery, muddy corners and downhills; the people who were using standard running shoes really suffered. No question in our mind, for this kind of race a lightweight trail runner is simply the best option, particularly one that doesn't absorb a lot of water weight.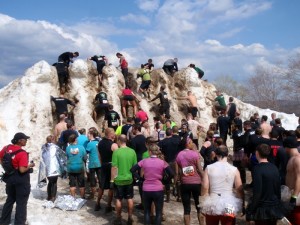 Now, while focusing on the psychological aspects of the event tells you what most people won't, there's no denying the physical challenges. Just as the organizers try to find your mental weaknesses, they also try to find every muscle you have that's not QUITE up to par. Try to do the "Funky Monkey" without great upper body strength AND hand strength. Or "Hold Your Wood", where you throw a log up onto your shoulders, then climb up AND down a section of steep ski trail. Strong legs, strong shoulders, great balance, and a quick mind to make good decisions on where to put your feet for the best traction…you need them all. We saw an absolute beast of a man, one who could pick up one of the monster logs with one hand, struggle through that obstacle while a skinny runt went by him; the runt chose a better line in the climb, taking step after step, while the mountainous one slipped with each step and had to work his way slowly up the slope. Or "Glacier" (remember: "snow"). Literally, a mound of snow and ice that from certain angles looked remarkably like Mount Rushmore, vertical and about 20 feet high; climbing that after swimming through 38 degree water in the previous obstacle (the "snow", yet again; snowmelt water is COLD) was one of the most daunting challenges. If you took your time and kicked in steps and handholds, you froze; if you tried to climb it quickly, it crumbled under you and you slid back down. Solution? More teamwork. The person who climbed up ahead of me was helped by the person ahead of him; then, he turned around and reached down to pull me up. We helped the guys behind us, then got off the iceball before we froze solid to it.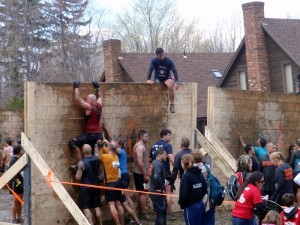 Teamwork, again, was the solution to one of the hardest obstacles, the Berlin Wall.  12 feet high, no ropes…do the math.  I'm about  5′ 4″ at shoulder height, and have a 34″ arm length.  Add about 4″ of palm so that my fingers are free to wrap over the top of the wall to pull me up, and…I'm over 3 feet too short to make it up. I can't make that jump, and from what we saw, not many other people can. Big teams handled it well, but smaller ones or solo people had to look around for other people who had that lost, glazed look on their faces, and say "want to work together on this?" Within minutes, we had a "team" of half a dozen people, and developed a system. Get the strongest one to the top where he could help pull people up, then start lifting people up. Now, here's where REAL thinking comes into play. How do you get the last person over?  Simple enough; have people who have already made it over the top come back around and give a hand. Hey, you have to make it up and over; nobody said you had to STAY there!
There are some obstacles, though, that nobody can help you with. Funky Monkey's the classic there; monkey bars with, of course, ice cold water below. You've got three choices…do it, try it and fall in and swim out, or…skip it? Yes, that's an option. And, to be fair to the organizers, they make it clear. Does an obstacle scare you too much? Go around. Feel that you're physically unable to do something without getting hurt. Go around. And, do NOT feel bad about it. This may be the real genius behind Tough Mudder; you're encouraged to try everything, to push your limits, but there's no sense of shame if you simply can't make yourself take on a particular obstacle. With no times published, no placings given, this truly IS an event, not a race. Sure, some people race it with the goal of making the Toughest Mudder 24-hour competition…good for them. For everyone else, it's a race against themselves, a test of physical and mental stamina, a chance to get out of their cubicles and comfort zones with friends old and new.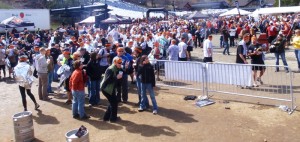 And when it's over, there's more insanity waiting with those friends. For starters, someone is waiting for you at the finish line with a beer (post-workout recovery drink, dontcha know?). A quick and very cold outdoor shower, then join the party; thousands of people, an excellent band on a huge outdoor stage, barbecue of various sorts; sort of like Woodstock, except the bathrooms are cleaner and the main drug is endorphins. There's a sense of shared accomplishment; the most coveted trophy there is the silly orange headband that says you're a finisher. Strangers smile and give you a thumbs-up when they see you wearing one. It doesn't matter whether you completed the course in 2 hours, 4, 6…the pride is in completing it, period. There's two very important statistics about finishing; roughly 25% of the people who start the event don't finish, and 100% of the people who don't try it don't finish, either.
That's the real point Will Dean and his band of merry men are trying to make. Those who get off the couch and attempt the course, finish or not, have done something to be proud of. For us, finishing was a wonderful moment; there were times that we wondered if we had "the right stuff" (particularly as we faced the electroshock therapy at the finish line; and yes, it hurts, but it's not as bad as we thought it might be). Our time put us, as usual, sort of mid-pack; we'll never know exactly where in the group, and that's intentional on their part. If we do another Tough Mudder, it won't be about beating more people, but rather about getting better at the obstacles. And, frankly, by doing "probably the toughest event on the planet", we'll be better prepared for other obstacle courses. Word has reached us that Sunday River has added more obstacles to the 2011 Tough Mountain Challenge…hmmm…