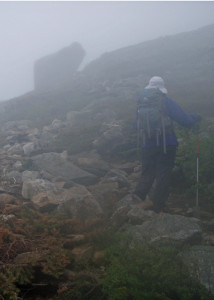 One of my favorite places in the whole world  is the White Mountain National Forest in New Hampshire and western Maine. While I love exploring the out-of-the way corners where other people rarely go, I also love the popular High Presidential Range, especially nice in June when the weather is cool from valley to summit, the AMC huts are open, and the alpine wildflowers are blooming on the highest slopes.
A few years ago (June, 2007 to be precise), my sweetheart Marilyn and I hiked up from Crawford Notch, spent a night at the Mispah Spring hut, then followed the Crawford Path to Lakes of The Clouds Hut for what was supposed to be a three night stay. But Marilyn got ill as we arrived at Lakes and the next morning we made an unhappy retreat to the valley, got her home and I returned to finish the trip, which included a guided hike with an AMC naturalist. The wildflowers were spectacular on that trip and I wanted to bring her back to enjoy the show and experienced what she'd missed.
She was game for a re-try. However, in the interim repeated knee injuries have made it hard for her to climb for long distances on steep slopes (she usually has no trouble on level or downhill as long as we don't rush). So we carefully crafted a plan that took her strengths  into account.
Planning and"Easy" Wildflower Hike On Mount Washington
We'd leave home early in the morning, park at the AMC's Pinkham Notch Visitor's Center, hop a shuttle to the Mount Washington Auto Road, where we'd take a "stage" ride (in a comfortable van) up to the Alpine Garden Trail (where the wildflowers are likely to be the most spectacular), hike around the flank of the mountain with very little gain or loss of altitude, spend the night at Lakes, then take our time coming down the next day. If you want to plan a hike anywhere in the White Mountains, start with the AMC White Mountain Guide, which is known to many hikers as, simply, "the book"
Most of our plan went very well. Some of it didn't . . .
It rained on the drive up but the sun broke through as we climbed into the van. At the trail, hiking in mixed sun and clouds, we were disappointed to find that ice storms in late May had taken a heavy toll on this year's wildflowers, though we did get a taste of the normally-spectacular display.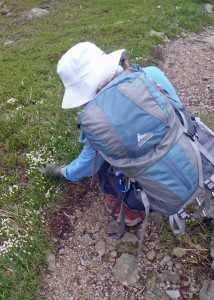 Marilyn found parts of the hike to Lakes challenging, but do-able. Hiking at her pace, with a stop for lunch, we still arrived at the hut in plenty of time for a nice nap before an excellent dinner. It was a lovely day of hiking.
As we ate dinner, we watched the rain swell from a light mist to a steady downpour.
The next morning, we packed up our gear before eating a huge breakfast and immediately started down in fog, mist and occasional rain. Our planned route took the Camel Trail to Davis Path to Glen Boulder to Divertissma, a generally long and gradual descent with a mile or so of very steep rocks to contend with. That was the part I was worried about.
The top part of our trail was lovely with peek-a-boo views among the drifting clouds and we both enjoyed the hike. But the rain made the footing on the steepest section extremely slippery, even with very good boots. Frankly, in those conditions the steeper section was a serious challenge for me and much too difficult for Marilyn. With no good alternative, however, we took it very slowly (we'd gotten an early start on one of the longest days of the year) and carefully.
We were  both sore and exhausted by the time we reached our car, and I was 1) chagrined at having put her through an ordeal, 2) extraordinarily proud of her for accomplishing it, and 3) elated that she's still speaking to me . . .
In retrospect, I'm reminded of one of the cardinal rules of enjoying the outdoors: when you are making plans, keep in mind that the weather can turn on you at any moment and make a do-able adventure a real challenge. Always carry the equipment you need (for instance, good trekking poles made clambering over those slippery rocks possible, if still difficult) and give yourself plenty of margin for safety.
The Lakes of the Clouds Hut Experience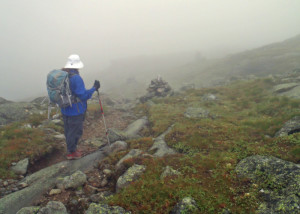 The Lakes of the Clouds Hut is the largest (it sleeps up to 90 guests in co-ed bunkrooms), most popular, and highest (5,050 above sea level, some 1,200 feet below the summit of Mount Washington) of the eight AMC huts. And rarely has a sight been more welcome than the hut appearing through the fog, mist, and drizzle as we arrived on this hike. We'd barely dropped our packs before the real rain set in.
Lakes was less than half full that night, which gave us a chance to talk with most of the people there. Several women were hiking together, bagging 4,000 foot summits as they went. A group of long-time buddies from Connecticut who make an annual trek together to the High Whites had brought their sons for the first time. A young couple, he a medical resident, she a newly-minted lawyer, were lingering for an extra day after their larger group departed. Another small group conversed among themselves in French but spoke perfect English when outsiders joined them. As usual, it was a friendly, fun gathering. Camaraderie with like-minded souls is a big part of the fun in any AMC hut.
Then there's the food—which you didn't have to carry or prepare! Dinner and breakfast were both hearty and heavy on carbs to fuel your hiking. And the comfortable bunk with a mattress, pillow, and three wool blankets provided. There's even entertainment—naturalist talks in the evening, and the "croo show" after breakfast.
Finally there's the incomparable view—which we caught only momentary glimpses of through breaks in the clouds that raced past the windows. The weather is very often a visible force up this high.
If you want to explore remote places but don't want to give up indoor plumbing, prepared meals, and a solid roof over your head, the AMC huts are perfect. I'm going to visit the newly-rebuilt Madison Springs hut soon and will let you know how it looks.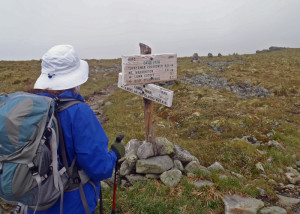 Alternative Routes for a Wildflower Hike On Mount Washington
In retrospect, the simple plan I'd crafted, while it had respected Marilyn's abilities, had failed to account for bad weather and slippery trails. We were never in any danger, but the down hike was much too demanding for both of us.
If I had it to do over again, I'd have parked at Crawford Notch, taken the AMC Hiker Shuttle around to the Mount Washington Auto Road. Then, we could have hiked down the longer, gentler Crawford Path. It would have been a better choice on this wet day.
Another option would have been to climb (slowly!) to the summit of Mount Washington  and take the Auto Road Hiker Shuttle down, but they sometimes don't run in bad weather…and getting there to find it wasn't running would not have been a good option!
The trick is to hope for good weather, but plan for the worst and be able to adapt as necessary.  The whole point is to go, enjoy and learn from the experience, and come down safely so you can go again.