Like most of the U.S., Boston has been experiencing a heat wave this summer. I was privileged (sort of) to have moved from hot, hot, hot Tennessee only to suffer though the hottest day Boston has seen in 30 years!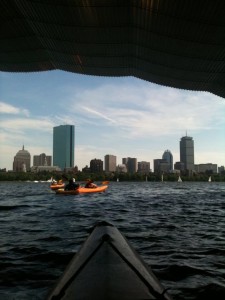 Between record-breaking temperatures and a serious lack of air conditioning in my adopted city, the heat becomes unbearable.  So, I did what most Bostonians do: located the nearest body of water and made a beeline to it.
Fortunately for me, the Charles River is only about a mile from my apartment. During the summer, it vibrates with activity. From sunbathers to yachters to Canada geese on summer vacation, water lovers of all sorts come to enjoy the natural waterway that divides the brick and concrete of Boston and Cambridge.
A couple of weeks ago on my bike tour of Boston with Urban Adventours, I noticed kayakers in the Charles for the first time. Ever since, I've been eager to try kayaking myself.  What better way to beat the heat than to give it a shot on a blistering Saturday?
Kayaking the Charles River in Boston
I met up with the Charles River Canoe & Kayak team near Kendall Square in Cambridge. Their tents and colorful kayaking gear were set up right by a protected harbor on the river. Our river guides, Steve and Dan, gathered our tour group and outlined our adventure. Both of our guides have been paddling their whole lives. They're also trained in basic first-aid, although the trip turned out to be relaxed enough that it didn't matter. Their knowledge made me feel safer though, before getting into a very big river in what felt to me like a very small kayak.
Steve also made us comfortable by explaining a few kayak basics. His instructions were simple ("This side of the paddle goes up. This is down."), but they were beneficial for me and some others who had never been taught how to hold a double-sided paddle. And luckily for anyone who's never been on a river at all, paddling is pretty intuitive. Kayaking the Charles River on this three-hour Boston Harbor Kayak Tour is suitable for just about any skill level.
We paired off into tandem kayaks, and I met my partner for the day, Florin Brasov. Florin is a software engineer from Needham, Massachusetts who's originally from Romania. He had done a similar kayaking trip earlier this summer and came back to get up close in a unique way to the huge ships docked at the Charlestown Navy Yard.
But before we hit salt water, we paddled down the fresh water river. I thought of the poem, The Bridge, by Henry Wadsworth Longfellow as we drifted under the old stone columns of the Longfellow Bridge built at the turn of the century. Henry Wadsworth Longfellow supposedly walked over this bridge's predecessor from Cambridge to visit his sweetheart in Boston every day. Stone sculptures of Viking ships adorn the sides of the columns, and I enjoyed this treat visible only from the water!
We paddled by the Museum of Science where a beautiful outdoor wedding was being set up, past ramshackle fishing boats tied up next to yachts worth more than my head (or, at least, the education in it–but you'd have to ask my Dad to be certain of that), and observed (from an unobtrusive distance) a cormorant, a bird with unique deep-diving abilities, drying his water-drenched wings in the sun. Before long, we'd traveled the length of Boston proper.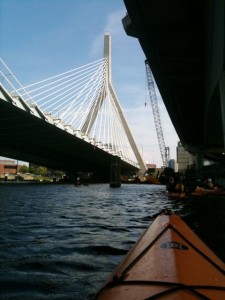 We passed through a narrow canal and felt very tiny under the Zakim Bridge, the widest cable-stayed bridge in the world (as you may recall from my Bike Boston article).
Finally, we reached the Charles River Dam and the locks dividing the fresh water of Charles from the salty bay of Charlestown. When we were given the go-ahead green light from the guards, we entered these locks.
Add river locks to the long list of technologies Leonardo da Vinci designed. They are quite an experience if you've never encountered them before. In a kayak you get to feel da Vinci's genius first hand. At first, all we could see were the stone walls that surrounded us. The water slowly poured in, and we rose up to the bay's level. I'd first encountered locks this spring when I went rafting on the Concord River in Lowell, and I enjoyed my second  encounter with these historic structures just as much.
Two famous ships were the main attraction that drew us into the saltwater. Boston was hosting the Coast Guard Cutter Eagle, nicknamed "America's Tall Ship." The U.S. took this huge ship (built in Hamburg in 1936) as reparation from Germany after World War II. It has recently been traveling to major U.S. cities to celebrate its 75th birthday. Although the Coast Guard Cutter Eagle was only there for the one weekend, the U.S.S. Constitution ("Old Ironsides") calls Boston home. This famous ship was christened by George Washington himself and is the world's oldest, floating commissioned navy vessel. Unlike the cutter Eagle, this black beauty can always be seen on the Boston Harbor Kayak Tour. Florin was ecstatic to be near them. He insisted that we paddle as close as possible to the huge ships. The Constitution, in particular, was as close to a Captain Hook pirate ship as I've ever seen (and yes, I've been to Disney World), and Florin's excitement was contagious. The ships were definitely the highlight of the tour for me!
Steve and Dan were able to tell us about these ships' unique histories. In fact, they told us the history about much of the water we traveled through. The same river that thousands of cars, bikers, and subways cross over every day is as alive with history as Bunker Hill or the gold-domed capital building, both of which you get excellent views of, by the way.
The trip back up the river was as leisurely as the one down (the dam means little or no current, so the paddling stays easy!). Steve was right when he said that, aside from an air conditioned room, kayaking the Charles River is the coolest place you can be on a hot Boston day. The weather felt perfect, and I was more than a little sorry for my friends who weren't actually enjoying being outside in the heat.
Kayaking on the Charles is a must if you're in Boston in the summertime. It's a wonderful addition to any vacation visit or an unusual weekend activity if you live here. Even if you've lived in the city all your life, it's a way to get a new perspective that you really can't get any other way.  I can't lie, I felt pretty awesome telling the girls in my office Monday morning what I had done last weekend. I recommended it to all of them, and I recommend it to you.
When you go
Charles River Canoe & Kayak offers the only kayak rentals in the immediate Boston area. Their business has locations in Newton, Natick, and Nahanton Park where they also offer a variety of quality kayaking options.
There are many tours in addition to the one I took. Explore their website to see what other trips might be of interest to you. Their website is full of information from rental rates to availability in cities outside of Boston. Personally, I'd like to go back for the Skyline & Sunset Tour because watching the sunset from the Charles is magnificent. (Even if you don't end up renting a kayak, you must watch the sunset on the Charles from one of the docks!).  Charles River Canoe & Kayak offers rentals without a guided tour as well. Plenty of experienced kayakers like to explore on their own.
Bring a bottle of water and as little else as possible. Dry bags are available, but keeping it simple with minimal "stuff" makes any outdoor experience more enjoyable.
No part of this trip was stressful or particularly difficult. Remember to kick back, enjoy the breeze, and take in the magnificent views of New England's best city.