Standing face to face with Creo, my mount for a morning's ride at Mountain Top Inn & Resort in Chittenden, Vermont, I was struggling to reconcile the idea of a horse with its reality. In my imagination, a horse is a noble and streamlined creature. In the flesh, it's an imposingly large animal with flies buzzing around its head and a protruding lower lip studded with hairs. Meeting one at close range is always a little like bumping into a famous movie actress when she's not wearing any makeup. This is not to say that Creo, a 10-year old bay mare, wasn't ready for her close-up – she was beautiful in a soulful, equine, hirsute sort of way. It was just that she looked very sure of herself and very large (have I mentioned this?). Clearly she would know as soon as I mounted her, if she didn't already, that I hadn't ridden a horse in a very long time.
My daughter Doris (14) was already up on Cash, a chestnut mare with a glossy coat so fine that you could see the veins through the skin of her well-muscled legs. Doris looked comfortable enough, but I knew that like me, she was feeling a bit of trepidation along with the excitement over this day's adventure.
A Horse, and a Course, for Everyone
The adventure had begun the night before, when we drove up to Mountain Top. My husband Jed and my 17-year-old daughter Loretta didn't come with us, mostly due to their busy schedules, but also because Doris and I are the major horse lovers in the family. Although entire-family adventures are great, any parent can attest to the value of one-on-one time with a child, and I was looking forward to spending some "quality time" with Doris.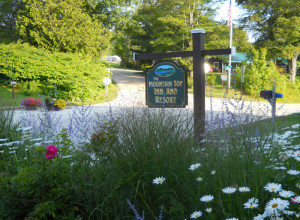 Mountain Top is prettily situated along a quiet road about 11 miles from Killington Ski Resort. The resort began as a turnip farm in the 1800s, and became a popular inn during the 1940s. President Eisenhower stayed here in 1955. With its lake and mountain views, year-round activities, relaxed atmosphere, and plush, comfortable accommodations, Mountain Top Inn & Resort is a spectacular place to stay in any season for any reason. This August, we were there for the horses. Mountain Top's Equestrian Center offers one of the most comprehensive vacation-based horseback programs in the Northeast. The folks there can handle never-ever beginners (or once-in-a-blue-moon near-beginners like Doris and me) as well as expert riders and everyone in between. Mountain Top offers trail rides of different lengths, and also instruction in both English and Western riding, with advanced classes such as Jumping and Introduction to Cross Country Jumping.
Doris and I were signed up for a one-hour trail ride the next morning, which seemed like a prudent way to ease back into the saddle. In the meantime, we were hungry, so as soon as we checked into our cozy room with its quilted bedspreads and view of the lake, we headed straight for the restaurant. We sat outside, like almost all the other guests that night, on a large flagstone patio overlooking the lake (actually Chittendon Reservoir), which was surrounded by the mountains of Green Mountain National Forest. Whether it was the amazing view, the outdoor setting, the laid-back ambiance, or all three, "It reminds me of Europe," said Doris.
We enjoyed a leisurely meal in the company of fellow diners ranging from large families to couples young, elderly, and in between. Mountain Top is a family place, but it's also (note for later) ideal for a romantic getaway. Everything was excellent, but we especially enjoyed the corn fritters floating atop a thick corn chowder (all made from local produce).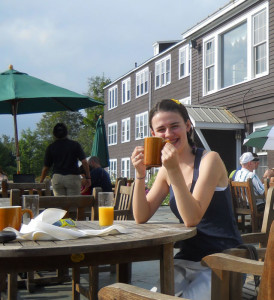 The next morning, after a big buffet breakfast, Doris and I made the short walk to the equestrian center along a road lined with day lilies, Queen Anne's lace, and black-eyed Susans. We saw a lab and a collie being walked and I found out later that Mountain Top has five pet-friendly cabins among its lodge, cabin, and chalet offerings. At the stable headquarters, which also serves as Mountain Top's Nordic Ski and Snowshoe Center in winter, we selected helmets (riding helmets are a must at Mountain Top) and headed out to meet our steeds.
On Horseback at Mountain Top Inn and Resort: Happy Trails Year 'Round
While I was contemplating the daunting physics of putting a foot in a stirrup that seemed nearly shoulder high, and swinging my body in some improbable way up over the horse, our guide, Genna Smith, explained that at Mountain Top they like to use a mounting block, "to save the horses' backs." (She saved my dignity by not mentioning anything about saving the riders.) Once I was up, Genna adjusted the length of my stirrups so I sat more comfortably. She asked me if I knew how to steer and I said I did. In Western riding, which is what we were doing on this trail ride, you hold the reins in one hand and guide the horse with a light pressure of the reins on its neck. As we waited for the other three riders in our group to mount up, Creo decided to meander off somewhere. I pulled back on the reins a bit and said, "Hey, where are you going?" She paused; her tulip-shaped ears swiveled back, then forward; and she stopped. Maybe this was going to be all right.
Our fellow trail riders were also women, two of them an aunt and her niece from Montreal. Our third companion, who arrived last, got to ride Jill, one of the resort's draft horses. Jill also helps pull the resort's carriage and sleigh. All three arrived in jodhpurs and riding boots, thereby intimidating, er, impressing us, and all had been staying and riding at Mountain Top for a couple of days. They seemed to know the horses by name, and I was a little envious when we heard them talking about all the riding they'd been doing that week.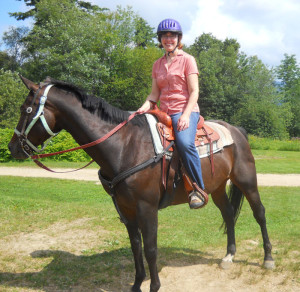 We set off single file and were quickly into the woods. The trail rides at Mountain Top make extensive use of the resort's 60 kilometers of Nordic ski trails, many of which wind through the trees. For that reason, even though the day was hot, we had possibly the most comfortable trail ride I have ever had, in the cool of the forest. All the XC skiing trail signs also offered a tantalizing view of what the place would be like in winter – pretty darned amazing. Doris and I are primarily alpine skiers, but maybe that will change. As we looked at some of the winding black trails during our ride, and imagined doing them on straight skis, we were impressed – and intrigued.
We passed through fields of fern and some other type of tall, skinny wild plant that our horses found delicious. They kept swiping mouthfuls of it as we rode along. "It's like a big salad bar," said one of the women from Montreal. Although I'd wondered if Doris and I would hold these more experienced riders back, that didn't seem to be the case. We were all seemed to be enjoying the rhythm of the ride, and the scenery.
Genna turned around and eyed us all for a minute. "Do you want to do some trotting?" she asked. My heart raced. Trotting was outside of my comfort zone at that moment. "Sure!" I said. She set her horse, Wrangler, to a quick trot up a small incline. Creo thought it would be a better idea to bypass trot and proceed directly to canter, and before I knew it we were flying along with a rhythmic ba boom, ba boom (that was the sound of my rear end hitting the saddle). I pulled back on her reins and said "Whoa!" or maybe it was "Hamina-hamina." In any event, Creo slowed immediately, settling down to a steady trot just like Wrangler's in front of me and Cash's behind me. Chugging up the mountain, the breeze flowing past our heads, nervousness gave way to exhilaration as we all hit our strides. After we got to the top of the hill, Doris patted Cash's neck and I could hear her praising her mount.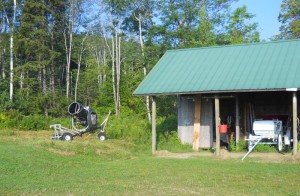 At one point, Genna spotted a deer, and we all watched a reddish doe twitching her tail in a shallow wooded depression near the trail. It is amazing how much more you can see from the back of a horse, and how quickly you can move along the rockiest of trails. Horses really are the ultimate all-terrain vehicles; and, with apologies to car and truck enthusiasts out there, you can't have the same kind of rapport with your F-150 that you do with a horse. At one point, a greenish-blue fly landed on Creo's neck. She shook her head and flicked her ears and twitched her skin repeatedly, but the bug did not move. Finally I leaned forward, a bit farther forward than I was really comfortable leaning, and shooed the fly away. She was worth it.
Genna, our guide, told us she was from Brandon, Vermont. She is all of 19 years old but has been riding since she was five and looks as comfortable on horseback as I do on my living room couch. Maybe more. She rides competitively and is currently pursuing barrel racing. I asked her if you could really ride at Mountain Top as a never-ever and she said absolutely. The most important things to learn, she explained, are how to steer and how to stop – "especially how to stop." Yes, another reminder of skiing.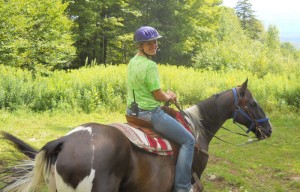 I would talk about the rest of our ride, and about saying goodbye to Creo, but I would get all choked up, so I will let Doris, and then a picture, tell the rest of that story:
 Doris Donelan's View (From the Top of "Cash")
Walking up to Mountain Top's horse-riding center, I was slightly anxious. I had only ridden a horse three times in the past 10 years. I always worry about actually getting on the horse. Those fears were soon eased, as it became apparent that we would all get on our horses by way of a mounting block. After I got settled on my horse, Cash, we were off. Our trail group was very small: just my mom, three women, and me. Any concerns I had about Cash bolting off into the trees soon proved groundless. All of the horses were very well behaved, and we went down our hour-long trail in a neat single-file line.
The trail ride was absolutely gorgeous. We were hardly ever out in the open fields, almost always within the canopy of the trees. I was free to look around me as we ascended and descended. The wildlife was amazing. I saw countless birds, squirrels, chipmunks, and even a deer! When our party arrived at the halfway point, the horses stopped to have a nibble of grass. There was a magnificent view from where we sat on our horses next to a small lake. You could see gray mountains rising in the distance, and endless acres of trees all around.
It seems obvious by this point, but I loved my trip on Cash. Our guide was very nice and knew a lot about the horses and the land. My only complaint was my sore bum after we all got off. I feel the brief trotting excursions I had with my horse might have been the cause of that . . .
My dad Jed and my sister Loretta don't like horses as much as my mom and I do. However, I do remember a time when we all went on a long trail ride in Colorado that was very fun. On the trail ride at Mountain Top, my mom and I laughed at our abysmal attempts to take pictures while on the back of a bumpy horse. It was fun to do this ride with my mom, especially since neither of us is too impressive on a horse.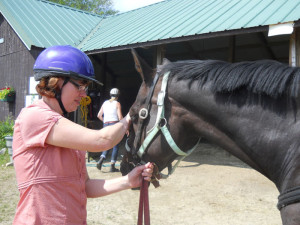 Paddling Away
Yes, we were a little saddle sore as we made our way back to the lodge. But only a little. We had just enough time to check out the lake before heading home. Mountain Top has a private beach with canoes, kayaks, and paddle boats, and we couldn't resist taking a paddleboat out for a spin. We headed out, rounded the buoy, and aimed for shore. On our way in, we both agreed we'd love to come back to Mountain Top. With all the horseback riding, hiking, swimming, boating, horseshoes, clay pigeon shooting, and other activities that Mountain Top offers (not to mention the skiing, snowshoeing, ice skating, sleigh riding etc. in winter), you could spend many days here and never be bored. Or, you could spend many days just sitting in a comfy chair and staring at the view, and never be bored.
We definitely plan to ride again at Mountain Top. Maybe we'll even take some lessons next time. We owe it to the horses.
If you go:
• Riding boots are the best, but sturdy closed-toed shoes work too. Absolutely no sandals or flipflops.
• Wear sturdy long pants, like jeans, or jodhpurs if you've got them. You do not want to ride in shorts.
• Make sure you reserve your ride when you reserve your room (Mountain Top has many great riding vacation packages you may want to check out.)
• Be honest with the stable staff about your ability, your height, and weight. They will match you with a horse that will make your time as enjoyable as possible.
To find out more about a riding vacation at Mountain Top Inn & Resort, visit the Equestrian Center web page. To read more about riding and other fun at Mountaintop, see the Eastern Slopes articles Cowgirling in Vermont; Learning How to Ride, Jump Fences, and Shoot! and Whoosh! Pop! Splat! Giggle.