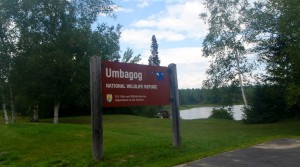 Although the town of Errol, New Hampshire has little in the way of restaurants or indoor activities, it is an outdoor enthusiast's delight, a great entry way for a visit to Lake Umbagog (pronounced "um BAY gog"), the Lake Umbagog National Wildlife Refuge and the rivers of northern New Hampshire and Maine. Paddlers can enjoy both flat and whitewater experiences here. In fact, the Northern Forest Canoe Trail, a 740-mile water route that links the waterways of New York, Vermont, Québec, New Hampshire and Maine passes right though town on the Androscoggin River.
Roger and I arrived in Errol with our boats atop our car, looking forward to some flatwater kayaking on our own. But we had also scheduled a guided pontoon boat ride to look for bald eagles on the lake. All this was part of the Northern Forest Canoe Trail's Eagles on Umbagog Vacation Package. Birders have been coming to this area for years for the abundance of eagles, ospreys and various water birds, but the pristine woods and waters and the sense of being miles from anywhere make this a perfect place for all outdoor enthusiasts seeking a quiet escape.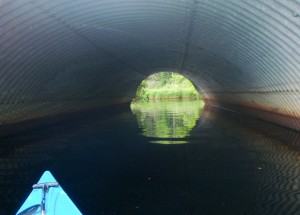 The NFCT website also incorporates a paddler's blog, maps and trip planning for self-guided tours, and offers "package vacations" like ours for your pleasure. Our "Eagles on Umbagog" package included 2 nights lodging and the guided pontoon boat tour with Bob Dupuis of TNT Guide Services. I had kayaked a small part of the Refuge with a friend about 5 years ago and knew then that I wanted to return. Lake Umbagog is more than 7 miles long and covers 7,000 acres along the New Hampshire/Maine border. I hoped that being on the lake with a local guide would really give me a feel for both the history and the present day in the area.
We were able to check into the Errol Motel early, thanks to the easy-going attitude of the new owner, Ricky Blais. No one was in the motel office when we arrived, so we followed the instructions on the door and called from a phone just outside the office. Ricky gave us our room number, told us to let ourselves in, and to call if we had any questions or problems. That's the way things are done in Errol.
This classic, newly-renovated motel is right in the heart of downtown (don't blink, you'll miss it) Errol. Our well-kept room had the feel of a cabin with pine board walls and patchwork quilts. The day was hot and sunny so we were happy to see a small refrigerator where we could store lunch makings and drinks. Since our guided trip wasn't scheduled until the following morning, we headed to the Umbagog National Wildlife Refuge, about 4 miles from town on Route 16 (also known as Dam Road) for an afternoon kayak paddle. The refuge office was well stocked with information on the flora and fauna of the area, including in-depth information about the bald eagles, loons, and moose so common here. A large map of the lake and a handout suggested trips for exploring by kayak or canoe. We chose a route that would take us out on the lake, then down the Magalloway River to Sturtevant Pond. By road, the two points are about  3 miles apart; it's longer on the meandering river. On the way we would cross into Maine.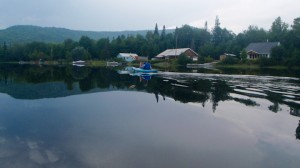 On the Magalloway, we were surprised to see camps along the river within the refuge boundary. We later learned that these are on leased land and will soon revert to the refuge. Later, when, the clouds came up and we could hear thunder in the distance, we were glad for an easy place to take out when we needed to get off the water in a hurry!
The miles added up as we explored the inlets and coves of the meandering Magalloway. Near Sturtevant Pond, large boulders started appearing both in the river and along its banks, a complete change from the marshy areas we had been paddling. The first "ducks" Roger spotted on the river turned out to be decoys. But on Sturtevant Lake, we saw a real adult loon with a fuzzy chick riding safely on his or her back. Sadly, this had not been a good year for loons nesting in the area. High waters in spring had flooded many nests. While paddling, we discovered a man-made floating loon nest that was built to alleviate this exact problem, but everyone we talked with said young loons were scarce this year. With threatening afternoon clouds built overhead, we knew we couldn't linger and paddled quickly back toward our car. When the thunder seemed to be getting too close for comfort, we pulled into shore for a moment, but then decided to paddle on. Luckily, the storm didn't arrive in full force until we were safely back in our motel room.
The next morning at 7:45 we met our guide Bob Dupis gassing up his truck and pontoon boat at L.L. Cote Store, which is an Errol landmark. Luc and Louise's store must be the largest building and business in Errol! Here you can find just about anything you need including food, fuel, clothing,  hardware, maps, canoes, kayaks, snowmobiles , ATVs, firearms, fishing equipment, toys, rugs and an in-store Subway sandwich shop!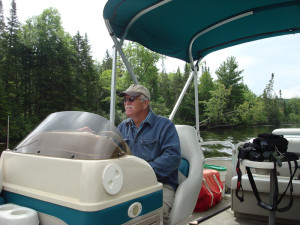 Bob's TNT Guide service specializes in hunting, fishing, canoeing and wildlife viewing. Having grown up here and played on these waters all his life, Bob provided a wealth of knowledge about the Umbagog area. He knew the lake and river before they became a National Wildlife Refuge! Hearing him talk about his childhood adventures on the lake, and share his knowledge of the history of logging days in the area, added to the day.
As we rode along the Androscoggin to Lake Umbagog and the Magalloway River, Bob would point out places he and his grandfather had fished in Leonard Marsh or Indian Cove or Sweat Meadows, and described the time he called moose to his boat. He explained that the waters were full of logs that had sunk during the log drives of old and  showed us the "deadheads"— logs that still frequently float to the surface to make boating hazardous. A deadhead could easily take out your prop if you were motoring too fast in these waters! Bob knows where the moose, otter, muskrat, herons, and ducks hide and, although we didn't see any moose, the highlights of the trip for me were the singular beauty of the marshes and the majestic nests of the bald eagles. Our boat ride lasted about three hours and Bob had snacks available. He can grill hotdogs or have sandwiches and salads for you if you prefer to have lunch along the way. The tours are offered well into fall, so it is not too late to schedule your trip for this year. Whether you go in the fall or wait for next season, it is a tour well worth taking!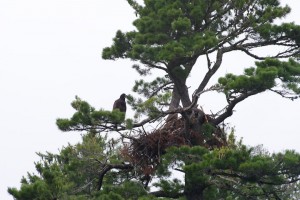 Bald eagles mate for life and build massive stick nests lined with grasses. The first New Hampshire nest was discovered on Leonard Pond in Lake Umbagog in 1989. Between 1989 and 2001 that nest produced 16 fledglings. Since that first nest appeared, two others have been established. Eagles are massive birds: adults measure 29-35 inches long and have a wing span of 7 feet! On our voyage with Bob, we were lucky enough to spot a nest with a juvenile eagle still unable to fly. Nearby, on the bare branches of a dead tree, an adult eagle with its very distinct white head kept a close eye on the youngster.
After our adventure with Bob we decided to scout out the next day's kayak trip. We bought lunch (hand-made sandwiches) at the Errol General store and headed out of town to the Kennebago River in Maine, about 20 miles from Errol. Bob had recommended this  flat-water kayak trip. We wouldn't be kayaking until the next morning, but sitting by the river with the water gently flowing by and listening to birds singing was just what we needed to relax even more.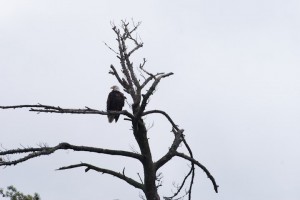 There are three lodging options available on the Northern Forest Canoe Eagle Package.  Unfortunately, we were not able to stay at 150 Main Street, a lovely guest House in Errol where Executive Editor Tim Jones stayed on a guided ski adventure this past winter. He recommended it highly. If you are looking for a comfortable B&B experience you might want to request this lodging.
We stayed our second night at the Great Northern Moose Lodge at the south end of the 13 Mile Woods Conservation area on Route 16. Richard Tessier, the owner, has plans to add an extensive camping area in the future. Richard is  a history buff and regaled us with stories of the local people and places which made the experience even more fun.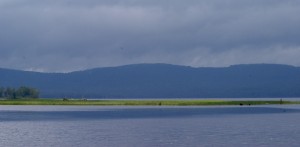 The rustic Great Northern Moose Lodge was built in the 1950's as a hunting and fishing lodge. In the spring, summer and fall, Richard can readily direct you to guided or on-your-own hiking, rafting and kayaking adventures, and, of course, hunting and fishing opportunities. In the winter, the lodge has a resident musher with sled dogs for excursions and for learning the sport. The lodge's two resident English Setters have been part of a dog team and have actually learned to sing like sled dogs!
I found the common living room a bit dark for my tastes, but our room was bright and clean. A continental breakfast is included, and if you want to use the kitchen at the lodge, that can be arranged. This made the whole experience seem more like the hostels I had stayed in while traveling in New Zealand (where I first met Roger!).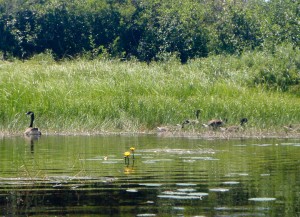 After an early breakfast of homemade banana bread, bagels, fruit and cereal, we headed out to kayak on the Kennebago River. At the launch site, a large group of teen-age campers was reluctantly unloading canoes for a trip on the river. Afraid that our serene kayak paddling would be disrupted by this noisy group, we scrambled to be the first in the water. Luckily we never saw them again and enjoyed the river in peace. Our route ran downstream, and for two hours we hardly needed to paddle. Floating along with the current and leisurely exploring, we saw ducks, geese, and water lilies in abundance. A turtle basking in the sun on a log, looked exactly as lazy and completely relaxed as we felt. Eventually, we took out at a bridge, left our kayaks and walked the 2-plus miles back to our car. Bob had assured us that our equipment would be safe, and, sure enough, our kayaks and paddles were there when we got back.
What a great last day! On this "soft adventure" trip to the great north woods of New Hampshire, we enjoyed a little exercise in the outdoors, met some wonderful people, learned the history of new place, and  viewed abundant wildlife in a beautiful natural setting. If you are looking for a place to really "get away from it all" and relax, you can't ask for any better than Errol, New Hampshire and Umbagog Lake, whatever the season!