Vermont After Irene
With all the national news and photos of damaged covered bridges and washed away roads you might think Vermont is closed to tourism. Not true. Many areas of Vermont were completely unscathed by Irene including the Northeast Kingdom, the Champlain Islands, Stowe, and Burlington.  As Vermont quickly returns to a level of normalcy even in affected areas, know that you can keep your travel plans for the foliage and ski seasons, or better yet, know that you can support the state by making plans to spend some vacation time here. Many of the roads and bridges have been repaired and those that aren't have detours around them. Isn't back road wandering what you usually do anyway to see the best foliage, anyway?
Just two weeks after Irene hit I decided to test out "getting there from here" by taking a trip to Twin Mountains Farm B&B, located in Middletown Springs, Vermont. The town is barely 20 miles from the Rutland/Killington area where some of the worst flooding occurred. I started from my home in Wolcott (in north-central Vermont), took a route west through Hinesburg, then south through Vergennes and down 22A to Poultney and Middletown Springs—a distance of over 120 miles.  On the entire route there was only one sign that warned of a one lane road ahead; the one lane lasting for less than 1/4 mile.
I arrived at the Inn about noon to find Walt and Annie Pepperman cleaning out the horse paddock where their three horses are sometimes fenced during the summer months. No horses were in sight. It seems "Zelda" was at a stable getting groomed, including a pedicure, for her first competition. I guess the other two horses were watching. Annie had her cowboy boots and hat on and Walt was in coveralls. They stopped what they were doing and greeted me warmly. Annie said she would give me a tour of the B&B and show me my room. Walt announced that he'd like to take me by mule to their new cabin built high on a hill on their 150 acres of woods, fields and streams between Coy and Morgan Mountains.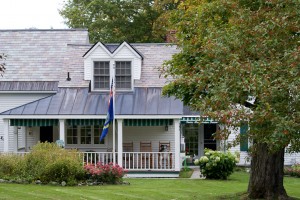 The inn has a total of three bedrooms, all with private bath, and a fourth "cottage" room separate from the main house that is sometimes available for lodging. All the rooms have animal names: Deer, Bear, Moose and Wolf. Can you tell they love animals? I stayed in the separate cottage space called "Wolf." The outside entry had a small porch with a sitting bench—a great place to read in the sun. The room was large and bright, with windows running along one wall, a queen bed complete with wolf throw and a gas stove/fireplace for cozy heating.
After settling in, I met up with Walt and "the mule," which turned out to be an all wheel drive vehicle! Okay, so maybe they aren't ALL about animals. Walt has cut about 5 miles of trails on this land for both walking and cross country skiing. He loves working in the woods and at 72 is fit and full of energy. The cabin is not for rent but the walk up to it is often used by guests as part of the trail system. Walt showed me where the porcupines have been gnawing away at the cabin–but he won't kill them. Instead he replaces the wood with metal shields to "discourage" them.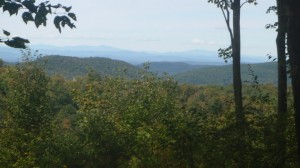 After my trip on "the mule" I was ready for a more active event.  I packed a lunch, grabbed my day pack and a map of the trails and went exploring. The trails are well marked and run in loops. I had lunch at one of three picnic table placed along the trail system, scared up quite a number of grouse as I walked, and saw three deer– all in just two hours of being in the woods. The maple trees were just beginning to show a little color; in a few weeks they would be glorious. The trails run on both sides of the dirt road leading to the B&B. You walk both pasture and woods, with the steepest trails located on the side across from the house.
On my return I met Silver and Mayla, the resident Alaskan Malmutes who are friendly and very well-behaved. They hardly noticed me as I took pictures of  an ornamental crab tree whose shape I found enchanting. I must have taken 20 photos of that tree!
The next day my morning started early: Walt and Annie were leaving for the horse show and asked if I would mind a 7:00 breakfast. Always a morning person, I was delighted. Even though it was a chilly morning with a light frost on the ground, I had breakfast on the screened porch. I couldn't resist the opportunity to hear the bubbling brook and listen to the bird calls as I ate. Annie graciously provided me with a warm  shoulder wrap for comfort.
Breakfast was juice, bacon, "French Toast Foster" and coffee that was strong enough for my liking!  Annie told me this breakfast is one of their guests' favorites and they often get calls from returning guests requesting it. The French toast is covered with a caramelized sauce made with maple syrup that comes from the trees on their property. In fact much of the food served here is local and fresh, including bread that is baked just down the road.
Now I was ready for that 32-mile bike ride I had planned. The loop would take me by Lake St Catherine State Park where I would have my picnic lunch. The ride starts in the center of Middletown Springs and heads downhill to the town of Poultney about 8 miles away. Located on the Vermont-New York border in the Lakes Region of Rutland County, Poultney is a community of about 3,600 people and home to Green Mountain College, a four year co-ed Liberal Arts college focusing on environmental studies. The town's historic buildings now house businesses, including a restaurant in an old train station. There are brochures available for walking tours of downtown Poultney and East Poultney, and a driving tour of the surrounding hollows, farms, and quarries that together make up the history of the town.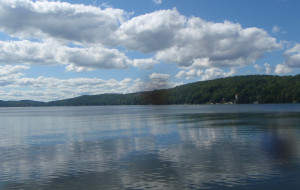 Camping at Lake St Catherine State Park closes for the season on Labor Day but day use is still available. This 117 acre park with its picnic areas, 50 tent/trailer camping sites and beaches is a busy place during the summer.  The only other visitors this day, though, were a family that included a toddler sitting in and "driving" the paddle boats which were now on dry land.  Who knew they made great babysitters as well as boats?
I rode through the picturesque town of Wells, nestled among mountains, then on to North Pawlet and Pawlet on rolling hills, with the land becoming more pastoral as I returned to Middletown Springs. Altogether a great day of  biking with little damage in sight.
The leaves are turning and the snow will eventually fall.  Right now, as we are recovering, is a great time to visit Vermont After Irene and support the rebuilding efforts.  And, with other people staying away, you might find more opportunities and bargains than you usually would!
To plan your trip:
State of Vermont official tourism site: Vermontvacation.com
 Green Mountain Club
Biking in Vermont
Trail finder
To contribute to flood relief:
The Preservation Trust of Vermont