Growing up is all about learning. And sometimes, along the way, we do some really dumb stuff. I've certainly done my share.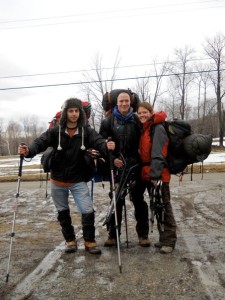 One of the least intelligent things I've done recently happened late last winter, when the heavy winter snows that pounded the east coast were beginning to melt into rivers. It was in these conditions that several of my friends and I thought a winter camping trip would be a good idea. But my notion of camping (a group of good friends toasting marshmallows by a campfire) didn't quite match the reality my first winter camping adventure. In fact, our little expedition turned out to be more of an adventure than even my more adventurous companions had planned.
The idea for the trip came from my then-boyfriend, Sam, who loves the outdoors as much as I do and wanted to go camping for his birthday. We were both enthusiastic, and we did a lot of things right throughout the trip. I'll share a few of those before I detail all those not-so-right things we did.
I never could have done it without Sam. He knew we'd need snowshoes. He told me to dress in lightweight layers in case we sweated when hiking, and that wool layers help keep you warm even if they do get wet. The goal in winter camping is to remain dry. Lesson: When the sun starts to set, clothing saturated with rain, snow, or sweat quickly become cold and dangerous.
Sam helped me evenly distribute weight in my backpack and chivalrously carried most of our shared gear in his own pack. He reminded me to pack extra wool socks, which turned out to be critical. He remembered Advil for headaches, a small stove since making a fire in snow (or ever) is difficult, moleskin (which our friend Dan used when a blister rubbed up), and extra cord which always seems to come in handy.
Another thing we did right: Sam, Dan, and I all told our family and friends exactly where we were going and when we expected to be back to the car. Lesson: Whenever  you go into the wild, let people who care about you know where you're headed and when you'll be back. Although it probably terrified my mother, I told her to call local authorities if she didn't hear from me by 4 p.m. on Sunday. If some disaster had struck and our parents and friends didn't hear from us, they would have sent out a search team.
Sam emailed me packing lists, my dad emailed me advice, and I emailed myself survival tips. If you're planning to go winter camping, I recommend you use this list put together by the Eastern Slopes editors: How To: Winter Camping Checklist. If you're missing any larger items of gear, your nearest EMS or REI store will rent gear for a small fee, and happily sell you any other things you need. We brought plenty of two hiking essentials you can't find at any store: good attitudes and a thirst for adventure. I learned during the trip, however, that one of the most important things we forgot to pack was common sense. And that's where the not-so-right choices began.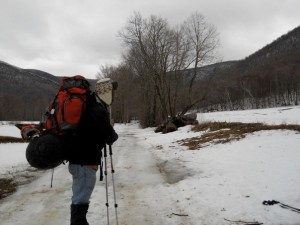 We left Boston an hour, (OK, two)  later than we had originally planned. Lesson: On any group camping trip, someone will be late, so plan accordingly. Leaving a little late should have put me on the alert (particularly for winter camping, when the days are short, the nights are cold, and your margin for error is MUCH smaller!), but I wasn't going to let it bother me. A beautiful three-hour drive later, we arrived at our jump-off point, Mount Prospect  in the Mount Greylock State Reservation, nestled in the Berkshire Mountains of western Massachusetts. It's only a few miles from the Norman Rockwell-esque college community of Williamstown. A flat, tree-lined pathway leads you across some fields to start. From there, the trail disappears into the forest. The walk in to the trail proper looked like a frozen, shining entry into a wonderful new world. Turned out that world was just a little harsher than we expected.
We planned the trip for early March, that long-awaited time of year when the temperatures finally begin to climb above freezing, and the ground thaws. It wasn't too cold to enjoy the tiny, red checkerberries peeking out from under the melting snow, or the rush of the river our hike paralleled.
But the first signs of spring mean more than a picturesque trek through the woods. The changeable weather conditions cause a precarious combination of thawing and freezing which turned the record snows of last season soft and unstable. Snowshoes were necessary to keep on top of the snow rather than knee-deep in it. Additionally, the "brooks" marked off on the trail map had turned to roaring rivers.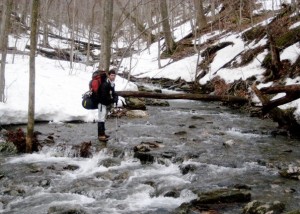 At the first "brook," the  little voice of reason in my head said, "This can't be the right way. Trails don't take you across rivers. Rivers get you wet, and wet is bad." But the boys were sure it was the right way. I'm no chicken, but I think my brain shrunk to chicken-sized in that moment, and I crossed the river with them. At that point, we should have turned back and chosen a safer alternate route. Lesson: If it's winter and you're hiking, DO NOT risk getting wet. Any of us could have slipped and fallen in the river, completely submerging ourselves. Getting soaked at those temperatures would have immediately put us in a life-and-death survival situation we may or may not have been able to handle. With no one around for miles and no cell phone service, a tough hike out as the sun was setting would have been our only option, and hypothermia would have been a serious threat. Fortunately, none of us slipped.
But here's one place where I prove conclusively I was dumber than the boys. They had waterproofed their boots; I hadn't. While stepping across the river on rocks didn't get their boots wet, it did mine. Hence, Lesson: Waterproof your boots. For a few bucks and a hour of time, you can assure yourself dry boots, or at least boots drier than mine were after that first river crossing.
We crossed two more "rivers" that evening, and, by that time, all of our boots were completely soaked. Crossing the streams was the only way to get to the site where we had planned to camp, and we were determined to get there. Looking back, I'm embarrassed to admit that I made such an unintelligent choice. But not wanting to ruin our fun on my boyfriend's birthday trip, I meekly went along. We didn't make it to the site that night. The sun began to set, and I insisted we find a spot and set up camp. The boys finally agreed. Here's something we did right. Lesson: If the sun is setting, it's better to stop, set up camp and be sure everything is properly assembled rather than continue. Trying to find a good spot, set up a tent, and get situated can take a while, and it's very difficult with only a few flashlights.
When you're winter camping, modern comforts that we take for granted every day are a big deal. When we live in houses where heat and lights come on with the flick of a finger, it's easy to forget that people are entirely dependent on sunlight and warmth to function on the side of a mountain when you're surrounded by snow. Getting our feet dry and warm was the evening's goal. Thanks to the extra wool socks and foot warmers, we succeeded in rewarming our cold, cold feet.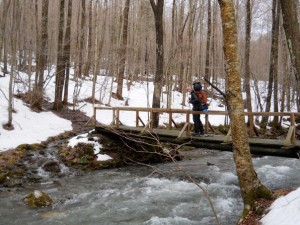 That night we could hear the wet snow and rain falling outside. I was glad we'd taken the time to be sure the rain fly was properly set up. But we made another rookie mistake. Sam had packed an extra-large tarp to go under the tent–so  the water that slid off the rainfly splashed onto the tarp where some of it ran under the tent. Not surprisingly, the bottom of the tent became damp. Lesson: If you are going to use a ground cloth under your tent, make sure it is covered by the rainfly.
I was grateful Sam and I had packed Therm-a-rest mats. Dan didn't fare as well without one. Lesson: A pad is as essential for warmth in cold-weather camping as a sleeping bag.
The morning dawned cold, still, and beautiful. A light snow fell on us as we packed up and set out. The hike up Mount Prospect proved to be one of the most challenging and rewarding days I've ever had. The "brooks" we'd crossed the day before didn't scare me nearly as much as that hike up the mountain did.
The trail was incredibly steep and icy, and my snowshoes didn't have traction spikes on them. Lesson: Invest in traction aids for safe winter hiking. Creepers, crampons, or snowshoes with spikes make a huge difference if you hike in ice or snow. In our case, crampons would have been the most useful. I've since found them to be an easy, lightweight solution to icy hiking. They aren't as cumbersome as snowshoes and make avoiding tree roots easier.
Navigating the Money Brook Trail with its roots and ice, all with a heavy pack on, was no small feat. All of all of our attention was on the trail before us. The extreme conditions demanded no less. In this physically challenging environment, I found the greatest reward. The hiking induced a primal Zen. My only concerns were the well-being of the others and the steps immediately in front of me. No room in my mind was left to care about answering emails or how stupid my hat looked (as the pictures will tell).
Our greatest triumph came when we reached a shelter located near the mountain's peak. There, we indulged in just-add-hot-water burritos out of a bag. I swear it was the tastiest Mexican food I've ever eaten. After a short rest, we continued our hike onto the Prospect Trail until we reached an overlook near the summit. A moment with the clear air and perfect, untouched snow justified the tough hike up. We admired the view and added a stone to the cairn started by other brave hikers who had also reached the top. We couldn't linger for too long though. We had a river to cross and camp to set up before nightfall.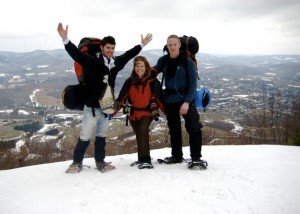 Whereas I'd found the hike up to be the toughest part, the boys thought coming down was far more challenging. They were carrying more weight than I was, so toppling over was a very real possibility. Lesson: Trekking poles are a safety essential. Before the trip, I'd thought the trekking poles were an extraneous toy for the boys. But during the hike I wished I had brought them, too. They came in handy several times. That night, we used to them to hang damp clothes  by a fire.
The adrenaline I'd been pumping all weekend made the hike out seem easy on Sunday morning, especially compared to the mountain we'd scaled the day before. I didn't realize how exhausted I was until we reached the car. I felt happy and very lucky to have all of my body parts intact and at  98.6 degrees.
A week later, I couldn't stop talking about our weekend adventure. I still bring it up frequently. I felt proud of my body for going through the extreme weather and physical exertion. The high was unbeatable.
However, a lot of things we did were plain dumb. Getting out alive was as much pure luck as physical accomplishment and preparedness. I wish we'd planned better, and made better decisions on the way. Maybe I would have if I'd read Hike Wisely before I went.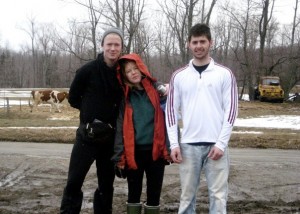 Lesson: Winter camping is a blast. I encourage every adventurous heart to try it. However, be sure you learn in increments and are prepared to get out safely even if the worst situation arises. Keep my tips and mishaps in mind when you start planning this winter's camping adventures. And don't forget to listen when your common sense pipes up! It's trying to keep you safe!