November is one of the toughest months of the year. The days are getting shorter, the skies are often gray, it's chilly and rainy and…oh, it's just a pain in the neck. And, to make it worse, there's the KIDS; hanging around, bored and antsy, driving you nuts. Shooting them isn't legal, and you'd probably feel worse afterwards. What to do?
With 14 year old Daniel moping around the house, which we knew would make US cranky, we decided to head for Sunday River. We knew there were only two trails (T2 and Upper Sunday Punch) open for the day since Mother Nature has been totally uncooperative recently. Still, Sunday River's snowmaking has saved the day before…and at least it would get us out of the house!
One benefit of heading for the mountain is that it gives you an excuse to go out for breakfast. That's enough to improve anyone's mood, even if diner coffee reminds you of the last time you changed the oil in your diesel F150. Plus, it fuels you for all that hard work you're going to do on the steeps, right? Well, it sounds good, anyway, and it's an excuse to eat all the stuff you usually don't allow yourself (sausage gravy over a biscuit, anyone?).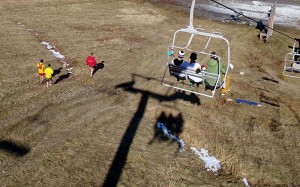 Fueled, we headed for Barker Lodge. Sunday River is one of a limited number of mountains that has a lift with a mid-station, and it's what makes this early-season skiing work. Get on at the bottom where people in shorts are running along the brown slopes; head up, and suddenly halfway up the mountain there's SNOW! It's colder up there, so they can get away with making snow and having it actually last. It makes for shorter runs…there's no such thing as top-to-bottom…but the fact that there's snow to play on is pretty special.
Up at the top, it almost looked like normal winter, as long as you only looked down the center of the trail. And T2 was acting like a winter trail. Hard as rock on the top, it softened nicely through the morning through the steep section down to the mid-station. Better still, the trail gnomes had created a rail garden on the left side, a natural magnet for the teens and near-teens. That freed up parents to go ski and pretend they're normal adults, creating an atmosphere that was light and happy.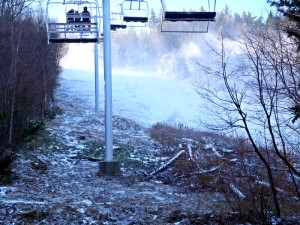 That was a good thing, as the one fly in the ointment was the lift lines. The nature of the mid-station routine is that the skiers not only have to come UP on it, and that people who have completed runs have to wait for a free chair from the bottom that they can jump on to head back up, but also that skiers have to go DOWN to the base on it. Since the lift can only carry 10% of the skiers down that it can up, and has to be slowed down each time to pick up the people headed down, you've got a recipe for long lines and longer waits. Typical waits to go up were 10-15 minutes during the middle of the day; going down, those times could double. Still, people were remarkably calm about it…Since the only alternative was to NOT be skiing (and to be hanging around with the whiny kids or crabby parents at home), standing around in a lift line on a gorgeous, sunny day wasn't so bad.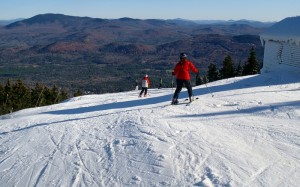 After a few runs on T2, we decided to head over to check out Upper Sunday Punch. We'd heard people on it as we passed it on the lift; scratchy, scratchy, scratchy. But, it wasn't as loaded with skiers, so it was worth a try.  And…yup, it was scratchy. Hardpack. Boilerplate. Icy patches. Fun? Somewhat, particularly if you had sharp edges and like to ski fast. My watch said 12:30, and my head said "come back in a few hours."  We headed back to T2…it's early season, and we didn't want to push our legs too much. Note, though, that there was nothing about it that said "don't even think about skiing this"; I wasn't having any problems with getting an edge in (yes, my skis were recently tuned).
Back on familiar ground, we found that the moguls on skiers' right were growing, and were soft and cushy. A couple of runs through them, and the burn in our legs started becoming permanent…yup, it really IS early season. And, as 3:00 approached, the snow that made those soft moguls started getting pushed off the side of the trail and into the woods. Time to go over and see if Upper Sunday Punch had softened?  Nah. We could feel that we'd had our runs, and if there's anything we've learned over the years it's to NOT push the envelope on the first days out…that's when you get hurt!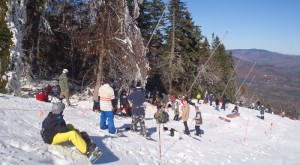 Down we headed, and back home.  Daniel slept in the car…hard to be cranky when you're asleep! We chatted easily, having enjoyed being out and doing something we love on a gorgeous day. To make it even better, lift tickets are cheap this time of year; the cost per run is probably lower than in midwinter when Mother Nature is paying a lot of the bills. Not a bad deal at all!
How To Make It Work Best For You:
The key to getting the most out of Sunday River's early season is to game the lift system, particularly until they can get snow to stay in the Barker base area. Use it when other people aren't. Obviously, you can't kick them all off the lift, so you have to outsmart them.  Here's our best advice:
1. Get there EARLY. Be waiting in line for the lift to open, and get up to the skiing area as quickly as you can. Once you're up there, the lift times aren't so long, even when the lift lines are long.
2. Do NOT come back down unless you absolutely can't avoid it. Each trip down and back up costs you an hour of skiing, possibly more. If you can take a pack with your lunch, great.  If not…
3. Go down for lunch BEFORE everyone else does. Head down at 11; it'll be close enough to lunchtime by the time you get down there, anyway. Make it a short lunch; you had that big diner breakfast not that long ago, anyway. Try to be on the lift back up by noon.
4.  Get back up, and watch everyone stand in the line to go down for lunch while you're skiing into the short line to head back up for another run!
5.  As the end of the day comes, watch that line for the trip back down. We came down on one run, looked at the LONG line, and decided we had another run in our legs. After that run, the line heading down was half as long. If it had been longer…well, we'd have headed back up for another one and taken our time with it!
6.  Once you're down, avoid the bars and head for home. You may be more tired than you'd expect; cozy in at home with your favorite beverage and a good movie, and enjoy the evening!