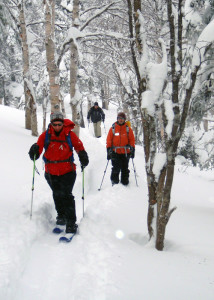 A number of years ago, the legendary ski company Karhu (which is now making running shoes, not skis–go figure?) brought out some odd contraptions called "Meta Skis," which were, essentially, very short, very fat skis with incredibly rugged, machined aluminum bindings on them. The bindings looked like a cross between free-heel Telemark and snowboard bindings–but they let you wear almost any footwear you want from sneakers (though your calves probably wouldn't be happy with that choice) up to the super-insulated "Mouse Boots" that are supposed to keep your feet warm at 100 below zero. On the bottom were metal edges and a wide, permanently-mounted strip of climbing skin. A later version of the Meta Ski was a little longer, had more sidecut, and was called the Karver. The Meta Skis and Karvers defined a category and "meta skis" has become a generic term for any very short, fat skis for backcountry travel. "Sliding Snowshoes" is the other common way to describe this category of snow toys.
These innovative products were designed to bridge the gap between snowshoes and backcountry skis. What they are is a lot of fun and very useful — in the right circumstances.
Now let's be clear that meta skis will never completely replace either snowshoes or backcountry skis for real backcountry use. But they certainly have their place on the snow-covered wooded hills and trails of the northeast .
Snowshoes have some real advantages for winter backcountry travel. They are easy to learn: if you can walk, you can snowshoe. Basically you just place one on each foot, then place one foot in front of the other until you get where you want to go. Yes, it's almost that easy. Snowshoes are safe, stable and can go almost anywhere there's snow. Most modern snowshoes have built-in traction that keeps you from sliding on crust or ice. Best of all, snowshoes are fun–at least for endorphin addicts. You can get a great workout on snowshoes–especially in deep snow. But, they're slow…slower than plain old walking on bare ground. Yes, there is a whole circuit of races sun on snowshoes, but, generally, if you feel the need for speed, snowshoes are NOT your vehicle of choice for snow travel.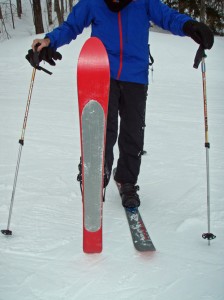 Backcountry skis , including Telemark, Alpine Touring (sometimes called AT or by the French name, Randonée), and a newer hybrid category called backcountry nordic, require more skill to use safely than snowshoes do. But they climb moderate hills easily with either fishscale bases and steeper slopes with removable climbing skins. Best of all, they let you come down those hills much, much faster than you can on snowshoes. Those downhills are perfect for adrenaline addicts . . .
Meta skis were supposed to be faster than snowshoes, but easier to control than skis. One of the big selling points was that you didn't need special ski boots—they work well with hiking boots and insulated "Pac" boots. No cold or wet feet — ever! But, like any other hybrid, sliding snowshoes are a compromise. They aren't as safe and stable as snowshoes; they aren't as fast and thrilling as skis.
It seemed a lot of the Meta Skis and Karvers from Karhu were sold to wilderness snowmobilers who needed emergency backup transportation if their machines broke down far from the road. But some pairs were sold to people like us who just want to explore every possible option for human-powered fun on snow.
Here's a quick look at the category.
Meta Skis and Karvers (9.25 lbs./pair with bindings)
The elegant originals which defined the category, the Karhu offerings are still in common use, even though they are not made anymore. Wide enough to really float in deep snow, they have simple-to-use bindings which provide great support and stability with almost any high boot. Though the bindings look "bombproof," we've seen a couple of pair which wouldn't hold their adjustment and needed reinforcing–something not easily accomplished out in the whillywhacks. The wide strip of climbing skin on the bottom lets you climb on crusted or icy snow far better than fishscales. Coming downhill, that permanent climbing skin cuts both ways. It slows you down which makes these the easiest "sliding snowshoes" to control on a descent, but they also take the adrenaline rush of speed out of the equation. Tradeoffs.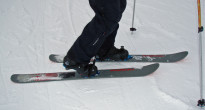 EasternSlopes.com Exective Editor Tim Jones was lucky enough to get a pair of Karvers when they were originally on the market. As he says, "I prefer snowshoes for serious backcountry travel with a heavy pack, and skis for real slopes. But the Karvers definitely have their place, particularly for poking around in the woods and on moderate hillsides in untracked snow. They float beautifully and can climb and descend easily and safely, a little faster than snowshoes but much slower than skis. They are also great for tracking out cross-country trails after a snowstorm for you and your friends to ski later. A friend of mine keeps borrowing mine for exactly that purpose."
Senior Editor David Shedd and correspondent Susan (Marean) Shedd used original Karhu Meta Skis in the deep powder of the Chic Choc Mountains of Quebec's Gaspésie National Park in February and were utterly enchanted with the experience. Skiing on them out of the Auberge De Montagne Des Chic-Chocs, using AT boots provided by the lodge, they found that the Meta Skis climb beautifully, and after a little practice were a total ball in surprisingly tight glades (the stiffness of the AT boots over regular winter boots added a lot of edge control and made them almost perform like Tele skis). On this same adventure, they were also skiing full AT gear on the steeper, longer slopes, but found they preferred the Meta Skis on rolling terrain; no stopping to put skins on for each hill. In fact, they liked them so much that they've grabbed their own on eBay!
Sadly, Karhu discontinued both the Meta Skis and the Karvers some years ago. So if you want to try the inspirations which defined the category, you'll have to go looking for a used pair on Craigslist or Ebay. However, the new Altai Hoks are a fascinating update of the Karhu design; definitely lighter, and from early impressions a worthy and possibly significantly improved successor. We have a bit more testing to do, but come back later for a link to those test results!
L.L. Bean Boreal Sliding Snowshoe (6.25 lbs./pair with bindings)
When Karhu stopped producing its versions, the idea of a "meta ski"  was just too good to let die, and L. L. Bean started offering a very light short ski with a fishscale bottom called the "Boreal Sliding Snowshoe."
These are made by Rossignol, but aren't (at this writing, at least) in Rossignol's catalog. Basically, they appear to be a shorter (130 cm) version of Rossignol's BC 125 Backcountry Ski which is offered in 165, 175 and 185 cm lengths. The Boreals feature the same well-proven "Positrack" no-wax fishscale base as the longer BC skis.
We had a chance to try the Boreals last winter, first on a light skiff of snow over grass at the Hulbert Outdoor Center's Winter Skills Day, later on the bunny slopes at Gunstock, in the woods near Waterville Valley and, finally, on some lovely soft spring corn snow on local logging trails. Our first impressions indicated that the scale bases don't climb nearly as well as skins; part of the problem seems to be that the skis are so stiff that it takes a very heavy user to make full contact between the scales and the snow. But a pair of removable "kicker" skins under the foot area would probably make these things climb like mountain goats.The overall light weight (lightest in the category) is a real plus when trekking up hills.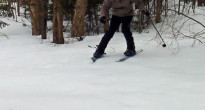 The Boreals with their slick fishscale bases are MUCH faster downslope than the Karhus with their built-in skins. They are so fast, in fact, that their speed makes them harder to control, but more fun for people who know how to ski and have the space between trees to make turns. Tradeoffs.
We didn't feel the Boreals offered the kind of all-conditions stability and reliability we'd demand for touring with a heavy winter backpack, nor were they particularly stable on crust and hard snow. In fact, several testers independently described them as "squirrelly" (or an unprintable version of that concept). But they were great fun for playing in untracked soft corn snow. We'd be cautious about using them for climbing or descending at either end of the snow spectrum, however; both powder and crust made them hard to control for most of us.
The Berwin binding that is offered with the set allows the use of regular boots, which is the way to go if you are traveling mostly on flat ground, especially in extreme cold, or if you suffer from cold feet. But don't expect a lot of stability and control on downhills. The Berwins are a backcountry classic. You don't get a lot of lateral edge control, but they are lightweight and easy to use with gloved hands. If you are really leaving the road behind and heading somewhere where a broken binding could put you in peril, it's a good idea to carry a spare binding. While the Berwin bindings are proven wilderness travelers, and certainly rugged enough for most situations, they ARE made of plastic.
If you really want to get the best of the Boreals as backcountry skis, we'd probably recommend mounting them with 75mm 3-pin- or 3-pin-and-cable Tele bindings and using them with a leather or soft plastic Tele boot, though at that point, we aren't sure what, if any, their advantage would be over a longer ski. We haven't had the opportunity to try that combination yet, but feel confident that it would be an improvement, and should reduce the "squirrelly" factor significantly, particularly on downhills. More testing needed . . .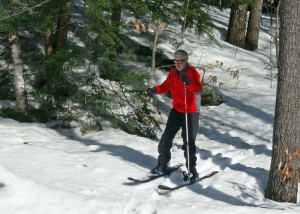 Marquette Backcountry Ski (10 lbs./pair without binding)
Poking around for similar products, we discovered the Marquette Backcountry Ski, which is injection molded of rugged plastic with a scale base. These things are BUILT . . . you could probably lend them to your pet elephant and let him play on them without fear of damage (to the skis, at least). The Marquette Backountries are less expensive than the Boreals, but without the metal edges. They come pre-tapped for Berwin, 3-pin, Nordic BC or Tele bindings so mounting the binding of your choice or trying different ones is easy and quick.
Unfortunately, these arrived too late in a snowless winter for any extensive testing, though we did spend an afternoon poking around on some small hills covered with buttery-soft corn snow and had a ball. We are waiting for a good powder dump to try them again. The Marquettes are rockered (think rocking chair) and should float like a dream in deep powder. They certainly floated on the rotting corn snow. Because they don't have metal edges, we'd be scared spitless to take them anywhere near crust- or ice-covered slopes. For that reason alone, we'd NEVER use them on a backcountry adventure. In our opinion, these are strictly for play on wooded slopes on soft-snow days, and for packing XC trails after a snowfall. That said, we can't wait to get them out on logging roads in deep, fresh snow . . .and if you've got a sloped back yard, prepare for fun.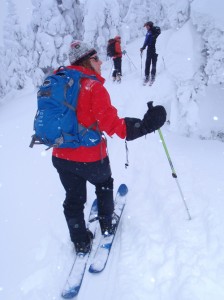 Again, we tried our test pair first with Berwin Bindings and insulated boots. We're guessing they'll work better with a soft Tele setup and will update this article as soon as we've explored that option. Stay tuned!
The Takeaway
Some people have described meta skis or sliding snowshoes as "a solution looking for a problem." And it's true that no one "needs" a pair of sliding snowshoes if they already have snowshoes and/or skis. But in our view meta skis are are made for having fun on rolling hills, not mountains, which makes them perfect for backyard play throughout the northeast. In the end, they're another great excuse to get outdoors on snow, get some fresh air and exercise, and have fun.