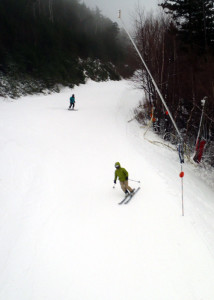 There's a very light snow falling outside as I write this and it's easy to get excited about hitting the slopes. If you are looking out the window at falling snow, I'll bet you can relate. In fact, as soon as this is done…
It's harder to get excited about heading for the hills when the ground is bare, the world is gray and, worse yet, there's rain in the weather forecast. That was exactly the situation on the shortest day of 2011 when I forced myself to throw my skis in the car and drive through mixed ice, sleet and rain to meet EasternSlopes.com Senior Editor David Shedd at Loon Mountain in Lincoln, New Hampshire. As I drove north, the rain and ice  stopped around Plymouth, but the day was still gray and damp and a thick fog hung over the tops of the higher peaks.
But, it's always been my contention that, when the weather doesn't cooperate, New England skiing is going to consistently be better than you expect it to be. David agrees, as you can see in his essay on Eastern vs Western Snow (The West, too, has been struggling this season). We wanted to see if Loon would prove the theory correct.
The answer, in a word: YES!!! Considering what Mother Nature had been throwing at us, conditions were excellent. Loon had more trails open than we expected, the snow was surprisingly deep, surprisingly soft and (not so surprisingly,) well groomed. Loon takes good care of its snow.
Now, if it's been rainy and warm, anyone who goes to a New England ski resort expecting mid-winter snow conditions is probably deluding themselves. You have to adjust your expectations to reality. I admit, I was expecting something a lot less than perfect. In fact, I brought my Volkl AC30 skis—which I refer to fondly as my "ice skates" — thinking that high-traffic areas would be boilerplate, at best.
Wrong! Honestly, there were some infrequent patches of hard snow, and a VERY few spots which deserved the term "ice," but most of the time we were skiing on well-groomed corduroy that lasted at least as long as our legs did—actually longer, since the snow was still good when we weren't.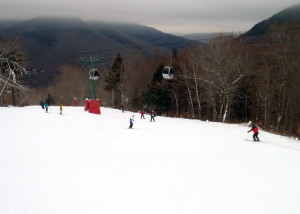 We spent most of our time riding up on the North Peak Express Quad, then coming down on Walking Boss or looping around Sunset to Haulback to Lower Flume (which was in superb condition). Upper Flume opened while we were there, but we decided that slopes, ungroomed steep, and with snowmaking "whales" scattered about the landscape, was not in our best interests this early in the season. The best snow of the day was probably on Loon Peak on Upper Flying Fox and Seven Brothers, accessed from the Gondola. Everywhere we looked, more deep piles of snow were waiting to be groomed out into smooth corduroy for the larger crowds expected during Christmas-New Year's vacation. With a real cold snap since, you just know the conditions got better after Christmas.
It turned out to be a great day on the slopes—despite the dreary weather and having to drive in rain and ice. Remember, always check conditions before you head for the slopes if Mother Nature's been cranky. But, no matter how badly she's behaving, you're likely to find that the snow is better than you thought it would be.