I couldn't wait for New Year's this December. Not because I had awesome party plans (I didn't) or the supposed apocalypse would come with 2012, but because my skiing and riding season would begin. The first run of the winter season is undeniably one of the best parts of my year. Muscles, unpracticed on the first few turns, remember the pressures and moves and, soon, you're flying. An admittedly rough start to the ski season for east coast mountains hasn't stopped skiers and boarders from seeking out this feeling. Getting it started with a few best friends is simple, pure fun.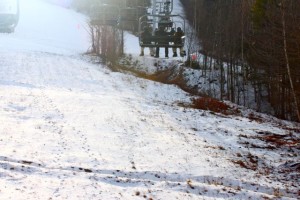 Many of my college friends have gotten their seasons rolling with post-Christmas College Week Skiing. Some resorts make a big deal of attracting college kids who are still on winter break after New Year's. Killington Mountain had not one, but two back-to-back college weeks. My college friend Betsy Stanley and I drove up from Boston for a weekend to meet our friends Dan Thornhill and Casey Wittner at Killington to ring in the new season.
Casey and Dan, who also go to Northeastern University, met us at Killington's Collegiate Snowfest. They came a little sore and in need of a shower having spent the previous week at Sunday River's College Week in Maine. Casey had this to say about the Sunday River experience:
"Five of my college buddies- Dan Thornhill, Dan Kern, Ryan Tuck, Andy Youngstrom, and Jay Tanch– and I decided to head north after the holidays for Sunday River's College Week. I had never boarded in Maine and wasn't sure what to expect. I was wary of the lack of snow so far, but with discounted tickets and the promise of more precipitation up north, who could refuse?
Sunday River set up four nights of events for College Week. The night we arrived, we checked out the first of these: the 80s Comedic Dance Party. The event was taking place at the Foggy Goggle, a large bar on the third floor of the South Ridge Lodge. Having heard good things about said establishment, we willingly forked over a $10 cover. Unfortunately, we ended up being disappointed with that particular piece of the College Week experience.
Turnout was poor, and the act was a lone thirty-something doing covers of 80s and 90s songs on guitar and accompanied by a laptop. The drinks weren't any cheaper than they would be during any other week, and we soon left. We were disillusioned enough by that experience to avoid the rest of the scheduled College Week activities.
Check out the festivities for yourself and form your own opinion, but I would also recommend checking out the local joints. We enjoyed the $5 pizzas from Portland Pie Company and $3 drafts of a delicious microbrew at a lodge near Mount Abram, a deal which happens every Thursday. We also made fools of ourselves at a local bar called the Funky Red Barn that hosted karaoke.
The partying, however, is always secondary to the real attraction: the slopes. I'd just bought a new board and was itching to hit the slopes with it. Most of us bought three-day tickets on Tuesday morning which allowed us to avoid returning to the ticket lines each day and saved us some money besides. The ticket discounts we got for College Week were excellent. Three days of snowboarding on eight peaks for $120 instead of $240? Sign me up!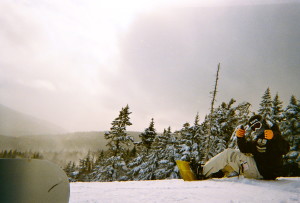 Admittedly, over the course of the three days, only five to seven peaks of Sunday River's eight peaks were ready and running, but it was certainly better than anything around New York where I'd spent my winter holiday. Nicely groomed corduroy awaited us when we strapped in on Tuesday morning, and quality, corduroy slopes greeted us each morning thereafter thanks to a bit of fresh snow and a bunch of man made Sunday River pushed out each night. When the rest of the east coast is too warm for snowmaking, you can almost always count on Maine for frigid temperatures.
It was a bit chilly (if you can call lows around -5° F"chilly"), but we bundled up and endured. Waking up early  to make the first chairlift up and indulging in the morning's groomed trails is so worth it. As is to be expected, more and more snow got pushed down the mountain as the day went on, and trails became icier. Conditions were never terrible though, and those powdery mornings really helped.
Although some  weren't open the week we went, a few runs stood out. From the Barker Mountain peak, a series of intermediate trails (Ecstasy and Cascades) made for a fun run down to the main Barker quad chairlift. Conditions there stayed good throughout the entire day, even when others became icy. Tempest, a diamond off the White Cap quad, had snow being made on it day and night, leading to some fun rollers and a nice amount of powder.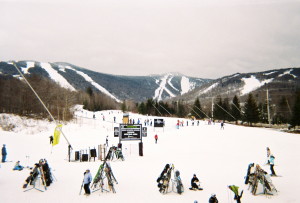 Sadly, only two parks were set up, one consisting solely of a few boxes and rails while the other provided four hard packed jumps. If you visit later this season, more should be ready. The ticket prices made the trip totally worth it, and we'll be back next year. Short lift lines and relatively empty trails were the perks. Maybe people being wary of the conditions kept them home. Don't make that mistake!"
Killington's Collegiate Snowfest doesn't offer half price lift tickets, but they do have events happening along the Killington Access Road to entice the college crowd as well as the Winter Games which happened the first week of January.
One of the Access Road events was the dance party at the Wobbly Barn that we stopped by on Saturday night. Sort of like the boys' experience at Sunday River, the Wobbly Barn was no great party. At the suggestion of the bouncer, we ended up at Charity's Tavern across the street. We liked the vibe and their dart board and would recommend checking it out.
Brewskis aside, the riding at Killington was pretty good, especially considering the above freezing temperatures and minuscule amount of snow they'd gotten at that point. Killington is huge– the second biggest resort on the east coast actually (they were first, but Sugarloaf's new terrain gives them more skiable acres)–and they had enough runs open to keep us happy. All of the peaks were open, but not all of the trails. Greens and blues dominated the color spectrum of open runs, but blacks and double blacks were also available. More trails will open up as the season marches on.
We stuck to the blues and only a few blacks. Most of the blacks were moguled and icy. When doing outdoor activities with friends, it's easy to get caught up in competing with one another–trying to be faster or endure longer. At something like College Week, when college kids are everywhere and the nighttime partying gets excessive, you have to be careful on the slopes.
Healthy competition can push you to improve your abilities, but too much competition and someone might end up riding the red toboggan. I wouldn't call myself a strong snowboarder, and the boys were exhausted after a week in Maine. I'm glad I went with good friends who recognized that it was a weekend to take it easy. It was a choice that made for a fun weekend.  I bet you've got friends like mine who know when to push and compete and when to rest. Bring 'em along.
Our first day out, Saturday, was one of the warm days that have plagued mountains this season. Conditions were patchy, but never underestimate a good attitude. The temperature meant that our fingers and toes were comfortably warm, not numb. And the slopes loosened up in the late morning.
Conditions were noticeably better our second day out when it had been cold enough to make snow and even produce a layer of the real stuff. We had good luck at Bear Mountain, which was less crowded than Killington Peak and Snowdon Mountain.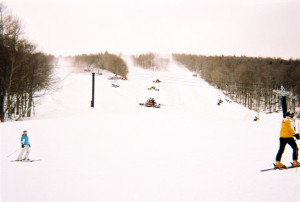 The only park open at Killington was the beginner's Mouse Run Terrain Park. Here, I made a New Season's Resolution (sort of like a New Year's Resolution): I'm going to master my fear of parks and being in the air. I'll keep you updated. What's your New Season's Resolution?
Mouse Run wasn't the best place to get started on my resolution as it was very crowded, probably due to it being the weekend and the only park open. The good news for park devotees is that Killington will be hosting part of the Dew Tour in a couple weeks. Check it out if you want to see some big air and seriously talented athletes. Prepping for the Dew Tour means that their groomers and plows have been working as much as possible to get the superpipe ready on Bear Mountain. It also won't be long before their wooden park, The Stash, is also open. The park crowd should thin out when these two open and offer bigger challenges for the advanced skiers and riders. I'll see you there one of these days.
If you're familiar with Killington, you may also remember the Superstar Pub at the K-1 Lodge. Alas, it is no more after Hurricane Irene roared through. But in its place is now the Roaring Brook Umbrella Bar where we took a quick break. Two, round, yellow-capped buildings stand where the Superstar Pub was once. Killington is justifiable proud  of their quick recovery, and I recommend resting at the new spot  and watching skiers and boarders come down the mountain through the huge, glass walls.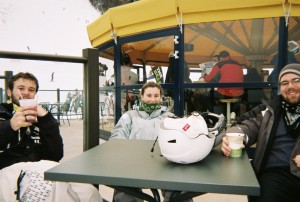 Killington has a fun, energetic vibe that not only attracts droves of college-aged people, but also pros, beginners, the old, and young. I got schooled by some snowboarders half my age at the Mouse Run Terrain Park. Pretty soon they'll be tearing it up at College Week.
Casey and I both agree that conditions were pretty good at both mountains. We keep hearing that mountains aren't ready for the season yet; there hasn't been enough snow. Don't let the naysayers deter you! Take it from people who have been there: it's about working with and making the most of the snow on the ground.