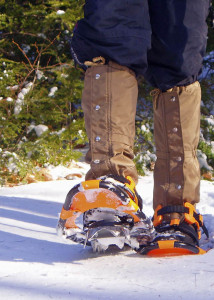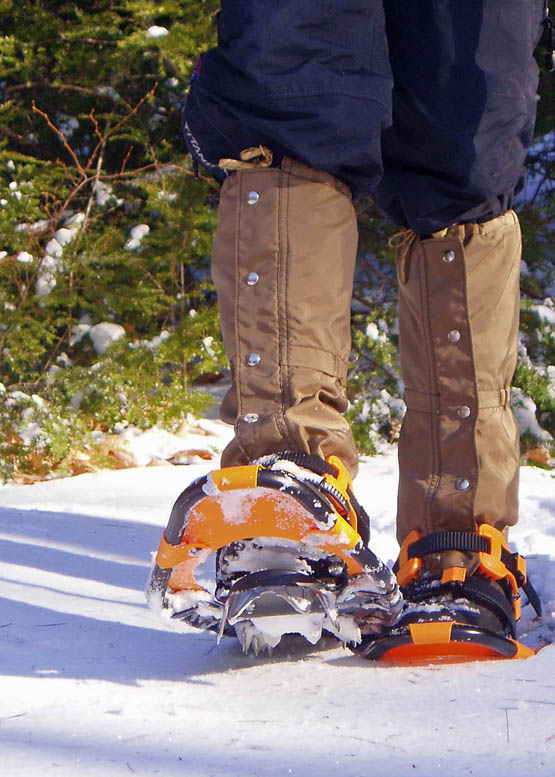 There are lots of modern snowshoes on the market these days and the variety can be confusing—especially since most look a lot alike. Different shoes with different features are better for different jobs, and picking the right ones for you and your needs can be challenging.
By the way, we are only dealing here with "modern" snowshoes. There are some older designs out there that still work, and if you already own them and like them, go out and have a ball. Wooden snowshoes, for example, are lovely to look at, and still float you on top of the snow. But like wooden boats, they are mostly used by traditionalists who appreciate the aesthetics and craftsmanship inherent in working with wood. This story is for people who are buying their first snowshoes or looking to upgrade older models to something with, perhaps, more performance and practicality. And we are going to focus entirely on snowshoes for the east, where we have more hills than mountains and snow that can range from boilerplate blue ice to deep soft fluff–often on the same trail on the same day.
How To Pick The Right Snowshoes For You: Recognizing the Differences
The way to begin sorting out snowshoes is to imagine what, specifically you are going to do on them and, to some extent, where you are going to do it. As we see it, there are two general categories of snowshoes; there's no official name for them, but, for lack of better terms, let's call them racing/running, and backcountry/general use.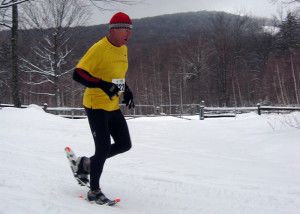 Racing/running snowshoes are designed primarily for aerobic workouts and are almost always better used on packed or heavily crusted snow. Backcountry/general use snowshoes will go anywhere; they are the ATVs of the winter world. Real backcountry shoes are designed primarily for use in untracked snow and a variety of conditions, including wearing a backpack and dealing with steep slopes and sidehills. Not surprisingly, shoes that work well for racing/running tend to be awful for backcountry and vice versa. If you want to go running on snowshoes for exercise in winter, and you also want to put on a pack and go exploring the untracked, you are going to need two pairs of snowshoes.
You'll very often see a category of snowshoes labeled "recreational." This is a catch-all title for "value priced" snowshoes that don't have all the features of top-of-the-line snowshoes. But the truth is there are "recreational" snowshoes that are better for running/racing and others that are better for backcountry/general use. You just need to recognize the differences.
Where things get confusing is that manufacturers often aren't clear about what a snowshoe is best for. Their job is to get you to buy their snowshoes, so of course they make the ones that are best for everything, right? In our experience, even the salespeople at outdoor shops (and, apparently, some journalists who write about snowshoeing) are sometimes fuzzy about the finer points of snowshoes. So your best strategy is to learn all you can, ask lots of questions, and try as many snowshoes as you can before you buy. The more you know about yourself, what you want to do and what works for you, the more likely you are to find the right snowshoes for you on the first try.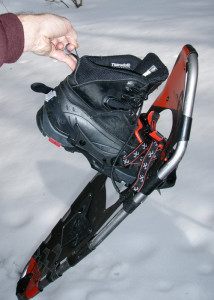 The first key to categorizing snowshoes is in how the binding (the part that holds your boot) is attached to the deck (the platform that keeps you from sinking into the snow). Here's how you tell in an instant if a snowshoe is going to be better for running/racing or backcountry/general snowshoeing: simply pick up the snowshoe by the binding. If the tail of the snowshoe immediately drops without resistance (imagine the tail of the shoe staying on the snow as you pick up your foot), that's a backcountry/general use snowshoe. If the tail of the snowshoe wants to lift along with the binding, that is the hallmark of a snowshoe that's better for running/racing and use on packed snow. We'll explain these distinctions more clearly in a moment.
The other key characteristic is the size of the deck. Basically, a larger snowshoe provides more flotation but weighs more. Racing/running snowshoes are usually as small and lightweight as possible. Remember, they are generally used on packed trails, so flotation isn't as important. While some "general purpose" snowshoes are quite small (for smaller, lighter people who don't carry a heavy pack and don't break trail in deep snow), most "backcountry" snowshoes are larger to provide more flotation.
You'll notice we haven't talked at all yet about materials. Frankly, we've tried great snowshoes with aluminum frames and synthetic decking, and great snowshoes molded of composites or plastic. That's a matter of preference. Then there are details like ease of binding use, amount and placement of traction, extras like heel lifts. All those are decisions you'll have to deal with eventually before you  plunk down your hard-earned cash. But the key to finding the right snowshoe is starting in the right general category for what you want to do.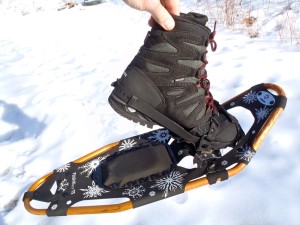 How To Pick The Right Snowshoes For You:
The Toe Cord Conundrum
The point of attachment between the binding and the deck on a snowshoe is technically called the "toe cord. " The term is a  holdover from the days when snowshoes were made of wood and rawhide and the feet were held to the shoe by, well, cord. As noted above most modern snowshoes for adults come either with "rotating" or "pivoting"  toe cords (also called "axles" by some manufacturers), which allow the snowshoe deck to pivot freely and the tail of the snowshoe to stay on the snow while you lift the toe, or "tight" (sometimes called "fixed") toe cords which hold the deck more firmly so the tail drops only a little, if at all, when you pick up the shoe.
Tight/fixed toe cords work best on hardpacked snow and are especially popular with snowshoe racers/runners because the tails can't flop forward as you run (which can easily trip you up). But they have three huge disadvantages for general use in a variety of conditions. First, you must always pick up the weight of the entire snowshoe and any snow that's on it with each step. That can get tiring quickly, especially in deep, heavy, wet snow. Second, tight toe cords have a nasty tendency to flip snow up with each step onto the user's legs and back (and even down the back of your neck). Nice for keeping you cool in a race, not so good for staying dry and comfortable on a long wilderness trek in untracked snow. One of the major snowshoe companies calls their tight toecord a "live action hinge." One of our testers who has tried these particular snowshoes calls them "wicked flippahs." And third, in deep snow a tight toe cord tends to make it more likely that the tip of the snowshoe will get caught as you step forward (particularly under a crust), which can make YOU the "wicked flippah"!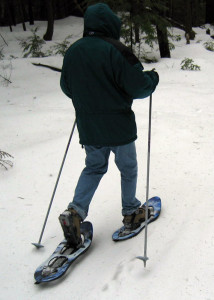 By contrast, rotating toe cords allow the tail of the snow to drop so snow slides off with each step, which also causes the tip to easily lift up and over the snow, reducing faceplants. You never pick up the full weight of the shoe–the tail slides along on the snow. This is a real advantage with the larger, longer shoes typically used for backcountry travel in untracked snow. Shoes that pivot freely are a bit harder to maneuver (there's no "reverse" ) but they are a far better choice for backcountry use and general snowshoeing.
Our Executive Editor  Tim Jones writes a syndicated newspaper  column called Active Outdoors.  A couple of years ago, Tim received an email from a reader complaining that, every time he tried to use his snowshoes, they banged his shins. He asked what he was doing wrong. The answer, of course, was that he was using the wrong snowshoes for what he wanted to do. Further questioning established that this reader was using snowshoes to run for winter exercise. He also happened to be very tall (6-feet 4 inches). Every time he took a long running stride,  the tail of the snowshoe swung forward and the toe of the shoe banged him in the shin. His snowshoes obviously had a full rotating toe cord and were, simply, the wrong snowshoe for what he wanted to do.
On the other end of the scale, Kate Goodin, one of our ace gear testers, and the lead writer for our forthcoming Kids' Snowshoe Review tells us: "My first pair of snowshoes were awful. I tolerated them for two years because I loved snowshoeing and didn't know there were options. They had VERY tight toe cords with just enough swing to give a real catapult effect. They flung snow between my legs, up my back, onto the back of my head and, often, down the back of my jacket as it came back to earth from on high. After every snowshoe outing, my thighs were red, raw, and frozen. It was not pleasant in the least. Discovering snowshoes with full rotating toe cords was like discovering you could buy a car with a roof to keep the snow off."
Needless to say, the EasternSlopes.com editorial staff  strongly recommends a freely pivoting, "rotating" toe cord for the highly variable snow conditions we encounter in the east. It's simply a better all-purpose design. If you are going to run a lot on your snowshoes, stick mainly to packed trails and don't mind getting pelted with snow with each step, choose "tight" toe cords. And if you want to do a lot running and occasional backcountry use, well, not all "tight" toe cords are created equal. Some are tighter than others, flip more snow than others.
The one exception to that rule is if you do most of your hiking in thick softwoods, where you're likely to have to clamber over a lot of  blowdowns.  This is the one time that a tighter toe cord can be a help; it makes it easier to get the snowshoe over a downed tree, and the snow is often not as deep in those areas.  Think carefully before you decide that you fit this category, though; if you hike a ways through fields or open hardwoods to get to those areas, you'll be so tired before you get to the woods that you won't be able to get over the downed trees anyway!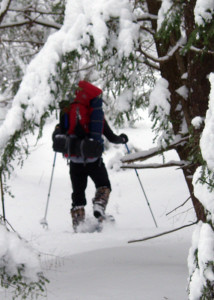 How To Pick The Right Snowshoes For You: Size Matters
Every snowshoe manufacturer and even some retailers offer charts to help you pick the right size snowshoe for you.  They are always based on weight, which is absolutely correct. The more you weigh, the more flotation you need. And bigger snowshoes mean more surface area and more flotation.
For running on packed trails, the rule of thumb is simple: choose the smallest shoe you can possibly get away with. Smaller shoes are lighter and less cumbersome, will let you travel faster and farther in ideal conditions. General use is another matter entirely.
In our not-so-humble opinion, most size charts for picking snowshoes err on the small side for general use. Yes, smaller snowshoes offer a weight advantage, and a snowshoe that's too big for the user can make for an awkward stride and uncomfortable walking. But it appears to us that most snowshoe size charts are generally biased toward packed trails. That is, after all, where most folks apparently go snowshoeing.
However, untracked snow and a backpack full of winter gear demand larger snowshoes. We strongly  feel that, no matter how small you are, if you ever intend to step into untracked snow, especially wearing a backpack, you shouldn't even consider a 21-inch shoe (often sold as "women's" models).  Most women will do better with a 25-inch shoe for all around use, most men with a 30-inch. If you are a larger person or carrying a heavy pack regularly, or hike in an area that often has deep, light snow, you may need to consider larger still.
In other words, we generally recommend putting yourself on the low to middle end of the size chart. If you are shading toward the upper end of the recommended weight, go a size larger. That will give you the flexibility to carry a pack and deal with deep, untracked snow. Modern snowshoes aren't all that heavy, so the weight penalty for going up a size isn't all that bad, anyway.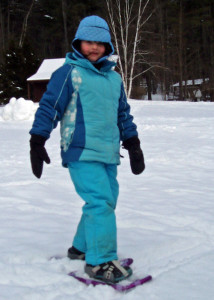 One thing to watch out for when upsizing snowshoes is width. Too wide a shoe can make walking with a natural gait difficult (like  the traditional "bearpaws", which had you walking like a cowboy after a long day on a barrel-shaped horse). Some snowshoes are shaped to "nest" as one is moved forward of the other. We strongly recommend trying these on snow before you buy to make sure the shape of the shoe works with your natural stride.
How To Pick The Right Snowshoes For You: Other Considerations
Beyond toe cords and overall size, there are some other considerations that make a specific pair of snowshoes right—or wrong—for you.
One of the biggest factors we encounter when testing a variety of snowshoes is ease of use. You'd be amazed at the differences that you might not notice without comparing models side-by-side. Snowshoe bindings should be easy to get into and out of even with frigid fingers inside bulky gloves. That said, most snowshoe bindings have a bit of a learning curve and some very good ones need adjustment prior to being taken out into the snow. Our advice when picking snowshoes is to wear your biggest, most cumbersome gloves and see if you can work the binding with them. If you can't quickly learn to do that in a warm shop or your own living room, you are probably going to have trouble out in the snow when it's below zero and the wind is howling.
Still on the subject of bindings, some are made to hold your boot more firmly than others. The less your foot moves side to side in a binding, the more control you are going to have on sidehills, which are often the toughest challenge for snowshoes. That's why real backcountry snowshoes will frequently have beefier (and sometimes heavier) bindings than general purpose or recreational shoes. This is something to consider if you intend to tackle steeper hills and tougher trails.
All modern snowshoes come with traction crampons built in, but some are much more aggressive than others. On the MSR Lightning Ascent snowshoes, for example, essentially the whole frame provides traction. The Tubbs Couloir snowshoes we tested two years ago (similar to the new Mountaineer) have a total of 16 1-1/2-inch spikes under the toe and heel of the boot. Other models have much less traction. Obviously traction counts on steep, sidehilled or icy terrain. Our general advice if you are ever going to leave behind flat terrain is to err on the side of having too much traction rather than too little.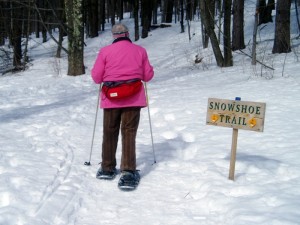 Finally, some snowshoes, particularly backcountry models, have heel lifts which flip up to provide support for your heel as you are climbing steep terrain. This not only prevents fatigued calves but also helps to keep crampons engaged in the snow to prevent slipping. It's a nice feature if you are going to climb steep slopes (the longer and steeper the slope, the more you need it). But if you stick mainly to flat or gently rolling terrain, you will probably never use it. Extras add to the cost and weight of a snowshoe; think about what you intend to do, and you'll have a better idea of whether they're worth it for you.
How To Pick The Right Snowshoes For You: Try Before You Buy
Our final recommendation is to try snowshoes on snow before your buy them. Lots of retail stores, Nordic ski resorts, lodges and recreation programs rent snowshoes. Winter Trails Day in early January offers a host of free snowshoe events. Charity events like the Tubbs Romp To Stomp Out Breast Cancer have snowshoes galore to try. And you can always borrow from friends . . .unless, of course, they want to be out playing in the snow, too!