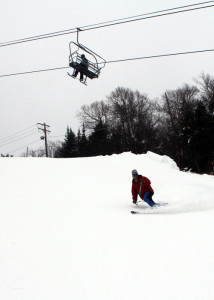 Although Bolton Valley is right in the heart of Vermont ski country and only a short drive from Burlington, skiing there gives you that hidden gem feeling. The resort is off the beaten path, the skiing is so good that the mountain feels bigger than it actually is. It's the kind of middlin' big ski area with huge character that we at EasternSlopes.com love to discover, and love to rediscover again and again with each visit.
I recently rediscovered Bolton after not having skied there since 1997. I had let it go too long. The last time I was there, my dad, my brother and I stayed in one of the slopeside condos and awoke to a sunny, glistening powder morning. We proceeded to ski every trail on the mountain, and most of the woods too, in snow up to our knees. My brother and I had spent the better part of that epic day in Devil's Playground, a "steep and deep" glade area that compares favorably to anything offered by more-famous Stowe and Jay Peak.
Sadly, the conditions were not supposed to be quite so good on this particular Monday afternoon when I drove up to Bolton to make a few tracks. The weather called for icy drizzle all day. I make a policy, however, of always trying to go skiing even if the weather looks slightly iffy. Usually, conditions are better than expected, and this day was no exception. Fortunately the rain decided to hold off and I enjoyed a warm day (for January in Vermont) with nice soft snow. A winter thaw can mean great skiing.
Only the Vista Peak chairlift was open, which is typical during non-vacation weeks. But there was still plenty of great skiing to be had. Normally, the top of Vista Peak (3,150 feet) offers a spectacular view of Camel's Hump and the surrounding mountains, but this day it only offered the kind of pea-soup Vermont fog that makes it difficult to tell which way is up and which way is down. I could just make out the wind turbine through the shreds of fog; Bolton is one of the few ski areas in the east to generate some of its own electricity, from the giant turbine which sits atop the summit.
Like almost everyone else I know (and maybe you are in this sad group), I have not skied as much as I would like to this winter. I was feeling a bit unsteady on my Telemark gear, so started the day with a cruiser run down Alta Vista, to skier's right from the top of the the Vista Peak chair. The snow was smooth and easy to edge, thanks to great grooming and some fresh snow that had fallen over the past few days. From Alta Vista, I was able to cut over to several of the trails on Wilderness Peak, and had an absolute blast. Swing and Bull Run are marked as beginner trails, but they are relatively narrow, have a nice, sustained pitch for carving, and twist and turn pleasantly through the trees. Nice, mellow warmup ride on Tele gear.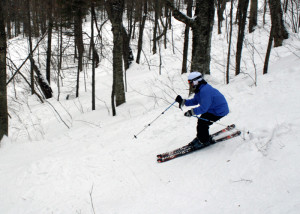 On my next lift ride I took Mousehole to Fanny Hill, an even narrower and windier run. Suddenly I was reminded of what is so wonderful about Bolton—it's pure old school. If you are a purist (like me) and judge a ski area primarily by its trails, you will find a lot to love about skiing at Bolton Valley. It feels like a little step back in time.  The mountain has the kind of long, twisting runs that truly make for classic New England skiing. The trails are cut to follow the terrain, not the needs of a grooming machine, turning and dipping unexpectedly through the dark and (on this day) ghostly forest. I was having fun skiing the little whoop-de-doos off the side of the trail ducking in and out of the woods and making turns on the berms on the side of the trail. I noticed other skiers and riders, particularly the local kids, doing the same. Bolton allows its trails to stay a bit wilder than many areas, which makes for a great ride. It feels like you are WAY out in the woods and then, all of a sudden, you are back at the base village.
After a few warm up runs, I had a great run down Showoff, a black diamond which more or less parallels the chairlift. Some of Bolton's runs are really steep! Even on the steepest pitches the snow was great. In Northern Vermont, despite a year like this when the rain is outgunning the powder, Bolton still had great snow coverage. It really helps to have a few inches of snow every couple of days, which Bolton has had over the last few weeks. An inch or two of snow several times a week eventually adds up to some real snow cover, even without the big snow dumps that get people cranked for skiing.
I tried the glades off Vista Peak, and found that there was enough snow for fun, even if there were a few rough patches here and there. Cobrass, another fun trail that swoops out to skier's left, had quite a bit of grass showing, but I would  always rather see a couple bare spots on an open trail than a "closed trail" sign!
So it wasn't a blue sky, fresh powder kind of day, but it was still a perfectly satisfying day on the slopes. I was almost too tired to stand up after six or seven runs on the Tele skis (it's like doing hundreds of lunges). Bolton is a charming area with a great base village, and some of the cheapest slopeside ski and stay packages around. It also has extensive night skiing for as little as $19 (on Saturdays). If you want a back-to-basics ski experience with great terrain and minimal crowds, well, Bolton is it . . .