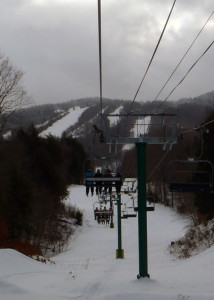 OK, let's see a show of hands . . . How many you have skied Burke Mountain?
Recently?
I thought so . . . Not nearly enough of you have discovered this wonderful ski hill tucked away in the Northeast Kingdom of Vermont.
When my sweetheart Marilyn and I were skiing there on a recent Sunday and Monday, the weather was fine, the snow was far better than we expected (including four inches of fresh, light powder on Sunday night), and we had to share the mountain with very few other people. Great for us, not so good for the people (you among them, perhaps) who weren't there.
Rediscovering A Brand New Burke Mountain
A few years ago, Burke was teetering on the brink of bankruptcy and closure. But a last-minute deal saved it, and it's been slowly gaining momentum ever since. The improvement continues with a new high-speed detachable quad (their second) on the main mountain. This new chair replaces a lift that took so long to get you to the summit that getting on it used to feel like  a career move. Now, I'm perfectly willing to say Burke may be one of the best ski areas you've probably never skied.
Burke is a very interesting ski hill, gentle enough in places to make it a great hill for learners, steep and tight enough in other places to provide plenty of challenge for experts, with some very nice "navy blue" intermediate runs in between. It feels to me like Burke may be a tough place for beginners just transitioning to blue squares, but perfectly wonderful for everyone else. If they have any gentle  "cruiser greenish-blue trails," I've somehow missed them.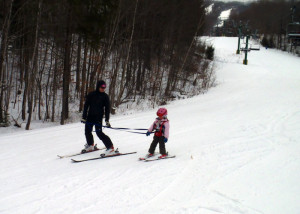 Burke is, in reality, two very different hills accessible on a single ticket. The main base lodge (which is quite new, handsome and very comfortable, and includes amenities like free Internet access) has a high speed quad (the "Sherburne Express") right out in front. This fast lift services all their excellent beginner terrain: smooth, mellow, consistent, well covered with snowmaking and just great for perfecting your technique.
This easy-access Sherburne Express quad is also a "transport lift" to the new lift (the "Mid-Burke Express") which services the tougher terrain higher on the hill. That's where the real action at Burke is. But pay attention: there's a sign at the base of the Mid-Burke Express which says something like: "This lift Does Not Service Novice Terrain." They mean it.
Burke has a couple of straight-down-the-hill, wide open blue-square trails, but their real forte is the narrow, twisting runs which snake around the contours of the mountain. I love the views and the terrain in the black-diamond East Bowl, but on this visit, while it was technically open and skiable, it was ungroomed, and a nasty, breakable crust hidden beneath fresh snow kept me out. So I stuck to mostly blue squares—Big Dipper, Upper Deer Run, Willoughby, Doug's Drop, Bear Den, with a couple of more challenging runs on Ledges. The snowmaking and grooming on these trails made for a thoroughly enjoyable couple of days. I never get bored at Burke.
There's a wonderful old-timey second base lodge, the Mid-Burke Lodge, near the base of the new lift. On weekends it's often quieter than the main base area and a great spot to duck in to warm up. Mid-week it's a ghost town except when there's a race on.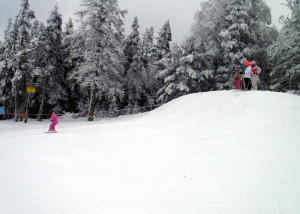 Racing is a big part of the Burke heritage. Burke Mountain Academy has produced more than 50 Olympians. But, unique to Burke, the race hill (which is right out in front of the Mid-Burke lodge) has it's own old-fashioned j-bar lift for the racers to ride. I must admit that, for me, riding a j-bar is a blast from the past, and whenever the lift is running and the race slope uncrowded, I take a ride or two to recapture a piece of my long-ago youth.
The other thing you need to know about Burke is that that they have a truly notable on-mountain restaurant, the Tamarack Grill, located upstairs in the Sherburne Base Lodge. I'm usually no fan of on-mountain dining, but here the prices are reasonable and the food exceptional. We had outstanding burgers and salads for lunch on Sunday and enjoyed it so much we came back that night for a steak dinner that didn't break the budget.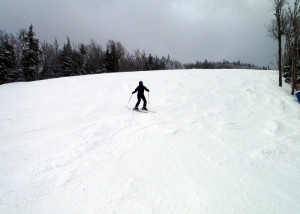 I suppose that, if I were smart, I'd keep my mouth shut about Burke and hope you never discover it on your own. But I've never been that smart. If I kept quiet, I'd only have to share Burke with the lucky folks who already know about it. Lift tickets are reasonable ($68 for adults in the 2011/12 season—$40 if you show a current season pass from another hill), they've gotten more snow than most places this winter, and it's quiet and friendly—a real skier's hill. Sure, you have to drive past a bunch of glitzier ski hills to get there. Personally I think it's worth it. It's also worth it to get to know the area, as the best mountain biking and some of the best cross country skiing in New England is right nearby at Kingdom Trails.
Here's an insider's tip: If you are going to ski Burke, check out the Ski and Stay packages with "Vermont's Taj Mahal", the Comfort Inn in St. Johnsbury, VT. There, $189 (in 2012) gets you a very comfortable room for two (kids stay free), access to a health club, pool, hot tub and sauna, hot breakfast and two adult tickets to Burke. Midweek, kids ski free on this package. The same package is $239 for holidays; availability for Christmas Week  and President's Week may be limited, but it's always worth checking into.