Editor's Note: Novelist Deborah Lee Luskin writes regular essays for Vermont Public Radio, and one of these, Blue Wax Days,  first attracted our attention here at EasternSlopes.com. Anyone who can write that well and believes that being active outdoors is essential for good health is obviously welcome on these pages. I contacted her and in due course discovered that she (like many of you, I suppose), had once been an avid downhill skier but had drifted away from the sport. As she put it, "the last time I downhill skied, all skis were long and straight . . ." So I immediately asked her if she'd be willing to hit the slopes again, tell us how a long-ago skier would fare in the brave new world of state-of the-art snowmaking systems, powerful grooming machines, high speed lifts, comfortable boots, shaped skis, and even (gulp) terrain parks, all of which had come on the ski scene during her hiatus. She was game, and here's her take on a recent visit to Mount Snow. We hope it will inspire some of you who haven't savored the slopes for awhile to come back and try again for yourselves! Tim  Jones, Founder and Executive Editor)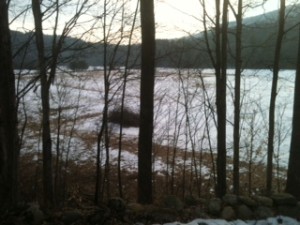 Most winters, I can cross-country ski out my back door, but this year, we've had no snow, no consistent cold weather—and no cross-country skiing, no snow shoeing, no skating on natural ice. Desperate for winter, I figured that if the snow wouldn't come to me, I'd go to the snow.
I didn't have to go very far: I live just fifteen miles from Mount Snow in Dover, Vermont. The road getting there was bare and the dirt parking lot mostly mud; not looking good, so far. But the mountain was covered in snow. With 251 state-of-the art Polecat Fan Guns, Mount Snow makes snow that mimics Mother Nature's best. It was a white, white world – the way winter's supposed to look. Suddenly, things were looking up, and the day only got better from there.
Rediscovering Downhill Skiing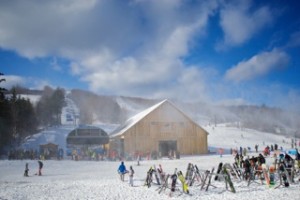 With modern rental equipment that included short curved, skis, and a lesson from a capable instructor, I set out to relearn how to ski – and to discover all the innovations that make Alpine skiing so much more appealing than when I learned as a teenager back in the '70's. The skis I learned on were so long, they'd bridge the valleys between moguls. I remember many descents in those bad old days, on my fanny, sliding down sheer ice in nylon outerwear that made for a thrilling luge-like descent. This was in the days of leather safety straps, so as I slid down the hill, my steel-edged skis – tethered to my feet – whirled around my head like knives. It's a wonder I survived – and maybe not so surprising that as an adult, I became a Nordic convert.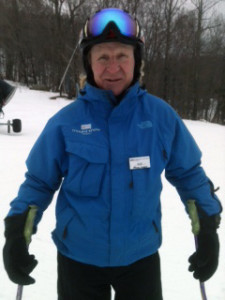 For years, I've enjoyed Nordic skiing – and yes, a certain moral smugness about reaching the top of the hill under my own power. For one thing, skiing uphill was so much warmer than riding the lifts that were in service when I was a kid. Back then, lifts were so slow, we'd don woolen ponchos for the cold ride up. As we reached the top, the Ski Patrol would greet us, check our faces for frostbite, and order us into the warming hut to thaw out. And of course, the clothes we wore back then had more bulk than warmth. So my day at Mount Snow included the taste of a few crow feathers, because in all the years I've been sliding through the woods on skinny skis, the world of downhill skiing has changed.
Outfitted with Mount Snow's rental equipment – Head boots, Rossignol shaped skis, and poles – I started the day with Bob, a veteran instructor, who explained how to use the edges of the shaped skis, which make turning a breeze. Despite my years of abstinence, my ski legs came right back, and I was suddenly remembering the good things about Alpine skiing: the thrill of speeding down the mountain, the challenge of controlling my speed, the incredibly beautiful views from the top, and the gorgeous winter scenery along the trail. Most important of all, it was such a pleasure to be active in the outdoor, winter landscape; balm for my snow-parched soul.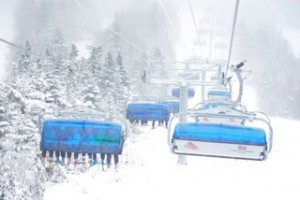 Bob took me all over the mountain, including up Mount Snow's new Bluebird Express – a fast, comfortable, six-seater with bright blue plexiglass domes on each chair that can be lowered to keep out snow and wind. The Bluebird serves Mount Snow's Main Face, with its groomed, intermediate trails. From there, we moved on to the Sunbrook trails, by which time I forgot that we were on man-made snow. We plowed our way through about three inches of powder on top of a deep, strong, base.
One of the big changes in the downhill scene since I was a kid is the advent of terrain parks for the plucky skiers and boarders who take to the air. Bob took me to Carinthia,which features such challenges as rails, jumps and pipes, nearly five miles of trails, tree-skiing zones, all-natural terrain area, mini-pipe and Mount Snow's monster superpipe. Since I find simply staying upright with my skis on the ground a challenge, this isn't the place for me. Nevertheless, I watched with awe as skiers and boarders negotiated the jumps and rails, doing flips and tricks that looked more like circus acts than skiing. With this kind of terrain, it's no wonder that Mount Snow has fostered Olympian competitors, including Olympic gold medalist Kelly Clark.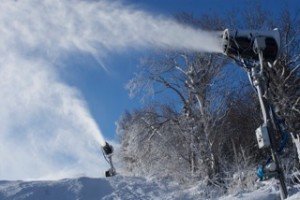 Finally, we checked out the black diamonds on the North Face— just my kind of challenge—where the steepness forced me to face the fall line and keep control. What a thrill! After a quick bite of lunch, I returned to the North Face on my own, ever so pleased to learn that you can teach an old dog new tricks: here I was in my mid-fifties, having been away from the sport for decades, and skiing almost as well as I ever did. I could get hooked.
I still had some lingering concerns about the sport of Alpine skiing and its impact on the larger world, but at Mount Snow at least, there is a full-court press to alleviate as much of the environmental impact as possible; with new advances in technology, they have been making huge reductions in their carbon footprint each year since 2007, when the mountain was bought by Peak Resorts. They've reduced their energy use for snowmaking by 21% by installing efficient snow guns; they've achieved green status for the Grand Summit Hotel; they capture the heat generated by the snow guns to warm the Main Base Lodge; and they run an extensive trash recycling program. Currently, the resort is testing 100% compostable cutlery, cups and dishes at one of their food courts, greatly reducing the amount of trash they send to the landfill.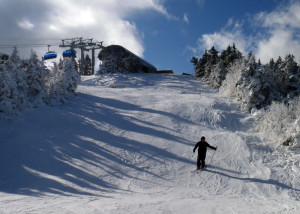 The resort has also streamlined the entire rental, ticketing, and ski-school sign-up process, so that skiers spend less time getting ready and more time on the slopes. In addition to numerous and fast lifts to keep lift-lines short, skiers can buy lift-tickets in advance, on-line, where they can find some valuable, web-only discounts. And for those arriving late on a Friday night, there's the Midnight Express, where skiers can pick up their equipment, sign up for lessons and buy their passes until midnight, so when Saturday morning dawns, they can go straight to the slopes.
I skied midweek, and there weren't many people out, so I was able to enjoy the solitude I look for in the woods. I treated myself to a leisurely run down Long John – a two-mile beginner trail that winds through the woods in a gentle descent. With so much snow, the noise of the world was wonderfully muffled. But inevitably, my legs did turn to jelly, and I had to call it a day. It had been a pretty good one – with the taste of winter I'd longed for. And best of all – just as I was leaving – it was starting to snow.