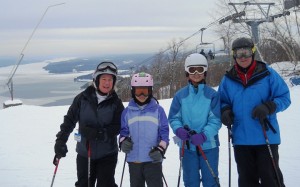 It's the typical family conundrum for the Presidents' Week vacation in February: how do you find a place that's drivable, offers great skiing, and a new adventure for the family? One thought was Jay Peak; after all we've wanted to check out the recent $250 million investment in the mountain, and the kids loved the idea of the new indoor water park.  Alas, we started planning way too late, and all lodging at Jay was sold out. With most of the school kids in New York and New England on vacation that same week, planning a ski trip at the last minute can be tough.
But, looking at a map, it suddenly it dawned on us that Quebec's Eastern Townships were less than an hour further than Jay! In that "Aha!" moment our next adventure was born. We'd read Marilyn Donnelly's story on skiing in the Eastern Townships, and Tim Jones's story about Tree Top Adventures in Sutton and biking in the Eastern Townships, plus David Shedd's articles about Mountain Biking and Skiing at Bromont, but we'd never really made the connection for ourselves.
Skiing Quebec's Eastern Townships For Presidents' Week
"We're heading to Canada to ski!" posted twelve year old Calli on her Facebook page with jubilation. We set off with Calli, her ten-year-old sister Kim Han, my husband Lincoln and me, better known as  "Mama" on a good day and "Sargent Grumpy Pants," on a tough day.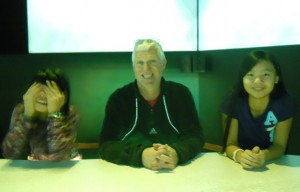 There's nothing like the exhilaration of a new adventure in a wonderful new place. As we set out, everyone was all smiles. We couldn't arrive early enough to ski our first day, so we made a stop in Sherbrooke, Quebec, where we were lucky enough to enjoy a tour of the Musée Nature Sciences, Sherbrooke. Our English-speaking guide, Valerie, showed us through a temporary exhibit featuring creatures of the deep and we learned all about the sea monsters and mermaids found in Magog's Lake Memphremagog. Our next exhibit was called Cycle of the Seasons, featuring  many wild creatures  that inhabit Canada's forests. This large exhibit was separated into seasons and featured everything from fox to fowl in their native habitat. "They're so soft!" exclaimed Kim Han as she stroked the bobcat and wolf pelts which Valerie brought out for us to see. The highlight of the museum, however, was the show, Terra Mutantès, a multi-sensory interactive show chronicling millions of years of Sherbrooke's evolutionary tale. The museum's small, state-of-the-art-theater features a large table that doubles as a screen with plenty of special effects. The surround-sound show was a cross between theater and planetarium. Special effects like realistic snow and rain brought on plenty of "Wow!", too. While the show is not included in the museum admission price , it's definitely worth the extra expense. "That was so cool," exclaimed Calli as we left. She's NOT one normally impressed by museums, so I knew we were off to a good start!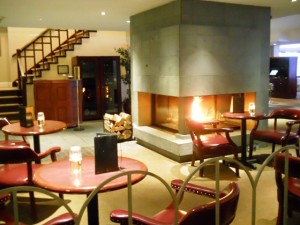 Our next stop was Manoir des Sables, in Orford, which served as our home base for our stay in the Eastern Townships. The hotel is one of the Hotels Villagia and certainly among the finest hotels our active family has ever visited. The lobby is highlighted by a wood burning fireplace and dining room with great views of Mont Orford beyond. We stayed in one of the hotel's Executive Suites featuring a living room, king bedroom, large bath and kitchenette, giving our family of four plenty of room to spread out. The views of Mont Orford and Owl's Head were spectacular. From certain points in the hotel you can see as far as Jay Peak on a clear day.  That's how close together everything is in the Eastern Townships!
We set out to explore the hotel and Kim Han, our intrepid adventurer, soon had the pool tables, ping pong tables and indoor pool scoped out. It didn't take long to realize the unpacking could wait.  "Allons–y!" she cried, which means "Let's Go!" in French. It became our new mantra for the whole vacation.
Skiing Quebec's Eastern Townships For Presidents' Week: Mont Orford
After a great night's sleep we awoke to a light snow falling. "Snow!" we all exclaimed as if we'd never seen it before. After this low-snow winter at home, the two or three inches that fell overnight gave us reason to celebrate. We enjoyed a fabulous buffet  "skier's breakfast" at the hotel, filling up with eggs, bacon, pastries, yogurts and cereals, fresh fruit and good strong coffee. Then we were off to Mont Orford, just under 10 minutes from the hotel. As we gained elevation, the fog grew thicker and we realized we might might not see Orford's legendary views through the falling snow. That's okay, we'll take snow. When we got to the mountain, the first lift we saw was a  "hybrid" chair (a combination of gondola and chairlift known to some as a "chondola") which we later learned was the first of its kind in North America. It's the perfect ride on a snowy morning and we took a a cozy gondola cabin to the top. There, we opted for a long cruiser called 4KM. Perfect warmup run! Next we moved to the gentler slopes of Mont Giroux, the smallest of the three mountains at the resort.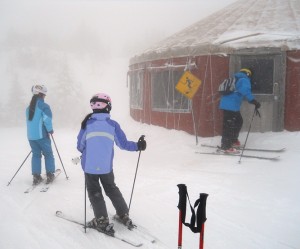 Jumping on Quad Giroux Nord, we were soon enveloped by driving snow. "Wow! We're skiing in the clouds," exclaimed Kim Han. While the new powder was light and welcome, the sensation was like skiing in a white out; we had to feel our way down the mountain through the swirling white skiing on the closest to champagne powder we've seen all year. We got to the bottom, wiped off the goggles and gave high fives all around for a great run. "Just keep clearing off your goggles, Mama," said Kim Han as she showed me how to wipe them with my gloves. Kids these days…
Most days, our family skis in different directions. Lincoln and the kids usually grow quickly weary of waiting for slow Mama. A combination of two unsuccessful knee surgeries and "the Mommy factor" (what happens if Mom can no longer drive?) has put my confidence on  a steep downslope.  I've been fighting to get my mojo back all season, and I was overjoyed that today was the day I found it.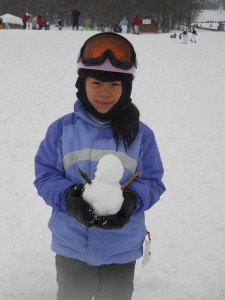 Throughout the day the weather continually improved until the sun finally came out. We traveled together as a family trying the cruisers on Mont Giroux first, then the black diamonds on Mont Orford, the granddaddy of the three mountain. Suddenly, our steeps-seeker, Calli, spied the triple-black-diamonds off Magnum on Mont Giroux  and it was "au revoir" as she dropped into Lacroix. Lincoln followed Calli while Kim Han and I continued down Magnum, a wide, steep, groomed black diamond offering just the right challenge for my timeworn knees.
When we reunited at the bottom, Calli and Lincoln were all smiles. "It was really steep," exclaimed Calli. "I loved it! When I looked at it I knew I'd be going really fast, and I did!" Lincoln nodded in agreement with a similar smile. They'd found their mojo in the steeps while I found mine on the groomers.
We finished our day at Mont Alfred-Desrochers on a long powder-packed run called Descente with plenty of moguls on one side for the kids and a smooth swath beside for Mom. When we got to the bottom, Calli declared that was the perfect way to end the day. We all agreed it was one of the best days of skiing this winter. Best of all, we had two more mountains to check out!
Skiing Quebec's Eastern Townships For Presidents' Week: Mont Sutton
When we awoke the next morning, we realized we were in for a powder day as snow fell all night long. We made the quick calculation that 16 cm of new snow at the hotel meant roughly six inches of powder, the likes of which we have not seen all winter long. After a beautiful ride past farms and lovely homes between Orford and Sutton, we were pleasantly surprised to find far more snow than that on Mont Sutton. We met Mireille Simard, our smiling welcoming committee for a day of guided skiing on Mont Sutton's trails. Jubilant with the arrival of new snow and powder conditions, we set out to explore the mountain. My old knees miss the joy they used to find in deep powder, but knowing that 45 percent of the trails are glades at Mont Sutton, I had to set aside the Mommy factor temporarily…or at least I tried. Mireille and I said a hasty goodbye to the rest of the family near the mountaintop chalet as they headed out in search of woods, steeps and extreme terrain. Like kids in a candy store, my family took off through the bumps and trees offering whoops of joy in the fabulous conditions. . "Allons-y!" cried Calli as she skied away, suddenly freed from a sentence of skiing slowly with Mama!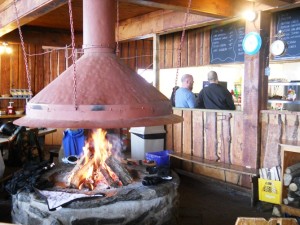 A quick view of the mountain top chalet helped me to understand what everyone meant when they referred to the "authenticity" of Mont Sutton. A throwback to lower-tech times, the warming hut featured a huge wood burning fireplace and a cafeteria with the kind of affordable prices we don't often see at mountain top restaurants in the U.S. Mireille explained that Mont Sutton was named among the top 50 ski resorts in the world by the London Independent newspaper for its friendly atmosphere, the authenticity of the mountain and, surely, for those renowned glades. In fact, Mont Sutton is renowned throughout Canada for the variety of glades trails, attracting glade-hounds from coast to coast.
Sticking to the groomed trails (which still offered plenty of powder skiing), Mireille and I explored the family side of the mountain (sans family). The beginner glades were more my speed, offering plenty of trees–some with butterflies, bear cub and bird statues smiling down from the trees. While these were created for the younger set, I was happy to be out on the snow on a beautiful powder day making my way through a gentler glade that was more my speed.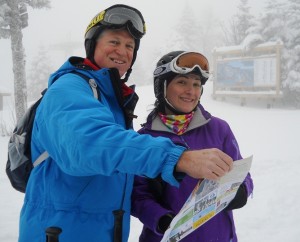 When we joined the rest of the family they had stories to tell of newly-opened glades that were so steep and narrow that at one point Lincoln had to side slip under a fallen tree and his skis were too long to fit! "It was a total challenge," said Calli who thrives on the thrill of the steep. Kim Han, more focused on lunch, simply said "I got down it, that was about it", but later told us about the "butt plow" (translation: sit down and snow plow to get through it) she did in the steep part.
Lunch at Mont Sutton is a rare treat, akin to the gourmet food we hear about at  Deer Valley. Salads are hand tossed, soups are handmade and of course the fries and burgers are still there for the kids.  We were delighted to be treated to healthy options here, after recently converting to a whole-food diet.
We said goodbye to Mireille, our glamorous guide, at Chocolaterie Belge, billing itself as a museum of chocolate (Musée Du Chocolat) in the Village of Sutton, after choosing a handmade work of chocolate art for each of us.
Skiing Quebec's Eastern Townships For Presidents' Week: Owl's Head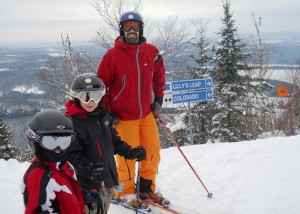 Our last day of skiing was saved for Owl's Head,  just 15 minutes from the Vermont border. This mountain sports breathtaking views of Lake Memphremagog, plenty of terrain for every skiing level, and a race program that attracts teams from throughout the region. This is the only resort in the Eastern Townships offering on-mountain, ski-in/ski-out access, and we could immediately see this was another perfect family ski hill. Our tour guide here was Luc St-Jacques (a.k.a. Luc Skypowder), who was accompanied by his five year old son Gabriel and Gabriel's friend Elyjah. We started our day skiing on the banked turns of the boardercross trail, used for F.I.S. Boardercross races, telecross competition and just plain fun. There was plenty of powder for those seeking it and beautifully groomed trails for those with older knees.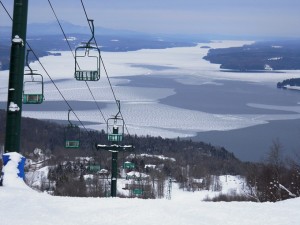 It didn't take long for Lincoln, Calli and Kim Han to spy the glades and ever-so-politely begin scheming on how to get away for some steeper skiing. After the obligatory family photo from the top with the lake view behind us, they were off with smiles on their faces and visions of steeps in their heads. "See ya, Mama!" Kim Han called over her shoulder. Luc, Gabriel, Elyjah and I continued touring the on-piste cruisers, with each trail offering commanding views. Trail names like Lake View, Panorama and Lilly's Leap offered clues that fabulous views were in store; the kind that make it difficult to focus on the skiing. At times it almost feels as if you'll ski into the lake. In fact, Luc told an endearing story of how his son broke into tears when he was just two years old and refused to move on in the middle of one ski trail fearing if he went any further he'd fly right into the lake!
At Owl's Head lifts are designated by colors. We went from the red to the blue chair checking out trails like Memphré, Lower Standard and Shady Lady as the children carried on in French and Luc went back and forth between English for me and French for them. Luc explained that tickets on Tuesday and Wednesday are just $20 per person, making midweek skiing here incredibly affordable for families.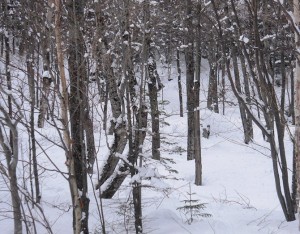 Eventually we met up with Toby, a ski patroller with a decidedly Down Under accent. It turned out he was a re-located New Zealander living in Montreal and patrolling part-time at the mountain.  Together Luc, Toby and I set out in what they called a "short, easy" glade for some photo taking. Short for them was long for me as I side slipped my way through knee-deep powder and underbrush in Ponsoon, a double black diamond area where Kim Han later told me "oh yea, we skied that whole glade. It was really fun!" I can truthfully say I got through that glade, but it wasn't pretty and I wouldn't call it skiing!
Soon, we ran into Lincoln, Calli and Kim Han and we all skied down Fleur de Lys, a blue cruiser.   Toby explained he was taking the rest of the family to a "more bouncy area."  "I'll have to ski with you through this, because I'll have to take your ticket at the end," said Toby, pointing out the "Trail Closed, tickets will be pulled" sign at the top of the woods off Outside Edge. The lure of the forbidden was just enough for all three of my intrepid family members to drop in. When we reunited at the end, the snow stuck in Lincoln's goggle straps gave the first clue of his tumble in the back country.
I continued on the groomed trail to check out the race course. Owl's Head maintains a season-long race course with its own lift, making the mountain ideal for teams seeking training grounds. An on-mountain "auberge" offers dorm-styled rooms with private baths and three meals a day for teams that come to Owl's Head to train. The mountain encourages teams from Canada and the U.S. to train here, going so far as to offer local racers for friendly, meet-style competition throughout the week.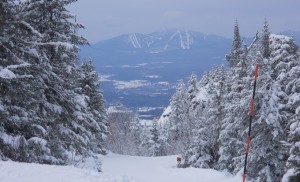 Skiing Quebec's Eastern Townships For Presidents' Week: One Happy Family
"Each day my expectations were exceeded," said Lincoln at the end of the trip.  "After the low-snow  winter we've had, I expected icy conditions and colder days," he admitted.
"We were so lucky to get the snow we got and to ski on all the glades!," agreed Calli and Kim Han. While they wouldn't admit to actually enjoying a trip with "Sergeant Grumpy Pants," they did thank us for a great vacation. That's enough by itself to make it a great trip!
Ski & Stay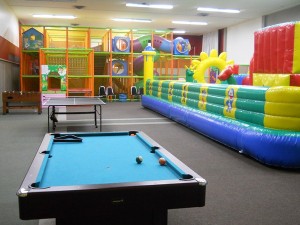 For adults, the Spa Nordique Villegia offers a fabulous Hammam hydrotherapy option including six stations from steam bath to salt water tubs, sensory showers, Nordic Baths and a fabulous Finnish sauna. Rarely do I allow myself to completely relax, but by the final station here, I was pure jelly. The spa features 40 treatment rooms (including 14 massage rooms), and an impressive array of treatment options.
The suites feature see-through wood burning fireplaces with easy-light logs and deep whirlpool tubs.  Come without kids, and you've got all the romance you need, not to mention the world's most comfortable king beds, and plenty of room to spread out. Each floor offers plenty of common areas for relaxing. The private-access-suite section, located in the Chateau, also offers gathering rooms for families or multiple couples traveling together.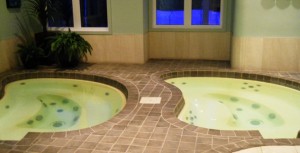 We enjoyed dinner in the dining room choosing the 3-course prix-fixe option. Portions were huge and each course was beautifully presented. The three course meal was $29 per person (not including tax and gratuity).
Come summer, XC trails give way to an 18-hole championship golf course and a 9-hole par 3 course, plus tennis courts, private lake access and plenty of water craft and great biking and hiking terrain.

From the Kid's Point of View
"My favorite part of the trip was the skiing.  At all three of the mountains there were glades with a TON of snow, which we don't get at home. The feeling here is really authentic, like real skiing. We don't get the difficulty of trails at home like we got at Mont Sutton, Mont Orford or Owl's Head.  I loved the steep trails, glades and moguls and all the snow.  I'd recommend this trip to kids my age…actually to everyone!
"My favorite part of the trip was skiing the glades and playing pool with my Dad.  I actually beat him once! When I skied through the glades I felt happy because I was able to dodge the trees and ski the moguls pretty well.  I think I am lucky to be able to go on these trips because there are lots of people who don't have jobs and my Mom's job is to write about what we do.  That's cool."
When you go
Musée de la Nature et des Sciences de Sherbrooke, 225 rue Frontenac, Sherbrooke, Quebec.  Children under 4 free, 4-17 year olds $5 (students $6), adults $7.50, seniors $6.50.  Add $3 to $3.50 for the show (well worth it)! Open from Wednesday to Sunday, from 10 am to 5 pm.
Manoir des Sables, 90, avenue des Jardins, Orford (Québec)  J1X 6M6, Tél. (819) 843-8415 or 1-877 -villegia. Be sure to check out all the packages to find the perfect one for your family fun. Click here for online reservations.
Mont Orford, 4380, Chemin du Parc, Orford (Quebec), 1 866 ORFORD1 or 819 843-6548.
Mont Sutton, 671, rue Maple, Sutton (Quebec),  1 866 538-2545
Owl's Head 40, Chemin du Mont Owl's Head, Mansonville (Québec), 1-800 363-3342.
Special thanks to Danie Béliveau from Tourism Eastern Townships for help in organizing our trip and itinerary. With so much to do in the Eastern Townships, this story barely scratches the surface. Visit www.easterntownships.org or call 1-800-355-5755 for vacation planning information and your Official Tourist Guide to the Eastern Townships.  Click here for more information on off-the-slope family activities including a winter zoo!