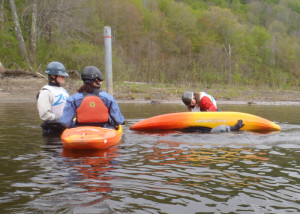 I have a mixed marriage . . . at least in the summer.
For years, my husband has kayaked in whitewater while I've rowed on flat. We were like the proverbial ships that passed on different days of the week: I rowed alone very early on weekdays; he kayaked with his friends on weekends.
Then, he took rowing lessons. Now, some mornings, he joins me on the Connecticut River, where I keep a racing shell and he has a rowboat with a sliding seat. My turn  . . . Hoping to spend even more time together on the water, I decided to give whitewater paddling a try. But if you are smart and safe, whitewater paddling isn't something you just jump into on your own or let your spouse try to teach you. So I signed up for a weekend beginner clinic, learning to paddle at Zoar Outdoor, an adventure center in Charlemont, Massachusetts.
It felt great to be the one heading out for the weekend for a change, leaving the laundry, garden and chores behind. Clearly, I wasn't alone: in my class of five beginners, I was one of three women motivated to try this new sport because our partners were already whitewater paddlers; the other two in our group were a couple, starting out together.
We met in the old, red, farmhouse which houses both Zoar's retail store and the adventure center, where people can sign up for rafting trips, rock climbing school or a zip line canopy tour. The center also offers certification clinics for paddling instructors, and serves as a hub for DIY paddlers on the Deerfield, which is a whitewater Mecca thanks to scheduled water releases from a series of hydroelectric dams. Whitewater on demand!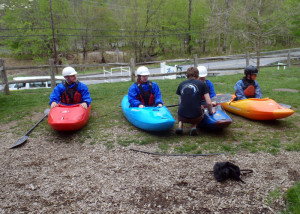 After introductions and paperwork, we outfitted ourselves with the gear that Zoar provides. Putting on the helmet, spray skirt and PFD wasn't so bad, and the wet suit and booties were tolerable. But I'm somewhat claustrophobic, so getting my head stuck while pulling on the dry top nearly turned me into a non-starter. Since I was determined both to give kayaking a try and to stay warm in early May water, I persevered – and  was later grateful for all that good gear.
Next, we picked out boats (Zoar has dozens to choose among, and the instructors  helped us each find the right one) and adjusted them for fit, found paddles, and loaded ourselves, boats and gear into a van for a 20-minute drive to a reservoir. There, we first learned how to get into our boats, and then we learned how to get out of them – while upside down, in the water.
This is a called a "wet exit."  If you suddenly find yourself upside down (on purpose or otherwise), you reach forward ("tuck"), grab the loop on your spray skirt and pop it free ("tug"), then you use both hands to "push" yourself up (actually, down) and out of the kayak cockpit. Once free of the boat, your PFD pops you to the surface. The water was "refreshing" in adventure parlance. Honestly, with the polypro long johns, wetsuit, dry top, booties, paddling hat and neoprene gloves, the water was body temperature by the time it reached my skin, and I remained comfortably warm all day. The water that went up my nose that first time I went over, however, was really cold, and for a few moments after surfacing, I was dizzy and off balance. The dizziness passed, and I practiced twice more, learning how to take my time following the simple escape routine of "tuck, tug, push" for a successful wet exit.
Once we all mastered this necessary survival skill, we learned how to paddle our boats, first with "sweep strokes" that sent us in circles, and then a "power stroke," for forward motion. We practiced by playing follow-the-leader and tag. The games were fun and our laughter was answered by loons on the lake, which was pretty special.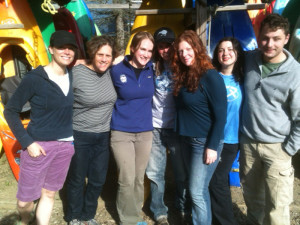 Zoar provided a plentiful spread for lunch, including hot soup, hot cocoa, sandwiches and salad, which we ate at the lakeside picnic area. We socialized while we refueled and learned a bit more about each other. Our instructors were Sara, a college senior, and Katrina, a professional instructor, both highly experienced and wonderfully encouraging. Melinda, a small-animal vet, and Heather, a personal chef, were the two other women motivated to learn whitewater skills to share with their kayaking partners. Kat, a home health aid, and her partner Max, an EMT, were trying out the sport together. Of the seven of us, three were in their twenties, and three in their thirties; at fifty-six, I was by far the oldest in the group, but we five students were all just about equally clueless to start.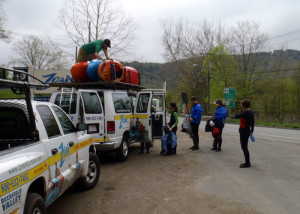 After lunch, we headed for a relatively tame section of flowing river where we could put our newly-acquired skills to use. One look at the current, and I was gripped by fear. Despite both clear instructions and bountiful encouragement, I let fear push me into making every possible mistake save one: I nailed the wet exit every time. Clearly, I'd mastered one useful skill. Throughout the afternoon session, I re-learned a familiar lesson about fear: I could let it hinder me or motivate me. I went for motivation, emptied the water from my kayak and climbed back in.
We spent an hour and a half practicing the basics: entering the current, turning downstream, and returning to the safety of a still-water eddy. Others flipped over; I did, too, and swam again. I was actually proud of my ability to survive.
Next, Sara led us down river, through some fast-moving water. I white-knuckled it to safety, but I'm not quite sure how, since I'd developed tunnel vision. My world shrunk to just me, my boat, my paddle, the river, and my fear. My fear was the real problem. I barely controlled it long enough to complete our first challenging, Class II maneuver, where we paddled through a slot between two boulders smack in the middle of the river. I did it – not with grace and style, but upright. I was pleased, and ready for the next challenge, which was a bouncy bit of river with several hazards. I was doing pretty well, too. Even when I found myself on collision course with a mid-stream boulder, I had a conscious thought about what I was supposed to do—lean toward the rock—and I did it . . . briefly. Then I let fear take over, leaned upstream and went over.
Experienced with wet exits by now, I escaped from my boat, and floated downstream with my feet up leading the way. (One of the rules you learn is to never try to stand in swift water). I still had my paddle, and was rather enjoying the ride—until my boat hung up on a rock and Katrina, who was right beside me, told me to let go of the boat, hold onto her stern, and swim to shore.
This third dunk was the charm. Somehow, when I emptied the water from my boat this time, my fear drained away with it. I snapped on my spray skirt and paddled back into the stream, feeling relaxed and ready. My fear had washed away, and I started to really paddle.
We spent some time making sorties from a generous eddy into a swift section of river, where we practiced ferrying across the current, and making s-turns. We learned a new stroke. We saw ducks fly over in formation. And as our final exercise of the day, we ferried across the current with our eyes closed and called it a day.
That night, I stayed next door at Hawk Mountain Lodge, operated by Zoar, where I had a comfortable room in an 1850's farmhouse. I was so tired, I could probably have slept well on a bed of rocks. . . .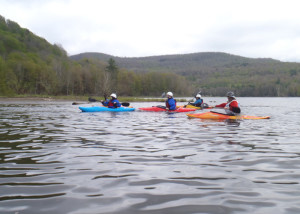 Our group reconvened at 8:30 Sunday morning for some classroom instruction about how water flows around hazards, and how to find temporary shelter from the current on our way downstream. We returned to the reservoir to review our paddling skills and practice some new ones, like bracing, which is a way to save yourself if you are about to flip over. We played Sharks and Minnows, formed and ran a slalom course, and generally fooled around, gaining confidence and more control over our boats.
After another terrific lunch provided by Zoar, we headed to some Class II rapids on Fife Brook. We were all noticeably more proficient; once or twice I even remembered to breathe without Sara or Katrina reminding me. I may even have smiled. I did notice the riverbanks and surrounding hills dressed in their gauzy new leaves and the cottony white clouds spotting the robin's egg sky. From the safety of an eddy, I listened to the music of the water rushing by. This is what whitewater paddling is all about.
We slowly made our way down river, with Sara or Katrina talking us through our options at the top of each rapid. Dutifully, I mapped out my route beforehand, including a contingency if (when?) I missed my first target. All of us negotiated all the rapids successfully, if not exactly as planned. But learning to think and react on the water is part of the game. Personally, I rose to every challenge – including attempting to ferry across very swift water. I dumped and swam, which really was refreshing in the heat of the sunny afternoon. No question, I was still tense as a piano wire, but I had a glimmer of insight that this sport would eventually be pure fun. All I needed was about a hundred more hours on the river with like-minded companions.
Back at Zoar headquarters, we cleaned and stowed all our gear, then settled in for a final debriefing on how to find good, supportive paddling companions and safe ways to practice our newly-won paddling skills. Zoar offers advanced clinics and guided river runs, which allow new paddlers to practice with other, like-minded and similarly skilled boaters, along with a guide to offer informal instruction. We were also given a booklet listing resources to the very active paddling community in the northeast, from paddling clubs to list-serves.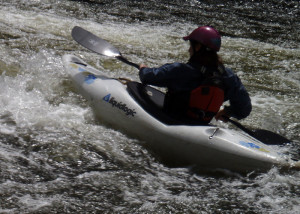 There's no question I'm going to continue boating, just not with my mate. At least not yet. I'm all for overcoming my fear through rigorous, outdoor play – but I really want to do it without wrecking my marriage. This means not paddling with my husband just yet. But I will be paddling with two women among his cohort of paddling buddies who've been encouraging me to join them for years. For starters, I'll just go out on easy sections of river close to home, and take it from there. I wasn't a whitewater paddler before. Now, I am.
PS: My husband had a cold martini  AND a celebratory dinner ready and waiting for me when I got home; I think he's almost as proud of me as I am of myself . . .
If You Go
Zoar also offers a host of clinics for paddlers of all skill levels, whitewater rafting, rock climbing lessons, an aerial adventure course and they rent sit-on-top kayaks for easy floats down gentle sections of the Deerfield River on warm summer days.