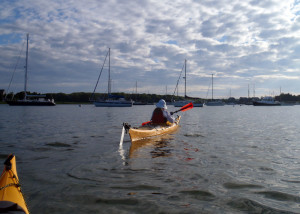 My sweetheart Marilyn and I love Cape Cod (and the Islands!), try to get there every year, usually either in early June (when things quiet down again after Memorial Day), or right after Labor Day, when kids are back in school. Not being "beach people" we like it best when the weather is a bit cooler. Right after the holidays, most businesses are open and there's always plenty to do outdoors.
For some reason that's now hard to comprehend, we hadn't been to the Cape for a couple of years. In the meantime, Marilyn has become a kayak fanatic. So this time, as we crossed the Bourne Bridge headed out on Route 6, we had our two bright yellow, 16-foot Prijon SeaYak kayaks on top of the car along with our trusty fat-tire tandem bicycle. Yes, our car is usually very easy to spot in a parking lot when we are on vacation!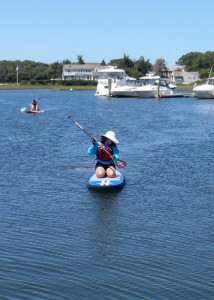 Paddling And Pedaling Cape Cod: SUP With Cape Cod Paddle Surf
But on this getaway, our first paddling adventure would leave the kayaks in their cradles on the car. We arrived on the Cape on a Sunday morning and drove straight out to the Bass River on the Dennis/Yarmouth line to go Stand-Up Paddleboarding (SUP) with Kim Reilly of Cape Cod Paddle Surf. A few weeks earlier, I'd taken an introductory SUP lesson in New Hampshire, enjoying it thoroughly. Marilyn read that story on EasternSlopes.com, and decided she wanted to try it . . .
Bass River is the largest saltwater river on Cape Cod. Parts have strong currents and lots of boat traffic. But there are also quiet inlets–which is where we started. Kim had taught a lesson earlier to a group of women and a couple of her students from that earlier lesson tagged along for more practice.
First, she explained the basics of SUP on dry land, then showed Marilyn how to paddle from a kneeling position until she was comfortable with the board. Next Kim showed her how to stand safely without falling over. Marilyn took to it easily and naturally, stood up in minutes and never fell. She's not a strong swimmer, and even wearing a PFD, she admits she was nervous. But she persevered, savored the challenge of trying something new and had a wonderful time.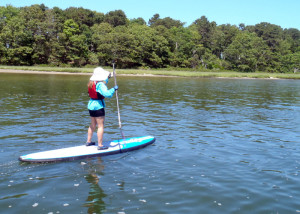 Our lesson was supposed to last an hour, but we ended up exploring the Bass River and its beautiful side bays for over an hour and a half. With no lesson following, Kim took her time with us, giving us pointers as needed, letting us just enjoy the paddling most of the time. We paddled a long way with the wind and current carrying us easily along. Coming back was a bit harder and gave us a good workout.
Here's how Marilyn described the experience:
"There really is nothing difficult about learning SUP. You start on your knees and getting to a standing position is so very easy! When you first stand up, your knees are constantly trembling, making you feel like you might fall over, but the board is very stable. The only thing causing the trembling is your own uncertainty, and after awhile you just relax into the experience.
"It took about ten minutes for the 'shakes' to go away; then it was smooth sailing, so to speak. The water was so beautifully clear, you could actually look down and see fish swimming by and crabs scuttling along the bottom, something you don't get to enjoy in a kayak. From then on, you take in the beautiful views, watching the clouds floating overhead,  fish and crabs swimming below, people waving as they paddle or motor slowly by, and move forward at a leisurely pace.
"Standing, and keeping your body stable on the board, and paddling forward works your core muscles, shoulders, arms, obliques and legs. The next day, my whole body was pleasantly humming from the experience of a fabulous workout and an enjoyable adventure, trying something new and different. SUP is the fastest growing water sport. Just about anyone can do it. What about you? what are you waiting for?"
She's right, this was a wonderful experience, so what are you waiting for? Great way to start a Cape getaway!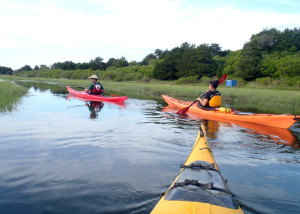 Paddling And Pedaling Cape Cod: Paddling Around Pochet Island With Cape Kayaking
That afternoon, we settled into a beautiful room at The Platinum Pebble, a lovely boutique inn in West Harwich, a 10-minute walk along a quiet road to the beach and and a mile along an even quieter side road from the Cape Cod Rail Trail. This was a "splurge" for us and absolutely worth it. Innkeepers Simon and Annabelle are truly gracious hosts and we loved every minute there (especially breakfast–served right in your room, or by the sparkling pool). They have that lovely pool, newly refurbished rooms with comfortable beds, a HUGE  tiled shower and the quietest and most effective air conditioning we've ever not heard. Marilyn described the décor as "modern and gorgeous. Just try to find anything in that building that isn't white, black or platinum!" Very unlike any typical "Cape Cod" decor!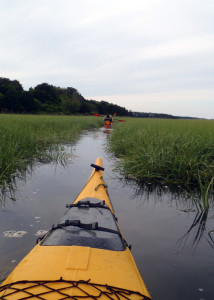 If you have your own kayaks, there are lots of paddling options right nearby (Simon and Annabelle can point you in the right direction ), and the rail trail beckoned. But I had other plans for the evening.
Marilyn had gotten a very good workout from the SUP adventure and decided she wasn't doing anything more that day, so she relaxed while I took a quick swim in the pool, a quick nap (this was vacation, after all), and then headed to Orleans for an evening kayak paddle with Jonathan Palino and Jodi Swain of Cape Kayaking. Jonathan is a kayak instructor, a wilderness first responder and a top-notch tour leader. Jodi is his personable and capable right-hand "man." With just the three of us, a propitious high tide and a beautiful evening, we could enjoy a rare treat, a circumnavigation of Pochet Island, which can only be done on a high tide.
We were the only boats on the water when we launched our three sea kayaks on a quiet corner of Pleasant Bay. Cape Kayaking supplies excellent boats and (unlike most kayak tours), really excellent, lightweight Werner paddles, but I chose to use my own boat and paddle. Most of what we glided over at high tide would be gooey mud flats and puddles at low tide.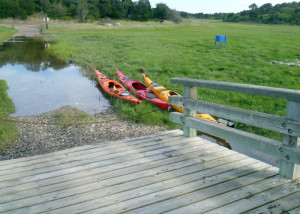 As we left the landing (it would take more than a GPS to find it on your own . . .) we had to paddle against the incoming tide a half mile or so. Then we turned and rode the current up a fairly narrow channel that kept getting narrower and narrower. This was easy paddling on a very pleasant evening. Mid-way around the island, we stopped at a little wooden bridge and pulled out the kayaks to wait for peak high tide. While we waited, we strolled out onto the Cape Cod National Seashore's exquisite Nauset Beach to watch the seals at play. We looked for, but didn't see any sign of the great white sharks that have been roaming the beaches of the Outer Cape this season.
Back into the kayaks, we rode the very last of the incoming tide onto an open pond where we doused ourselves with insect repellent (Jonathan supplied plenty) to ward off the no-see-ums gathering in the still evening air.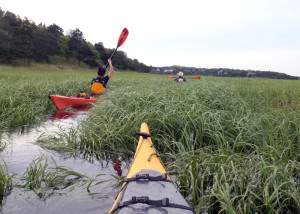 At slack high tide, we nosed into a channel through the marsh grass and one of the best adventures I've ever enjoyed in a kayak. The channel was maybe 4 feet wide to start and straight as a string. But it kept getting narrower and narrower and then stared twisting and turning through the head-high grass.
At times, we were paddling 16-foot kayaks through S curves in a channel barely wider than the boats. To make the turns, you had to put the nose of your kayak into the grass, use a draw-stroke to crab the stern sidewise, then back up onto the grass until the bow swung into the channel to make the corner. At one point, the channel beneath us was 6 feet deep but only a foot wide! Then, the channel simply disappeared entirely and we had to scooch the boats about 10 feet forward over wet grass to find water again.  Several times, I looked ahead to see nothing but the paddle blades of my companion's paddles rising above the tall grass.Without Jonathan as a guide, I honestly don't think I could have found the hidden secret passage. I can't even imagine the wet and muddy consequences of missing our timing and being stranded high and dry by the rapidly-falling tide.
This was, without any doubt, one of the most memorable kayak paddles I've ever been on. I was actually sad when the channel began opening up to allow us to paddle with the falling tide across open water back to the launch. Great experience, highly recommended!
Don't worry about your skill level. Jonathan assesses your kayaking abilities before you go out and won't take you anywhere too difficult for you. He's out to make your experience memorable, not an ordeal. I'm just really, really  glad he felt my kayaking skills were up to this adventure. I wouldn't have wanted to miss it!
Paddling And Pedaling Cape Cod: Pedaling The Cape Cod Rail Trail and Old Colony Rail Trail
All that wonderful paddling was just the first day of our vacation. That's the way it is on Cape Cod–you can pack a whole week's vacation into one day if you have to . . . But more time is better. We were staying two nights at the Platinum Pebble, with plenty more fun ahead. After I got back from my Pochet Island adventure, well after dark, Marilyn and I walked a few blocks to The Oyster Company (yes, they raise their own oysters) for the kind of fresh-that-day seafood dinner you go to a restaurant on Cape Cod to find.
The morning of our first full day on the Cape, we went out after breakfast and rode about eight miles on the Cape Cod Rail Trail. We'd have done the whole 22-miles but there were thunderheads looming to the northwest. In fact, we got back to the inn just as the skies opened up for an all-day rain.
Rainy Day on Cape Cod! Reading in the sun room! Nap time! Then an early (and excellent!) seafood dinner at The Cape Sea Grille, followed by a walk along the wind-swept beach, the sea air particularly fresh following the storm.
The second morning, we got up really early and rode the entire Old Colony Rail Trail (which intersects the CCRT in Harwich) all the way into Chatham and back before breakfast. As reluctant as we were to pack up and leave The Platinum Pebble, there was still more fun ahead.
Paddling And Pedaling Cape Cod: Beachside in Falmouth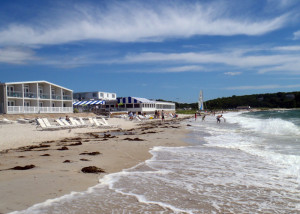 With storm clouds once again building on the horizon and more thunder and lightning  in the forecast, we relocated to the Sea Crest Beach Resort Hotel in North Falmouth. This was a real stretch for us, a completely new lodging adventure. You see, we aren't "beach people" and this is a real beach-front resort, complete with a bar beside the saltwater pool, and tons of beach umbrellas and chaise longues . . . We've never stayed anywhere like this . . . weren't sure we were going to like it . . . and we loved it!
Our room, which faced out onto Buzzards Bay (we could hear the surf breaking all night—a brisk onshore wind helped) was bright, cheerful and comfortable. The staff at the resort was as friendly and as accommodating as could be, and the entire facility was spotless. Kids were everywhere, swimming, playing in the sand, and generally making adults (including us) smile. There are very good, affordable restaurants on site for breakfast, lunch and dinner. So, once we parked our car, we never had to leave unless we wanted to.
Best of all were the Active Outdoors adventures right outside the door. Cape Cod Windsurfing, next door to Sea Crest, rents sailbords, SUPs, kayaks and hybrid bikes and gives windsurfing and SUP lessons. I've taken a windsurfing lesson from them in the past and had a great time—though I didn't actually learn to windsurf. . . If the winds had allowed, I'd have taken another lesson. I absolutely AM going to learn to windsurf one of these days!
As it was, the beach offered enough warm sunshine for an occasional swim, and plenty of space for the romantic, hand-in-hand sunset walk with your sweetheart. The Shining Sea Bikeway is only a mile or so away along a fairly quiet road with nice wide shoulders. And, if the winds had been a little calmer, or there had been fewer thunderstorms about, we could have easily launched our sea kayaks right from the beach in front of our room. All of these opportunities made this a great place for getting Active Outdoors, then relaxing between times . . . Perfect getaway spot for us.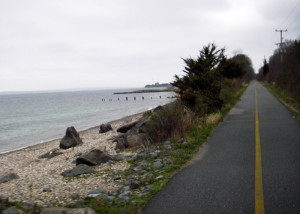 Paddling And Pedaling Cape Cod: Pedaling The  Shining Sea Bikeway
The  10.7-mile (it was extended in 2009) Shining Sea Bikeway in Falmouth is one of the great bike paths on Cape Cod. For us, riding from Sea Crest, then pedaling the entire length of the trail with a couple of short side trips (our total was 27 miles), made for a perfect morning ride on our trusty tandem bike. In much of New England, 27 miles is a long, hilly ride, but on Cape Cod, it's flat and easy. Your seat will get sore long before your legs and lungs give out.
Mile 0 (south to north) on the Shining Sea Bikeway is Woods Hole, the bustling transportation center for Martha's Vineyard. Someday soon, we'll park in Falmouth, ride the Shining Sea to Woods Hole, hop the ferry out to Martha's Vineyard, overnight there, and ride back . . . That sounds like an absolutely perfect one or two-night getaway.
At just past Mile 1 the bikeway breaks out of the woods almost onto the beaches along Vineyard Sound for more than a mile. This is one of the most beautiful sections of the ride, but is the most exposed. On our ride, we had to pedal hard against a southwest wind into Woods Hole, but after a rest at the Steamship Authority Ferry Terminal to do some people and dog watching, we flew northward with the breeze at our backs!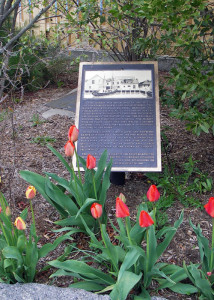 At Mile 2 there's a plaque dedicated to Falmouth native Katherine Lee Bates who authored the words to "America The Beautiful," which gave the bikeway its name.
Past Mile 2.5 the trail heads into the woods again, then through the backyards of Falmouth. There are some road crossings but they are well marked for both cyclists and motor vehicles. This is where the trail used to end before 2009. It was fun then; it's better now.
Much of the new section of the trail is straight, flat and fast. You get great views across Little Sippewissett Marsh at Mile 5.5, and Great Sippewissett Marsh at Mile 6, occasional glimpses of West Falmouth Harbor between Mile 6.5 and 8, including a deck overlooking an oyster pond at Mile 6.7. After that, there are openings for the Bourne Farm Bird Sanctuary at Mile 8.5 and a private cranberry bog at Mile 8.8.
For the last couple of miles, the Bikeway runs alongside an active railroad track–though trains are rare. This active track runs all the way up through Bourne to cross the Cape Cod Canal west of the Bourne Bridge. If one section of the bike path can run alongside the active tracks, that probably means the bikeway can be extended all the way to link up with the wonderful recreation paths on either side of the Canal. If that happens, this will be one of the great off-highway recreation paths in all of New England. As it is, it's pretty darned nice already.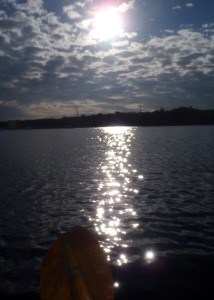 Paddling And Pedaling Cape Cod: Paddling West Falmouth Harbor
Had the weather cooperated, we'd have kayaked out right from Sea Crest, but the wind, surf and whitecaps made that inadvisable, so we stopped at Cape Cod Kayak in nearby Cotuit, drooled over some of the beautiful boats they sell (kayak lust is a problem in our family) and asked them where to go paddling the next morning. They run kayak tours to over 20 locations in that area and recommended West Falmouth Harbor for the protection from the wind and easy parking. Great choice! Nothing beats local knowledge and these folks have it.
The winds were still whipping up whitecaps on Buzzards Bay our last morning so we drove a mile to the harbor and launched our boats right after sunrise. At that hour, the world was quiet; we saw no other boats on the move and only one dog walker on shore as we poked along exploring the nooks and crannies of the harbor. We paddled far enough out toward the bay to know we didn't want to leave the safety of the harbor, explored the harbor edges and marshes. On a falling tide, we had to be a little careful not to find ourselves left high and dry. In all, we paddled a little over two hours, then loaded the boats on the car and headed home. What  a wonderful farewell to the Cape and all it's possibilities . . .until next time.
 If You Go
The Cape Cod Chamber of Commerce is a really useful resource for lodging and dining options and a great place to start your research. However they don't have as much for the outdoor adventurer as they do for more conventional travelers, so you are on your own.
Here are a couple of other EasternSlopes.com stories on having fun on Cape Cod
Carless On Cape Cod and The Islands
Biking Cape Cod
If you want to ride the rail trails but don't have your own bikes, there are a number of great bike shops where you can rent quality wheels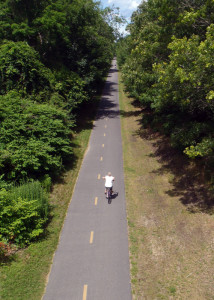 CCRT Resources
Barb's Bike Shop in Dennis and Brewster
Brewster Bike in Brewster
Dennis Cycle Center in Dennis
Art's Bike Shop in North Falmouth
Bike Zone of Cape Cod in Falmouth and Hyannis
Corner Cycle in Falmouth
Provincetown Trails Resources
Arnold's Where You Rent Bikes in Provincetown
Gale Force Bikes in Provincetown
Ptown Bikes in Provincetown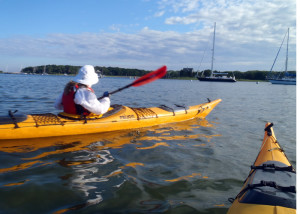 Kayaking Cape Cod
Not everyone has their own kayaks or the experience to kayak safely on unfamiliar waters. Here are some solutions.
Based on personal experience, I can highly recommend the kayak tours run by Cape Kayaking
Here are some other options:
Bass River Kayaks rents kayaks right on Bass River, basic instruction included
Cape Cod Kayak leads kayak tours, rents and sells a variety of kayaks from Cotuit
Cape Cod Waterways rents kayaks and does tours on the Swan Pond River in Dennisport
Cape Cod Windsurfing in North Falmouth rents kayaks on Buzzards Bay
ECOtourz does tours and rentals in Sandwich
Great Marsh Kayak Tours in Yarmouth offers a variety of tours
Rideaway Kayaks offers tours and rentals in Sandwich and Mashpee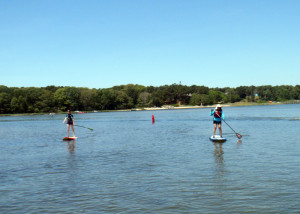 SUP Lessons And Rentals
Cape Cod Paddle Surf in Osterville delivered a great introductory lesson and  tour combined.
Here are some other options:
Adventure Chatham in Chatham offers SUP lessons and rentals and kayak rentals
Cape Cod Kayak leads kayak tours, rents and sells a variety of kayaks
Cape Cod Windsurfing in North Falmouth rents kayaks on Buzzards Bay
Goose Hummock Outdoor Center offers tours, rentals and sales in Orleans
Rideaway Kayaks offers tours and rentals in Sandwich and Mashpee
Stand Up Paddle Cape Cod in Mashpee offers SUP paddling and surf lessons, tours and rentals

Falmouth on Dwellable