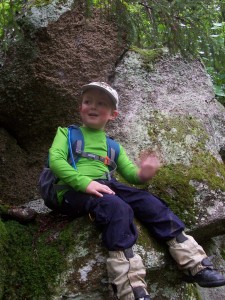 I'm not sure how it happened. My husband and I are both fairly reserved. I, particularly, am downright introverted, not one to initiate a conversation with strangers. But when our genes combined, somehow we ended up with our son Max, aka "The Mayor." Max is SO outgoing it can be hard to get the shopping done when he's along. He's not one to sit quietly in the cart while I try to just get it done and retreat to home. For him it's a social event. He wants to engage EVERYONE in the supermarket in conversation.
He's like this everywhere we go. Like an aspiring politician, he smiles, talks to people, shakes hands, asks them questions, makes friends. That's why we call him "The Mayor."
One of the things I enjoy about hiking and being in the woods in general is the peace and quiet. I don't usually have to talk much, beyond a friendly nod and hello. Max, however, regards hiking as just another opportunity to engage with his public. He wants to know everyone's name (EVERYONE'S!) and, if they have dogs, he wants to tell them about our dogs at home and why they are named Pink (for Pinkham Notch) and Moose (Mt. Moosilauke). He tells absolute strangers about how much his imaginary friends, a diverse crew from books and videos, plus the ever-present Biga, are enjoying the hike and how they've been getting along the trail, some in tractors and some flying in the Thing-a-ma-jigger or riding in the Magic School Bus or on the tracks with Thomas the Tank Engine. Of course he doesn't SAY these companions are imaginary, which leaves some people VERY confused. It doesn't help that his diction isn't always the best . . . But he has a GREAT vocabulary. Sometimes we have to explain that, yes, they did just hear what they thought they heard… "Did he just say 'insipid'? And he's only three, right?" Yeahhh…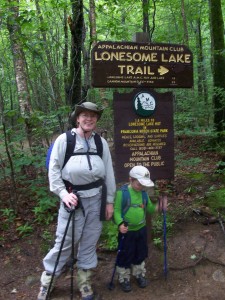 We've discovered that hiking with a kid, especially one as precocious as Max, can be a daunting undertaking. There's a lot to think about when it's not just you who's going to be shivering if you didn't pack the right clothes or who's totally spent because you underestimated the difficulty of the hike. You have to be over-prepared and completely cool with turning around if little legs get tired or even for some reason you don't, at that moment, as a "rational" adult, completely understand. That being said, I've never regretted the extra effort it takes to get Max out hiking.
But what to do when they're still too little for a "grown-up" day hike but big enough that hauling them feels like strapping on a Sherpa's load on Everest? We've been asking ourselves this question a lot lately. At three-and-a-half, Max just plain isn't ready for most of the traditional first day-hikes. He can walk three miles on flat ground, but add any significant elevation gain and he's either not going to be able to do it at all, or it's going to be a grueling slog. Besides, I want him to LOVE hiking, not think it's some kind of torture that Mommy and Daddy inexplicably put him through.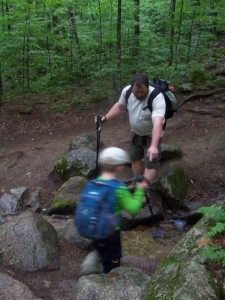 We've done a few hikes where we go out knowing full well that, while this is a short and doable hike for Doug and me, there's no way we're getting to the cherry at the top with Max along. But this is sometimes a little short of inspiring for us, and, to tell the truth, even for Max. OK, it's frustrating, especially for Max. He knows there's a reward and he didn't get it. Other people went farther and got a special treat; he just went for a walk in the woods. We can do that at home.
An Overnight Lonesome Lake Hut Hike
We found one great solution this whole dilemma lately in the form of the AMC's Lonesome Lake Hut near Franconia Notch in New Hampshire's White Mountain National Forest. This is the the easiest of the eight AMC huts in the White Mountains to reach. With a one-way hike of 1.6 miles and an elevation gain of about 950 feet, it would still be a hearty day hike for Max, but then we could spend the night at the hut and hike out fresh in the morning.
We asked Max what he thought of the idea of hiking up to a hut and spending the night; he expressed his usual enthusiasm for anything that means going outdoors. One thing about Max, though, he likes to be involved in planning, packing and execution. He really likes to know what's coming and get excited about it, and he likes to feel like part of the team, getting ready to go. He'd drive the car if he could. So we had him help with staging the gear we'd need for the trip. The AMC helped with all this by providing detailed trail information in their White Mountain Guide, a fact sheet of information on the huts, and a checklist of what to bring on your hut hike. We also got a copy of the excellent little booklet Passport to the High Huts of the White Mountains which has all the information you need to plan and enjoy a hut visit including maps, history, local geography, nearby hikes and more. We had our copy stamped at Lonesome Lake during our visit. We think this will make a wonderful souvenir of all of Max's first hut visits.
Max was excited. He has his own pack, a CamelBak Scout with a hydration bladder so he can carry his own water and a few things for himself (strategically but discreetly chosen to be almost weightless, except for the water). Carrying his own pack makes him feel like a Real Hiker. He has trekking poles, which he actually uses, sometimes. There were times when we cajoled them away from him because he seemed to be paying too much attention to where he put the poles and not enough on where he put his feet. Sometimes it's just better to hold hands. What's important is to encourage good hiking techniques, for safety, efficiency, and trail stewardship.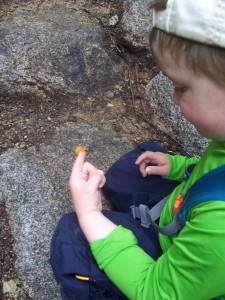 While we were quite confident that this was a doable hike for Max, we didn't want to feel rushed (and we especially didn't want Max to feel rushed) so we allowed ourselves plenty of time to get to the hut. Dinner was at 6pm and we didn't want to be late, so we hit the trail at 12:45. The hike up took us three hours, which comes out to about .5 miles an hour. Not bad for someone with a 17-inch inseam. That total time included one break for sandwiches and a few for cookies, lots of bathroom stops, chatting with EVERYONE we met, and checking out the wildlife. I was very excited to get an up-close look at a black-throated green warbler . . . Max was more interested in the slugs. It had rained the night before and he stomped in nearly every puddle on the trail and, of course, tried to climb all rocks in his path rather than go around them. With little kids it's not about the easy way. It's about what's interesting RIGHT NOW, dinner and whatever else comes later be damned.
We've found it's really important to have lots of snacks on hand when hiking with Max. Fig bars work particularly well for us. They're quick and not too messy, and easier for a little guy to get in his mouth than a handful of trail mix. Sometimes a couple of them was all it took to punctuate the hike into a manageable bit for him to deal with. It's not just physical limitations that come into play when hiking with Max. When you're not quite four yet, a mile and a half is not just a LONG way, it's overwhelming. But walking a ways and then having a fig bar, and then walking a ways and poking some leaves with a stick, then walking a ways and getting up close and friendly with a slug, and then walking a ways and climbing a big rock . . . now that doesn't seem so overwhelming. On this hike, he clearly never felt like he'd been hiking forever and wanted to do something else. Allowing him to go at his own pace and stop whenever something interested him was crucial for all of us. I've discovered that, even in walks in the neighborhood, I can't make him push his limits. Not at this age, anyway. I can GET him to do it, but it's a delicate operation and I have to be really careful. Even if we know he still has physical reserves (on this hike, Max would alternately say, "Now it's time to carry me!" and then immediately take off running), he may be temporarily mentally spent. So we let him have a break. After all, it IS about the journey. It's not about getting to the top. It's about enjoying the woods and all they have to offer. Even the slugs.
After asking the names of EVERYONE we met on the trail, Max told them what we were up to, and wished them a good hike. He's extremely friendly, but not exactly politically correct . . . a person's name might easily get a chuckle and a comment of "Oh! That's a funny name!" He's not exactly modest, either. When we finally got to the hut he flung the door open and announced, "I'm here!"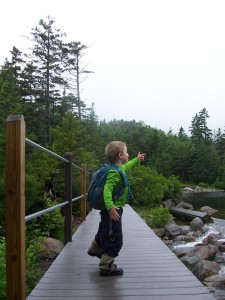 We were the last of the 18 overnighters to check in at the hut. It was midweek and they were nowhere near their capacity of 48. Max loved our little room and he's still talking about finding bedroom number 7. He giggled and bounced on the bed and climbed the bunk ladder 20 times before dinner. We were next door to a nice family from Minnesota.
The rooms at Lonesome are not large, but plenty big enough for what you hauled up on your back. There were lots of places to hang things and stash things: overhead on the walls, the bunk frames, the unused bunks, even the ceiling. Each bed had a shelf as well. to stash, set, or hang a headlamp or your glasses and book. They provide blankets, but you'll want to bring your light sleeping bag or some kind of linens. There are screened windows for bug-free ventilation and windows higher up to let in lots of light. I could see the lake through the trees from my top bunk. One word of warning for the modest. There are no curtains on the bunkhouse rooms. If you need privacy to get changed, you'll have to use the bathroom stalls.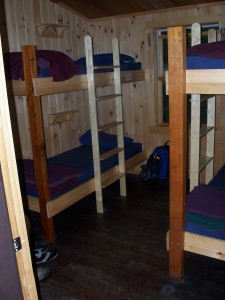 Most of the rooms sleep four with several sleeping more; I saw up to seven beds in one room (with one triple-decker bunk). There are two separate bunkhouses, each with a long porch that runs in front of the rooms. There's an overhanging roof that shelters the porch, the small benches outside the rooms, (handy for putting boots on), and any gear left on the porches. The bathrooms are between, but offset from, the two bunkhouses. The kitchen, common area/dining room and croo quarters are in the main building. The kitchen and dining room are round and window-lined. There are books, field guides and general reading for all ages, a few games and decks of cards to pass the time if Mother Nature loses her hold on your attention for a while. There are a few items for sale…mostly comfort and safety things like bandanas, headlamps and gloves–and earplugs, for those who forgot this necessity of hut life..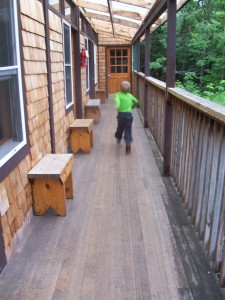 We had plenty of time to get settled and visit with our neighbors and a few day hikers before dinner. Max and I even ventured down to the lake for a look around. It was chilly and raining lightly so Max was the only one who wanted to go in the water. I can see it being a nice way to cool off before dinner on a hot summer day, but I had to talk him out of it. Max and I don't mind being out in the rain and getting wet, but it was chilly and we had limited changes of clothing. One thing Doug loved about the hut experience was lying in bed later that night, listening to the rain pelting on the roof and being thankful we weren't in a tent.
Dinner was served at 6 pm. It's served family style, so you sit with your fellow hikers and pass the bread or salad just as you would at Thanksgiving and you get a chance to talk about how everyone came to be there. We found that despite being from Minnesota, the family we bunked next to knew our tiny NH town well. Doug is familiar with Minnesota because he went to college there. So we had plenty to keep the conversation going over dinner and breakfast the following morning. Thankfully they were good sports because Max ended up sitting more with them than with us. Nick, the father in the family, helped him make his cocoa in the morning and got him to eat a few bites between soliloquies. This is another reason to have have plenty of trail snacks for our hikes. Max won't eat enough when there are people to socialize with. Especially since the  hut meals were family style, he barely touched his food. He missed out. The dinner was outstanding: pork loin, peas, mashed potatoes, salad with delicious dressing, super minestrone soup and hearty anadama bread. And the chocolate cake for dessert was soooooooo good. I want more, now, please. As you might imagine, getting fresh supplies up to the hut on a regular basis is labor intensive. Because of this, one of the luxuries of home they don't have is napkins. It seems unusual when you sit down to a complete "home" cooked meal, but when you think about it, who uses napkins while hiking?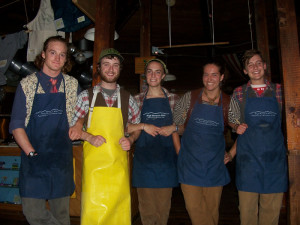 Not only were they great cooks, but our hut croo was very friendly and willing to answer questions about how they spend their days and how the necessities of running the hut are taken care of. They knew a lot about flora and fauna of the area, from wildflowers to the habits of the local moose. They all had to be quite well-rounded in their skill sets. Most of the electricity for the main hut (there is none in the bunkhouses) comes from solar panels on the roof, but we'd had little sun for days. As we stood talking with some dayhikers before dinner, Caroline, Emily, and Heron whooped with glee, having gotten the generator running. They haul up the supplies for the hut strapped to pack frames and we all were impressed when we asked about how heavy the loads usually were. They make it look easy, but it's a lot of work. They told us at dinner, "Take all you want, eat all you take" because they have to compost or if it's meat, haul it out with other trash. They had a presentation prepared for after dinner specifically about the details of hauling in and hauling out. But that was past Max's bedtime so we didn't make it. Still, it sounded like our fellow overnighters found the presentation entertaining and informative. The croo happily answered whatever impromptu questions we had at dinner. Eleven of our fellow overnighters were hearing impaired and several of the croo learned to sign their own names and a few other signs.
The croo weren't the only ones learning a little about sign language. It was interesting watching Mr. I-Talk-To-Everyone trying to engage in conversation. We tried our best to explain the situation several times, but I think it was just too hard for him to imagine. One of the young men had hearing aids and was able to speak fairly well and he and Max talked a little. When we were getting ready for bed there was a young woman in the bathroom and Max chattered away like a red squirrel telling her all about our hike and bunk room and the slugs, all at breakneck speed, none of which she could hear. I reminded him that he should wave to say "hi" and then tried to get him to focus on washing his hands. She found his energetic delivery pretty funny…she may not have known what he was saying, but he often makes a dramatic performance out of his side of the conversation, and this was no exception. He would start talking and waving his arms around and she, seeing the difficulty I was having just getting him to wash his hands, pointed to the sink and mimed washing her hands. He'd go back to washing for two seconds at best then start gesticulating and chattering. She'd giggle again and point to the sink…finally we got him cleaned up and I smiled, nodded and mouthed my thanks and we let her get back to brushing her teeth in peace.
I started getting Max into jammies and Doug went back to the hut to see what they might have for Max's bedtime stories (quite the collection actually!). He came back with a couple of books and the Junior Naturalist activity book, (designed for ages 5-8, with another volume for older kids). We all worked on it together while snuggled in bed. With help, Max was able to do enough of the activities to earn his Junior Naturalist patch, which was awarded to him with much fanfare, at breakfast by the hut naturalist, Caroline. He's quite pleased with it and anxious to put it on his backpack.
Quiet time is 9:30-6:30. While this doesn't quite provide enough sleep for an exhausted three-year-old, it's a bit more than most campgrounds I've stayed in. It probably would have been much closer to being enough if he hadn't gotten so wound up about his 2 am run to the bathroom. Anyway, I was expecting him to get SOME rest, not the best night's sleep he's ever had. What he did get was enough to reset his clock and get him back down the trail the next morning. He was wide awake until he hit the car seat.
It was closer to being enough sleep for Doug and me, but I would suggest earplugs as a handy accessory for any light sleepers. Even during quiet time your fellow campers don't always walk quietly past your door on the wooden porch. And there's always a snorer somewhere . . .
We were gently awakened at 6:30 with a short rendition of  "The City of New Orleans," a nice  surprise. Max was quite impressed. He kept saying, "Did you hear that? Did you hear the music?" I had been wondering how they'd go about waking everyone for our 7:00 breakfast. It was 54 degrees outside, maybe a little warmer inside because of body heat. Breakfast was oatmeal with fixin's, peaches, and an egg dish which I didn't try. I'm one of those apparently rare beasts who thinks oatmeal is yummy and the best way to start the day…and the fresh doughnuts were an unexpected treat. In fact, all the wonderful food they gave us at the huts was an unexpected treat.
After breakfast we all pretty much went about our own business of getting ready to go wherever we were headed. It seems funny that we never got the names of the family we ate our meals with. They felt like friends. Max is still talking about the boys, Buddy and Andy. The next night, when we found Minnesota on the map, instead of saying, "That's where Daddy went to school," he said he wanted to go visit them. I tried to explain that I didn't know how we'd find them, but he thought maybe flying over with a helicopter and yelling would work.
All the people we stopped and chatted with (that would be EVERYONE we met . . .) on the way down were impressed when Max told them he'd hiked to the hut and spent the night. He got some high-fives and  obviously felt pretty proud of himself. About halfway down he started to get tired and his legs began to turn to jelly. We pretty much stuck to holding hands from then on out. He was absolutely spent when he got to the parking lot, but he's told everyone he's seen since then, "I hiked to the hut at Lonesome Lake and it was cool!"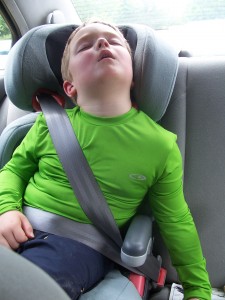 If you ask me how the hike was from my perspective, I find it really hard to say. On the one hand, it was nice to get out and visit to one of my favorite ecological "zones."  But it also reminded me that once you're a parent, nothing is  the same, at least not for a long time. Like everything else I do lately, I did our hut adventure with one and a half eyes always focused on Max, on his safety, happiness, and behavior. That's the way it is and the way it should be. For now I enjoy the woods mostly because I get to see my little guy enjoying himself, playing with slugs, climbing rocks, and stomping in puddles. All too soon I'll get to enjoy the view from my own perspective again.
Kid Considerations
We DID bring our Ergo soft carrier, carefully stashed and not mentioned by name. One of the things that's great about it is that it will squish down to almost nothing. It fit in the stuff sack with my sleeping bag and stayed hidden there. I can still carry that 50 pound hunk of boy, but I didn't really want to, and I wanted him to know he could do it. But, I also wanted to have a backup plan in case of emergencies or meltdowns. [Note: The Ergo is only rated to 45 pounds, but in an emergency . . ..] On this particular hike there was a goal and an agenda; you've made reservations, they've cooked dinner for you, and you definitely want to be there for dinner. But we found we could carefully orchestrate things to go at his pace so that the agenda stayed behind the scenes. And maybe we're learning a thing or two about stopping to smell the roses, or the balsam fir as the case may be.
One detail to consider on a hike like this with the littlest and even the not so littlest: Where are you at with potty training with the littlest hikers, and what are the personal quirks of any little kid? Max is totally done with diapers and has been for some time, but he's still got the issues of the less experienced. Well, some of them. He learned on early bike rides and neighborhood walks about using a cat hole and he's quite comfortable with that concept–and the execution. But the clean, sanitary, environmentally-friendly indoor composting toilets that the AMC is so rightly proud of, freaked him right out. When you look at it from a kid's perspective and see a deep, dark hole with you-know-what at the bottom, you can't really blame him.
The upshot, he had an accident as we were leaving the hut the morning following our stay because he SWORE he didn't have to when he really just wanted to wait until we were in the woods so he could do like the bears do. After cleanup we just tried to be clear that next time he should make his wishes known and we would do our best to accommodate. We could have hit the trail earlier or bushwhacked away from the hut and lake so he could do his thing.
Just one of the things you have to pay attention to when out with the youngest hikers…