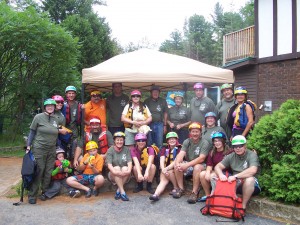 Can You Really Take A 3-Year-Old Whitewater Rafting?
For five years running our family has gotten together for a paddling, camping, biking, hiking, get-together that we call the Family and Friends Flotilla (FFF). Some years it's been a little more of this and a little less of that, but we've always managed to have some fun in the great outdoors. On the Second Annual FFF (the first was a long paddle on the Merrimack River), we floated the Baker River near Plymouth, NH; the Third Annual FFF saw us on the Bearcamp River in Ossipee, NH; the Fourth Annual FFF found us pedaling on the bike path through Franconia Notch State Park in addition to paddling the Pemigewasset.
This being the fifth year, we decided to spice it up a little bit and do some whitewater rafting instead of our usual canoe and kayak armada. Since it's always been a multi-generational gathering with a wide age range, we needed something special to make this trip happen. The biggest issue turned out to be Max, a.k.a. Boonie, a.k.a. The Mayor (he talks to EVERYONE, shakes hands, asks names…), our mascot, hero, and inspiration. He's been on every Flotilla so far, (although for the first one he was floating in his own private amniotic pond) and there was no way we were going to go and do this if he couldn't come along. But most rafting companies (wisely, we think) don't allow pre-schoolers on their adventures. It takes special care to make an adventure like this safe for really young ones. When we found North Woods Rafting in Milan, NH, we knew we'd struck gold.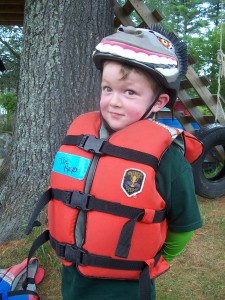 North Woods Rafting was perfect for our needs: they not only met our desire for fun and adventure, but they accomplished that without scaring away our more nervous campers. And, of course,  they were the only rafting company we could find who could accommodate 3-year-old Max. They have an oar frame they can put into one of the rafts which enables a guide to control the boat alone, without the clients paddling. This allows a parent (that would be me in this case), to have both hands free to keep their little kid safely in the boat. This was also perfect for my 84-year-old mother and my mother-in-law (who was a little nervous about the whole idea), enabling them to enjoy the ride and concentrate on keeping themselves in the boat and having fun without having to paddle. In other words, Lincoln, co-owner and guide, did all the hard stuff while we got to have all the fun.
Now Max is no couch potato. In fact he's always up for a new adventure, whether it's an overnight hut hike or testing snowshoes. And he loves the water. In fact, he got his very own Jackson Fun1 kayak a few days prior to our rafting adventure. But three-year-olds can be unpredictable and we did wonder a bit how he'd take to this particular adventure. It was going to be faster paced than he was used to and with not a lot of time to get used to the gear and boats we'd be using. We talked about it as much as we could and showed him some videos online before we even committed to the trip. Watching the videos he was gung-ho, but when we got to the headquarters of North Woods Rafting, he was a little reticent at first. He got quiet and clingy. He wanted to use his own pfd, but that wasn't an option. North Woods Rafting is careful to set everyone up with safety gear that fits them and they insist you use gear that they know works. He is used to wearing a snug (properly fitted) pfd, and once he had on the one they issued him, he refused to take it, or the super-cool helmet, off. Besides the unfamiliar gear, there was a lot of strange and incomprehensible activity and waiting around while grownups did paperwork. We kept him from getting agitated by trying to keep him busy, visiting the chickens, looking at stuff in the grass and talking about the trip. There was a Big Wheel-type tricycle in the driveway, but Max had a cast on because of an incident with a rope swing (the rope broke and so did three bones in his foot), and he found pedaling frustrating. If you're planning to do this trip with kids, it might not be a bad idea to have some things in the car for little ones to keep busy with while all the necessaries are taken care of.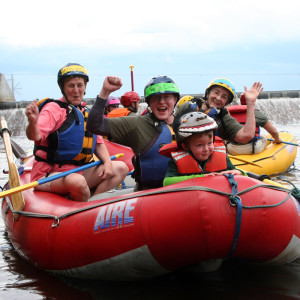 Once we were fitted with our gear and our paperwork was done, it was a short wait for the bus to come and take us up to the put-in at the Pontook Dam. After a quick but thorough run-down of the terms the guides would use when giving paddling instructions, how and where to sit in the boat so as not to fall out, and what to do in case you do fall out, we hauled the boats down to the water and were soon off and paddling. A little extra time was required for Lincoln to get the oar frame set up in our boat. By this time Max was pumped and ready to go. Once we got Nana and Nona in and Max up front leading the way, we were off. Honestly, we were ALL pretty pumped, and it was infectious. I was glad to see Max losing his nervous edge and getting excited. While I do actively promote the idea that what we're doing is supposed to be fun, I'm careful to stay open to his input. I don't try to tell him he's having fun if he's not. I can smooth over little bumps, like the one about wanting to use his own pfd, but as with hikes and bikes, I was ready to take action should Max decide for whatever reason that this was not for him. And because of the way this trip is set up, there are several spots along the way we could have stopped for that or any other  reason. On this rafting trip, you are not committed to see it all the way through if you don't want to.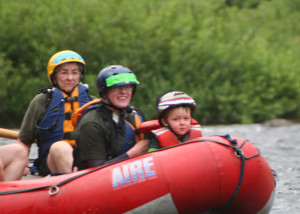 Lincoln verbally checked in with me several times, asking how Max was doing. My first report was, "He says he's fine." My second report was, "He's giggling!" At first he was a little leery of big splashes in his face, but soon discovered he could cover his eyes when he could see them coming. (his first lesson in scoping out a river!) There was lots of silliness between boats, cousins splashing cousins or even splashing people whose names we didn't know beyond their rafting nicknames. (We all had nicknames written on duct tape on our helmets. Max was of course, The Mayor. His had to go on his pfd because of his helmet's toothy grin.) Max got into the splashing, saying in his little three-year-old voice, "Hey, you 'p'ashed us!" and turning to me, "Mommy, 'p'ash them!" and I would do my best with one free hand. (I was without a paddle, so lacked proper armament for this particular battle.) Sometimes the boat would bump a rock and spin around and Max would throw an arm up in the air and wave and yell, "Hi Daddy!" at Doug paddling in the boat behind us.
These guys were so super safety conscious. I never felt like they were nagging, but it was always totally clear that our safety was their main concern. "My primary goal is to make sure he stays in the boat," said Lincoln before we left the put-in. I said, "Well then, you and I are on the same page." That being said, he did NOT make this a boring trip. He steered us into the fun stuff and got us plenty wet. But when it started raining on our second run (this is a two-run trip) and my Mom began to get cold, he rowed us to shore and I helped her up the banking to the bus where she got wrapped up in a sleeping bag and was warm and toasty by the time we were done. (The bus follows the raft downriver both times, the driver stopping to take pictures periodically, but it's also always there in case of emergency.)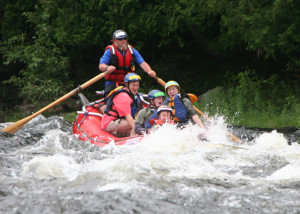 After the first run, (they say it's 45-60 minutes, but I was having too much fun to look at my watch) Max hadn't even disembarked yet when he was asking to go again. It was a treat to be able to say, "Well, guess what? WE'RE GOING TO!"
Rain had been predicted and the sunny day we'd started with had gotten grayer and grayer. As we put in the second time we could tell we were going to be getting wet from both sides this time. No one cared. Anyone who'd been feeling nervous before the first run now felt like a pro. We knew what to expect, we knew it was fun, and we were ready to go! Lincoln wasn't even in the boat yet when Max started bouncing and saying "Go! Go!" We careened off a few of the same rocks and splashed down the river laughing at the rain gods. At the end of our second run down the river we pulled into a wide area across from the take-out where the water is calm and anyone who was so inclined (Max and I were) could hop, gracefully or otherwise, out of the boats for a quick swim. It had stopped raining but the weather was cooler than we amateurs realized. I think Lincoln has eyes on both sides and the back of his head because he seemed able to keep an eye not only on his own boat "crew" (my mother-in-law in the boat and Max and I in the water) but all the others as well. At the first sign of someone getting cold he rounded us all up and got us back in the boats for the quick paddle across to the take-out. A few people were sent to the bus to get warm and the rest of us helped with the boats.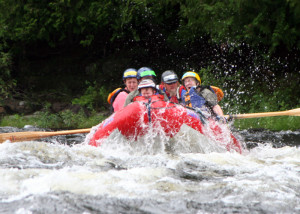 We quickly got the boats loaded back on the trailer and headed down to their base of operations to get dry, warm, and fed. Included in the price of this trip is a yummy lunch catered by Tea Birds Restaurant in Berlin, with Lincoln's secret recipe Wicked Good Cookies. And they are! (No, he wouldn't give me the recipe. If the rafting doesn't bring you back, the cookies will!)
One word of warning about rafting. Even on a warm day in the middle of summer it can get cold if the sun ducks behind building clouds. Bring dry clothes; fleece would be good. The smaller you are the faster you lose body heat, so pack extra for the kids. Personally I'm a bit paranoid about sun exposure, so Max and I are nearly always in long pants and sleeves. We both had t-shirts over our long sleeves on this trip and I was glad for both layers. As for hydration, water and lemonade were provided between runs out of coolers with spigots.
Amazing Family Campground!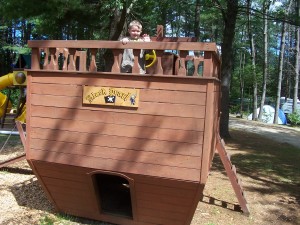 While the whitewater rafting was a truly great experience for Max and all of us, it was just the culmination of a week's worth of fun. Most of the rafting party had spent all or part of the previous week at Mountain Lake Campground in Lancaster. We've had some good campgrounds in the past, but this was the most family friendly one we've found. It wasn't just family friendly, it was family oriented. Most campgrounds have a swing set, this one has a really sweet playground with swings and slides and ropes to climb and even a pirate ship to climb into and sail the imaginary seven seas. There is a separate small playground for toddlers. There's a 30-acre lake for kayaking, canoeing, fishing, or just a quick dip. If the lake isn't your cup of tea there's an in-ground heated pool. The life-size checkers and chess had my nephew Harry's attention when he wasn't in the pool. The chess pieces are about 18-inches tall and the squares big enough that he could get his sister and Mom on the board for a Harry Potter-esque game. They have special activities like candle making and ceramics, and even a Columbus Day Weekend Halloween Extravaganza complete with campground trick-or-treating. Saturday nights you can make your own sundae and you can opt to have waffles delivered to your campsite on Sunday morning. This campground is a destination in itself.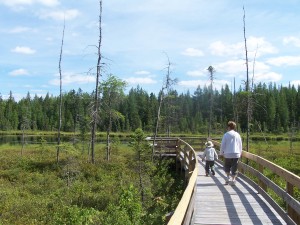 Some in our group took a day to go up the Mt. Washington Auto Road, others visited nearby Weeks State Park or went farther afield to Forest Lake State Park in Dalton.
Max was wearing a walking cast, but we still wanted to get out and do some easy adventures. So Max, his Nona (paternal grandmother) and I went with my friend Jenn to visit the Mud Pond Trail in Pondicherry Wildlife Refuge in nearby Jefferson.
This .6 mile trail (1.2 mi. roundtrip) is a flat, wheelchair accessible walk out to a tiny 3-acre pond which is absolutely gorgeous. The trail is part packed gravel and part boardwalk and traverses an amazing diversity of habitats, from mixed hardwoods at the parking lot to spruce and tamarack at the acidic pond. Max enjoyed spotting the red bunchberry and blue clintonia along the boardwalk and imagining a moose striding across at the wildlife crossing.  It was a great way to get out and enjoy a beautiful northcountry day without making Max work too hard with his broken foot.