Earlier this summer while family hiking on North Pack Monadnock, a clutch of turkey vultures saved my life. Well, maybe not literally my life (though that's in question), but they did save my last vestiges of sanity . . . for a moment, at least.
Before I explain about the vultures, however, it's important to realize that any Mom or Dad can introduce their kids to the joys of hiking. There are few better or simpler ways to get out and enjoy the natural beauty of the EasternSlopes universe than by taking an easy hike in the woods. Whether your kids are first timers or hiking veterans, an easy hike in the woods is the way to solidify their love of family outings, and make good memories. All it takes is a good pair of shoes, some moderate fitness and a bit of planning, and decent research to  have a successful family hike! Just be sure you remember the planning . . .and the research . . .and who you are planning for . . . .
I repeat this as much for myself as you. . . . Here's our story. Maybe you can learn from my mistakes.
What I
thought
I had planned was an easy hike as a warm-up to larger goals later in the season, especially
family hikes in foliage season
. Instead, it became an exercise in averting open mutiny and possible parricide, with me as the deceased. Fortunately, a fortuitous bit of bird watching rescued my day and my hide. The irony here is the birds that saved me usually portend death, not salvation.
Now here's a fundamental difference between my wife and me when it comes to things like skiing, hiking, swimming or taking a bike ride. Time doesn't exist for me when I'm out enjoying nature. But she is always on a schedule. She might say that's a fundamental difference between her brain and mine. I'm not sure. Give me time to think on it . . .
When this particular family adventure began, I was ready for a long hike up and over Mount Monadnock, and tried to get my whole family on board for that idea. My wife suggested we instead tackle a quick up-and-back climb of North Pack Monadnock, which we can access via the Wapack Trailhead just 8 minutes from our driveway. "First hike of the season," she reasoned. I could see her point: Let's work up to Monadnock or something bigger without incurring the wrath of our sons, Becket (13) and Ethan (15).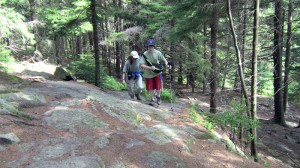 I'm a family man, I know how to compromise, so I made a counter offer: How about we position a second car at the base of Temple Mountain, drive back around to the Wapack Trailhead on Mountain Road and do a through hike summitting both North Pack and Pack Mondandock, exiting through Miller State Park? We found a map of Miller State Park with the trail and peaks clearly marked. But it looked like North Pack's summit was only about one-third of the way into that route, so "we" nixed that idea because it would have taken too long. (I guess "we" had other stuff to do that day.)
Okay, so I pointed out another option: hike 1.5 miles to the 2,278-foot summit of North Pack on the Wapack Trail as she suggested. But then, to make it interesting, we then do the 1.2-mile Cliff Trail loop that starts at the North Pack summit, heads southeast before curving west and then north back to  the Wapack just south of the summit. Then, we would  hike the Wapack back over the summit and down to our car.
"How much time will it add to my original plan?" she asked.
"Probably about 40 minutes," I answered confidently (forgetting, of course, that when I last completed that loop it was with my friend Rene Reeves. He likes to hike really fast).
My wife looked at the map and decided the loop looked fine. It crossed a handful of contour lines, but it didn't look like the elevation changes would be anything to fret about. She wanted to try the new trail and I had promised it wouldn't add too much time onto our outing. I thought variety in our hiking route would help keep things interesting for all of us.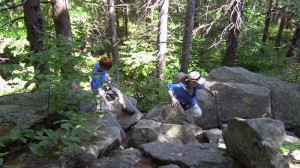 It turned out to be a beautiful day. Clear skies and temperatures in the mid 70s. We drove the short distance to the Wapack, parked at a nice new lot created off Old Mountain Road and started our climb. Despite my best efforts, I couldn't convince the boys to slow their water intake. (Note to self: next time, get them drinking water well before we leave the house, AND carry extra water for them.)
We paced ourselves and enjoyed the climb through dense forest and over a few sections of rugged loose moraine deposit, encountering just one other soul, on her way down with her dog after a quick jaunt. We hit the summit in 50 minutes, a good pace for us, and the boys seemed to be enjoying themselves. On the summit, we sat and ate some granola bars as we took in the view of Monadnock off to the west and the hills to the north and east. The view south is obscured by trees on the short ridge that points the way toward Pack Monadnock. Then, it was on to  the Cliff Trail along a false ridge to the southeast before it turns south to drop . . . and drop  . . . and drop. . . . Normally, I'd consider that fine given that we started at the summit. Thing is, we had to eventually get back to that summit.
The complaints began a half hour later: "Dad are you sure this is the right trail?" "Maybe it was the yellow trail we started on." "How long is this going to take?" "Dad, when was the last time you hiked this?" "If we turn back now at least we'll know how to get back to the car." They came at me from all corners; and I started to doubt myself and my memory of the Cliff Trail.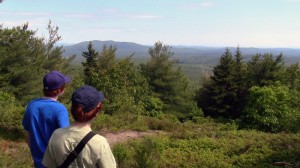 But then we came to the top of the cliff that gives the trail its name. My family sat down to sulk while I walked out to the edge to take a look. The cliff is a dramatic sight, (well worth the hike, if not the relentless harangue). At the top, you look down onto the boulders and scree that look like they were dumped by some Paul Bunyan-sized dump truck only the day before. I was a little  surprised my wife let me walk out there alone to escape. Hmmm, maybe there was a reason. I thought I might have spied a flicker of disappointment in my safe return. At least nobody pushed me off the cliff . . .
We hiked on . . . and on . . . and on . . .and still the doubters assailed me. It got so bad that my wife convinced me to use her cell to call Rene – who had hiked and climbed these trails too many times to count – to make sure we should be following blue blazes. But he wasn't at home and wasn't answering his cell phone.
Then, just when I was considering it might be better for me to throw myself off the next big boulder, than to endure any more scolding, we looped around to the base of the cliff and I spied six turkey vultures "kettling" (soaring upward on rising thermal currents) just above our heads and out in front of us.
"Shhh, everyone," I whispered. "Check this out." We walked off the trail barely 20 yards to a clearing and each of us realized it was a rare moment. All complaining miraculously stopped as we talked in hushed, excited tones. I took video. You can view a sample below and see a little of  the moment.
The vultures soared in wide, wavering loops over our heads, catching the warm air rising off the sun-baked granite. Occasionally, one would swoop in so low we could hear the whoosh of its widespread wings as it went by, wing-tip feathers spread out like fingers reaching for all the warm air and lift they could grab. I also imagined them coming in to catch a whiff of us as they flew by,  hoping for the scent of spoiled meat.
I thanked the stars for throwing this unexpected diversion into our path, providing a break from the mounting pressure of familial disappointment. After we had all agreed that this spectacle was worth the hike, we continued on  . . . and on . . . and on . . . Finally, the angle of the sun told me that we had begun walking back north. A good sign, but another 10 minutes passed and Becket began to mope behind and  soon slipped back into the blame game.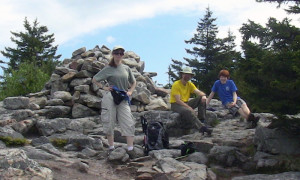 I couldn't get angry, after all, I was wrong about the extra time the Cliff Trail was attaching to our excursion. And, as a father, I hadn't prepared my sons properly for this possibility.
"Look," I said to Laura. "I'm sorry this is longer than I had planned, but at least we are headed back."
"Are you sure?" she asked. The trail just kept heading down.
"Pretty sure."
Becket required more convincing. If ever a 13-year-old's stare could make a father feel like a heel, it was his.
I took the lead, desperate to move faster as though my speed on the trail would help make everyone feel better. It didn't. "Dad, slow down!" yelled Becket. I slowed my pace, but kept ahead, silently hoping Becket wasn't sending me bad juju or plotting my demise. No, not that sweet boy.
Then, at least in my eyes, another miracle occurred. The trail started climbing up . . .and up . . . and up some more. I intentionally slowed my pace again. Eventually we came to the intersection with the Wapack we had been looking for and regained the summit. The Cliff Trail, which I had declared would only add 45 minutes  at the most, actually added an hour and a half to our hike.
Ethan and Laura hit the summit and didn't stop for any more viewing. Becket was behind me so I waited at the top for him just beyond a large group of hikers – children and adults – who were all smiling and enjoying their day. "Hah! Just you wait," I thought, darkly.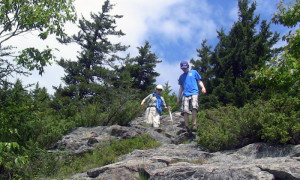 Becket passed me without even looking up, so I followed from a safe distance. Where the trail starts to descend the north slope, we came across Rene, who was also on his way back down after a quick training hike. I explained the reason for the glum and angry faces and Rene gently reminded me that the two of us had run Cliff Trail the last time. He commiserated briefly, and then sprang ahead, leaving me to wonder how long I'd remain on my brood's black list.
But Nature has a way of mending and restoring. The hike down was familiar and comforting, taking us past trailside patches of blueberries, over some interesting slick rock and through a couple of challenging rock scrambles. The shade of the maples, oaks, pine and hemlock kept our brains from devolving into further evil plotting, or at least I thought it did.
When we bottomed out and crossed the final stream that signaled the car would be waiting only a couple hundred yards ahead, I shouted ahead to Becket, "Now, that wasn't so bad, was it?"
I think I saw his pace quicken, but his silence reminded me to do better research next time.
Doing Better Trail research:
North Pack's summit can also be reached by Ted's Trail or Carolyn's Trail, both accessible from Old Mountain Road on the Greenfield side. They are a bit longer and more gradual than the direct route along the Wapack. Parking for these is not well marked.
You can reach Pack Monadnock by continuing south on the Wapack from North Pack's summit another 2.3 miles to Miller State Park. The 2,290-foot summit of Pack Monadnock is also accessible via a 1.3-mile paved road open in summer and on spring and fall weekends.
To hike Pack Monadnock, follow Route 101 east about four miles from its intersection with 202 to the Miller State Park parking lot on the left. You can hike to the summit of Pack from the parking lot in 1.4 miles along either the Wapack or the equally long but less rocky Marion Davis Trail. Each is easily found from the parking lot. The Raymond Trail begins on the west side of the mountain on East Mountain Road and stretches 1.6 miles to the summit picnic area.
On the summit of Pack Monadnock, you'll find the  New Hampshire Audubon's Raptor Observatory The observatory is fully accessible and an annual hawk watch takes place there from the first of September through the end of October, weather permitting. There's a naturalist in attendance each day. It is an excellent chance to learn about the raptors in the region.
Finally, across Route 101 is Temple Mountain with its lost ski area of the same name, where the Wapack continues south, leading hikers up through a section of wild, high-bush blueberry bushes. If you time your hike correctly, the blueberries will provide foraging to remember. From the summit of Temple Mountain the trail stretches another 17 miles south to Mount Watatic in Ashburnham, Massachusetts.