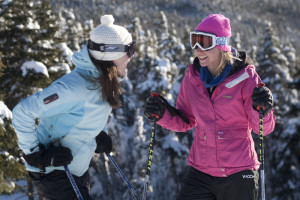 Just when ski areas need people on the slopes after the big holidays, college kids need something to do before classes start again. A week of partying, skiing, riding, and partying some more. All for cheap. Sounds awesome!  College Week is coming up for many east coast mountains. 
Check this list (if it's before Christmas, check it twice!) to see which of your favorite mountains are offering cheap getaways. Just as with the college season passes, you must present a valid student ID with a picture to take advantage of the deals.
Hunter Mountain (Hunter, NY)
Dates: January 2-11 (Excluding the 5th)
$35 lift tickets with student ID
Mount Snow College Week (West Dover, VT)
Dates: January 7-11 and again January 14-18
Winter Session – $379
Get schooled on the ins and outs of skiing or riding with the "Winter Session" program, only during College Weeks and for college students ONLY. Get 5 days of rental, a 2-day lower mountain ticket and 2-day beginner lesson package, and at the end of day 2, you'll get your "Diploma" – a Higher Ed Pass good for the rest of the 2013 winter! Avoid the dork factor and get the inside skinny right from the start. Book by calling 800-889-4411.
Lift & Lodging Special
5 Day / 5 Night lift and lodging package starting at just $279 per person, based on quad occupancy. Get 20 or more of your friends together and save up to $90 per person.
Have a Higher Education Pass?
$99 per person for 5 nights at Snow Lake Lodge, based on quad occupancy.
Sugarloaf Mountain Snowfest Week (Carrabassett Valley, ME)
Dates: January 6-11
Price: $299 (per person) for a five nights of lodging, skiing, and events.
Sunday River College Week (Newry, ME)
Dates: January 7-11
Price: $319 for five days and nights of skiing or riding, lodging, parties, music, and more.
$89 for one day of skiing or riding and a one night stay
$39 lift tickets for a day of skiing or riding
*Sunday River's College Week is sponsored by Red Bull, so it should be pretty awesome!
Killington Resort Collegiate Snowfest and Collegiate Winter Games (Killington, VT)
Snowfest dates: January 1-13
Winter Games dates: January 2-6
Price: Lift tickets are sold at a regular rate. However, the Collegiate Winter Games are free to participate in, restaurants along the Killington Access Road will be offering discounts, and bars will have free cover.
*Collegiate Winter Games is a part of the Collegiate Snowfest and is a chance for college students to go toe warmer to toe warmer in a series of competitions like Mountain Ops, King of the Mountain, and the Sledding Derby.
Tremblant CollegeXBreaks (Tremblant, Quebec, Canada and Montreal, Quebec, Canada)
*CollegeXBreaks sounds like a few of the wildest parties on the east coast. They have a few different options to check out.
DEC 18-22, 2012 – $359 Tremblant
DEC 31-JAN 4, 2013 – Sold Out!
DEC 31-JAN 6, 2013 – $529 – New Years in Montreal + Tremblant
JAN 2-6, 2013 – $399  Tremblant – Biggest Trip of the Year- Most colleges have break
JAN 6-10, 2013 – $399 Tremblant
JAN 10-13, 2013 – $349 Tremblant (Special extended weekend trip-lower cost: 4 Days / 3 Nights / 3 Day Lift Ticket)
JAN 13-17, 2013 – $399 Tremblant
Stratton College Week
Dates: January 9-13
A week of thrills, chills, steals and deals for winter break to keep students busy til textbook time. Ski and ride by day and play by night at concerts, parties, games, special deals and more.
Starting at $57 a night.
Dates: January 7-18
$19 mid week lift tickets.
Jay Peak Resort Second Annual College Week, Jay Peak Resort
College Week January 6 -11, 2013
If you've been to college, you'll know what to expect. Visit jaypeakresort.com for details.
4S, 201