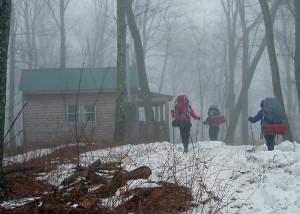 The question came in addressed to the editors of EasternSlopes.com from Fran in western Massachusetts: "My three buddies and I – all about 50 years old – would like to spend a guys' weekend at a cabin that would offer hiking, snowshoeing, fireplace, and kitchen. Does not have to be fancy and don't mind having to hike or use 4WD to access the place. Preferably not in Maine, as it is too far for us."
Snowshoe/cabin adventures are one of the great outdoor activities winter in New England offers. We've been writing about them for years now. So you'd think this would be a really easy question to answer. But it isn't.
Without realizing it, Fran set up a number of hoops that are pretty tough to jump through: The "cabin" part is fairly easy. So is the "hiking and snowshoeing." But the "fireplace and kitchen" make it more of a challenge. The "not in Maine" part makes it tougher still. But the toughest gauntlet Fran threw down was the "weekend." If you don't act early, it can be nearly impossible to find a good place on a winter weekend. Since he asked in early December, he was likely too late for that winter at many places, though it's easy to check availabilities and some have waiting lists.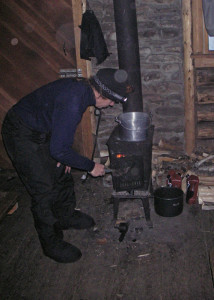 More Hurdles Of Our Own 
Just because it's who we are, we read between the lines of Fran's email and added a few more hard-to-meet criteria of our own. First, we assumed that Fran's desire for a fireplace translated to a request for a cabin that would be "warm and cozy," where they could kick back and relax in comfort at the end of a day outdoors. That eliminates a number of options for him and his buddies that might be fine for others. More on these later.
Second, we made a unilateral decision to avoid places that attract a lot of snowmobile traffic. Not that we are opposed to snowmobiles in principle. They pay to maintain a lot of our great trails for biking in the summer, and they certainly keep the northern rural economy humming all winter. But they do have motors and that means noise and exhaust fumes. And lots of high-speed snowmobile traffic isn't all that compatible with quiet hiking, snowshoeing and cross-country skiing. Besides, any warm and cozy cabins with a major snowmobile route nearby are likely to be very busy and probably noisy on weekends whenever there's snow (but empty and cheap if the ground is bare, like it was in the non-winter of 2011/12 . . .).
Finally, we decided the cabin couldn't be on a busy road. Who wants to hear traffic at night when you are in the middle of a wilderness getaway?
So, does that leave any options for Fran and his buddies? Fortunately, yes. But not as many as you might think. We'll start with the ones that best fit his request.
Drive-To Cabin Options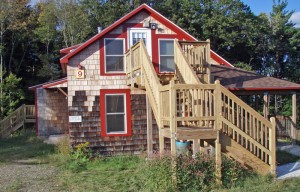 First up, three great drive-to places we've actually visited, which offer excellent trail options and warm and cozy cabins with either a fireplace or woodstove.
The first place we could recommend was the AMC's Noble View Camps near Russell, Mass. You can read about an early-autumn visit to Noble View and the nearby Grand Arches. Noble View Outdoor Center has almost 360 acres of woodland surrounding its mountaintop location, adjoining more than 1,000 acres of open land. The views of the Pioneer Valley east to Mt. Wachusett are pretty amazing, and they maintain an extensive network of hiking and snowshoeing trails. They offer a number of cabin options, all newly refurbished and very comfortable, and the prices are reasonable.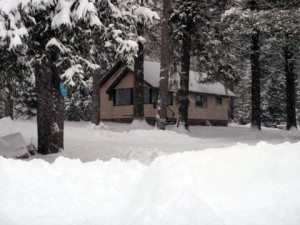 The other road-access spot we could easily recommend is Lapland Lake in Northville, New York, smack in the snowbelt of the southern Adirondacks. Lapland Lake is primarily a cross-country ski center (it was started by Ann and Olavi Hirvonen—he's a former Olympic cross-country racer for Finland), but they have an extensive trail network for snowshoeing as well. On the property are nine cozy "tupas" (Finnish for "cabins") with from two to four bedrooms, complete kitchens and bathrooms and woodstoves or fireplaces. Of course they have plenty of trails for snowshoeing, but we thought this might be a great opportunity for Fran and his buddies to take up cross-country skiing if they don't do it already. A win-win situation in the making!
And our latest discovery, the Robert Frost Mountain Cabins in Ripton, Vermont, which correspondent Marti Mayne and family visited during President's Week while skiing at Middlebury Snow Bowl and snowshoeing at Rikert Nordic Center. They also have snowshoe trails right out the door. According to Marti and her crew (who like comfortable accommodations), these five cabins are the epitome of sustainability and comfort with all the amenities you could want in a "cabin adventure". With such wonderful ski and snowshoe opportunities handy, this has to be a spot to consider.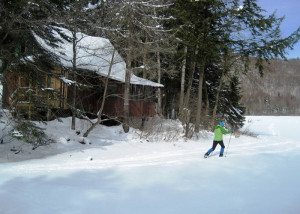 Another drive-to option we've heard about but can't (yet) recommend from personal experience are the two year 'round cabins on Wheeler Pond in Vermont's Northeast Kingdom owned by the Green Mountain Club. We have it on good authority that there are very good hiking, snowshoeing, and cross-country skiing opportunities right outside the door. These cabins both sleep 8, some in  bunks (bring sleeping bags!), others in upstairs lofts where guests bring their own sleeping bags and pads. There's no "kitchen;" all cooking is on backpack stoves outdoors, but they do sound like something Fran and his buddies could enjoy.
Near Lake Placid, New York, the Adirondack Mountain Club maintains two drive-to winter cabins at Heart Lake on the edge of the High Peaks wilderness of the giant Adirondack Park. One cabin sleeps 16, the other four, both have propane heat and full kitchens and indoor bathrooms. We haven't actually stayed here, but we have stayed at the nearby Adirondack Loj, which is very friendly, clean and comfortable), so we think this would make a great winter getaway spot for Fran's group.
And, finally, there are 10 drive-to cabins open all winter in Western Mass on the Mohawk Trail State Forest and Savoy State Forest. Each cabin sleeps four. They have woodstoves and you must purchase firewood ($5/bundle) at the forest headquarters (it's illegal to import firewood from elsewhere, a rule necessary to prevent the spread of invasive insect pests such as the Asian long-horned beetle and the emerald ash borer). Cooking is on the woodstove. Some of these cabins have electricity, most don't. The only problem here is that these areas are popular with snowmobilers whenever there's snow, but there is, apparently, still quiet hiking and snowshoeing to be found. . . .
Warm and Wonderful Hike-To Options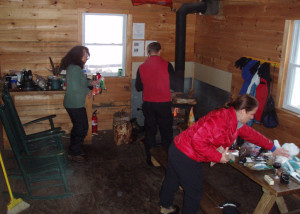 Fran said he and his buddies wouldn't mind hiking to their cabin adventure. That opens up a world of possibilities, but, unfortunately most hike-to cabins don't pass the "warm and cozy" test. Still, there are a number options, some of which we've explored, one recommended by a loyal reader.
The BEST cozy hike-to winter cabins  we've found anywhere in New England are at Merck Forest in Rupert, Vermont. The eight backwoods cabins on Merck Forest have excellent woodstoves and plenty of wood, but they don't have kitchens. You need to bring your own backpack stoves and cooking gear.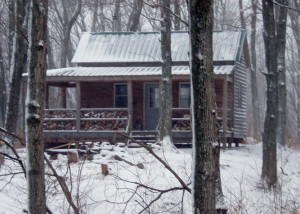 In 2010, four of the editors and correspondents for EasternSlopes.com spent a wonderful New Years in "Nenorod", the newest cabin at Merck Forest and any of these cabins would be our "Editor's Choice" for a winter cabin getaway. Unfortunately, all the cabins are usually booked for the weekends through the winter well ahead of time, (though they do keep a  a waiting list for cancellations, so have your pack ready to go!).
In upstate New York, the Adirondack Mountain Club maintains two winter wilderness cabins on a 24-acre in-holding  3.5 miles from the nearest road in the High Peaks wilderness of the giant Adirondack Park. One cabin sleeps 12, the other six, both have propane heat and full kitchens with no running water. We haven't actually stayed here, but based on what we've seen at other ADK properties, we'd have no qualms about booking for a winter getaway.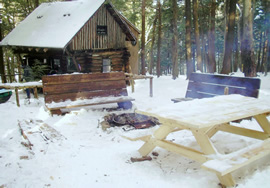 Another warm and cozy backwoods cabin opportunity is the AMC's Northwest Camp, located in (appropriately) the northwestern corner of Connecticut near the Massachusetts border. According to John, the alert reader who told us about it, the cabin is a perfect winter getaway:
"AMC's Northwest Camp is a small backwoods cabin which is located on AMC lands just northwest of Bear Mountain and the northernmost section of the Appalachian Trail in Connecticut. The cabin sleeps six with a tent platform for four more. In winter, you can drive to within about a half mile from Mt. Washington, Mass. The Salisbury, Connecticut section of that same road is blocked off in winter. Or you can hike in from Route 41 via the Undermountain Trail to the AT and then to the Bear Mountain woods road, about three to four miles total. There are many snowshoe and hiking trails in the area. They have plenty of wood cut and stacked close by and a very good woodstove!"
Sound like something we'll have to check out sometime soon–if you don't beat us to it first.
Finally, another reader has recommended the Frost Mountain Yurts in Brownfield, Maine, (which is just barely over the border between Maine and New Hampshire.) We haven't seen these first hand, but see no reason why they shouldn't be a wonderful choice. These heated yurts are only a tenth of a mile from the parking areas, but that's enough to make it a bit of an adventure and they have snowshoe and cross-country ski trails right on the 60-acre property with more nearby. For a small extra fee, they'll have the yurt warm when you arrive.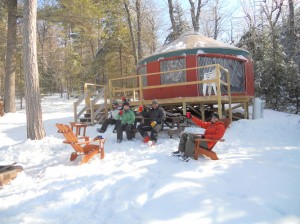 A Slopeside Cabin and Yurt Option
Though he specified "not in Maine," we thought Fran and his crew should also consider the cabin and yurt on Shawnee Peak in Bridgton, Maine. It's only 20 minutes from Conway, NH. They take you and your gear up by snowcat, and, from the time the lifts stop until they start turning the next morning, you have the place to yourself. Since Shawnee has a high-powered snowmaking system on their slopes, you are almost guaranteed good snowshoeing whether Mother Nature has cooperated or not.
Lots of Options to Explore in The Eastern Townships of Quebec
Fran very clearly said "not in Maine," but he didn't say anything about The Eastern Townships region of Quebec, which is just across the Vermont/NH border and an easy shot up Interstates 87, 91 and 89 from almost anywhere in the northeast (just remember to bring your passport or a super-convenient passport card.) Some quick research revealed a number of possibilities for winter cabin adventures.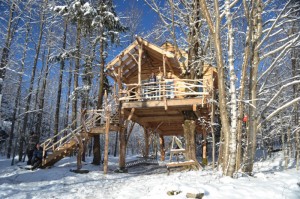 If you go to the EasternTownships.org website and click on their accommodations finder, then check the box for "Cabins, Yurts and Tipis," you get six listings open in the winter. Au Diable Vert in Sutton is just across the Vermont border and has small cabins, large cabins "perched cabins" on the edges of cliffs, and treehouses (one editor spent part of her honeymoon in the "Treegloo", and absolutely loved it!). Au domaine sous un ciel étoilé, an international "dark sky" reserve in Saint-Augustin-de-Woburn has two heated treehouses among its four cabins. Aux Tipis de la Rivière Sauvage in Saint-Romain has four heated wooden tipis on the banks of a lovely flowing river. The Coopérative de conservation et de développement nature (note that their website is only in French) has eight backwoods "refuges" available in winter along the Sentiers de l'Estrie trails (sort of like the Long Trail in Vermont). La Vallée Heureuse du Mont Élan (this website is also only in French) in Westbury has cabins, yurts, "Wi-tents," and Prospector tents available in winter. Les Côteaux Missisquoi (again only in French), is also along the Sentiers de l'Estrie trail and has three heated yurts.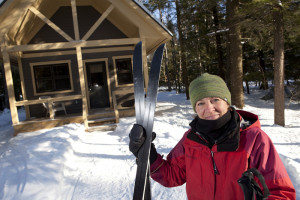 Starting this winter, two National Parks in The Eastern Townships,  Mont Orford and Parc Yamaska, will be offering a village-style complex of drive-to cabins (six in Orford, five in Yamaska). The cabins are heated, big enough to accommodate a maximum of four people and close to snowshoeing and cross-country skiing. For more information click on Accommodations, then "Nature Cabins" on the park websites.
Mont Orford also has 3 hike-to or ski-to backcountry huts with propane heaters. You can bet we'll be checking out all these options soon.
We haven't seen any of these Quebec cabins, yurts and tipis firsthand and therefore can't make an unqualified recommendation, but we've stayed in similar places in the summer elsewhere in Quebec, and we're pretty sure anyone making the journey is going to find the accommodations more than comfortable. And Quebec is always wonderful.
A Real Warm Winter Adventure In New Hampshire: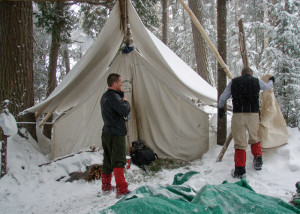 The more we thought about what Fran and his buddies were asking for, the more we convinced ourselves that what they really wanted was a real winter adventure. After all, that's what we would want. . . .
So we suggested they contact Mahoosuc Guide Service and check out one of their winter weekend dogsledding/traditional camping forays. Kevin Slater and Polly Mahoney maintain two winter camps on Umbagog Lake in Errol, New Hampshire. These camps have very comfortable woodstove-heated canvas tents with bough floors (which smell heavenly!). They are accessed by dog sled (the dogs pull all of the heavy gear) and the clients take turns driving the sleds and traveling on cross-country skis (very easy skiing) or snowshoes. You sleep at night on thick air mattresses in comfy-warm sleeping bags. Mahoosuc supplies  all the gear and outer clothing you need, gloves, skis, boots, mattresses, sleeping bags, kitchenware . . . all you have to do is show up with decent underwear, insulation layers, a hat, mittens and your toothbrush. This can be as much of a hands-on adventure as you want. You are encouraged to pitch in and help Kevin or Polly and the camp cook with the dogs, firewood, etc. But if you are so inclined, they will gladly come in and start the fire for you before you get up in the morning, so you can get up and get dressed in a warm tent.
Polly runs a number of women-only weekends, so we thought "why not a guy getaway with Kevin?" Best of all, Mahoosuc has openings for at least some of their winter weekends (and can add more programs if needed), where most of the other options mentioned don't.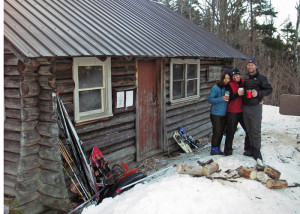 Other Self-Service Cabin Options 
Over our years of winter adventuring we've found a number of other self-service cabin options which don't quite fit Fran's particular criteria but might well work for other adventurers. Most of them fall short on the "warm and cozy" but they do provide secure shelter without having to carry and set up a tent.
There are three cabins on the White Mountain National Forest in New Hampshire, which are available for rent year 'round. All three of these cabins have woodstoves but no wood supply and, in our experience the cabins are too large with too many air leaks for the woodstoves to be really effective when the temperature falls and the wind howls. You can read about our New Year Adventures at Black Mountain Cabin. The settings are beautiful and if you are properly prepared and willing to stay in a cabin that's as cold (sometimes colder) inside as outside, these sturdy cabins can make a great winter getaway.
The AMC also has the Cardigan High Cabin up near the top of Cardigan Mountain in central New Hampshire. The firewood situation at the High Cabin seems to change annually. Some years they provide, others you have to haul it yourself the 2.5 miles from Cardigan Lodge (a somewhat daunting prospect). Check the website and ask questions before making a reservation.
How About Huts and Wilderness Lodges?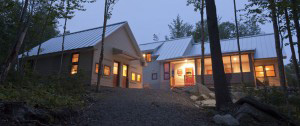 When Fran specified a "cabin not in Maine" for him and his buddies he eliminated two great winter getaway opportunities that don't provide quite the same "boar's den" ambiance as a solitary cabin adventure but do provide all the necessities for total comfort.
The Maine Huts and Trails system now has four hike-to (or ski-to) huts spread across north-central Maine. These all provide breakfast and dinner for you, indoor bathrooms with showers, and heated bunkrooms. The newest, Stratton Brook, opened just before Christmas 2012, and we visited in 2013. We had planned to ski from Stratton Brook to Poplar, but Mother nature sent a torrential rainstorm to interfere. The huts are all spaced just far enough apart so you could start at one end of the system and ski or snowshoe from hut-to-hut, spending one night in each. Or, you could do a loop with two huts or pick one for a weekend getaway. They can arrange a shuttle service for you or your car.   
The AMC Maine Wilderness Lodges and their partner West Branch Pond Camps also offer extraordinarily comfortable wilderness lodges near Greenville, Maine in the 100-mile Wilderness. Two of these facilities, Medawisla (which reopened in 2017) and West Branch Pond Camps are drive-to even in winter. The other two, Little Lyford Pond Camps and Gorman Chairback Camps are ski-to or hike-to, but they will shuttle your luggage for you by snowmobile, so you can ski in with only a light pack. They feed you a spectacular breakfast and dinner and provide all the fixin's for as big a trail lunch as you can eat. You sleep in a cozy, woodstove-heated cabin and enjoy amenities like indoor toilets, showers and even a sauna at Little Lyford and Gorman-Chairback. It's almost decadent.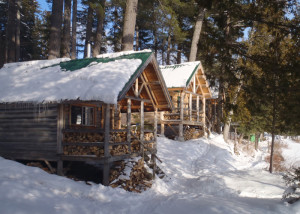 A camp-to-camp cross-country ski trip to the AMC camps has been a winter staple for Executive Editor Tim Jones and his wife, correspondent Marilyn Donnelly. You can read about their visits in 2012, 2011, and 2009. If you love the idea of wilderness in the daytime, but also enjoy your comforts in the night and evening, these are amazing opportunities.
"Self Service" AMC Huts in Winter
Back in New Hampshire, three of the AMC's eight Huts in the White Mountains, Carter Notch, Lonesome Lake, and Zealand Falls are open for winter, but are self-service only. That basically means visitors pack their own food and are responsible for cooking it, but they can use the hut's stoves, ovens, cookware, utensils and dishes. The bunkrooms are unheated so you need to bring a full winter sleeping bag, but there's an on-site caretaker and he or she may light a fire in the woodstove in the common room on winter evenings.
Of course there's no guarantee that your group will be the only one using the huts when you are there, so you can't expect to monopolize the place. But the easy sociability with like-minded people is one of the true charms of visiting the huts.
Randolph Mountain Club Huts
The Randolph Mountain Club maintains four backcountry huts in the northern White Mountains of New Hampshire. You must bring and cook all your own food on your own stove, but the huts provide secure shelter in the worst of weather. However, it's important to note that these shelters have a limited capacity and are first-come, first-served with no reservations accepted. That means you have to be prepared to camp out on nearby tent platforms if the shelters are full–which they often are on weekends.
Just Do It
Whether Fran and his buddies choose to do a drive-to cabin getaway, a backwoods cabin hike, a dogsled adventure to the wilds of northern New Hampshire, or any of the other cabin options available is really immaterial. Whatever option they choose, they are getting outdoors, beyond the ordinary, and strengthening bonds of friendship and building memories that will last a lifetime.
Which option are you going to choose?