So what's new at Mad River Glen? Thankfully, very little. Maybe nothing. At most ski areas this would be a strange thing to boast about, as resorts consistently look for ways to improve and expand services and differentiate themselves from the competition. At Mad River Glen it is . . . comforting. Nothing changed? Perfect!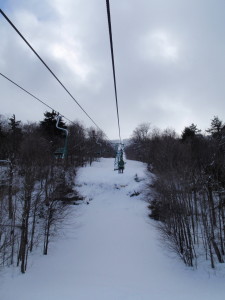 Mad River Glen (MRG) is hard to explain to those who haven't skied it. A true throw-back and diehard locals mountain, MRG still boasts of the iconic "single", a one seat chairlift to Stark peak. But they also have three fixed grip double lifts to access their rugged and primarily ungroomed terrain.
While it might seem singularly (if you'll pardon the pun) inefficient in a world of detachable quads and 6-packs, the single swiftly delivers skiers to the summit at a steady, controlled pace. It's rare to find more than 3 or 4 people standing at the top when you get off the lift. Even then it's usually just because they are waiting for the person on the chair behind you.
Traveling up the hill one at a time spreads skiers out, which works because most everyone here came to ski, not hang out at the top. Socializing happens at the end of the ski day, or at lunch. When the skis are on, a hoot or a nod, pointing "this way" as you duck into the trees is communication enough.
While the resort had not changed, my circumstances have. This time, I was here to ski it with my now-pregnant wife Raelyn and 4-year-old step daughter. I vaguely knew MRG had some novice terrain, but I had never explored it. Frankly, I felt a bit of trepidation at the decision to ski MRG with my family on the first day of 2013. Raelyn is a former ski instructor, so I wasn't worried about her (well, maybe a little because of the "pregnant" thing), but I wanted the little one to enjoy the mountain as much as I always do. So I was a little unsure how it would go. But in the back of my mind, there was also a bit of pride in knowing that she could someday brag that she had skied MRG as a child. Frankly, I wished that I could transport myself back in time to have had the same experience.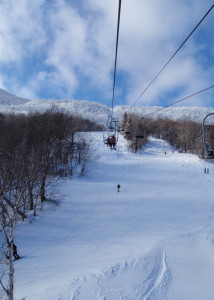 We were skiing on New Year's Day, and hoped that would mean that the lift lines would be short. They were, despite the fact that nearly 4 feet of snow (!) over the previous 10 days made for fantastic early season conditions. It was a cold-but-clear day, and after getting in our boots and grabbing our skis we made our way past the single to the Sunnyside chair. The ride up was beautiful, the sun reflecting off the trees cloaked in white, with a bright blue sky creating a perfect backdrop to the frosty mountain. As we unloaded from the chair, we were greeted with a nice easy groomed Green to begin the day. Green? Groomed? At Mad River Glen? Absolutely! This is a side of the mountain that almost never gets the spotlight.
The terrain off the Sunnyside is considerably lower than Stark Mountain, but it's still excellent skiing and has something for everyone. Some superb runs snake through the trees and I found some fun, moderately-pitched bumps to play in to the side of the easy terrain. (note: everything is a "run" at MRG when the snow is good–they had boundary-to-boundary skiing long before that became commonplace).
Because of the low skier turnout on this day the Birdland chair was closed, but much of the novice and intermediate terrain was accessible quite easily from the Sunnyside chair. After a couple of runs, I realized that I could sneak onto a few of the glades and moguled slopes and still meet my family as they crisscrossed under the chair. A win for everyone.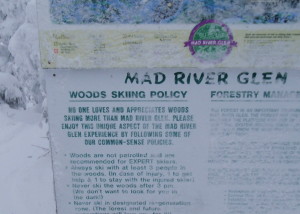 After a handful of runs, the wind had picked up, and my family decided to take a break to thaw out. I took this opportunity to head to the summit for a couple of solo runs to challenge myself with some steeper moguls and a few of my favorite shots through the trees. While the snow under the chair looked thin in places, that was primarily above and through several of the ledges on the steep moguled slopes of "Chute" and "Lift line." Bare spots are part of life at MRG where snowmaking is too newfangled an idea to even contemplate. If you are an intermediate skier floating over these runs for the first time on the single, you probably are asking yourself why you are here, and how you are going to get down the mountain. Yes, they appear daunting. That said, there is some excellent intermediate terrain from the top. The snow on all my runs was phenomenal for January 1, and even in the trees there was little worry about bottoming out or finding a stump or rock.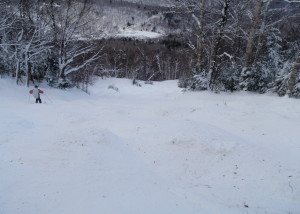 Mad River Glen is best known for five things: 1) Its motto, Mad River Glen: Ski It If You Can! 2) Its single chair. 3) The absence of ANY snowmaking. 4) The continued ban on snowboards (sorry knuckledraggers), and 5) The phenomenal tree skiing. At Mad River Glen anything and everything is considered skiable ("Ski It If You Can"), but they do warn patrons to proceed with caution, as you are on your own once you venture into the trees. It's best not to go alone, and it's even better to know where you are going. For those that do venture into the trees (most everyone who skis here does) you are rewarded with deep snow, solitude, and quintessential New England tree skiing: usually tight, fairly steep, and downright thrilling.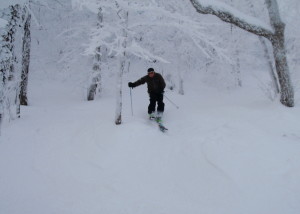 After two laps from the peak, I met my family as they were enjoying some of the good home cooking in the Basebox cafeteria. The lodge has changed very little (if at all) in many years, with few of the bells and whistles that you find at large resorts. The good news: the food here is reasonably priced, hearty and tasty. I can confidently say that the food here is as good or better than anywhere else that I ski. The lodge also has the General Stark Pub, which is a perfect place to apres ski and laugh about all of those fantastic faceplants taken during the day. The large hearth in the pub is one of my favorite places on Earth.
After lunch, we ventured back out for a few runs off of the Sunnyside. While my wife and her mini-me wound down in the lodge after these final runs, I was fortunate to meet up with Eric Friedman, who knows every inch of this mountain, for one last run. Eric will ski with anyone, and took me on a short tour from the Sunnyside, ducking in and out of trees, taking shortcuts across and down runs as only a local would know. It was all I could do to keep up with him, and eventually I had to catch my breath as he ripped through the last stretch of moguls. Eric has been at MRG for more than 15 years, and you can tell by the way he talks about the mountain and the regulars that he truly loves this place, its culture and its community. How could you not? Mad River Glen has everything you need, nothing you don't, and is still a tried and true representation of the way skiing used to be.