What a difference a year can make. Last year, our family's annual trip to our friends in northern Vermont for a New Year's celebration was all about misty, warm weather and sliding on only 25% of the groomed trails at Smugglers' Notch Resort. This year, the resort was open boundary to boundary and there was enough of the fresh white stuff to ski trees, trees, and more trees, and even get a heart-thumping run down Freefall!
Talk about gifts: Mother Nature came through big time as we drove north on I-89 Saturday, easing our way through a storm that was coating the roadway with snow. The report earlier in the day was that 100% of trails were open. Yes, 100%. Unheard of for late December at Smuggs.
Sunday the temperatures were in the single digits so we resolved to wait a day and get some exercise by snowshoeing in the morning.
Waiting to ski was the right move because the temperatures moved up into the mid teens for us and on top of the foot of fresh stuff from Saturday night, four or five more inches piled up on Sunday night. After a quick stop at the Underhill Country Store for discounted lift tickets (savings 20% is good), Laura, Ethan (15), Becket (13) and I followed our hosts, Lisa and John Stitt, to the upper lot so we could slide down to the base area just a few steps from our cars.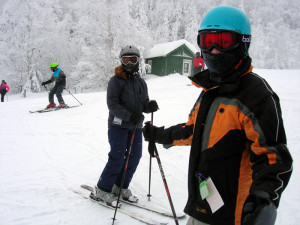 8:45 a.m.
We traded our discounted vouchers for lift tickets at the Madonna and Sterling Base Lodge and headed to the Sterling Lift in time for an early chair. As we passed over the rocks a third of the way up Upper Exhibition, I was astounded at how much snow had fallen already this season and had stuck around!
At the top, it was immediately clear that Smugglers' Notch had added some tall snowmaking pole guns which contributed to the resort's ability to open the entire mountain before the New Year had even begun. In fact, Smuggs' spent more than $1 million on snowmaking enhancements during the off-season to blanket the slopes when needed. It was clearly already paying off.
Our crew of six warmed up with some turns down Upper Rumrunner before taking Crossover to Treasure Run and back to the Sterling Chair. Another ride up and John, Lisa and I split from Laura and my boys so we could drop down into Smugglers' Alley for a chopped up and mildy bumped up run to the intersection with Lower Rumrunner where we met with the others. From there, we headed down the groomed intermediate run where Laura could "air it out" and gain confidence for our trip to the top of Madonna.
10:07 a.m.
The snow was either cutup boot-top fluff or packed powder. No scratchy stuff for anyone to whine about. I looked to the woods, wondering when we'd explore the off-piste that Smuggs' seems to expand a little each season.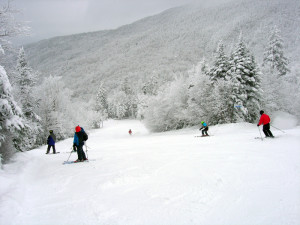 We dove into Link for a detour and a quick right brought us to the base of the Madonna I lift for a ride to the summit. Ethan and I rode the lift together and we remarked at how beautiful the scene was, with the trees completely encased in snow and Upper Liftline covered almost completely. I say almost because some of the ledges on that 50+ degree slope remained uncovered, yet some hearty souls did an admirable job of picking their turns and drops wisely as we passed overhead. As we neared the top, I looked left at my favorite trail on the mountain, Freefall. It was open! Duly noted for a run in the afternoon.
From the overcast and blustery summit, we descended on the long, looping and gentle Upper Chilcoot to the top of the Madonna II lift and enjoyed the rolling whales of snow the guns had banked on the liftline. We then continued on the sustained intermediate to the base after Before getting back on, Laura and Becket decided to head back to Sterling, while the rest of us stayed with Madonna until lunch.
On our chairlift ride, I explained the rules for woods skiing to Ethan: 1) look at the spaces between the trees, not at the trees themselves. 2) Only venture into the woods with groups of three or more. (That way, if one person has a mishap, at least one friend can stay with them while another goes for help.) 3) Careful and controlled is the way to ski trees safely. From the top of Madonna, we took Chilcoot to Catwalk and crossed over to Robin's Run, a double-black, Ethan's first. That run proved he had the skills to turn well on the steeps; I was feeling good that he was looking so good. Then we dropped into the Red Fox Glade, another first for Ethan. He was making strong turns in the intermediate trees, so we went right back into them at the top of Norwegian Woods and found some nicely spaced hemlocks and maples guarding a stash of deep and barely tracked snow before exiting near the bottom of Lower F.I.S.
11:20 a.m.
We still had time before our appointed lunch in the lodge, so we took M-I back to the top for another run into the woods and I told Ethan proudly that I'd never seen him ski better than that day. This run, we started with the intermediate Drifter from the summit, enjoying some cut-up, but loose snow as deep as our boots on the diverse pitches. The sun broke through briefly, and I pointed out the upper trails of Stowe across the Notch to Ethan, since this was his first time on that side of the Madonna peak.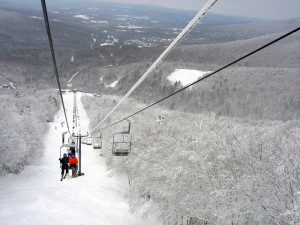 When we reached the bottom, nicely exhausted from three straight hours of skiing, lunch was a good chance to catch our breath, fuel our engines and congratulate each other on the good luck of having visited Smugglers' Notch when the conditions were about as good as it gets in February, let alone late December.
Smugglers' Notch is a perennial favorite of ours for a number of reasons. Aside from the great hospitality we enjoy at our friends' house, Smuggs' classic New England trails have always appealed to me. Personally, I love the challenging among them, and there are plenty which twist and dive off-camber and on. Smuggs' also offers experts plenty of serious steeps and glades that demand concentration and excellent technical skills.
But, it also offers consistently pitched and wide-open groomers for intermediates as well as looping rollers for everyone to catch their breath on. Then there's Morse Mountain, perfect for beginning sliders and the littlest grommets, located just above an amenity-rich village that appeals to families who visit from away.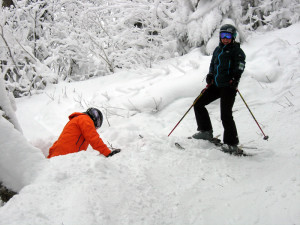 In all, Smuggs' is a perfect trio of mountains for families to grow on and offers excellent instruction in snowboarding and skiing for every level. It's at once both gentle (1,174 vertical feet of beginner and lower intermediate trails on Morse Mountain), and brawny on 2,088 vertical feet of mostly steep and challenging terrain on Madonna and Sterling mountains. The two areas are separated by linking trails with just enough pitch to get from the base of the upper mountains to the lower. Despite its compactness, don't let anyone try and convince you Smuggs' doesn't offer big New England sliding.
12:55 p.m.
Back to our day: Some snowshoeing and sledding the previous day had taken its toll on Laura and the boys, so they resolved to retreat to Chez Stitt after our brown-bag lunch. We all slid over to Sterling for the trip up and started down Rumrunner and Black Snake before returning to the parking lot.
After saying goodbye to my better half and the boys, Lisa, John and I headed back up Sterling for another three hours of hard skiing. The afternoon was all about the glades, and we charged into Highlander Glades before taking Crossover to Treasure Run, a nicely pitched blue with enough twists and turns and off-camber sections to keep even the best skiers honest.
2:07 p.m.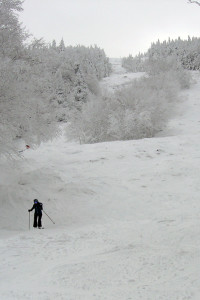 Back over to Madonna and I got my wish: Chilcoot to Catwalk and hard right just before crossing under the lift so I could get my jollies on Freefall. It had been at least three years since John and I last tackled it together. On this day, it was covered in fluffy and cut up snow, showing bare rock on a few sections, so the going wasn't as smooth as it might have been. But it got the blood flowing nonetheless. From there we slid into Moonshiner's Glades and emptied onto Lower Chilcoot before going back for another trip to the Madonna summit.
The rest of the day was a challenge keeping up with Lisa and John as we sampled a couple of as-yet unnamed glades and another couple of fast runs down Lower FIS. We made our way back to Sterling and I got to use the last bit of my energy on a fun romp down Hangman's and Robin's Run.
3:52 p.m.
A final trip up the lift barely got us back over to the parking lot because Lisa and I missed a turn and had to bushwhack a route to the Practice Slope and pole over to Parking Lot 1. It was perfect, because I had nothing left in the tank. I got to enjoy the ride back to the house from the passenger seat, thinking about one of the best days of skiing I've ever had at one of my favorite resorts and looking forward to reliving it by sharing it with you and, of course, coming back next New Year's.