Sometimes it can be a little intimidating to fly solo at organized group events—especially for an introvert like me. And especially when these group events have anything to do with sports or athletic instruction.
But when the group is 100+ friendly women? Who are all jazzed about nordic skiing? Now we're talking fun. Thats what I found when I signed up for a Women's Nordic Ski Day at Trapp Family Lodge.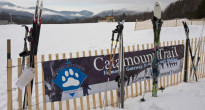 From the get-go, the 2013 Ladies' Nordic Ski Expo at the Trapp Family Lodge in Stowe, Vt. emphasized a supportive learning environment for women who were interested in skate, classic, and backcountry skiing. I came to the event to try to break through my slowpoke intermediate skate skiing plateau, and ended up not only improving my technique but also making a few friends along the way. Add wine, great beer, cheese, and chocolate to a day of skiing at Trapp's, and you've pretty much got a perfect day, at least in my book.
I noticed a high volume of smiles circulating around, in huge part thanks to the excellent preparation and planning by the Catamount Trail Association (CTA). Now in its fifth year, the Ladies' Nordic Ski Expo is a fundraising event for CTA and is a great way to receive inspired instruction and support a wonderful organization at the same time. CTA is a non-profit that develops, manages, and conserves the Catamount Trail, a public-access ski trail that runs the length of Vermont. Though small, CTA programming runs year-round and offers up some excellent membership benefits, including a discounted rate to the Ladies Nordic Ski Expo!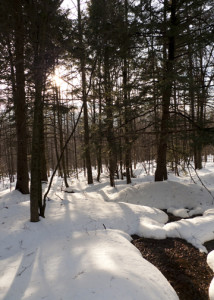 Another reason for the happy smiles was the outstanding snow conditions and grooming at Trapp's. Despite temperatures warming up into the 40s, the base held up extremely well. Firm snow in the morning meant we enjoyed fast skiing, while afternoon sunshine meant we could peel off the layers and work up a sweat. Overall, I much preferred the warmer weather for this type of event, as standing around listening to instruction and watching drills would have quickly resulted in frozen toes and fingers if the temperatures were in the single digits.
"Skill acquisition" (sounds awfully formal, doesn't it?) took up a significant part of the time, with three lesson blocks running from 9am to 4pm on Saturday, January 12th. Groups were divided among the skate, classic, and backcountry/touring  and then, within each of these categories. the participants divided up into total "never-ever" novices, "been out a few times" beginners, and intermediates.
Of course, between instruction sessions we had to refuel. We enjoyed an amazing lunch at the Trapp Lodge followed by a presentation on Nepali trekking from Ongyel Sherpa of U.S. Sherpa International, and concluded the day with après-ski nibbles, Vermont cheese, chocolate, Trapp Lager beer (brewed right there on the premises!), and Boyden Valley wine (from the next valley north).
I spent both the morning and afternoon session working on my skate technique with Karen Westervelt, a physical therapist in Stowe and volunteer instructor for the local Bill Koch League. We had only five people in our group so we were really able to maximize our time with Karen and benefit from lots of individualized instruction. Our morning session included video analysis, which immediately highlighted some of the areas where we needed improvement.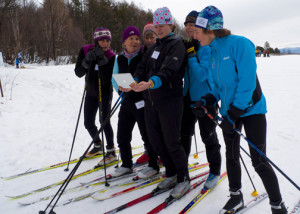 Oh, technology . . . Thank you for totally piercing my I'm-looking-pretty-good-on-skate-skis bubble. One short clip on that little iPad mini and I realized, wow, I am totally UNdynamic on skate skis. While I felt powerfully fluid, I saw a static upper body and wimpy pole plants. Ouch. Reality hurts sometimes. But, in fact, all of us had these micro epiphanies from watching ourselves, and, in turn, that helped us to focus our attention into the afternoon of skiing.
Reconciling the difference between the reality shown on the video analysis and the fantasy of how I thought (wished) I looked was a good lesson in getting over myself, too. We women tend to be hyper self-critical, which is why it was so helpful to bond together in a supportive environment where we could fall, flail, and laugh as we attempted new skills. Judgment can prevent progress; encouragement helps to fuel improvement.
If you are looking to boost your skate skiing performance or simply try a few exercises for fun, check out some of these tips that I learned from Karen. And despite the distinct lack of dudes present, the following skills and tips are indisputably gender neutral.
Drills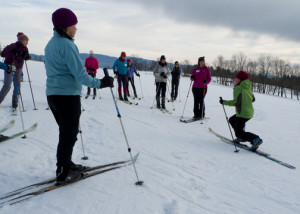 Work on your balance by skiing without poles. This is a return-to-the-basics drill that works for any discipline. Ski slowly so you can really feel the weight transfer between the skis and think about staying on each ski for longer in order to get g-l-i-d-e. Glide is a magical quality for a Nordic skier that can be difficult to achieve—you know it when you see it and feel it when you get it. Deliberate, focused, and simple movements can really help build balance on each ski and, in turn, translate to "glide" over time.
One such movement that is really helpful is the "boot touch" drill: start skiing without poles and as you shift onto a ski, bring your other foot up and touch your boots ankle-to-ankle. We also practiced carrying our poles balanced on our hands "like a tray of tea to be delivered to the Queen" while skiing to practice keeping upper bodies quiet and also carrying our poles tucked behind our bums to keep upper bodies pitched forward.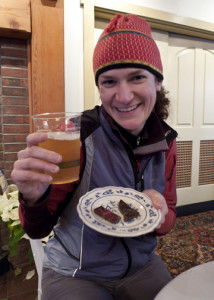 The final drill that I found really useful for engaging my upper body was double poling. This is such a simple movement—you plant your poles and then push yourself forward with your skis in parallel—and yet it really helped me to do it over and over again so I could activate my core. Ultimately, to get more power and glide from each kick, compress your body, bending forward and using your stomach muscles while poling. Doing so brought me in touch with my "center of power" and I worked to feel that same crunching sensation when pushing off my poles while skate skiing.
New Skills
Learning to V2 on skate skis is fairly challenging. This is a highly aerobic technique when you double pole plant with every leg stroke (the "V" refers to the shape the skis make, and the "2" refers to planting the poles twice in the V cycle, once for each leg kick, rather than the more typical once). We're talking serious calorie burn here! After watching Karen demo a few times, we practiced going up a slightly gradual hill and most of us couldn't make it more than a few minutes (all of us were new to the V2 technique). It requires glide, balance, power, coordination, and well basically all of the skate skiing skills put together into a dynamic package. But balance is key, which is why I found it especially helpful to practice the drills in the beginning and then move to the V2.
Practice, practice, practice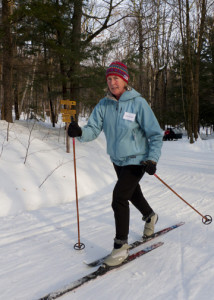 Obviously time spent practicing will translate into improvement. Focusing on drills and new skills is great, but at some point you want to stop thinking so much and just ski. Plain and simple. Even at the Ladies Ski Expo, all groups took time to rest and then went out for an enjoyable tour together. While skiing around for fun, we still practiced switching between different techniques according to different terrain. For example, on a slanted uphill with a fall-away pitch, Karen recommended that you pole into the uphill side as you ascend. We also practiced hitting short steep hills with powerful legs "like climbing stairs" and how to descend around corners (cue the power wedge for me).
Get out and ski!
Make it a goal to spend five to ten minutes of your ski time doing intentional practice. This kind of awareness, observation, and commitment will pay off no matter what your sport. But you can't practice if you aren't out skiing!  Look around your area; check out golf courses, christmas tree farms, whatever.  You may be surprised how many places supplement their regular summer income with a loop of XC trails, so you won't have to drive far to get out. A quick half-hour lunch ski a few times a week will do more for your technique than a single long weekend day.
While you're at it, check out your local areas and see if they offer any group instruction deals or special events like the Women's Nordic Ski Day at Trapp Family Lodge. An hour or two of instruction goes a long way in improvement. The New England Nordic Ski Association (NENSA) is a great resource for nordic skiing events. They also have their own women's day, held this year at Bretton Woods on January 27th. Unfortunately it's already sold out, but keep it in mind for next year along with the CTA women's day. CTA also has a few upcoming events that are a great bargain and a chance to meet new friends in the nordic/touring community:
Get Out and Backcountry Ski Festival at the Bolton Valley Nordic Center
Nordic and Telemark Clinic  at Pico
I'll be there at the Catamount Trail Challenge; join me to ski from Trapp's to Bolton! In the meanwhile, hone your focus and don't forget to have a little fun–and probably a few falls while practicing that ever so elusive glide–along the way.