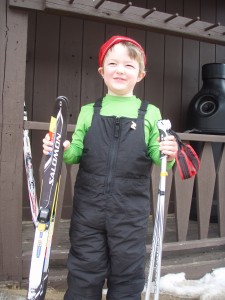 Playing in the snow is about the most fun you can have with your kid. When the world is covered in stuff you can jump in, dig in, fall in, throw around, and build stuff out of, how can you resist? That's the way it is around our house, anyway. Our 4-year-old son Max and snow seem to go together like peanut butter and jelly.
Max started snowshoeing when he was a toddler, and last winter, he helped test all of the latest snowshoes for little kids. Snowshoeing is a great way for everyone from little ones to grandparents to have fun in the snow together. With the right snowshoes, kids can feel like they are doing something very grownup that's fun at the same time. This is Max's third winter at it and he gets around quite well. So when he expressed an interest in skiing, we thought we'd give it a shot. My husband Doug, Max's Dad, used to teach kids to downhill ski, but I don't know a thing about it. Cross country was always my game, so with Doug busy in school, we decided Max and I would start with Nordic and see what he thought.
I have happy memories of cross-country skiing with my parents as a kid . . .but I sometimes wonder why. On my first outing they dragged me out on a pair of ancient downhill skis that I think weighed almost as much as I did. The bindings looked like medieval torture devices, with huge metal plates and giant springs. I had a hard time keeping up, and when I saw dog tracks, I was convinced they were leaving me to be eaten by wolves.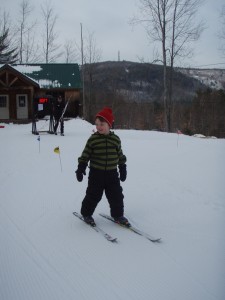 I guess I passed whatever test they had in mind because I got new skis after that, and real XC ones, too. For a long time we had plain wooden skis that seemed to require a change of wax every half hour. We used to ski on old logging roads and snowmobile tracks, where every steep hill seemed to have a hidden 90° turn at a huge boulder. I always figured if you had to sit down to avoid crashing you had a right to backtrack and try again. We had to scramble for the bushes when the snowmobiles came rocketing along and when the snow was thin, we shaved bits off our skis on exposed rocks and got wet crossing streams. But we always seemed to come home laughing even when we were wet and bruised. I have lots of good memories of cross-country skiing, and I wanted the same for Max.
I decided not to torture Max with ancient gear. Not being made of money, that meant renting what he would need. I found that Gunstock Nordic Center, part of Gunstock Mountain Resort in Gilford, NH, not only had gear that would fit a four-year-old, but also offered lessons for young kids. At first I wasn't sure about the lessons. I sure never had one and I never hit that boulder at the bottom of the hill. But it had been more than ten years since I was out on skis, so I decided that someone who could remain standing might be better qualified to assist Max in doing the same. I was sold when I spoke with them about arranging a lesson and found them open to what worked best for us. Whether I wanted to be alongside (or Max wanted me close) or if I wanted to hang back and let the instructor take the lead, they didn't have a problem with it. So we signed up for a Mountain Magic lesson which included a group lesson (less expensive), rental equipment and a trail pass. Turned out, on a quiet weekday, Max was a group of one, which is what we had hoped for.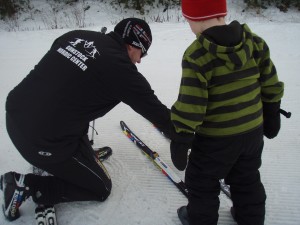 Once we had scheduled the lesson, we started getting Max pumped for it. We found my first pair of  skis in my parents' barn and he, of course, wanted to try them out immediately. We don't have boots for them, so that wasn't going to happen, but we left them lying around as a teaser. Starting a few days before, we made sure he was well-rested. On the big morning we loaded the backpack with extra clothes, peanut butter and jelly sandwiches, and the obligatory hot chocolate and we were ready to go on our first Nordic ski adventure.
For us Gunstock is close, but it's easy to find and super convenient for anyone staying in or near the Lakes Region of New Hampshire. As we drove, we talked about what the lesson might be like. Max loves to try new things, but I wanted him to be prepared for any possibilities I could think of.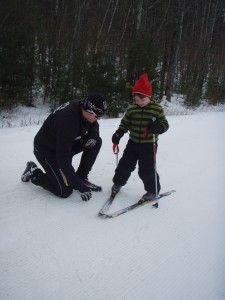 From the moment Max walked in the door of the Nordic Center, Max's instructor, Neal, was great! I'm not saying that just anyone can teach adults XC skiing, but it takes an extra something to work with a hyper-enthusiastic and voluble 4-year-old. Sure, Max was gung-ho about skiing . . . but he also wanted to tell Neal all about the book he'd brought along (Mary Calhoun's wonderful Cross Country Cat, about Henry the Siamese cat who learns to, you guessed it, cross country ski) and about his imaginary big box truck that he has driven across the Golden Gate Bridge, through Texas, and up to Alaska.
Neal listened to all this with apparent interest while simultaneously getting Max's vital statistics from me and fitting him with the CUTEST darned pair of boots I'd ever seen. When I saw the skis I had to stifle a WOW! These things were SWEET. Way nicer than even my current pair of skis, which admittedly are now older than those "antique" downhill skis were when I slogged along in them… Max was safe, the wolves would have to find easier game this time. Once we had all our gear we headed across the street to a nice big flat area where a beginner can get used to the feel of skis underfoot.
As proud as I am of my kid, I wouldn't say Max was a natural. He was, however, shall we say…enthusiastic? He's used to snowshoes, and on snowshoes he can pretty much run where he wants in the snow. Running is Max's normal speed. Skis, with their "slide and glide" (as Mary Calhoun puts it) can be lots faster and even more fun, especially when you find a hill (with or without a big rock at the bottom). But they require a bit more finesse, and finesse isn't really Max's strong suit at age 4.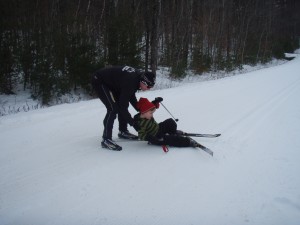 Max wanted to take off and run, but he kept leaving his feet behind. Neal gave him pointers on how to get himself back up, but most of the time resorted to helping him. Otherwise Max would have spent the whole lesson falling and getting back up. A couple of times Max asked me to "sing the kid's song, like Henry does." The cat, as he is teaching himself to ski, sings "THIS old MAN, he played ONE…" Of course the cat sings "YOW me-YOWL…" Even with Neal's gentle reminders and me trying to sing slowly, Max wouldn't, couldn't or at least didn't, slow down.
Despite Max's apparent lack of a speed governor, Neal (somehow) managed to significantly improve his skiing performance. He explained the basics without talking down to Max, demonstrated how it was all supposed to work,  let Max hold hands as long as he wanted, and patiently helped Max get up and untangled about a billion times. In other words, Neal adjusted the lesson to meet Max's abilities and quirks. They went back and forth again and again, trying to get Max to work WITH the skis. I kept thinking Max was going to get frustrated, but Neal somehow managed to keep him upright enough of the time that he continued to have fun through the whole lesson. To his credit, Neal also seemed be enjoying himself.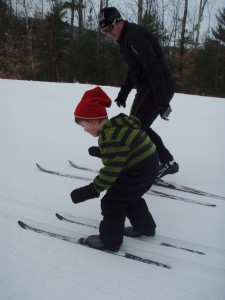 Neal seemed to understand that when kids ask a question, even one not on topic, it's best to go with it and then work your way back to the subject at hand, rather than try to stay rigidly focused. At least, this is how it works with my kid. During his lesson Max also learned how snow making machines work, how the cross country trails are groomed, and during a break, he even got to sit on the snowmobile that does the grooming. After the lesson he learned about ski maintenance and waxing. And he still did a lot of skiing. By the end of the lesson he did go several feet on his own (without falling I might add), and he was beginning to get the hang of going downhill. Actually "hill" is a bit extreme . . . but it was enough of a slope that you could glide down it, and he had to treat it differently than level ground.
A few minutes before the lesson was over, Max requested poles. When Neal had first put the skis on him he'd also had the poles in his hands and I know Max thought he was just going to take off and ski like these were long skinny snowshoes. He'd tried to take a single step and BOOM down he went. Away went the poles, which were just two more things to get tangled in. After spending most of the lesson concentrating on just his feet, Max was finally able to actually move around on the skis without (always) ending up in a heap. When we added the poles back in, Max could suddenly make wobbly forward progress. He was pretty psyched, but also very tired.
He didn't want to quit when the lesson was over, but we tempted him with hot chocolate and gingerbread cookies. He was upset when he learned he wasn't going back out skiing after his snack; clearly, having him take a lesson worked! I've had to promise to try to find him boots for my old skis. Maybe we can even get Nana and Grampa to go with us. We'll find an old logging road  . . . maybe save the hidden turn with the boulder for a future expedition. . . .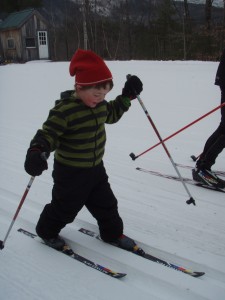 When You Take Your Little One
In researching lessons for Max, I quickly discovered that there are widely differing opinions on the best way to introduce little kids to cross country skiing. The good news is that this gives you, the parent, many options to choose from for YOUR child.
For example, many Nordic centers offer rental gear but no lessons until the kids are five or six or even older. I think this  is fine if you can go with them and provide at least an example, even if not an elegant one, of how to go about getting around on slip-slidey feet.
On the other hand, if you are like me and think you might be having trouble on skis yourself,  someone like Neal, with the patience (and the ability to stay upright themselves) to help them up a bazillion times, might be crucial.
In other words, you don't have to be a good skier or even a skier at all to give your kids the opportunity to try Nordic skiing. If you're rusty or have never tried it, you can take a lesson yourself. After your lessons you can take advantage of Gunstock's 50km of Nordic and snowshoe trails. Whatever you decide works best for you and your little one, there are lots of options available to get out skiing together…for us, Gunstock was the way to go.
Nordic Options For Kids (and Families)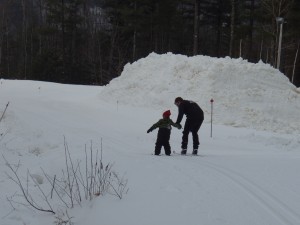 (These are the resorts which responded to an email inquiry and indicated they had rental gear and/or lessons for little kids)
1 = kid-size rental equipment
2 = private lessons for pre-schoolers
3 = group and/or program lessons for pre-schoolers
4 = lesson only for school age and up
MAINE
Carter's X-C Centers 1, 2, 3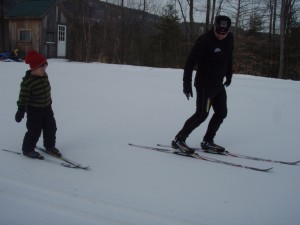 Maine Winter Sports Center 1, 3
MASSACHUSETTS
NEW HAMPSHIRE
Bretton Woods Nordic Center 1, 2, 3
Great Glen Trails Outdoor Center 1, 4
Gunstock Nordic Center 1, 2, 3
Jackson Ski Touring Foundation 1, 4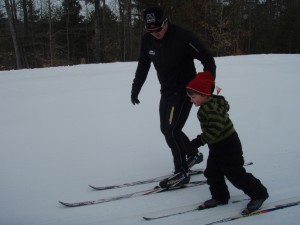 Purity Springs Resort 1, 2, 3
Waterville Valley Nordic Center 1, 3
Windblown Cross Country 1, 2, 3,
NEW YORK
Garnet Hill Lodge XC Center 1, 2, 3
Lapland Lake Nordic Vacation Center 1, 2, 3
Olympic Sports Complex at Mt. Van Hoevenberg 1, 3
 QUEBEC
VERMONT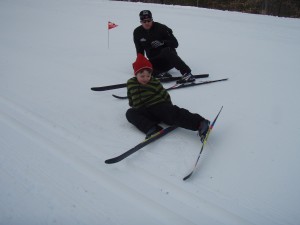 Catamount Outdoor Center 1, 2, 4
Craftsbury Outdoor Center 1, 4
Landgrove Inn 1, 2, 3
Mountain Top Inn 1, 4
Ole's Cross Country Ski Center 1, 4
Smugglers Notch Nordic and Snowshoe Center 1, 2
Strafford Nordic Center  1, 2, 3
Stratton Nordic Center 1, 2,