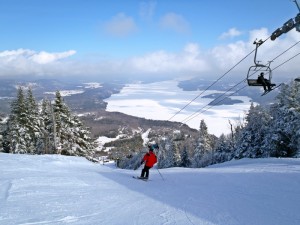 Truth be told, I didn't go to Owl's Head Quebec to actually ski the ski area; I went because Luc "Skypowder" St-Jacques, their sales & marketing director, is working on opening a major new backcountry bowl that will require skins to get back out. As a recent convert to AT gear, I couldn't resist the opportunity to see what they had planned, and maybe shoot some video of Luc showing what the lines would be like in the terrain. But, it's impossible to head for a mountain and not ski it, and besides, Luc had a morning meeting, so I was on my own for a few hours. And the conditions looked SO good…
Owl's Head Quebec is one of those mountains that tends to get called "family friendly" or similar terms; it's relatively compact, it's easy to get the kids from the car to the lifts, food in the cafeteria is moderately priced, etc. It's not daunting to go through the base lodge…it's not huge, it's not as bustling and noisy and "where in the world did Johnny go???" as some larger mountains.  But, do NOT make the mistake of thinking that it's a "wussy" mountain. In fact, it has some of the gnarliest terrain in the East…period. There's a trend at many mountains of making trails seem harder than they actually are to make skiers feel that they've done something special ("I just skied a double diamond!"); we often refer to black diamond trails as "navy blues", as yeah, they're on the difficult end of the blue spectrum, but don't deserve to be called black in our opinion.
At Owl's Head Quebec, it's the exact opposite. The blues are steep, twisty, and with terrain features that make them ski harder than blues at most mountains. Case in point: Upper and Lower Standard. Upper is a black; Lower, a blue. In theory, at least…yeah, Upper is steeper. But Lower's no slouch, and your legs are already burning from Upper. Steep, fast, and fun. Particularly on a non-powder day like this one. The trails were impeccably groomed, so while they were firm, you could get an edge in, and needed to. If you don't bring sharp edges and sharp skills, you'll have lots of time to enjoy the gorgeous views of Lake Memphremagag; you'll be taking lots of stops on the way down.
And, then there's the double diamond world. Colorado is one of the most amusingly named trails I've ever skied. Seems like a silly name in the East, right? Well, ski it; it's up-and-down-and-up-and down, sort of like a cross-country trip through the Rockies. It's a double by pitch, by the bumps that grow in the  ungroomed area, and by the fact that you have to be paying attention constantly to the changing terrain. It was also a blast! Less of a blast, on this non-powder day, was Ponsoon. Named after a nickname for Bob Richardson, an Olympic downhiller who claimed Owl's Head as his home mountain, it's a no-joke double diamond glade. Now, right after a powder dump, it might be slow enough to allow you to relax a bit…but with firm well-skied lines throughout, it was a challenge at a level more than deserving those two diamonds. I'm not the best glade skier at the best of times; in this case, I survived my way through it, taking it turn-by-turn with a lot of stops as did the one other skier crazy enough to go in there. Recommendation: ski all of the other glades on the mountain FIRST. If you feel totally relaxed on them, go ahead and give Ponsoon a try.  If not…seriously, this is a brutal trail. Don't take stupid chances. It's hard to get a sled in there to pick you up, and you'll miss the other fun trails.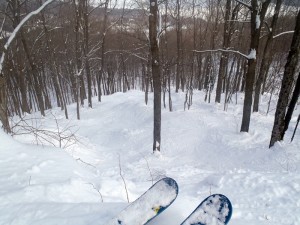 SPOILER ALERT:
If you don't want to know about gorgeous backcountry skiing before you can try it, don't read the rest of this! Okay, those of you who are still with me…start planning your future trip to Owl's Head.
Into The Backcountry at Owl's Head Quebec
Since my legs were already burning, of course it was time to meet Luc and check out the planned expansion. Luc showed me around the new area; if you look at the trail map, it's the ENTIRE area to mountain left marked "future ski terrain development zone." And, its gorgeous. It's also going to have challenges for everyone from entry-level glade skiers to the highest level experts.
We ignored the upper section at my request; I'm simply not good enough to handle that with it not yet opened up, and may never be ready for it even when it's ready for me (particularly on rented skis; I haven't gotten around to getting skins for my new AT skis, so picked up a set with skins at "WAX", a great ski/rental shop in Mansonville, minutes from the slopes). Very steep slope, and no easy way to avoid it. Instead, we entered at the top of the Lake Chair, and gently worked our way down the curve of the bowl toward the Marina. With all the undergrowth, the lines were tight enough to push the limits of my skills (although not Luc's, who mostly resisted the urge to take me through areas where I could take big tumbles in the big powder). Even with my fear sensors on full alert, though, it was a blast; swoopy lines back and forth across gullies, drops ranging from 4 feet (I took that one) to 20 feet (I didn't!). This is never going to be smooth, easy, bulldozed terrain; it will always retain true backcountry character. And, thanks to the fact that there isn't any way back to the lifts without skins or snowshoes, it's highly unlikely to ever be heavily skied.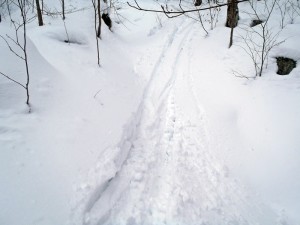 Even though it requires climbing to get out of it, though, it's going to be an extraordinary combination of easy access/moderate exit climb; instead of the usual 3 runs down with a lot of climbing in between, its likely to allow more like 6-8 runs in a day thanks to you only having to skin up around 200 feet, then having the lift take you the next 1000. Unlike typical glades, though, "normal" skiers won't be able to get in there, as they won't be able to get back out; it'll remain the playground of people with the gear to get back out (and a few idiots who don't pay attention to the signs and find they have to posthole their way out).
One thing that was clear about the area yesterday is that it's shielded from the wind; the southeast face means that most wind events will carry snow over the top of other ridges and dump it down in there. We found areas in there with several feet of creamy powder; it had been warm enough that it was getting heavy and damp and had compressed some. A day earlier, it might have rivaled the conditions we'd found in the Gaspesie backcountry, on a smaller scale. To get an idea of what the area is going to be like, take a look at this video; once the area is open, we'll be back to shoot something better!
After our climb out, Luc and I took a few runs together, and he showed me his favorite lines on a couple of the trails. Because of the natural terrain features, it's not simply a matter of checking the wind to see which side of the trail is likely to have the most soft snow; it's at least as much about choosing a line that gives you the most fun. Shooting down the left side of Kamikazee, for instance, gives you a bunch of up-an-down swoops that'll have you laughing out loud…if you have enough breath for that! Luc's wonderful sense of humor led to him making me head down in front of him on Standard while he shot video; doing that run at speed with tired legs on rockered skis left me winded and wondering if my thighs would stop burning before we got off the lift for the next run. Check out Owl's Head's Facebook or YouTube page if you want to laugh with, or at, me!
Bottom line; great trails, great grooming, and easy access made for a fun day at Owl's Head; getting into the new backcountry area was icing (white, deep, snowy icing) on the cake. Next trip, though, I'm going to time it for the day AFTER a snow dump, and see if I can handle Ponsoon then…