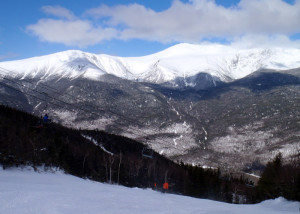 Now let me say right here that the ultimate King of Kings of Spring Skiing here in the northeast was, is, and forever will be Tuckerman Ravine on Mount Washington, where the skiing can easily last until the end of June–all on natural snow. Of course you have to hike to get your turns at Tucks, it's STEEP in places (though the bowl is lovely for intermediates) and any trek there usually comes with a risk of avalanches, falling ice, and crevasses—any of which can kill you if you aren't careful. Never head up to Tuckerman without reading and heeding the latest advisory from the Mount Washington Avalanche Center
But mere mortals who prefer to ride lifts have lots of resorts in New England to choose from for a Spring Skiing getaway. A lot of great ski resorts can proudly hold their heads high in the King of Spring/Northeast Division competition. Some, like Bromley Mountain and Stowe's Spruce Peak in Vermont, and Black Mountain and Cranmore Mountain in New Hampshire earn their place in the pantheon of Spring favorites with trails that face south. They deliver Spring skiing earlier than anyone else: a sunny, warm day in late February can produce perfect corn snow conditions on any of their trails. Of course these south-facing areas tend to close earlier than others. What's perfect spring corn snow one day can be pure slush the next day and bare ground the day after. But, usually, even the sunniest trails still have skiable snow on them when the lifts stop turning for lack of skiers.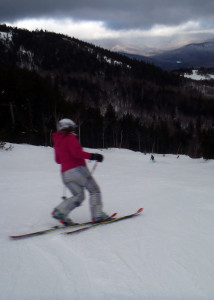 When most skiers and riders start thinking about the Kings of Spring, though, they are usually thinking about the areas with the most snow, that stay open longest. Sugarloaf and Sunday River in Maine are perennial favorites for spring skiers. So are Wildcat, Loon and Bretton Woods in New Hampshire. Vermont has Killington and Jay Peak
For late March, 2013, Marilyn and I checked the snow reports and the long range weather forecasts, and put together a tour of three of our favorite candidates for the King Of Spring title. We allowed two days for each resort, hoping that would produce at least one perfect Spring day at each stop. Turns out that strategy worked pretty darned well.
We began on Sunday, March 24 at Sunday River in Newry, Maine, which is always the first or second major area in the northeast to offer snow in the early season thanks to an amazing snowmaking system. It's also always among the last to close for the same reason. When we skied there on March 24 and 25, they had piles of snow 30 feet high in places that they haven't even groomed out yet. I'm betting they'll still be skiing off the Locke Mountain triple for Memorial Day, 2013!
On a Spring Sunday, it's not surprising that Sunday River was hopping. They had at least four different race courses going that I saw, including one GS race for teams of five firefighters in full uniform all carrying a hose as they skied together through the gates. Those folks all piled into bowls of wonderful chili at the annual "Eat The Heat Chili Cookoff" at noon. Classic Spring skiing party.
Plus, we saw several busy terrain parks, lots of lessons and at least one Telemark clinic with maybe a dozen people learning to genuflect properly (it was, after all, Palm Sunday . . .). But mostly it was just folks like us, enjoying moderate temperatures and peeks of spring sunshine. What a day to enjoy!
We had arrived Saturday evening, and while some folks were still skiing under the lights at the South Ridge base, we could see the lights of the groomers working the slopes before and after the traditional Saturday night fireworks display (it's a good one.) It never fell below freezing, and in the morning, the groomed slopes were soft and smooth. As skier traffic scrubbed off some of that top layer, the day warmed up just enough to soften everything up, but not enough to turn it to slush. We had terrific skiing on soft-but firm snow right into the late afternoon.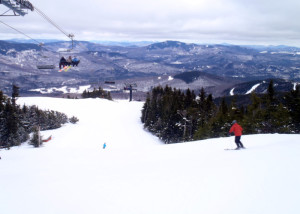 The next morning, Monday, March 25, was just enough cooler that it felt like we had taken a step back into winter. We hit the (empty) slopes early on perfectly groomed corduroy and made one non-stop run after another as we worked our way across the resort from the Grand Summit Hotel where we were staying, to the Jordan Bowl and back, finding deep snow everywhere we looked. From everything we saw, it looks like Sunday River is clearly a contender for the King of Spring title this year.
On Tuesday morning, we got up early and headed for Wildcat in Pinkham Notch, arriving in time for the first chair. The weather was nearly perfect: cool temps, high, clear blue skies, light winds, abundant sunshine. If there's any place more beautiful that Wildcat on a blue-sky Spring day, I'm not sure where it is. It wasn't quite warm enough to really soften up the ungroomed terrain, but the groomed trails were in outstanding condition and we made enough runs to really feel it. The runs at Wildcat are long, the "blue squares" are really "navy blue," and we couldn't have enjoyed the day more. Wildcat had good snowcover on its snowmaking trails and still had lots of snow in the woods, but the natural snow trails were beginning to show definite (and unwanted) signs of spring where the sun was hitting. Still, word is that Wildcat will have skiing into mid April 2013, at least on weekends, perhaps even later.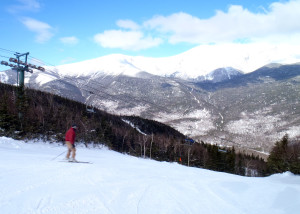 We stayed that night at the AMC's Joe Dodge Lodge, five minutes from Wildcat, where a lavish family-style dinner and buffet breakfast are included with the price (and their ski-and-stay packages with Wildcat are outstanding!). It's very friendly and very comfortable (if you don't mind bathrooms down the hall). It's also right at the start of the trail to Tuckerman Ravine, so it's also the perfect place to base for a Tucks Ski.
Joe Dodge Lodge is one of our two favorite places to stay when we are skiing Wildcat. Our other top choice is just 15 minutes from Wildcat in Gorham, NH. The Royalty Inn has HUGE, clean, quiet rooms, a full health club including sauna, swimming pool and hot tub, a good restaurant (Boott Spur Grille) about 20 steps away. Their ski-and-stay packages with Wildcat are also outstanding.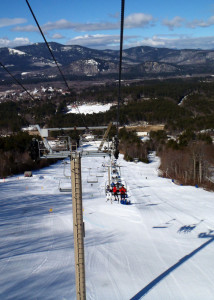 When we awoke on Wednesday, the temperature in Pinkham Notch had dropped well below freezing, clouds were bubbling up over Mount Washington, the trees around Joe Dodge were dancing in the wind and the flags out front were standing straight out. Full on winter at Wildcat. So we decided to change our plans and visit another area.
Attitash, which can be skied on the same ticket as Wildcat would have been a natural choice. They are open through April 7 for the 2013 season. But we decided to check out south-facing Cranmore down in North Conway, where, we hoped, the sun would peek through and give us a taste of Spring corn snow.
The sun was shining in a blue sky at Cranmore, but the front-side trails were still in shadow and the groomed corduroy had set up firm overnight. So we headed straight for the East Bowl which directly faces the rising sun and is probably the first slope in NH to produce consistent corn snow. It's a great insider's secret if you love spring skiing.
Cranmore made a huge change this season, removing the old East Bowl chair and adding the new "Schneider" triple chair that ends at the same spot on the summit but starts lower and farther south on the mountain, making some of their best terrain easier to access. According to a January, 2013 resort snapshot on Cranmore, the new lift is a huge improvement overall . . . but it wasn't on this particular day.
As hoped, the East Bowl developed perfect corn snow early that morning. But the new lift wasn't running (it looked like they'd slightly miscalculated the amount of snow needed to keep the trails to the base of this new lift covered through the end of their season on Easter Sunday). A year ago in March, 2012, we had happily yo-yoed the old East Bowl chair all morning, savoring the sunshine and corn snow, grinning every moment. But this time, skiing that great early-morning corn snow in the East Bowl meant making an annoyingly long (and, frankly, boring) commute mostly on flat, shadowed trails and harder snow all the way back around to the summit quad. To get the best skiing of the day, we had to wait for the front-side trails to soften up, which, with building cloud cover through the day didn't happen until the early afternoon.
Cranmore closed for the season on March 31, but it and Black Mountain are two to keep  in mind for next year if you want an early taste of spring skiing.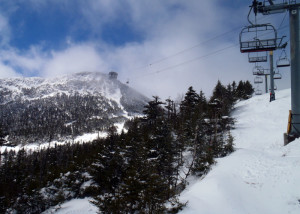 On Thursday, we drove through a snowstorm most of the way to Jay Peak, where it had been snowing all week. Snow on the trails, snow in the woods, snow everywhere! The first few runs of the day were on smooth groomed trails with a half-inch or so of fresh snow on top. Talk about the perfect warmup runs! By late morning, however, the sun had done it's magic and lovely corn snow had appeared everywhere. Some of Jay's steeper trails, like Can-Am, Hayes and Jet were so soft and forgiving that even intermediates could ski them easily, and the amazing glades were in wonderful shape. Lots of smiles on the mountain that day!
The skiing at Jay has always been phenomenal, but the resort used to have a kind of down-at-the-heels feel about it. This grand old lady needed a facelift, and boy did she get one!  Instead of giving everything a fresh coat of paint, they basically tore it all down and started fresh. The new slopeside Hotel Jay is gorgeous and super-comfortable, the on-mountain dining at Alice's Table and the Foundry Pub and Grille are several orders of magnitude better than anything Jay had in "the olden days."
Then there's "The Pumphouse" the amazing indoor waterpark (with a retractable roof for summer) that's so much fun you almost wouldn't mind if the weather didn't cooperate for skiing. After burning my legs out on all that fabulous corn snow, I went to the Pumphouse and channeled my inner 10-year-old for about two hours. Adrenaline-charged chutes, lots of pools and hot tubs, a lazy river for relaxing, even a surfing pool. Man, I wish they'd had this when my kids were younger! Perfect way to transition from winter to summer in one day!
Oh, and it was snowing when we left Jay . . . and it's snowing there again as I write this. I'd have to guess that the season at Jay is going to last well into April, maybe May–and even longer if you are willing to skin up for your turns.
While some areas will close for lack of skiers, the ones that stay open will offer what will likely be some of the best skiing of the season. Won't you come out and find your own personal King of Spring?