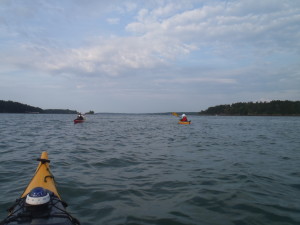 How does this sound for an outdoor getaway? You meet your guide (or guides, if you are a large group) at some beautiful spot on the coast of Maine. Unless you choose to bring your own gear, your guide has a quality sea kayak (possibly a tandem if two of you want to paddle together), paddle and PFD for you, plus all the dry bags, food and kitchen gear you'll need for a night, or two, or more of comfortable camping. You bring your own familiar  tent, sleeping bag, pad, clothing and personal gear.
You load everything into the kayaks, make sure the seat and foot braces are properly adjusted, and paddle away from the landing. Once on the water, you are surrounded by all the beauty that is the Maine coast. You past moored motor yachts, sailboats and working lobster boats, along shorelines dotted with lovely homes and islands with nothing at all. Sea birds float overhead, seals lounge on the shoreline keeping one eye on you, harbor porpoises play tag around your boat.
All the time you are paddling, your guide is there for you, sharing facts about the seascape, landscape, and wildlife you are seeing, helping you sharpen your paddling skills, keeping a watchful eye on the wind, waves and weather, warning you when bigger boats are approaching, generally watching out for your safety and comfort like a mother duck watches out for her ducklings.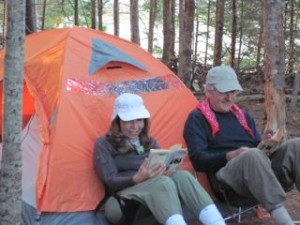 After a couple of hours of paddling you reach an island, set up camp, relax, enjoy dinner, relax, watch the sun set, relax with the stars above and the sounds of the sea around you. You sleep well and awake to sit on a rock with your morning coffee or tea, relax, and watch a misty sunrise. Then you pack up your camp, launch your kayaks and paddle away, either bound for another island, or for home, completely refreshed, completely relaxed, and completely rejuvenated. Sounds like fun, doesn't it? Trust me, it is.
Paddling Harpswell Sound and Casco Bay
My sweetheart Marilyn and I did an overnight camping/instructional sea kayaking trip paddling Harpswell Sound and Casco Bay with H2Outfitters. Our guide, Cathy Piffath, co-owner and head guide of H2O is an organized and personable trip leader with decades of experience at shepherding kayaking groups.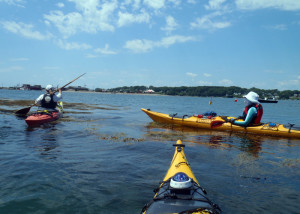 She's also a superlative paddling instructor. In fact, it was Cathy who first put me in a kayak and handed me a kayak paddle (I'd done a lot of canoeing prior to that). That was on a three-night, four day exploration of Penobscot Bay back in 2004. I've been hooked on kayaks since.
Marilyn absolutely loves kayaking (she started, very hesitantly, in 2008), and has basically learned by doing. She's also taken a couple of one-hour lessons from professional instructors, which really helped her. But her paddling technique had plateaued. I was hoping a couple of days on the water with Cathy would take her to the next level. It worked . . .
In the protected waters just off the launch, Cathy gave Marilyn a quick lesson in powering and controlling her kayak in the wind and waves without using the rudder. Marilyn "got" Cathy's combination of explanation and demonstration instantly, and from there on paddled better than I've ever seen her paddle before. That's what expert instruction can do, especially when the student is eager and ready.
We launched at the H2Outfitters shop, right at the bridge between Orrs and Bailey Islands, about an hour from Portland. A brisk breeze was blowing up whitecaps on Harpswell Sound as we loaded camping gear, food and safety equipment into our sea kayaks. Marilyn and I were paddling our own trusty 16-foot Prijon Seayaks, with Seals sprayskirts. We also had our own Kokatat PFDs (hers a MsFit Tour designed especially for women, mine a really non-restrictive Orbit Tour),  and paddles (two Werner Camano, and a Wind Swift—we trade paddles back and forth, carry one as a spare). But if you don't have your own boats and gear, H2O has good boats, paddles, PFDs, and sprays skirts for you to use.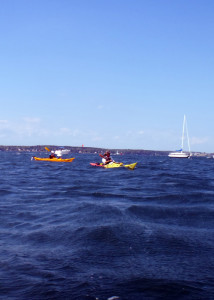 Our initial plan was to launch from Orrs Island, paddle about five miles around Potts Point, across the mouth of Potts Harbor, around Basin Point to Whaleboat Island, which has several public campsites on it. These are maintained by the Maine Coastal Heritage Trust which has owned the 122-acre island since 2002.
Mother Nature, however, had other plans. The southwest breeze was quite strong as we launched, and picked up as we crossed the sound. For the first mile and a half or so,  we were paddling almost directly into it, so the wind and the resulting three- and four-foot waves didn't really affect us. Sea kayaks are amazing: there's little for the wind to grab and most waves just slide underneath them almost unnoticed. Still, it took concentration to hold course and some effort to make headway.
By the time we reached Potts Point, it was clear that the wind was winning. Four other kayaks we could see out ahead of us were clearly struggling. They weren't making much headway in the wind, waves, and tidal currents.
From there, to reach our planned campsite at Whaleboat Island, we'd have had to cross a couple of miles of open water with the wind and waves hitting us sidewise. There simply wasn't any shelter anywhere. The wind seemed to be getting stronger by the minute. I'd guess it was blowing a steady 25 knots (roughly 30 mph–hard enough to walk against, let alone paddle) with frequent higher gusts.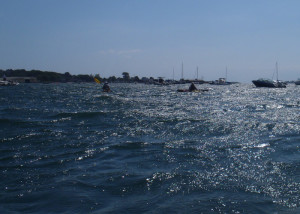 We rafted the boats together to conference. After some discussion, Cathy decided not to chance the crossing—a decision I heartily seconded. Marilyn was really enjoying her new-found paddling skills and the whole experience of the wind and waves. She was disappointed but deferred to Cathy's judgment.
So we deployed our rudders, turned, and ran with the wind and following seas about six miles straight downwind to Strawberry Creek Island, a Maine Island Trail Association campsite.
That run downwind was exhilarating: fast and fun. The wind was even stronger by then and the waves choppy and turbulent. We all loved it! In good boats, it was exciting and a little challenging (you had to pay close attention to keep your boat aligned with the wind) without feeling at all threatening.
Cathy also had a workable "Plan B" in mind. If the wind was too bad in the morning, and we couldn't paddle back to H2O headquarters, we could run a short distance downwind to a bridge, pull out our boats and call for a ride back. That's one of the reasons you go with a guide–their local knowledge and their ability to assess and adapt to the conditions you encounter.
We got to the campsite with plenty of time to unload the boats, set up camp and relax before a delicious dinner (Cathy is a gourmet camp cook). Then we watched the sunset and, not long thereafter, turned in for a great night's sleep. Camping on an island is always a delightful experience—the sense of distance between you and the rest of the world is palpable and pleasing, it just feels different than camping on the mainland.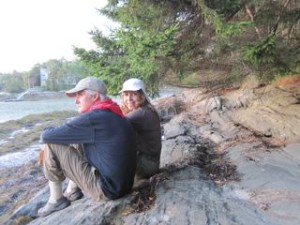 The next morning, we were up early, sipping hot tea, enjoying watching the sun rise through broken clouds. Packing up camp and loading the boats was easy, and we got an early start to ride the falling tide back to our launch. The wind was still a force to be reckoned with, and even with the currents to help us, it still took us three hours to paddle back. Yes, the wind was still that strong.
But, the effort was well worth it; we got to watch the world wake up, the lobster boats working their traps, saw many sea birds and got up close and personal with a seal colony on the way. In all, the return paddle was pure pleasure, a bit of a challenge, a great core workout and a fine end to a wonderful short trip. Highly recommended experience.
H2Outfitters' Maine Paddling Options
If you flew in a straight line from Kittery Maine downeast to Calais on the Canadian border, you'd travel about 225 miles, give or take. But if you paddled following the tidal coastline from head-of-tide on the Piscataqua to head-of-tide on the Saint Croix, you'd cover over 3,000 miles. That's a lot of paddling territory, almost all of it beautiful.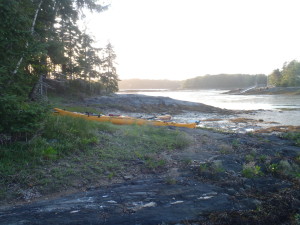 H2O knows more about paddling that coastline than almost anyone. They've been paddling there for decades. Cathy takes many groups of kayakers of all experience levels on a variety of camping or B&B trips every year, including ones w-a-a-y-y-y Downeast around Jonesport, others on Penobscot Bay around Stonington, Muscungus Bay out of Round Pond (you will likely see Atlantic puffins on that trip!) and the eastern edge of Casco Bay, which is what we paddled on this trip. Trips range from simple overnights like ours to four-night, five-day outings, and you can often custom-design a trip to suit your preferences.
Cathy also leads freshwater trips to Moosehead and Flagstaff Lakes in Maine where you stay at the amazingly comfortable "huts" run by Maine Huts and Trails.
In New York, she leads camping or inn-to-inn trips on Lake George and Saranac Lake. And she does  saltwater trips to South Carolina, Saguenay Fjord in Quebec (one of the most beautiful places to paddle in eastern North America), Prince Edward Island (a fun place for day-paddling, too), and the Bay of Fundy in Canada.
On both the trips I've been on with Cathy, she clearly put her clients' abilities and safety first. I'd certainly trust her to introduce anyone to sea kayaking, or to explore new horizons with more experienced paddlers.