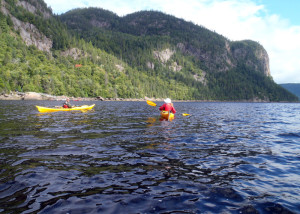 The Saguenay/Lac St. Jean region of Québec, about 3 hours northeast of Québec City, has become one of our favorite road trip/Active Outdoors getaway spots in the whole world. The fact that it's close to our New England home is just a bonus.
Why is this place so attractive? Well, the sheer physical beauty of the landscape here is one reason. Another is the diversity of that landscape—gleaming lakes, beautiful rivers, one of the most spectacular waterfalls we've ever seen, cliffs plunging into the dark waters of the largest fjord in eastern North America. Then you add in the people factor. The language, customs, and best of all, the food here are decidedly French, so it's like taking a full-on European vacation without having to get on a plane. Don't worry about the language difference, however. Most people here learned at least some English in school, some are fluent, and with a smile, a "bonjour," and a little patience you can always find a way to communicate.
The real draw for us, however, is the myriad outdoor opportunities this region offers. Trust us, if you like to pedal, paddle, fish, hike, ski, or snowshoe, you are going to love it here, too.
Most of the time (except when Tim wants to go salmon fishing or climb steep mountains), we share our outdoors adventures here together. A couple of years ago, for example, we jumped on out tandem bicycle for four days and pedaled the entire 256-kilometer Véloroute des Bleuets, (the Bicycle Route of the Blueberries) which circumnavigates Lac St. Jean. This is one of the most popular bike routes in Québec, and, if you read Marilyn's view from the stoker's seat, and Tim's tale as the tandem captain, you'll see why. If you like to bike tour in beautiful places without a lot of hills, this has to be on your bucket list of places to pedal.
The other thing we do together is paddle sea kayaks. Our goal on our recent trip to the Saguenay/Lac St. Jean region was to paddle as much as possible on Saguenay Fjord. The fjord, the largest in eastern North America, is 65 miles long, in most places only a mile or two wide, with an average depth of 690 feet! Much of the shoreline is sheer cliff plunging directly into the deep, dark waters. We were hoping to kayak close to the blue, minke, fin, and white beluga whales that swim here throughout the summer and fall.
Can you think of anything more magical than paddling a cliff-lined fjord in the company of whales?
Day 1: Getting There Is Part Of the Fun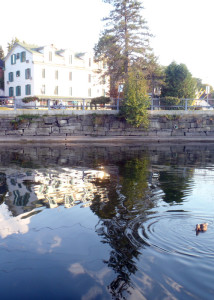 Saguenay Fjord is about 9 hours from our New Hampshire home. Who wants to start their getaway with that much time in the car? Not us! Is this a problem? Not at all!
We never miss a chance to stay (and eat!) in the Eastern Townships and an overnight there cuts the drive into two easy pieces. So we booked an overnight with breakfast at Auberge La Chocolatière a lovely little inn only a few minutes off the highway in the little village of North Hatley, Québec on the northern tip of Lac Massawippi. Even with a late start we arrived in plenty of time to relax and enjoy the village.
Our room, overlooking the charming town center, the lake and the river, was spacious, soothing, and beautiful, with an entire wall of mirrors beside a large Jacuzzi tub, the perfect break in a long drive. We had dinner that night just across the bridge at the Pilsen Pub, on a terrace right next to the water. Word has it this terrace is under water at certain times of year, but on this night it was the perfect spot for a romantic dinner.
Freeloading ducks eyed us from the water, hoping we would share. Sorry, ducks, the food was too good. Tim went for the cheeseburger, with both the meat and cheese from local farms, while Marilyn had the grilled chicken breast in a green peppercorn sauce with a mélange of vegetables. ("I always love it when my dinner plate looks like a work of art!" she says. "A great burger IS a work of art," says Tim). A post-dinner ramble through town and along the promenade to a gazebo overlooking the water helped make any excess calories magically vanish into thin air. At least, that was the hope.
Returning from dinner and our walk, however, we found fudge and a variety of other chocolate treats waiting in our room. We hadn't intended to eat any chocolate, but . . . the name of the auberge does include the word chocolatiére. The next morning, following an early-morning tandem bike ride on a tiny portion of the 5,000 km La Route Verte which passes though town, we returned to the auberge for the included breakfast. Good choice! Tim ordered a crêpe with fruit, while Marilyn had oatmeal with fruit. The crêpe came with a dark chocolate fudge sauce and the oatmeal was mixed with dark chocolate! If you love chocolate, and your mouth is watering as you read this, you can, like us, only imagine what other delicacies they might have in store if you stay for more than one night. Yummmmmm!
We also had two sea kayaks on the car, and were tempted to go paddling. There's a marina right in town where you can launch your kayaks (or rent if you don't have your own) to paddle on Lac Massawippi or the Massawippi River running out of it. They are very careful about invasive waterplants in this area and your boat has to be washed and inspected before you can launch it here.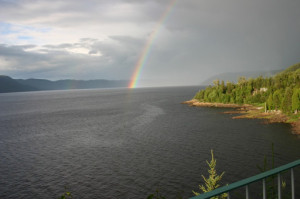 But we had a 6-hour drive ahead, and decided to save the paddling here for another visit. From North Hatley, we headed northeast, skirting Québec City, then drove north along Route 175 through Parc national de la Jacques-Cartier to Chicoutimi/Saguenay. We arrived in the Saguenay region in early afternoon with rain nipping at our heels and checked into the Auberge de la Rivière Saguenay, where we settled into a third floor room with a balcony and an absolutely stunning view out onto the improbably named Baie des Ha! Ha!.
Innkeeper Pauline Gagnon greeted us in perfect English, showed us to our comfortable room (with a fabulous view), and prepared an excellent dinner, featuring fresh local meats and produce. French home cooking at its best! She and her husband Léon Girard (who also spoke excellent English) and Colette, another guest (who spoke some English) joined us at the dinner table. We had a wonderful evening with new friends. They all seemed to thoroughly enjoy our halting attempts to communicate en Français. That's the way we've always found it in Québec. Even in regions where most people don't speak any English, any attempt at speaking French is thoroughly appreciated.
Day 2: Paddling at Rivière Éternité, The Wind Wins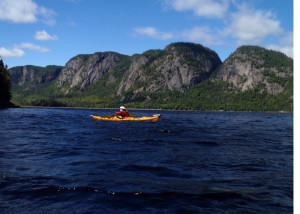 Persistence and a bit of flexibility were the two other virtues we needed the next morning. The plan was to drive to Rivière Éternité, and the spectacular Parc national Fjord-du-Saguenay on Baie Éternité, and see this part of the fjord by kayak on a guided one-day tour. Let's just say it was a bit more challenging than we had originally anticipated.
The last time we had gone sea kayaking (with H2Outfitters on Casco Bay in Maine), the wind decided it wanted us to camp on a different island than we had originally planned. We got some excellent practice negotiating our kayaks in wind and waves. The lesson we learned from that trip was this: When the wind blows and the waves are high enough to break over your boat, you cope as best you can and change plans if you must for safety and comfort.
The breeze was barely riffling the water in front of the auberge as we ate breakfast. By the time we met Mathieu Bergeron, who runs kayak programs for OrganizAction, and Manu Assichard, who was to be our guide for the day, the wind had picked up. A lot. Maybe we should have taken the omen the wind sent us more seriously; as we unloaded the kayaks we heard a huge tree crash down in the forest nearby—close enough that we could feel the thud of the impact through our feet.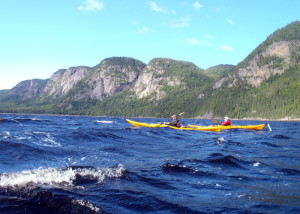 Manu, who hails from Normandy in Old France and speaks excellent English, started us downwind against the lee shore, but as the wind and waves grew, the concept of a lee shore evaporated before our very eyes. We had gone maybe a mile when we rafted together for an on-water conference. We still had a  distance to paddle before we reached the open fjord, and every inch of the paddle back would be into the building wind and waves. So, far sooner than we had intended, we turned and headed back into the comparative safety of the bay. Even with the early turn-around, we had to fight our way back; the rising tide pushing us wasn't much help against the relentless wind. In total, we paddled about four hours, covering less than a quarter of the distance we'd planned. We were glad we never really got out into the main fjord where the wind was really howling; it would have been just too dangerous.
Still the scenery we did see was simply spectacular—900-foot glacier-carved cliffs rising directly from the water. It would have been breathtaking even without the wind to help. Alas, we didn't see any whales—not that they would have been easy to see among the waves and whitecaps.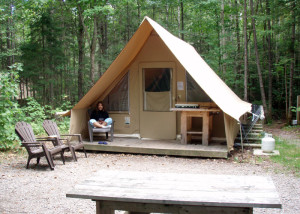 That night, we settled into a comfortable "Huttopia" in one of the park's many campsites. Now if your idea of camping is a three-star hotel, a Huttopia might just be the way to begin transitioning to the outdoor life. Marilyn absolutely loved it: "Our 'Hutopia' was a cute little A-frame canvas hut with comfortable beds and clean, fresh sheets which they provided. The floor was clean, we had a table and chairs to seat four, a gas cookstove, electric lights and outlets, a half-size fridge, and even a room heater! Oh, and the shared bathrooms and hot showers (a short distance away) are as clean or cleaner than your own at home! Think camping means roughing it? Unh uh, this is the lap of luxury! Do you think that's why it's called a 'Huttopia,' which is even funnier when you realize that the letter 'H' is never pronounced in French and 'u' is pronounced as 'oo'. . ."
With school already back in session, there were very few other campers around. We settled in, relaxed, cooked food we'd bought at a local grocery store, ate, relaxed and slept the sleep of the well-exercised. We both agree that we could have happily spent several more nights in "Huttopia"
Day 2: Relaxing, Relaxing and More Relaxing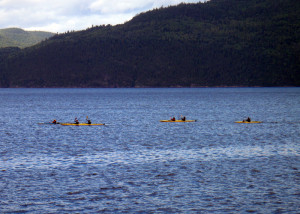 With a quiet day scheduled, we ate breakfast and took a short hike through lovely, quiet woods before packing up and leaving our Huttopia. There are some spectacular overlooks in the park, but the clouds were lowering to the clifftops and looking like they might drop some rain. So we decided to save the views for our next visit.
We wandered into the village of l'Anse-Saint-Jean and found our next lodging: Auberges des Cévennes where innkeeper Thomas Dufour showed us a comfortably old-fahioned third-floor room with another lovely view (this one including a covered bridge/art gallery). Like the magnificent scenery, art is everywhere up here; you can't escape it. That afternoon, we napped, wandered around l'Anse-Saint-Jean, watched some other kayakers fighting the wind (without a great deal of success), and just plain enjoyed a day of relaxation in a special place.
The weather took a decided turn for the worse late that afternoon as we drove up to the ski area Mont Édouard (have to get back there when there's snow on the ground!) and found the Nordic Spa at Edouard-les-Bain. There's something to be said for relaxing in an outdoor hot tub with the wind tearing at the trees around you, feeling smug about outwitting the weather. A torrential downpour started just as we drove away, and stopped just before we got back to our inn.
Dinner that night was at our auberge which, apparently has a very strong regular clientele among the people who live here. We can understand why! The salmon tasted as fresh as if it had been swimming that morning (perhaps it had); better still, the beurre blanc and the veggies tasted as fresh as the salmon. Great meal.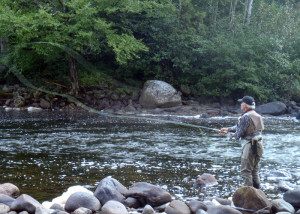 Day 3: Pêche au saumon, Tim's story
If you happen to be one of those folks who thinks that fishing isn't an active sport, I'd strongly urge you to sign up for a day of salmon fishing on the Petit Saguenay River with a young guide named Samuel Dalpé.
While Marilyn slept late and relaxed some more at the Auberges des Cévennes and explored the art galleries in L'Anse Saint Jean, I met Samuel (who spoke excellent English) at 7am, and we began our day with a three-mile hike up alongside the river. Yup, we walked three miles, in waders, before we ever made our first cast. Now the walking wasn't hard—we were on a good trail, but still . . .
We started fishing and, in the process, walked at least another four miles downstream to where we'd started. I say "at least" because we followed the twists and turn of the river instead of the trail, and fished though several pools more than once. Most of the time we were treading carefully on riverside rocks, which is much more challenging than just walking on a trail. I'd guess, in all, we covered close to eight miles by the time we arrived back at our starting point. And, frankly, I felt like I'd walked a whole lot farther than that. The fishing was great, the catching not so good; it was late in the run, the water was too warm and that's salmon fishing. I'd love to go back in prime time–June or early July.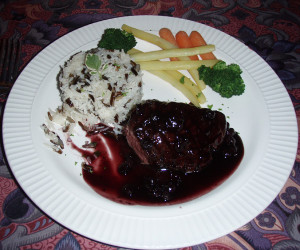 After my day of fishing, we spent the night in a cozy cabin right next to a waterfall (Chutes St Antoine) on the Petit Saguenay. Talk about relaxing—listening to the water thunder over the falls right outside the cabin all night long!
We ate dinner that night in the lovely Auberge du Jardin and enjoyed one of our Top 10 best restaurant meals ever; five courses, each perfect! The entrée was buffalo tenderloin in a blueberry wine sauce, dessert an incredible blueberry tart. The rooms were beautiful and, as nice as our cabin was, we'd have loved to spend a night there. Don't miss it.
Day 4: Paddling With the Wind and Whales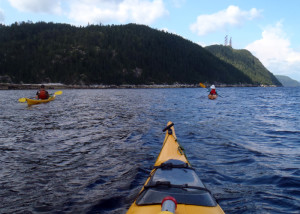 Friday was our last hope for paddling among the whales, and we were crossing our fingers for the weather to cooperate. We were to meet our guide at the Village Vacances Petit-Saguenay which is a "summer camp" for adults and kids on the shores of Anse Saint Étienne. Beautiful spot. This would be a perfect place for a  "French immersion" vacation for you and your kids.
Not a breath of wind so much as rippled the water when we met our guide, Mathieu Bergeron from OrganizAction. It was low tide on the shores of Anse Saint Étienne and we dragged our boats about 200 yards across the mud flats to launch. A half a mile later, we paddled into the main fjord with just a slight breeze barely rippling the water. Perfect paddling conditions. Our goal was Baie Sainte Marguerite, a protected hangout (no powerboats allowed) for whales about 3.5 miles up the fjord.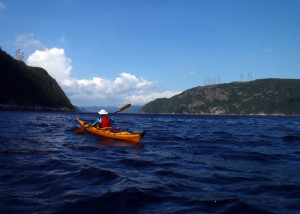 As we paddled up the fjord, looking for whales, the winds picked up—but so gradually we hardly noticed. Still, just before we reached Cap Sainte Marguerite, a sharp rain squall blew through, leaving the waves topped with whitecaps. Tim jokingly told Marilyn her new nickname was "She Who Calls The Winds." Mathieu, who sits in a rocking sea kayak as comfortably as most of us sit in an easy chair didn't seem concerned, but we asked to pull out at the first safe beach for lunch. As we fought the wind and turned the corner into Baie Sainte Marguerite, Marilyn saw our first whale of the trip, a gray one, about 50 yards ahead. Naturally, Tim was looking in the wrong direction and missed it. . .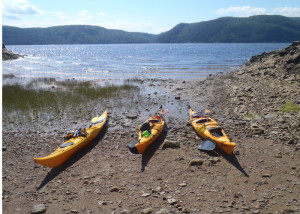 We sat on a rocky point, ate our lunches, and watched for whales. But all we could see were building wind, waves and whitecaps. By the time we finished lunch, the quiet, serene little beach we had landed on was being pounded by 3-foot waves. Launching was  tricky, but we made it. The next 10 minutes, however, were just plain scary as we tried to paddle across a wind that was trying to blow us into a cliff face with waves constantly slapping us from the side.
By the time we  reached the open fjord, the waves were closely-spaced and as high as our heads—or higher. Paddling around the point and turning down the fjord, we took the full brunt of the now nearly gale-force winds blowing from behind us. The waves were so steep that, at the peaks, only a few feet of our boats were in the water; bow and stern would hang in mid-air. We were both glad we were paddling our own familiar Prijon Seayak kayaks. We had paddled them in wind and waves before and knew and trusted them, which was very important in the rough seas we encountered.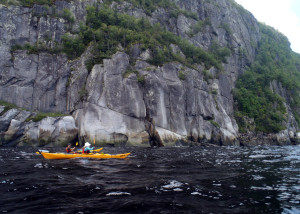 Mathieu stayed close to Marilyn to help keep her safe. Tim could barely control his own boat, but somehow made it safely into a tiny, semi-protected cove where he could wait in relative comfort for Mathieu and "She Who Calls The Wind." The cliffs loomed hundreds of feet above us, so there was no way out except by kayak.
After a few tense minutes Marilyn and Mathieu ducked into the shelter of the cove with me and we all took a deep breath. From there, we decided to raft the three boats together and, basically, let the wind push us where we were going. Rafting kayaks together makes them virtually impossible to tip over and we felt perfectly safe amid the maelstrom. Marilyn's boat was sandwiched in the middle as she held on to both Mathieu's boat and mine. Tim was on the upwind side and waves washed over my boat every couple of minutes. We just laughed and enjoyed it. Thank Heaven for Seals sprayskirts!
Mathieu and Tim paddled as needed to steer us on the correct course down and across the fjord. Sometimes, we held our paddle blades up to act as sails. In no time at all we had safely floated about three miles back to the mouth of the protected bay where we'd launched.
As we separated and paddled into the more sheltered waters, we began to see and hear pure white Beluga whales around us, nine in total, some as close as 50 yards. Paddling in the calmer water and seeing the white whales around us was like seeing a rainbow after a violent storm had passed; it felt like a blessing. Amazing experience.
The 10 scary minutes around Cap Sainte Marguerite were just that, 10 very scary minutes. We're glad we did it, glad no one capsized, glad we could duck into that tiny cove, glad we didn't try to paddle alone all the way back. Both Marilyn and Tim agreed later (when we were safely on shore), that we wouldn't have missed the experience for anything in the world. It made us both feel totally alive.
For our last night, we drove down to Tadoussac where Saguenay Fjord empties into the St. Lawrence River and spent one night in the elegant Hôtel Tadoussac. If you like the Omni Mount Washington Hotel in New Hampshire, you'll love this place. Same elegance, beautiful garden, gorgeous views. The buffet dinner at their Le Coverdale Dining Room was simply excellent.
Then we had to drive home . . . sigh.
The experience of paddling among the whales of Saguenay Fjord was one of the most soul-satisfying experiences we've ever shared outdoors. We are already planning to go back as soon as we can.
If You Go: 
Planning your trip:
Begin any trip to Quebec with an overview at the Quebec Tourism website. Check out all the tourism regions, including Saguenay/Lac St. Jean.
If you want to stay a night going or coming in the Eastern Townships (highly recommended) visit their website. Or, if you prefer a more urban environment, try Québec City.
For actually planning your trip to Saguenay Fjord or the Veloroute des Bleuets, we highly recommend the helpful folks at Tourism Saguenay/Lac St. Jean. They have proven over and over that they can make dream trips come true.