For a long time, everyone has been telling me how great mountain biking is. Yeah, right. . . .
My only experiences with mountain biking—and there have been quite a few over the years—were fraught with fear, frustration and, ultimately, failure. I really wanted to like it, and kept giving it a shot. But I always ended up walking and in tears along on what some diehard mountain biker friend described as "an easy practice loop."
Have you had the same experience? Do you have an unfulfilled dream of rolling through smooth singletrack trails in silent pine forests? Don't give up hope. Get yourself to the Kingdom Trails (KT) in East Burke, Vermont. First of all, they give you a trail map and mark all trails like ski trails—green circle, blue square, black diamond, etc.— so you have some notion of what you are getting into before you start. With over 100 miles of well-signed trails, from wide, green doubletrack beginner paths to double-black singletrack trails that dive-bomb and bounce down steep hills, there's something here for cyclists of all abilities. Even me. Even you.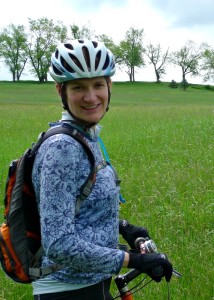 In fact, after mountain biking last weekend at the Kingdom Trains, I finally "got" what the fuss is all about. I smiled during the downhill sections. I charged and conquered hills. I didn't squeeze my brakes with a death grip so tight that my hands would hurt for hours afterward. My legs didn't shake from fear of falling off the side of a slickrock traverse. For the first time ever, I had actually had FUN while mountain biking and actually felt the "flow" everyone always talks about!
I'll shamelessly plug Kingdom Trails as the perfect place for a beginning/intermediate mountain biker to start feeling the flow. KT's smooth green circle and blue square trails that wind through rolling fields and sugarbush glades were perfect for this novice and somewhat trepidatious mountain biker. The trails were a huge part of my success. But I'll give myself a little credit too, and share some of the secrets and tips to ensure that any beginner mountain biker can have a good time out there:
Learning to Mountain Bike: 1. Regular old sneakers
If you're attached to your beloved clipless shoes and pedals, give it up. I've used them for years on my road bike and am very comfortable with clipping in and out. In the past, I've insisted on using clipless pedals while mountain biking as a pride thing. I did not want to be seen as that loser with the lame sneakers and flat pedals! Thanks to my husband Charlie's smart advice, I threw that ridiculous self-judgement out the window and decided to use my old stiff hiking shoes with sturdy flat platform pedals. I ended up much happier and felt much safer–and realized that I will need to build my skills and confidence before putting the clipless pedals on the mountain bike.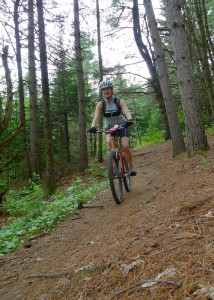 Learning to Mountain Bike: 2. Eat some humble pie
Overall, being a beginner is wonderful; you can be just fine with sticking to the green circle trails at KT if that's where you are comfortable. Nonetheless I'd encourage even beginners to try a few blue square or even black diamond singletrack trails and enjoy the thrill of the narrow chutes. I did, and ended up going very slowly on the tricky downhill sections. I also had to walk some of the short steep uphill sections (a little cross training!) but otherwise they're perfectly do-able.
I also had to accept that my modest beginning-of-the-summer strength and conditioning held me back from the staying out for hours on end and covering many miles. We ended up doing a 3-hour loop up to Darling Hill, around the Inn at Mountain View Farm, south to Violet's Outback, and then made our way back along the network of trails that parallel the Passumpsic River East Branch into town. I didn't clock the distance, and I won't bother to share even a guess as to how many miles we rode. Who cares? Ditch the cycle computer and enjoy biking to the best of your ability and endurance.
Learning to Mountain Bike: 3. Attitude adjustment
One could argue that this is perhaps the most important quality to bring to any adventure, especially when you're feeling outside of your comfort zone. This time I promised to be gentle to myself–to not get mad when I couldn't make it up a short hump hill or when I had to dismount to walk across a section of gnarly roots. I made a commitment to smile even when it got tough, and be thankful to be enjoying an outdoor activity on a day when it finally stopped raining. A cool, cloudy day is perfect for bicycling and the trails dry out super quickly at KT thanks to the sandy soil on Darling Hill (which is really a glacial esker). Get it while the gettin's good, my friends. That's how we roll in New England.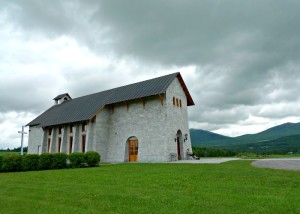 Learning to Mountain Bike: 4. Stop and enjoy the view
One of the amazing things about Kingdom Trails is the overall geography that provides a glorious backdrop to the activity itself. This is hands-down a stunning place to recreate. Bemis is a green circle trail that runs along the Darling Hill ridgeline. You might be inclined to skip that trail, thinking "I'm way too cool for that green circle kiddie school," but don't make that mistake. The views are breathtaking. There are farms, sweeping green fields, Burke Mountain Ski Area, and the Green Mountains to see. And try to take a snack break at the Darling Hill Chapel. It feels like a little piece of heaven there.
Learning to Mountain Bike: 5. Don't forget dessert
Call it "Cassie's Law": Any hard activity must be rewarded with ice cream. Or pizza & beer down the road at the Trout River Brewery. Or all of the above! But in my case, I shot straight for Chappy's in East Burke village. You can't miss this cute little ice cream shack right by the bridge to the East Darling Hill Road in town. I ordered a creemee (which is what we Vermonters call soft serve) while Charlie happily indulged in a milkshake.
We sat by the river, feeling the muscle soreness set in and watching a multitude of eager Quebecois ready their bicycles in the parking lot behind East Burke Sports. Then we packed up and vowed to come back and stay overnight for a full weekend of mountain biking.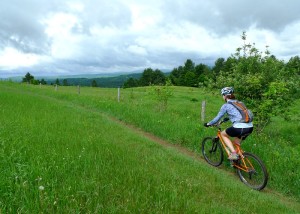 If you go…
One thing is for sure: weekends are busy. I'd suggest you arrive early to avoid the Canadian crush. The very active community of mountain bikers in Quebec seem very willing to forsake their own great trails in the Eastern Townships and come to Vermont for the great biking. Can't say I blame them. Fortunately, the Quebecois and other out-of-state travelers tend to be late risers and early mornings at KT are pretty quiet.
Please note the parking instructions on the Kingdom Trails website. Maintaining good relations with the private landowners and small-town businesses here is critically important. Trail passes are required ($15 for a day ticket) and support the nonprofit Kingdom Trail Association that maintains these trails in such wonderful condition.
Be aware, there is no general use water spigot in the Kingdom Trails office or general store, so be sure to fill up your hydration bladder before arrival. We were a little surprised to find that the Kingdom Trails office didn't have any bike tools/pumps/wash stations/bathrooms available, but then we learned that there are some tools for use along with a wash station for that muddy mountain bike behind East Burke Sports.
There are numerous inexpensive camping options in the local area for making a weekend out of the trip, including one right up the road at Burke Mountain ski area. Looking for a classic Vermont inn right on the trails? Try the Wildflower Inn or  Inn at Mountain View Farm–both are smack on the trails, offering bike-and-stay packages and ridiculously picturesque views from atop Darling Hill Road.