If you are as nuts as we are, and think that running over, under, around, and through various obstacles while getting just a little (?) dirty is great fun . . .well . . . read on. There's nothing like jumping into the deep end (of the mud) with both feet!
After taking an entire year off from crazy athletic endeavors due to a major house renovation project, we decided to give The Mountain Mucker at Mount Sunapee in New Hampshire a try; first, they promised plenty of mud, second, it includes the free beer at the end, and third…well, reading the FAQs on their webpage made it clear that these people have a truly sick sense of humor, which promised a fun event. Plus, this is a non-timed event, so there's a little less psychological pressure than at "real" races like the Tough Mountain Challenge, which follows later in the year.
And, as a bonus, Mount Sunapee has added an aerial adventure course to their summer arsenal. Since the races don't last all that long, it seemed like a fun addition to our time there.
Mount Sunapee In Summer: Relaxing Before The Race
Rather than have this be a "run and gun" marathon, driving two hours to the race and back home later, we wanted to make a weekend of it. So we packed up our car camping gear and stayed two nights at  Mount Sunapee State Park, an inexpensive and fun lodging option. The lovely camping area is surprisingly private, with tent platforms, running water, and outhouses, and the fee includes access to the bathhouses and beach at Lake Sunapee. A couple of nights in a tent, some hard exercise followed by beach time…yeah, that's a recipe for summer relaxation.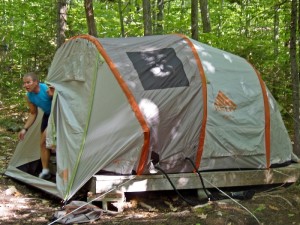 One of the great advantages to car camping is that you don't need a lot of setup time. We headed out late Friday afternoon just ahead of traffic, got there about 6, and by 7 were set up and ready to cook dinner. The only fly in the ointment was…well, flies; plenty of rain this summer meant plenty of mosquitoes. But, Insect Shield clothing and a Thermacell lantern kept them at bay while we cooked, ate, and enjoyed the soft evening light.
Waking up a half mile from a racecourse is a great experience; no worries about traffic jams, cars breaking down, any other random problem. Plus, it makes registration easy; get there early, then go back and relax in camp until race time. On a hot day (which this one turned out to be), that can make a BIG difference in your enjoyment level; dehydration is miserable even when you aren't worried about your time. We were tucked back in the shade, reading and sipping water rather than sweating on the sidelines. A hour before our start time, we got our race clothes on and headed down…perfect timing to get pumped up by the crowd and the scene before we took off.
Mount Sunapee In Summer: Warning, Mud Ahead!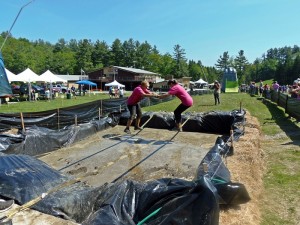 We love mud and …the Mucker didn't disappoint. Like all of these maliciously miserable events, it started straight uphill. Here's where experience helps: start too fast, and you're done. Slow and steady doesn't win the race, but it DOES make it fun.
We saw lots of enthusiastic people start off running up the hill. Less than 5 minutes later, we had passed most of them and never saw them again. Like all of these races, the obstacles begin once you survive that first climb; it's a smart design, as it keeps too many people from hitting the first obstacle at the same time. And obstacles there were: running through a jumble of tires, clambering over a Godawful high wall, clambering around a Z-shaped climbing wall…and, of course, mud. Lots and lots of mud.
A couple of things set the Mucker apart from other events we've done. The first is that one obstacle required an element of intelligence, which immediately put us at a disadvantage. They took large sheets of plywood, put the Mucker logo on them, and then cut them up into a giant jigsaw puzzle obstacle. You try to figure out how they go together. When you're oxygen deprived, it's more challenging than you might think!
The second is a trio of "challenge loops": extra course segments that you can choose to do or not. Finishing a challenge loop puts your name into a raffle to win some pretty nice prizes. Nice touch…faster racers can do the loops, then catch up with their friends. Being born masochists, we did all of them, and found that one of them, in particular, REALLY was a brain challenge. As you climbed higher on the mountain, you had to figure out a category you belong in based on your name, then try to remember a complex series of numbers and letters for the next hour as you complete the course. Yeah, right.  The funniest part was…I DID remember the code, but totally forgot to do anything with it when I finished! Blame it on oxygen deprivation…or something…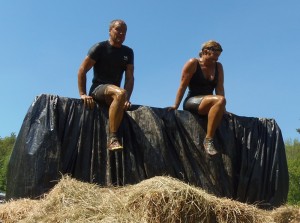 With a true showman's flourish, the designers put the nastiest, muddiest, splashiest obstacles down at the bottom of the course, where the spectators could get their laughs. Slacklines above a mud pit…yeah, that's an opportunity to enjoy watching the many suckers falling in. Better still, though, was the disgusting-but-inspired "Dumpster Dive." Yes, the organizers took a 30-yard dumpster (those are the big ones you see on major construction sites), lined it with plastic, added dirt and water, creating about as nasty, filthy, and foul an environment as you could imagine. We loved it, of course, as did other competitors and spectators. IF you can find a patch of clean skin after one of these races, you've done something wrong, and this obstacle DEFINITELY helped in that quest. Competitors walked, crawled, swam, and rolled through it, laughing all the way.
One of the joys of finishing is watching others struggling through the same messes that we'd fought our way through. Hint: Try to get into an early flight, so that you get plenty of time to enjoy the show. And, of course, to be able to fully enjoy replenishing the calories you've burned. Food at these events is usually beer, burgers, sausages, chips, etc…you know, health food. You can easily burn 1000-1500 calories completing a course like this, so recovery food is profoundly important. Protein (burgers/dogs), carbs (buns, beer), fat & salt (chips) are all needed to refuel your sore muscles. This is SCIENCE we're talking about; you have an OBLIGATION to eat all these things. We dove in, feeling smug and serious about our training. Sort of.
Mount Sunapee In Summer: Crawling To Soaring In One Day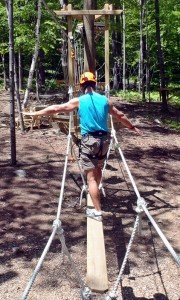 After an hour or so of watching everyone else suffer, though, it was time for us to get moving so that we wouldn't stiffen up so much that we couldn't walk…so, over to the Adventure Park for our chance to rise above it all . Like many ski areas, Sunapee has added lots of summer activities, and it's a good thing for all of us. Ski areas have more wild-but-accessible terrain than pretty much anywhere else, so they can add fun activities at a reasonable cost, which translates to reasonably affordable fun for us.
Sunapee's Aerial Challenge Course is well named; when we arrived only the beginner and intermediate courses were open, and that was good for us! We've done a couple aerial courses before, and the Sunapee course was by far the most difficult. Heck, just the act of getting up TO the intermediate course, which involves climbing up a sort of rope ladder/tunnel, is a real challenge. Even after our day of ridiculous obstacles in the Mucker, walking across a log 20 feet off the ground was…good training for our cardiovascular systems.  Talk about spiking a heartrate!
And then there's the Silver Surfer. Admittedly, we're not professional gymnasts who are used to balancing on a knife edge, or Karl Wallenda…but we're not THAT uncoordinated. At least, we didn't think we were until we fell off that thing a few times. We're figuring that someone with a particularly peculiar sense of humor put that thing in the intermediate loop. We didn't even come close to navigating it upright! Now, of course we were tired from the racing…yeah, that's it.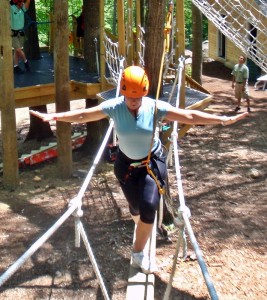 We definitely have to go back and check out the advanced course; at $29 for a four-loop package, you can have a whole lot of fun for a lot less than a lift ticket. And there's plenty more to do there; they have a disc golf course, which is something we haven't tried yet, miniature golf, and the obligatory canopy zip-line tours. With all of that, plus cheap camping and beach access, it's a great option for a budget summer getaway with the kids.
Between an excellent morning of racing, trying to not fall off the aerial challenges, and then spending a couple of hours on the beach, it's pretty hard to imagine a much better day. Back at the campsite, sitting by our campfire, glass of wine in hand, steak sizzling on the grill…yeah, life is good. We're definitely going to look for car camping options for future races. Add in the beach and the adventure park and we'd had about as much fun as on any trip to date. We can highly recommend it to you, as well; even if you don't want to do the race, heck, go do the other stuff and WATCH the other fools out there getting muddy!