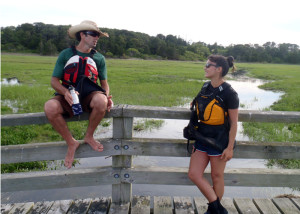 You already have a good kayak, a canoe, or a SUP, and the right paddle. Your boat is on the water, paddle is assembled and ready to go. That's all you need to have fun, right?
WRONG!
Before you even think of paddling away from dry land, you need to be WEARING a PFD (Personal Flotation Device) that fits you and works for the paddling you are doing.
It doesn't matter how strong a swimmer you are, how warm the air and water are, how calm it is, how close to shore you are planning to stay… if you are paddling, you need to be wearing a PFD that fits you. Wearing. Period. End of discussion. If you think it's OK just to have a PFD in your boat with you, take a moment to watch this Video from the Coast Guard Auxiliary.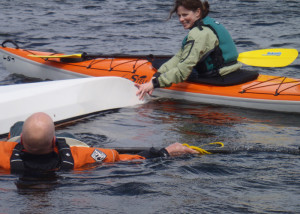 Some states require you to wear a PFD while paddling, but most states simply require you to have an approved PFD in any boat with you when you are on the water. But that isn't good enough, at least not in a paddle-powered craft where flowing water, hidden obstacles, wind, waves, powerboats (too often with inattentive or unskilled operators) and the wakes they create, or your own momentary lapse in judgment can instantly and unexpectedly change your circumstances for the worse. It's bad enough to suddenly find yourself in the water and separated from your boat; finding yourself in the water with your PFD still in a boat that's drifting away from you faster than you can swim is much worse.
Picking The Perfect PFD for Paddling
So, what makes a good paddling PFD and how do you pick the one that's right for you? We approached Kokatat, a company which makes the PFDs many paddlers trust their lives to, for answers. Product Manager Matt Porter provided answers to our questions.
ES: So, what's the first thing someone looking for a paddling PFD needs to know?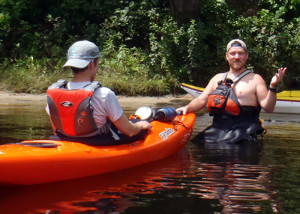 Kokatat: All new PFDs sold in the US must pass certain Coast Guard standards. Each is rated as a "Type," and whether they are for adults or children. Adult vests are for people over 90 lbs, and most adult vests must provide at least 15.5 pounds of flotation. So any new PFD you buy is likely safe (check for the Coast Guard and UL label inside). What you are looking for is a PFD that fits you and works for paddling.
ES: There are different "Types" of PFDs; are some better for paddling than others?
Kokatat: Wearable PFDs come in four "Types." There's a fifth type (Type IV), but those are meant to be thrown (seat cushions, ring buoys, etc.), so aren't useful for paddling. Type III and V are the best for paddling; here's why:
Type I PFDs are designed for rough, open-water rescue situations (think "Perfect Storm" emergencies at sea) where you may be in the water a long time and may be injured. Adult Type 1 PFDs must have 22 lbs of flotation, and most are specifically designed to keep an unconscious person upright and face up in the water; this makes them too bulky and restrictive for paddling.
Type II PFDs have at least 15.5 lbs of flotation for adults. These are meant for near-shore immersions where quick rescue or recovery is more likely, and some are designed to automatically turn the user upright and face up. Unfortunately most Type II PFDs are  generally too restrictive and uncomfortable for paddling.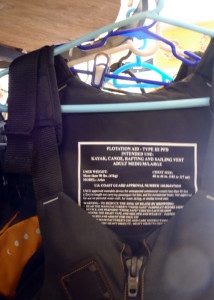 Type III PFDs have the same flotation as Type II, but aren't designed to turn the user face up. These are the most comfortable for constant wear. Most paddling-specific vests are Type III, but not all Type III PFDs are good for paddling…which leads to:
Type V PFDs are restricted for special purposes (water skiing, paddling, etc . . .) and must be worn at all times when on the water to count as a legal PFD. Type V devices  also carry a second rating as a Type I, II, or III if worn as directed. For example, the Kokatat Orbit and Orbit Tour are a Type V vest for paddling and sailing that must be worn at all times and will function as a Type III PFD when worn properly.
So, generally don't waste your time looking at Types I, II, or IV for paddling vests for adults; III and V are generally where you'll find PFDs that'll work for paddling. [ES Note: for more detailed information on Types of PFDs, from the PFD Manufacturer's Association, go here.]
ES: How do you tell which PFD is which, and if it will work for you?
Kokatat: All PFDs have a label inside that clearly tells which type they are, and who they are designed to fit (over or under 90 pounds, chest size guidelines). They have been tested to work within those ranges.
Some PFD labels also tell you how much flotation they provided at the time of manufacture. Kokatat doesn't put that information on our labels, but it's on our website.
ES: OK, How do you start picking the right PFD for you?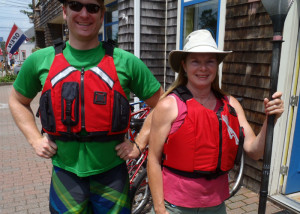 Kokatat: What you are really looking for is a PFD that fits you and works for what you want to do with it. You begin by trying it on to see if it fits.
ES: With the various zippers and straps, most PFDs seem to be designed to fit people in a range of sizes. Even the labels give a size range. So what, exactly, are you looking for in fit?
Kokatat: While all PFDs are adjustable for fit to some degree, they all need to fit snugly to work. If you can slide right out of it, it isn't going to do you much good if you suddenly find yourself in the water. At the same time, it has to fit comfortably or you will be less likely to wear it all the time. When you are trying on paddling PFDs, be sure you have room for insulation layers beneath if you are paddling in cold weather or on colder water.
ES: What makes for good fit in a paddling PFD?
Kokatat: We recommend looking at two specific areas when choosing a paddling PFD.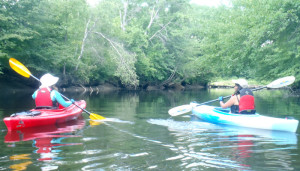 First and most important is fit and comfort on you. Paddling a kayak, canoe or SUP requires a lot of movement of the arms and torso. Make sure any PFD you are trying on allows you to move freely and comfortably without chafing or obvious restrictions of your range of movement as you paddle. If it chafes or restricts you, you'll be less likely to wear it all the time.
Second is fit with your boat. Many kayaks (especially Sit-On-Top models, and some recreational kayaks have seats and seat backs that can push a PFD up, making it uncomfortable. If possible, make sure the PFD you are considering works with your boat seat. The best way to do that, of course, is to put on the PFD and then actually get into your boat and check compatibility. [Editor's Note: Kokatat makes the Bahia PFD with a mesh panel designed specifically to work with high seat backs. A number of manufacturers offer similar designs.]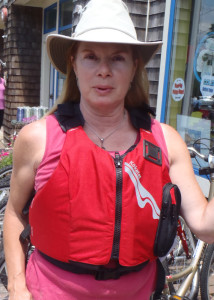 ES: Should women only consider women-specific PFDs?
Kokatat: Not necessarily. "Unisex" PFDs fit many people very well. But some women will find the design of a women's specific PFD much more comfortable. It depends on your specific body shape. If you aren't sure, try on both and see which feels best for you.
ES: Why do some PFDs look very simple and other have straps and pockets everywhere?
Kokatat: Remember, all PFDs must stay on the wearer and offer a specific amount of flotation. Everything else is extra. Some PFDs are very basic. Others have reflective accents, rescue grab and tow handles (useful if you need to be pulled from the water), and a variety of pockets and lash points (for flashlights and safety strobe lights, marine radios, knives, whistles, paddling gloves, cameras, sunglasses. granola bars, etc.). Decide what you need to carry and get the vest with those options. But options like pockets and grab loops also make the price tag go up, so only go with what you need.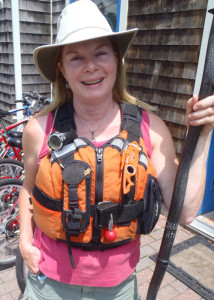 ES: How long does a PFD last?
Kokatat: That depends on how it's used and how it's stored. PFDs can wear out, especially if you use them a lot. They can also be damaged by prolonged exposure to sunlight and excessive heat, or by being put away wet. Check the straps and cover material for any sign of wear. If you regularly use your PFD as a seat cushion [ES Note: On shore only! Remember, you are wearing it when you are on the water!] it can compress the foam and reduce flotation over time. If you see signs of either, it's time to get a new PFD. Also, you can jump into the water wearing your PFD–if it doesn't float you as well as it did when it was new, it's time for a new one.
ES: How should a PFD be stored?
Kokatat: We recommend spot cleaning any dirt with mild soap, rinsing your PFD off (especially if you've been on salt water) and drying it thoroughly, then hanging it in a dry place out of direct sun with good air circulation.
ES: OK, you've stored your PFD properly over the winter and now it's time to go paddling for the first time, what do you look for?
Kokatat: When you get your PFD out in the spring, first check it over for any visible wear or damage, then try it on to make sure it still fits. PFDs don't shirnk or grow, but people sure do. Be sure you try it on over the clothing you'll actually be wearing (more in early and late-season than in summer) and tighten it snugly but comfortably. Again, The "comfortably" is key because if it isn't comfortable, you are less likely to wear it every time you go out.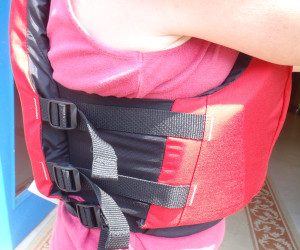 ES: Any final thoughts on PFDs?
Kokatat: Best advice, try on your PFD; if it doesn't fit you, work with your boat, and look like it's in perfect condition, it's time to think about a new one. Then, jump in the water with it on and make sure it still floats you. If you find yourself lower in the water than you'd like, it's time for a new PFD. Buy one you like that fits you well and works with what you do and it will keep you safe and let you have more fun each time you go paddling. And fun is, after all, what it's all about.
Paddling PFD Resources
For more information on PFDs in general, visit the PFD Manufacturer's Association website.
Here's the most complete list of paddling PFD suppliers we've been able to compile: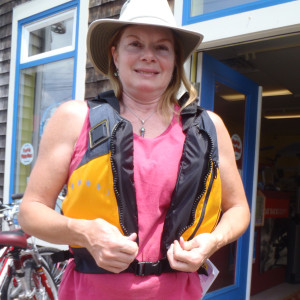 What About Self-Inflating and "Hybrid" PFDs?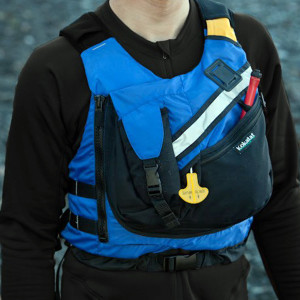 There are currently a number of  "self inflating" Type V PFDs (which must be worn at all times to legally count as a PFD). These have nylon air chambers which are flat when empty, but use cylinders of CO2 to inflate into a functioning PFD. Some of these inflate automatically after they've been submerged for a period of time, others have a tab which must be filled to inflate the chambers,
Hybrids have some foam flotation like a standard PFD and self-inflating chambers for supplemental flotation when needed.
Some of our editors have worn self-inflating PFDs while fishing (wading and small rafts) for many years, and for SUP paddling on lakes and ponds. But we have never tested any of these devices in actual paddling conditions with kayaks, canoes and SUPs in emergency situations.
We intend to do a full-scale test in the near future. Stay tuned.
In the meantime, we still recommend choosing a foam-filled PFD that fits you and the paddling you are doing, Then, WEAR IT EVERY TIME YOU GO PADDLING!