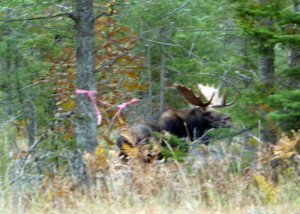 "Top Of Mind" is a key concept in the world of advertising. Basically, advertisers are hoping they can make the name of their product pop into your head the instant you start thinking about whatever category of product you are thinking about, whether that be cars, junk food, beer, smart phones or whatever . . .
So if someone asks you about "autumn foliage viewing" (which is, after all, a product businesses sell), what comes to the top of your mind? Chances are it's New England, but more specifically, it's probably Vermont or New Hampshire. The Berkshires and northwest Connecticut, too, get a well-deserved market share. Somewhere farther down the list is Quebec, which has more sugar maples (the superstars of the foliage universe) than anywhere else in the world and is a marvelous place to combine foliage viewing, gourmet eating and an active outdoor vacation.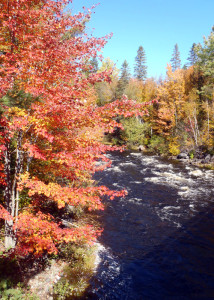 And then there's Maine, which loses out on the foliage sweepstakes because, for most visitors, "vacationland" stops at Freeport, or maybe Mount Desert Island . . . Maine is top of mind for lobster, not foliage. That's not surprising, because the foliage right along the southern Maine coast is generally pretty marginal—too many oaks and spruces, not enough maples and birches and sumac. To get the best of Maine foliage, you have to travel to the northern interior, which is exactly where we went to enjoy a spectacular foliage season getaway without any crowds.
In one way, this trip had been in the planning stages for many years: We have done all the various parts of it before in different seasons but we've never put the whole picture together in foliage season.
Aroostook County: Top Of Maine Foliage Viewing
We started with the long drive up Interstate 95, then turned north on Route 1 to Presque Isle in Aroostook County. If you've never been to "The County," you have missed one of the great Active Outdoor regions of New England. Winter is spectacular up here, but so is the fall–and nobody seems to have made the discovery! We don't mind having all that great scenery to ourselves . . .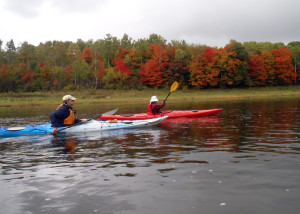 In Presque Isle, we connected with Leo Freeman, the Registered Maine Guide who runs Perception of Aroostook. Whenever there's enough water (it was dry most of the summer but rained just before we arrived), Leo runs 10- and 15-mile trips down the Aroostook River—one of the rivers listed as among the great foliage paddles in the northeast .
The weather forecast had called for only a slight chance of showers but, no sooner had we gotten settled in the kayaks and pushed off down the river, than it started raining rather enthusiastically. From then on it was off and on showers (more on than off) most of the way back to Presque Isle. The nice thing about kayaking in the rain is you can sit there comfortably with a spray skirt and paddling jacket, and the rain doesn't bother you at all. We didn't even get our feet wet . . .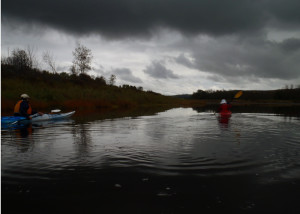 At one point we turned a corner and surprised several hundred Canada geese at close range. The spectacle of them taking flight all at once, honking their alarm calls, was a moment to be cherished. Elsewhere on the river we saw dozens of mergansers, plus kingfishers, herons, and once, high up and far off, what we think was a bald eagle.
As noted, this had been a dry summer but the foliage display along the river and indeed all over "The County" didn't seem to suffer at all. Each turn of the river (and every turn of the roads we pedaled or drove) brought new and stunning vistas.
We could easily have spent our whole week exploring back roads and waterways in Aroostook County and had a perfect foliage-season getaway. Highly recommended . . . we'll be going back.
Maine Foliage Viewing: Magnificent Millinocket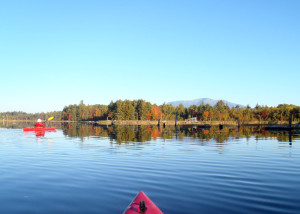 From Presque Isle we drove out to Ashland then down Route 11 to Millinocket, where we began by eating a great lunch then pedaling our fat-tire tandem bike on some lovely multi-use trails near town (the ATV riders we met on the trails were very polite, slowing down and giving us plenty of room). At one point we stopped in a foliage-encircled opening to watch a mature bald eagle soar in the sunshine only a hundred or so feet above our heads, close enough so we could hear the passage of wind through his wingfeathers. What a spectacular moment that was!
We awoke the next morning to clear skies and a perfect sunrise on Millinocket Lake, with the waning moon still high in the west. We got an early start and paddled across the lake with guide Dave Weatherbee to a marsh and inlet stream alive with waterfowl. Moose are common here, but we didn't see any this particular morning. The sky was clear and blue, the shoreside maples were in full color, the lake was flat calm and we didn't see another boat the whole time. What we did see was an ever-changing view of Katahdin looming to the north. If there's a better view on any lake in New England, we don't ever recall seeing it.
If we'd gone directly home from Millinocket it would have been a great long-weekend getaway with spectacular foliage. But we still had two more wonderful places to visit.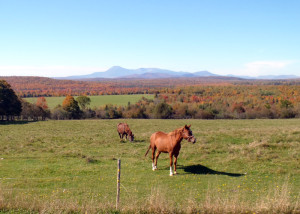 Maine Foliage Viewing: Greater Greenville
Our next stop was Greenville, on the shores of Moosehead Lake. Getting there from Millinocket presented a conundrum: we had three choices, all gorgeous "foliage drives." The northern route is over the private "Golden Road" and down to Kokadjo. The two southern routes start together down Route 11 but diverge at Prairie, where you can either take the gravel K-I (pronounce "Kay-Eye," for Katahdin Ironworks) road across through miles of empty woodlands or stay on asphalt for a longer ride. With kayaks and a tandem bike on the roof racks, we opted for the smoother paved road. The foliage displays along the way were as  spectaculars as we'd hoped for and we arrived in Greenville just as it started to rain.
The next morning, under cloudy skies threatening more rain, we headed up to Kokadjo and out to Second Roach Pond and the AMC's Medawisla Lodge, which is currently closed for a complete renovation and will re-open in 2017. We make it a point to cross-country ski between and around Medawisla, West Branch Pond Camps and the AMC's Little Lyford and Gorman Chairback camps every chance we get. It may seem silly, but we wanted to say goodbye to the old Medawisla camps before they disappeared.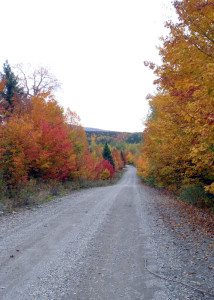 The AMC is in the process of cutting some new mountain bike trails in this area (Lodge to Lodge mountain biking! Something to look forward to!), but we rode our tandem on miles of quiet logging roads (which were in good shape and surrounded by incredible foliage views) and enjoyed the spectacle without seeing another soul.
Maine Foliage Viewing: Unwinding In "Jackmandu"
Then it was off for the beautiful drive north along Moosehead Lake to Rockwood and then west to Jackman, which we call "Jackmandu" because it feels so remote. It's one of the great Active Outdoors destinations in the whole northeast and, we were looking forward to paddling, hiking or pedaling as the mood struck. There's plenty of all three to be found in the Jackman area.
We could have kayaked (in our own kayaks or theirs) with the loons on Lake Parlin, right from the doorstep of our cabin. But we'd been dodging raindrops off and on for much of the week and, when we arrived in Jackman, so did a rain and fog that was just too heavy to dodge. So we consoled ourselves with a long afternoon nap listening to rain on the steel roof and an exceptional dinner at the Big Woods Steakhouse in Jackman. Don't miss it if you like large portions of steaks and ribs . . .
So we didn't get to really explore Jackman this time. That's OK, we've pedaled and paddled here in the fall before and loved it, and this time, the foliage was still gorgeous We now have an excuse to go back. We're  thinking five days in Jackmandu alone might just be long enough to just scratch the surface of what this area offers in foliage season.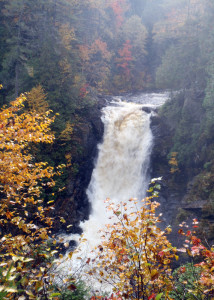 On the way home the next morning down Route 201, the sun finally broke through the dense fog just as we drove through The Forks. So we decided to make a quick detour to hike the short (1.2 miles roundtrip) almost-flat trail to Moxie Falls. This is one of the most beautiful falls in New England, cascading through a narrow gorge, and it was really hammering from all the recent rains. Well worth the hike. There are hundreds of easy hikes like this with great views all across northern Maine.
Then, it was time to go home. From Skowhegan we took the scenic route (great foliage viewing all the way) west along Route 2 through Farmington, Rumford and Bethel, through Gorham, and Randolph NH, then south to Route 3 in Twin Mountain and Interstate 93 in Franconia.
Driving south down Interstate 93 in New Hampshire at the start of Columbus Day weekend, we saw thousands of cars streaming north, most probably looking for great foliage viewing. I hope their leaf-peeping was even half as good as we'd found in our trek across northern Maine. Of course we happen to think that foliage is best viewed from the seat of a bicycle or kayak  . . . or from a hiking trails . . . not through the windows of a car or tour bus on a busy road.
Planning A Maine Foliage Viewing Getaway
We started planning our foliage getaway through the Maine Tourism website www.visitmaine.com. Once we'd decided on places to stay, finding things to do was easy. Kayaks and canoes are easy to rent everywhere but we'd recommend bringing your own fat tire bicycles to get the best foliage viewing on the back roads and multi-use trails in the area. And DO NOT forget your hiking boots and a backpack for dayhikes.
Where to Stay For Maine Foliage Viewing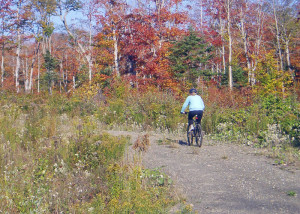 We started our trip with two nights at the Presque Isle Inn and Convention Center which is clean, inexpensive, and convenient. Nice place to clean up and crash after a long day outdoors—which is exactly what we wanted. This is close to the Aroostook River and to some amazing foliage season biking on multi-use recreation trails and quiet back roads.
Our second stop was a night in one of the brand new, "green construction" Coveside Guest houses at New England Outdoor Center's Twin Pine Camps where we ate a fabulous dinner at River Drivers. Marilyn says she wants to live here. With a two-story window looking out to the sunrise, a complete modern kitchen, three bedrooms (sleeping 8 easily), Tim's right there with her.
In Greenville, we stayed in a spotlessly clean, cozy room (with a private bath and a brilliant "burning bush" shrub outside our window) in the lovely log Evergreen Lodge at Moosehead on the highway south of town. Owners Janice and Hank Dyer served a delicious breakfast featuring fresh local eggs from a neighbor's free-range hens.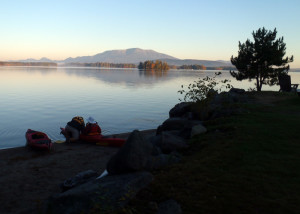 In Jackman, we stayed in the Lake Parlin Lodge, a newly refurbished  lodge-and-cabins complex (the cabins are new) south of Jackman on Route 201, overlooking Parlin Pond. You can paddle out almost from your front door–or could if it wasn't raining so hard and so foggy you couldn't tell sky from water.
Where to Eat
Presque Isle:
Gram Russo's: a down-home local Italian restaurant, right at the Presque Isle Inn and Convention Center.
Caribou:
Napoli's: We've had two very good meals there. (Try the Steak Pizziaola or the Osso bucco)
Millinocket:
Lunch at Grassroots Catering in East Millinocket, friendly with good food.
DO NOT MISS dinner at River Drivers, at Twin Pines Camps. This is very likely the best restaurant you'll ever find in the middle of nowhere. Excellent food and wine
Greenville:
Graves Seafood: nothing fancy but simple, FRESH seafood.
Black Frog Good burgers and a wicked sense of humor. Nice setting right on Moosehead Lake (which the Black Frog website describes as "So clear you can almost see the bottom and warm enough to swim in 3 days a year.")
Jackman:
We ate at the Big Woods Steakhouse which offered great grilled steaks, tips and ribs. NOT for vegetarians. But since our visit, Big Woods has closed its doors.
If it's open (it wasn't during our visit) we'd definitely try the restaurant right at lake Parlin Lodge. We heard their BBQ is great.
Also in the area, Mike's Moose Crossing  has "to die for"  fresh seafood, tenderloin tips and BBQ ribs according to a "foodee" we know who visits the area regularly. And , Mama Bear's (no website) has long been a Jackman  stalwart for home-cooked breakfast, lunch and dinner