I needed to get outdoors and get moving. Badly. More importantly, Baby Willner, who is due in November, apparently likes to be in motion, too. Like mother, like child.
The problem: running rapidly became uncomfortable as my pregnancy progressed. Also, being pregnant sapped my normal enthusiasm and stamina for road biking adventures, and my mountain biking skills, while improving, aren't up to biking with a belly. Sunny days didn't make me want to spend hours doing yoga–even outside. And I just couldn't get myself into a swimsuit . . . . So I languished in the evenings with my beloved Ben & Jerry's and settled for a 20 minute stroll around the neighborhood.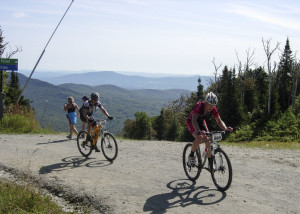 With my increasing size and dwindling speed, hiking seemed more realistic and practical than other options for fun outdoors. Still, sadly, I could find plenty of excuses to NOT go for a hike on any given weekend—especially if it was raining or a million degrees and humid (which seemed to be par for the course this summer). I needed more than the idea of a hike. I needed a goal. More than that, I needed a commitment. So I signed up for the "Race to the Top of Vermont."
It sounds intimidating, right? A race . . . up hill for 4.3 miles . . . to the top Mt. Mansfield . . . climbing 2564 feet . . . on a grade averaging 11 percent . . . while pregnant and in the worst shape of my adult life? A race against competitors like U.S. Olympic Nordic team members Liz Stephens and Ida Sargent? Yikes!
But wait a minute. The event benefits the Catamount Trail Association, a great cause. And, while the race is meant to be a challenge for elite runners and bikers, the organizers also included a non-competitive hiking division. Perfect for Baby Willner and me!
Vermont Hiking: Rambling to the Top of Vermont
Mt. Mansfield is, of course, Vermont's highest peak at 4,393 ft, and home to Stowe Mountain Resort which also spills over onto neighboring Spruce Peak. A number of hiking trails, including the fabled Long Trail offer routes to the summit, where the  summit views are rewarding after a long climb.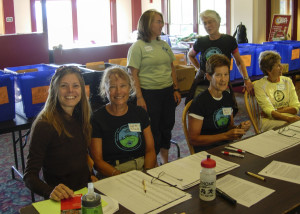 And you can always take Stowe's gondola, which offers trips in the summer and through leaf-peeping season.  But there's another way to the top : the toll road. The Mt. Mansfield Auto Toll Road zig zags up through the trails at Stowe, and is open to traffic from May to October for those who are willing to pay the $28 per automobile fee. Ordinarily, it's closed to bikers and probably wouldn't be the best choice to hike unless you want to dodge tourist traffic on a very narrow and twisting road.
Honestly, it's the easiest way to the summit (well, other than riding up in a car or gondola). Maybe it's not so easy to run or mountain bike up though. For me, at this stage in my life, hiking it was just enough challenge and a great chance to get outside and get some exercise without having to worry about twisting my testy ankles on rocky terrain. Plus, I was helping to raise money for CTA, a non-profit that develops, manages, and conserves the Catamount Trail, a public-access winter cross-country ski trail that runs the length of Vermont (the winter counterpart of the Long Trail).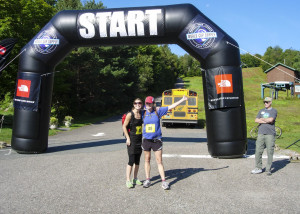 On a glorious, cloudless Sunday morning at the end of August, over 800 runners, bikers, and hikers showed up to participate. Hikers and runners started first, followed by the mountain bikers an hour later. I arrived with my sister-in-law Liz and we managed to miss the hiker/runner start by a good half hour in part due to our chatting with the friendly volunteers and vendors at the registration area. Which was fine–we got to trek up on our own and enjoy a blissful period of peace and quiet before being passed by the bikers—including a few dudes crushing it on single speed bikes. Now that is some hardcore climbing!
Unlike those bikers and runners who pushed themselves to the edge of blowing up, I took it easy. At over seven months pregnant, I was allowed. I call it a hike, but, really, the Toll Road proved to be more of a brisk walk on a well-kept dirt road, most of the time through shaded forests. Setting my own pace for the climb let me keep my heart rate in check, stop for breaks (including the oh-so-frequent pit stops to pee in the woods!), and continue to keep my legs feeling strong. Baby Willner liked it, too! As we approached the summit, spectators and racers who had finished had stationed themselves to cheer for the mountain bike competitors and we got some cowbell love too.
For most of us, most of the time, hiking tends to be a solitary endeavor. Why else do we get so bothered when the trails are congested on holidays and summits are teeming with dogs and day trippers? But I found myself enjoying the company and camaraderie of this hiking event and would definitely recommend the experience–whether you are pregnant or not. There will definitely be another Race to the Top of Vermont next August, and I plan to be there with Baby Willner.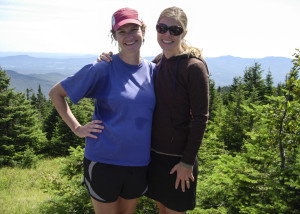 Whether it's a Meet-Up group, a fundraiser, or a volunteer day, a group event like this can be just the motivation (and commitment) you need to get outside and create a community around a shared passion. The fall season is the perfect time to lace up those boots, smile, and join friends old and new. I was so inspired that I signed up for Hike for Hunger on September 28 at the Catamount Trail Association. Then, there's the Romp to Stomp Out Breast Cancer on snowshoes in the winter. Looks like Baby Willner and I have plenty of reasons to keep moving, especially after s/he is born and we'll have inspiration for new easy adventures as an active family.