There's nothing that will bring you back to your youth like hearing the music from your teenage years.  But, there's nothing that will KEEP you young like exercising your body and your spirit with outdoor adventures.  Add in the need to heal from an injury, and you have a recipe for…yes, a road trip! In our case, the injury was a badly sprained ankle for Susan, one that had kept her from pretty much doing ANYTHING for three months. Coupled with an ongoing house renovation, we were pretty burned out, couldn't remember what "in shape" was, and needed a getaway BADLY.
Luckily, we heard  that The Doobie Brothers and Chicago were playing a double bill in Saratoga, New York in August and gotten tickets months earlier, so we had a built-in escape. Saratoga's a great place for a concert; the band is inside, and you can either get tickets indoors, or sit out on the lawn where the sound is great and not QUITE as loud (yes, we're too old and most concerts are too loud). We're cheap by nature, so opted for the lower priced outdoor tickets, and packed umbrellas along with our chairs…and crossed our fingers.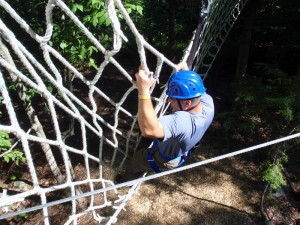 Outdoor Fun In The Adirondacks
But just sitting at a concert, even with great bands, isn't enough to make you feel alive again after too much stress. At the same time, when you're exhausted, you don't want to take on an epic adventure…that's a different recipe, one for disaster. Better to take it a little easy, get our bodies back into remembering what they USED to be able to do. We looked online and realized that the Lake George area is loaded with opportunities for outdoor activities that aren't over the top; exactly what we needed to ease back into "doing." We're as crazy as anyone when it comes to doing weird obstacle course races, or winter backpacking, or whatever fun craziness we can think up; but that's for when we're fit, both mentally and physically. When we're out of shape and exhausted, rebuilding all of our strengths means easier, safer fun.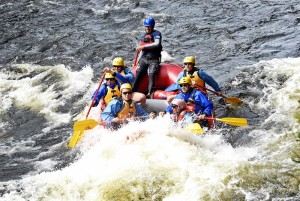 And in this case, it started with an activity that's one part physical, three parts mental…rafting on the Hudson River. Whitewater rafting in general isn't BIG exercise, just BIG fun, and in late summer on the Hudson, it's relatively mellow. "Relatively," of course, means that we still could fall overboard; but wouldn't have quite as many chances to do so accidentally. I can't think of any other activity that can get you as far out in the middle of nowhere for less effort; the river does most of the work for you. And half of the other work, that of actually keeping you on the course, is done by the guide. There are multiple trip operators on the Hudson; we'd chosen Whitewater Challengers for our trip because 1) they were running a trip on the day we had available (different operators run different days), and 2) they also had an aerial adventure course, which sounded like another fun, not-too-strenuous activity.
Arriving at their headquarters, we found the usual mayhem; people trying to figure out which boat they should be in, getting the right wetsuits/boots/helmets/PFDs, and added general lunacy created by the kind of nutcase that chooses the life of a river guide. The guide they assigned us to was a character named Mark, who happened to be married to the head guide. Trained as an environmental scientist who wasn't born to be a desk jockey, he was a river of knowledge about the background of the area, the mines, the Adirondack park, and the flora and fauna of the area. Susan and I were at the back of the boat, so he was stuck answering all of our questions as we floated along, and he did it with grace and good humor. Of course, he wasn't ALWAYS taking it easy and letting us give him the third degree. The Hudson, even in lower water, is still a BIG river, and there were a number of fast, fun sections of rapids. In between sections, we chatted with Mark, our boatmates, watched bird life and some gorgeous Adirondack views, and came back to land with big grins and not too tired. A perfect start to the trip!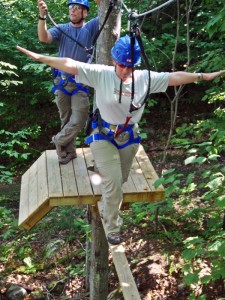 One of the nice parts of rafting is there's always food involved. We'd had a lovely snack on the river (peanut butter and honey wraps provided by Whitewater Challengers), and chicken and pasta and salad awaited us. Over lunch, we chatted with the other rafters, who had pretty much come from all over the country to enjoy the Hudson and the Adirondacks; fascinating the effort people from far away go through to experience what's in our back yard!
We didn't want to get too bogged down with food, though, as the aerial challenge course awaited. People tend to think of these things as "ziplines"; they aren't. Sure, there's a short zipline section at the end of the course, but overall it's basically a coordination test that requires a helmet. Not necessarily the best idea for those of us who are balance-challenged. We hadn't tried one before, so weren't quite sure what to expect. But…they assured us that it wasn't the biggest, baddest one out there, and with supportive guides taking us through, it was a blast! Much harder work than we'd expected, as well; working along 20 feet of a net doesn't sound like much, but between the fear factor and the amount of effort to keep control and balance, we had NO trouble breaking a sweat. Walking along a suspended bridge sounds easy, too, until you realize that there are NO railings and it moves all over the place under you. Coordinated people can probably walk over it with their arms spread out for balance…we had to hang on to the line attaching us to the safety cable. It wasn't exactly easy, but it WAS fun, and a really good way to snap out of the physical and mental stress we'd been carrying too long.
From there, it was back to base camp, The Glen Lodge in Warrensburg. They're located right between Lake George and the Hudson River rafting site,  a great location for us to get to everything we were doing. The "Adirondack lodge" feel to the rooms seems right for the area. Plus, they've got a full breakfast included with the room; when you're more or less in the middle of nowhere, that's pretty important. It turned out to be a great choice; everyone was friendly, the rooms were spotless, and the breakfast a perfect start to a busy day. Doug and Aimee, the owners, apparently look on bacon as a religion; I'm embarassed to say that I went back for thirds (Susan only did seconds; I'm convinced that was just to make me feel bad about being a hog). But, coming back after the rafting trip, it wasn't about the bacon; it was about the quiet setting and a good nap. Rejuvenation isn't JUST about activity; it's about getting rid of stress, and there's no better way to start a new day than following a good night's sleep AND a nap.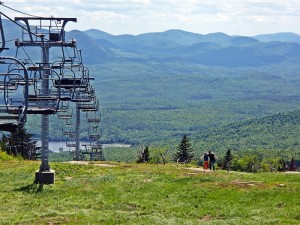 Day 1, perfect.  Day 2…time to kick it up one SMALL notch. Mountain climbing is a wonderful escape; the views are magnificent, the sense of space and air help expand the mind. But, a long climb requires fitness that we might not have, and more importantly, the trip DOWN is scary on a bad ankle like Susan's; one misstep and the sprain is back, or worse.  So…how to solve one problem without creating another? Gore Mountain's gondola, that's how. It doesn't get you all of the way up, but it gets you to the top of Bear Mountain, 400′ from the summit. That solved the "too much climb" problem, and long, gentle green circle trails on the way down solved the ankle problem. Ski areas almost always have gorgeous views, and Gore is no exception; tucked into the middle of the Adirondacks, it's surrounded by peaks and valleys and lakes. We were lucky enough to have a lovely day, so, of course, we packed a picnic lunch. One of the joys of ski areas in the summer is that they have trails that become meadows; no fighting your way through spruce scrub for a glimpse of a view. Although there were plenty of other people enjoying Gore's summit trails while we were there, it was no effort at all to slip down a trail, find a place out of sight of people to sit, and relax and enjoy our picnic. Birds, butterflies, wind in the trees, a gorgeous view, and a picnic; is anything more relaxing? Well, there's always a nap. By the time we finished hiking around the top, then gently down to the base area on green circle trails, it was midafternoon and time to head back to our room. Everything in moderation…  boathouse for Lake George Kayaks is about as beautiful as the lake itself…we turn back for a quick look before heading off for an island picnic. (Susan Marean Shedd/EasternSlopes.com)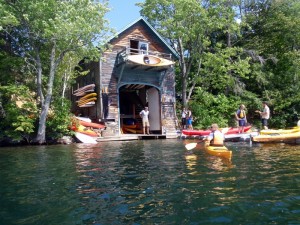 The following day was the concert, but with that being an evening event, there wasn't any reason to not continue to enjoy the region. And, considering that we were near Lake George, it would be a shame to NOT take advantage of it; on a late summer day, what better way to enjoy it than to kayak out to an island for a picnic? The shape of Lake George, long and narrow, means that changing winds can make for some pretty big waves, so rather than take our Pungo 140s, with their huge cockpits that don't take well to a spray skirt, we went to the Lake George Kayak Co. to rent 15 footers. Their boathouse sits directly on the water at Bolton Landing, near the southern end of the lake, so it's easy to grab 'n' go. Knowing that we wanted to get a decently long paddle in, rather than just poking around the cove, they set us up in Venture Easky 15s, a kayak known for good open water performance. With sandwiches, chips, and drinks from a deli in town, we headed out. Because of Lake George's long, narrow shape, even crossing open water is lovely, with a constantly changing view of islands and shore. We set our sights for an uninhabited island about a mile and a half from the boathouse. A fresh wind from the southwest gave us some fun; like most sea kayaks, the Easky likes to weathercock (turn into the wind), so we got a good right side workout as we headed north. Thanks to Bolton Landing being off the main length of the lake, boat traffic was moderate and generally fairly slow; no big waves to toss us around. Better still, the island turned out to have a gentle slope from the shore, so we were easily able to land and pull the boats up.
Picnics, in our opinion, are about the closest thing to a nap as you can get for pure relaxation. We munched, watched birds and boats, chatted, and generally did a lot of nothing for an hour or so. But, about that time we noticed the wind being in our face rather than our backs…hmm. A look up to the northwest showed clouds that looked…well… rainy. Discretion won out over laziness; we packed up and headed back. And, within a few minutes, we knew we'd made the right decision, as the wind  picked up substantially, and the clouds moved in over us. We'd prepared for the possibility of a storm moving in fast over the Adirondacks, and…here it came. We put power to the paddles, noting that the wind shift meant yes, more work on the right side on the way back. The waves picked up significantly, and the decision to rent the Easkys suddenly seemed like a VERY good one. They arrowed nicely through the waves, letting us make good speed back. We arrived at the boathouse, returned the boats, and headed to the car just as the first of many big, fat raindrops came splashing down. Sometimes, our timing is just right…
Time to head back to Glen Lodge for…yes, a nap. And then to Saratoga for the concert.  Oh, that's right…this WASN'T just an outdoors trip! The hottest concert acts these days are classic bands from the 70s; not only do us boomers have the money to pay for the tickets, but these guys have been honing their craft for a half century. It shows, too; both bands were superb. We got lucky, too…no rain, left the umbrellas in the car. The sound was great (and not too loud!), the crowd relaxed and happy, and we could sing along with most of the music. On the way back to our room, we happily hummed our favorite tunes, feeling the high that comes from a great musical event.
And heading back home the next morning, the high was still there. Our mood was dramatically different from three days earlier; relaxed, happy, stress gone (okay, maybe just a lot lower; the real world still exists). Our level of burnout had been pushing our limits; we'd even questioned whether we should take the trip, as there was so much to do at home. Three days of fresh air, light exercise, and music changed that perspective; in fact, the WORST thing we could have done was stay home. Escaping meant we simply couldn't take on the myriad projects left to do. That forced us to let problems go; and in fact, a couple of days of not getting things done turned out to not slow us down, as we came back with new energy an were able to get more done in less time.
The concert was a great idea; it got us out of the house, away from the stress. But taking the extra time to get outdoors and enjoy what the Lake George area has to offer…THAT was the real key. If we'd just gone over and back, taking a single night…fun, but that's a lot of driving. Adding in the extra day meant no time stress, no worry that a traffic jam would make us late, and allowed us more time to destress easily and gently. You may be facing major stress, or just the everyday constant stream of jobs, bills, kids, doctor's appointments; either way, if you take the time to plan a few days far enough away that you CAN'T go home and get work done, you'll be surprised at how much you relax…take it from us!