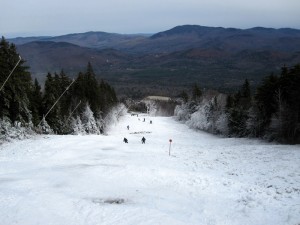 Have you ever watched wet clothes tumbling in a dryer? If so, you have a pretty good idea of what I looked like a couple of hours ago, negotiating the moguls on T2 at  Sunday River.  Saturday, October 26, 2013, Opening Day for lift-serviced skiing and riding in New England, with both Sunday River and Killington turning lifts (Killington had opened yesterday for season pass holders, but today was the first day for the rest of the world). I wasn't wet from rain, or even from falling; rather, from my own sweat from working long-unused muscles too hard!
It wasn't until early this morning that the word went out  Sunday River was actually, really truly going to open. The previous days had been warmer than expected, but Mother Nature being a little cranky wasn't going to stop the team at Sunday River. Once again (three years in a row, now; this is getting to be a habit), I found myself at the top of T2 in October, wondering if I could make it down in one piece. Once again, my edges were as rusty as my technique, and I found myself wondering "what's wrong with this picture." Skiing when there are still some bright leaves on the trees!  But, hey, it's snow and, thanks to some of the best snow makers in the world it's pretty darned good snow at that! And, the fact is, early season skiing like this starts reminding my body (and yours) how to ski; no matter how much you work out in the summer, no matter how great your conditioning is, it's NOT the same as skiing. Within a few turns, I was fighting my skis and was winded, stopping multiple times to relax and breathe.  So, what's the point?  Simple…if I waited until January, when the cover is better and the groomers were open, I'd be fighting my skis and be winded, on days when I COULD be ripping it all day long. This way, I get my body remembering what to do so I can take full advantage of what is to come!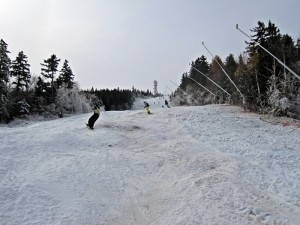 Sunday River is suggesting (and I would heartily recommend you heed their warning) that only advanced skiers and snowboards hit up the slopes this early; intermediates will want to wait until there are a few trails open, beginners a bit longer to be sure there's good conditions on the trails they should be skiing. There isn't much terrain open and it's all steep and bumpy; in these conditions, blues feel like blacks, blacks feel like doubles, and…you can figure it from there. Considering the fact it was in the high 30's and the weather was pretty much pure October, conditions were decent on the slopes. T2 was the only trail open but they were working on Monday Morning. It isn't ready as I write this, but it will be, soon (who knows, maybe on…wait for it…Monday morning!). The moguls were actually pretty soft and semi-forgiving, considering it was all man made snow. Did I mention that  my mogul skills are sketchy (Take a look, and listen for me trying to catch my breath)?  With all that said  here's the bottom line: Sunday River was open for lift-serviced skiing and riding, and, as of this moment, I have one day of skiing in for the 2013-14 season. That gives me bragging rights around the coffee machine at work on . . . Monday morning!