Spoiler alert: Ultralighters, we're about to ruin your self-imposed asceticism. But don't worry; we'll help you out later in the article.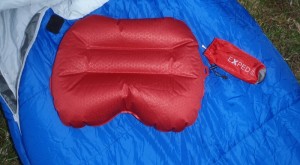 We've all done it; fill our sleeping bag stuff sack with clean (or dirty) clothes, use it as a pillow, and feel proud of how we've saved weight, no matter how miserable and lumpy (and smelly) the blasted thing is, and how much it ruined an otherwise good night's sleep. And woken up with a sore neck that ruined the next day; it's so common that we've heard it called "backpacker's neck."
Sorry, there's no excuse for that nonsense anymore; get over it and move on. Why? Because the Exped Air Pillow simply removes any reason to NOT carry a dedicated pillow. At 3 ounces (size medium), it's so light that you can't justify leaving it behind. Not enough room in your pack? Stuff it in your cargo pocket in your pants; it's small enough. And at $39 retail, it's a ridiculously cheap way to improve your sleeping comfort on every camping trip.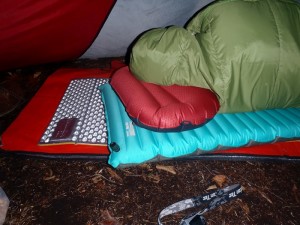 And when night comes, you'll never, ever, regret the decision to bring it with you. Our testers were absolutely unanimous: it's the best inflatable pillow they've ever tried, period, and perhaps the best backpacking pillow ever. Why? Start with a stretchy material that feels luxurious on your skin, (instead of sticky vinyl, "ick.") Then, a curved bottom edge that allows you to tuck it against your shoulder when you're on your side. Finally, add a  profile that's similar to those very expensive shaped memory foam bed pillows—thicker under your neck to support it and thinner above to cradle your head—and there you have it: comfortable support for your entire head and neck. Perfect comfort, no pressure points. When you realize that one sleepless night can ruin the next day and even the day after, and a couple of sleepless nights can ruin a trip, you realize how very worth the price and weight the Exped is. This pillow helps make that first night almost like being at home.
And, if you are a back sleeper, you may well find that it'll fit inside your sleeping bag's hood, so that it's always perfectly positioned. Get the medium size, take a little air out of it, and give it a try; it worked in about half the bags we tried that in. If, on the other hand, you like a BIG pillow, they make it in a large size; the weight and packed size difference is pretty much negligible, so it's more a matter of your personal preferences. If you tend to sleep on a hard mat, you may want the large; if you ride on a cushy air mattress so that your body is a little lower than your head, the medium is likely to be a better fit.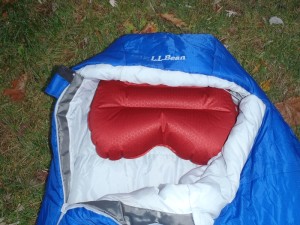 Okay, ultralighters, here's where we give you a break. Exped also makes the EXPED Ultralight Air Pillow; yes, it's exactly what it sounds like. For only $10 more, you save (drumroll, please . . .) A FULL OUNCE. As weight savings go, that's a pretty good deal. But, our caveat is that we didn't like the feel of the material as much as we did with the regular pillow. So…you can save weight, be comfortable, but still claim a little bit of that old-fashioned self abuse. Sort of. Tell you what…if you don't tell your friends how comfortable it really is, we won't either!
Regardless of which direction you go, you owe it to yourself to get one of these pillows and start enjoying a better night's sleep on the trail. And if you've got one of those ultralighter friends who is always in your face, flaunting his toothbrush with the cut-off handle, buy him one of these for Christmas…and watch him try to sneak it out of his pack and into his tent without you noticing!