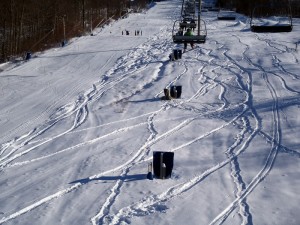 We don't get all THAT many days most Decembers where Mother Nature dumps a foot or more of snow on us. Even rarer is pure powder in December. Usually, it's warm enough that what falls is barely snow—and when it turns cold the next day, it's like skiing on cement, particularly at the lower elevation resorts.
But, we got lucky on December 15:  Arctic cold met Southern moisture just off the coast of New England and birthed a lovely storm. On Sunday. Trouble is, I couldn't get out of my house to drive to a mountain. Grrrr. So I waited until Monday and headed up from Portland through the post-storm misery; a gallon of windshield washer fluid later, I arrived safely in the Mount Washington Valley.
On this particular Monday so early in the season, Cranmore happened to be the closest mountain open. That's no hardship. Cranmore is a wonderful hill with a long history of pleasing skiers and riders. It can be hopping with kids on weekends and when school ski programs and race leagues are in session, but it was quiet on a pre-Christmas Monday. And it faces south, so it avoids the worst of the post-storm winds and you actually get light from a low December sun. Oh, and not only do they have some great trails, but they also have excellent snowmaking and grooming. There was a real base under all that fluff and most of the upper mountain was groomed to corduroy perfection.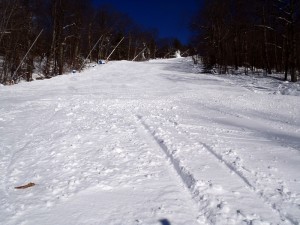 Pulling into one of the closest spaces to the lodge, I remembered again why I like to ski mid-week…not only are the trails and lifts empty, but I don't have to schlep my stuff as far! No ticket line, wide open tables in the cafeteria to change, on the slopes in minutes.
And…powder. For whatever reason, skiers had left a lot of the low-angle powder lines at the base of the mountain alone. That meant I could have fun skiing the steeper groomed stuff at the top, and then float gently through creamy powder down low. If you could image Jimmy Buffett singing about skiing, you'd nail this: soft and mellow. The long runout to the lifts at Cranmore isn't generally exciting, but on this day, it certainly was fun!
Better still was heading down the backside. East Slope was closed;  the view coming off the Skimobile Express was an endless orange rope. At first it  it looked like the entire section was shut off. But, pole to the top of the Schneider Triple, and lo and behold, favorite trails like Schneider, Koessler, Artist Falls were all open, EMPTY, and fantastic. Perfectly groomed, fast, fun, not a scratchy spot to be found. And no skiers, either, which was almost disappointing. I wanted to take a "hero" shot of someone coming down Koessler showing a big roostertail of all the soft snow.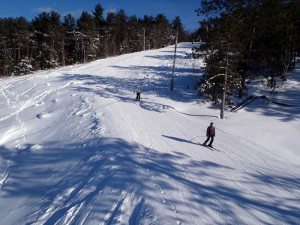 So, I positioned myself for the shot, and waited. And waited. And waited some more. At 15 degrees with a wind, ten minutes of that was enough; not a single person had come down. I gave up and just went skiing instead. With most of the mountain from center to skier's left open, there was plenty to keep me busy. And, with no waiting in line and no traffic jams on the trails to slow me down, it was rip city. Yes, the Schneider Triple was closed, so I had to take Jimmy's Run down…but in a tuck with nobody around to worry about, it was yet another way to get my legs in shape for the winter. And South Slope was great for big carving turns, with a bunch of chowder at the bottom to play in before heading back to the Skimobile Express for a quick ride back up.
If you need to use up your vacation days so you don't take a chance on losing them at the end of the year, this is a great way to do it. Taking a Monday off and heading up to the mountains is worth a lot; great snow, no lines, no traffic on the slopes. Winning combination. Any day on the slopes is better than a day at work; any day on the slopes with trails that aren't getting skied off, some powder to play in, and no waiting in line is better than most. Add the two together…wow, I really need to retire!