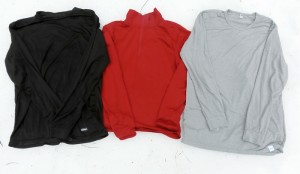 It's an unfortunate truth that most of the long underwear sold ranges from "midweight" to "expedition weight." Makes sense…sort of. The thinking goes something like this: You wear long underwear when it's cold to keep warm, so warmer must be better. Right? Well, that may be true if you are, basically, standing or sitting around in the cold. But if you are being active and generating lots of body heat and sweat, lightweight longies are is far and away more useful. Why? Consider this:
1. Climbing a mountain in subzero conditions, it's still easy to sweat; the moment you stop moving, that water starts sucking heat from your body. Having the lightest layer possible close to your skin both allows you to strip down and avoid sweating, and to get that layer dry more quickly to stop the heat loss. You can always add layers for warmth, but when moving, the lighter the baselayer, the better.
2. Sweating releases salt, which stays in your baselayer. Salt is hydrophilic, meaning that it attracts water, holding it close to your body so that even when you stop sweating, your body's natural respiration releases moisture through your skin, causing you to feel clammy, uncomfortable, and drawing heat from your body even while resting. Lightweight baselayers allow you to sweat less (and stop sweating faster when you open your other layers up), limiting the amount of salt in the layer.
3. Lightweight layers work as sleeping layers, allowing some extra warmth without making you sweat and forcing you to open your bag. And, since you can wear them more of the time, they help protect that expensive sleeping bag from salt and body oils. We typically carry a spare set of ultralights just for sleeping; they provide more warmth when sleeping than a heavyweight layer that was sweated in during the day and is full of salt.
We do use midweight and heavyweight long underwear, but almost always as a SECOND layer. Quarter zip long underwear tops are great on top of lightweight layers, fitting close to the body and working well with puffy or shell layers. But as baselayers? Nah. They're simply too warm for most active uses.
The problem is that there are not a lot of options out there for lightweight and ultralightweight long underwear. And, much of it is pretty expensive; since less of it sells, the manufacturers don't get the same economy of scale that they get with the more popular, less functional heavy stuff. We decided to see if there are bargains out there that still perform, and were surprised at what we found. We narrowed our favorites down to three; wool from Minus 33, ultralight synthetic from Polarmax, and light, all-purpose from oddball Japanese manufacturer/retailer Uniqlo. Here's what we found.
Today's Best Inexpensive Lightweight Long Underwear: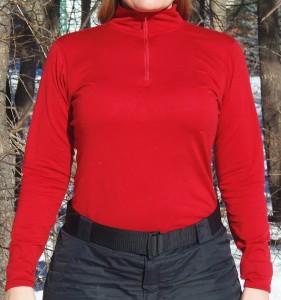 Minus33 Merino Wool 170 Long Underwear

When the weather turns nasty, when we're going on a multi-day winter backpacking trip, or when we're worried that we might be in dangerous situations, we turn to wool. Why? Because we still haven't found anything that's better at moving moisture away from our bodies and keeping it there. With wool, salt seems to move farther away from the skin so there's less clamminess. And no synthetic we've ever tested handles the multi-day "stink test" anywhere near as well as wool. With modern Merino fabrics, the itch factor is almost nonexistent.
There's just no reason NOT to use wool.
Well, one reason: price. Wool is more expensive than synthetic. To date, nobody's found a way to make cheap Merino wool fabric. Until self-shearing sheep are created, that's not likely to change. But Minus 33 hits a price point that is 20% or more below other manufacturers. Is the quality up to par?
The answer is a resounding YES. Compared to the best of the class, the fabric doesn't have quite as nice a "hand", and styling is basic and functional, not fashionable. But once we had it on, and were on the trail, we didn't notice either of those in the slightest. Fit was excellent, with a high  rise to the waist on the longies, good neck cut and sleeve length on the tops, and enough stretch in the fabric to make all testers comfortable. Cozy on windswept zipped-up traverses, they breathed well enough for long days of climbing on skins in the Gaspesie. And at $50-60 per item, they're not much more expensive than a lot of synthetic options. Pure and simple, if you like to push the limits in winter but have budget limits, you'll get more performance out of these than we'd have imagined possible at the price.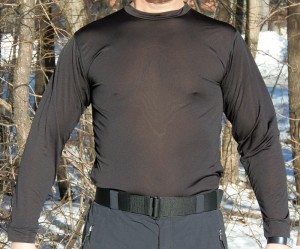 PolarMax Tech Silk Base Layer Crew Top – Men's Black Medium
For years, most of us at EasternSlopes.com have carried a set of silk or silk-weight polyester longies to sleep in. Why? Weight, pure and simple. Ultralight longies allow us to easily justify the weight, and as mentioned above, a clean ultralight set will keep you warmer than a salt-soaked heavyweight set. If it gets WAY below your sleeping bag's rating, you can add the heavy ones over the clean utralights, and you'll gain warmth without clamminess since the salt isn't close to your skin. But, silks are expensive and hard to find (and often hard to clean). High-quality polyester silk weights have been hard to find and, if anything, more expensive than silk. We've looked for a reasonably-priced, lightweight  synthetic option for years without success; with a set of silks weighing in at 6.4 ounces (that's for the SET, not one piece), most synthetics have been twice the weight or more.
But…Polarmax Tech Silk breaks that rule. Our men's medium set weighed in at exactly 7.1 ounces, barely a half ounce more than our silks. And at a retail price of $30/piece (often discounted at retail), they're well below the price of good ultralight silks. But do they perform?
The bad news first…the material has very limited stretch. Our weirdest-bodied testers found that they were tight to get on in the calves and shoulders; if you're on the cusp of a size, you'll probably need to buy up to the next. But, the good news? They worked, period. As sleep silks, they were excellent; comfortable, and they packed light and small enough that nobody ever thought about NOT packing them. As an ultralight baselayer, they were surprisingly warm; however, for long start-and-stop days with sweating, they're simply so thin that they get clammy faster than slightly thicker options. For those days when you really don't need a lot of warmth, but hate the feel of your shell pants directly against your legs, they're fantastic. Paradoxically, their super slippery finish can actually make clothes that bind feel LOOSER, increasing comfort.
Many of our silks are 20 years old or more; they don't typically get a lot of hard use, so last mostly forever. We have no reason to believe that the PolarMax Tech Silks won't show similar life if used lightly. If you backpack in winter or the shoulder season (or even in summer when you sleep on top of your bag), you owe it to yourself to carry these to increase your sleeping comfort, and once you own them, you'll start to find other uses!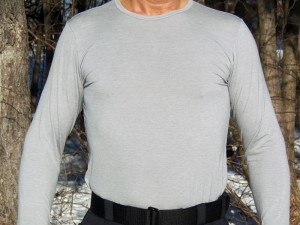 Uniqlo HeatTech: A brand best known to urban hipsters, Uniqlo isn't on anyone's list of serious outdoor product companies. So, when one of our testers walked out of the backwoods, showered and shaved, and headed for New York City, nobody expected him to come back saying "Hey, I found this cheap long underwear that looks really good!" Hmm. We started researching, and found all sorts of weird information on the 'net, with the most intriguing being a whole bunch of  stuff on them incorporating milk protein into the fibers. Seriously? Well, once upon a time, maybe…but now, no. Today's HeatTech relies on bundles of fibers of varying size, shape, and material,  wound into a yarn that traps air for insulating efficiency. Cool…and the yarn is made by Toray, which is a very serious company. If they're making it, we can't ignore it . Our tester's results upon getting the longies home were very positive, so we ordered more and passed it around.
Here's the shocker: It works. Very well. For cheap money ($20/piece). It's cut well, built well, has plenty of stretch, nice feel, and even comes in a range of nice colors and patterns for the outdoor fashionista. In general use, it wicks well, avoids clamminess fairly well once dry, and is very warm for the weight. Speaking of weight, it came in at a very respectable 12 ounces for a set. At Duofold prices, bringing a quality piece to the market with that weight is a real accomplishment.
Quibbles? One only; the other two products in this review were constructed with flat seams (which ups the price). Uniqlo's seams are noticeably NOT flat. That caused problems for one backcountry skier who didn't think about it, and developed an impressive bruise on his shin from the seam banging on it on a long trip. The next time, he made sure to pull the cuffs of the longies above boot height (easy enough since the fabric is stretchy), and was fine, But  you definitely need to pay attention if you use this for skiing. The seam can be a little uncomfortable around your wrists, as well, if you have something tight over it.
But. For the money and performance, that's a pretty minor problem, and easy to work around. At this price, there's simply no excuse for anyone to still be using waffle-pattern underwear from the local discount store. These perform better in every way, and will last a lot longer, making them cheaper, period. We're impressed enough that Uniqlo is now on our radar for other products, as well; more to come!
The Takeaway:
Overall, we're thrilled with the results of this test. We love our high-end longies, but we're happy with these. We've used and abused them in so many different circumstances that all of us our comfortable taking them out in any situation, which is the ultimate compliment that we can pay any gear. If you haven't been using lightweight longies, these are a great way to get into the practice; we're confident that you'll spend future years warmer, safer, and more comfortable!